Kitchen Ceiling Fans – How to Select the Best One for Your Home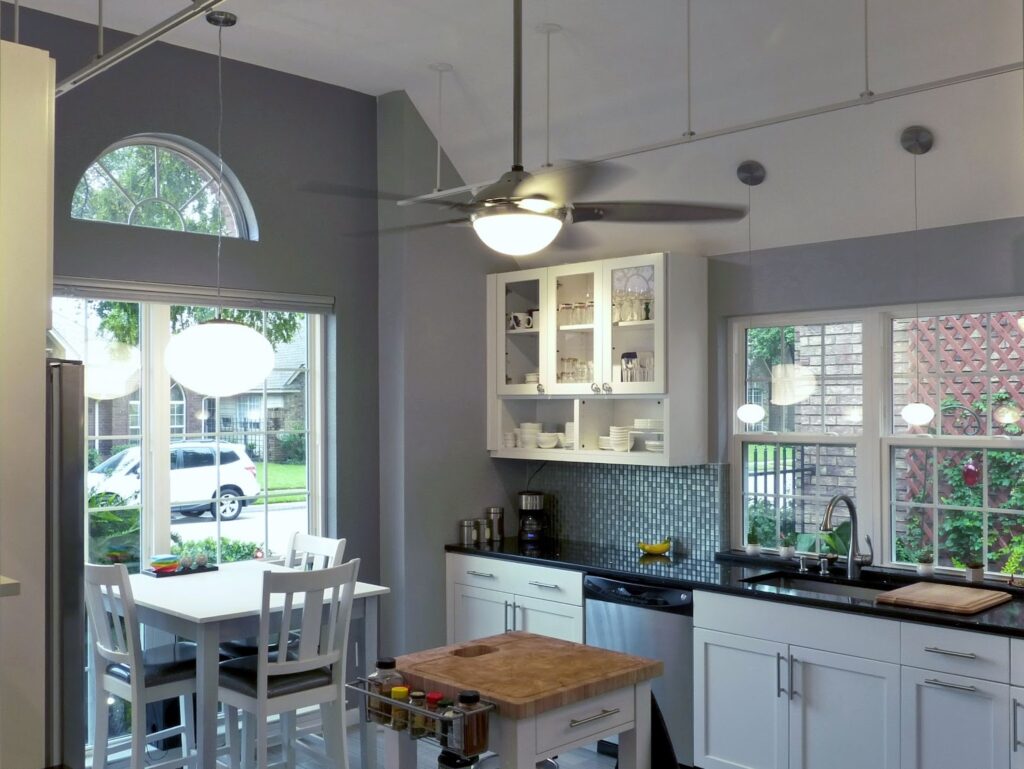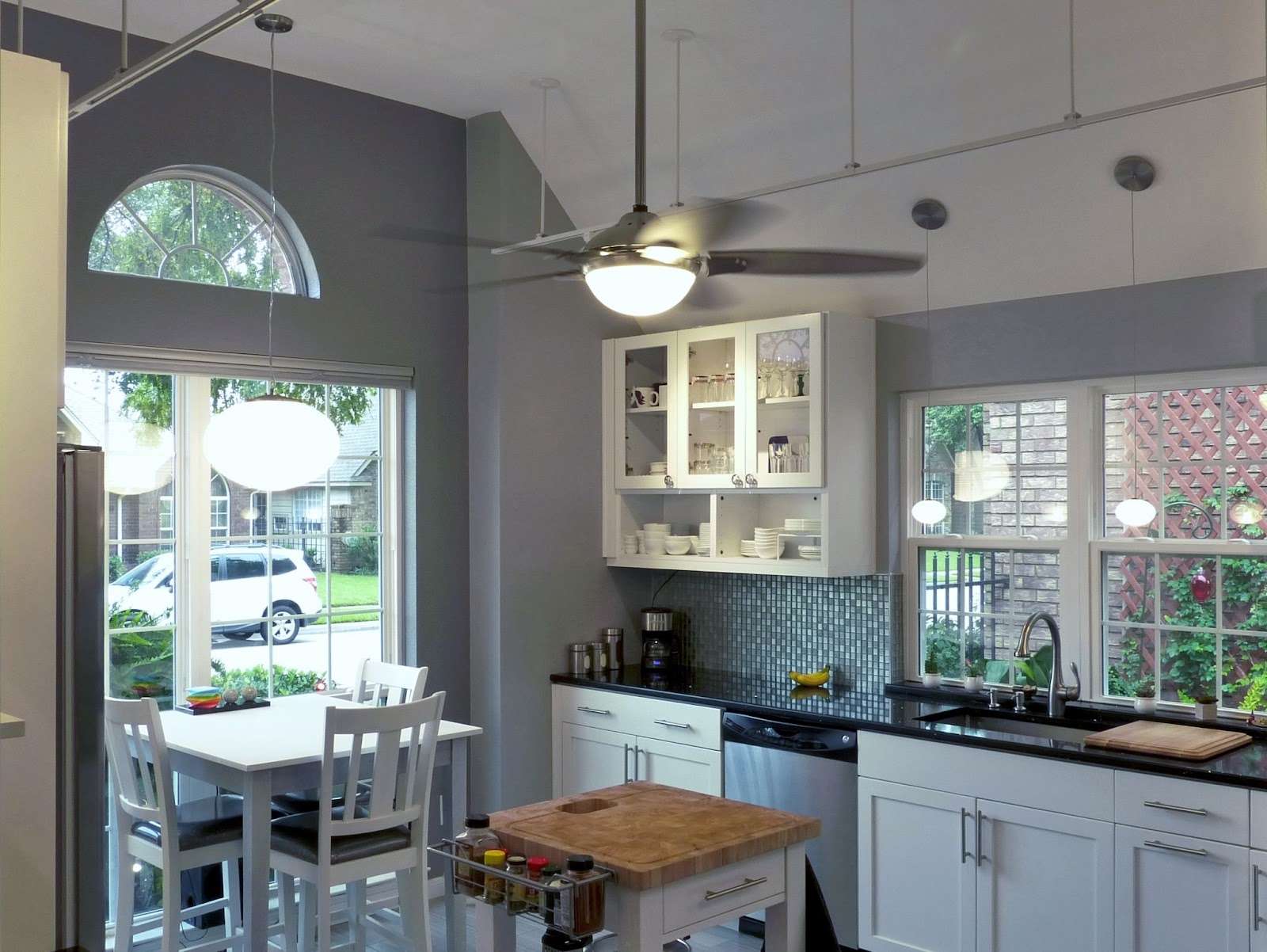 Kitchens are where we spend most of our time at home, so it should feel cozy and enjoyable. The best way to elevate the style and add function to your outdoor or indoor kitchen is to install a ceiling fan.
Ceiling fans are slowly replacing air conditioners; they are more stylish, energy-efficient, and bring better airflow through the room. 
There are thousands of different ceiling fans on the market, so how do you choose the best kitchen ceiling fans? We'll tell you everything!
Keep reading to learn what affects their functionality and what you should pay attention to when choosing a kitchen ceiling fan! 
Find the Perfect Size
 When we talk about a ceiling fan, size matters. If it is miniature, it will not cool off the room as it should, and if it is gigantic, it will create an uncomfortable feeling.
If your kitchen has dimensions of 4×5 meters, you should choose a ceiling fan of around 1200 cm. If the kitchen is more extensive, let's say 6×6, then you need to go for a bigger fan with at least 130 cm blades. 
Converted into square feet and inches, kitchens up to 150 square feet require a ceiling fan between 35 and 45 inches.  
Larger kitchens of 200 square feet or more need at least a 50-inch-wide fan or, in some cases, multiple ceiling fans.
To know how to find an adequate size ceiling fan for your kitchen, you need to know how to measure it. The fan's size is measured from the blade span that serves as a circle's diameter. 
The circle in question is the one the blade creates when it rotates. If the number of fan blades is even, you can measure the diameter to determine the span. If the number of fan blades is odd, you need to measure the distance from the center to the end of one blade and multiply that number by 2.
Find the Perfect Height
Apart from the size, another thing you need to get right is the height of the kitchen ceiling. 
If your kitchen has a low ceiling, it is best to choose a "hugger" model. A "hugger" is a flush-mount ceiling fan model installed very close to the top and ensures a lot of breathing space.
If you have a medium-sized ceiling in the kitchen and cannot decide which height is right for you, choose a fan with a hanging rod. This way, you can choose the height that looks the best, and you will be able to adjust it anytime. 
Also, many extension rods are for sale on the market, with lengths from 10 to 70 inches. 
Experts in this field suggest that ceiling fans placed about 8 or 9 feet off the ground provide the best air circulation. Also, if the blades are too close to the ground, you are risking that they will hit someone or something when they are rotating.
A particular case scenario is a vaulted ceiling. 
Placing a ceiling fan won't be a problem if your kitchen ceiling is vaulted less than 20 degrees. If the slope is more profound, you need to buy additional attachments so the fan can be properly and safely installed.
Find the Perfect Position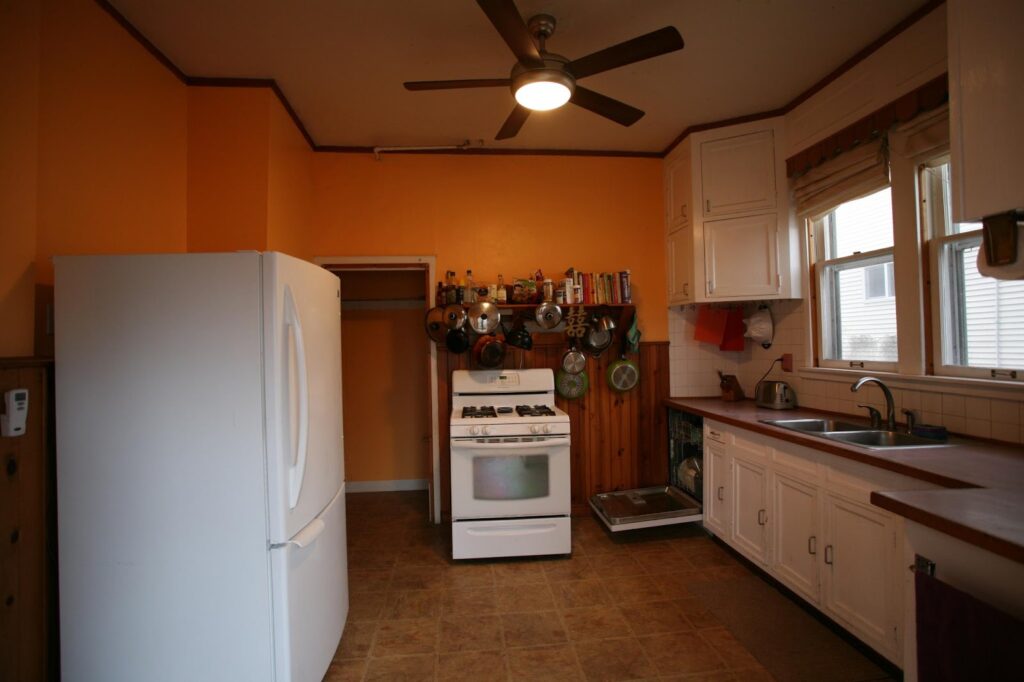 The position of the ceiling fan is of the utmost importance. Aside from the fact that the blades need to be separated at least 2 meters from the kitchen floor, you need to find the perfect ceiling location for the fan so that it won't bother you daily.
Centering it is essential, especially in smaller rooms. It brings out a better aesthetic and effectiveness. It is best to center the fan above the working area or the table in the kitchen. This way, you can quickly cool down while cooking.
Another essential thing is ensuring it is secured correctly and away from any lights or kitchen appliances. There is no general rule for ceiling fan placement; you should put it wherever you feel comfortable. 
The perfect location is the one that suits your lifestyle the most.
Combine Style with Function
Style is different for everyone. So, the best fan type is the one that fits your aesthetics best. 
It doesn't have to be the most expensive to elevate the ambiance and bring elegance and function to the kitchen.
The ceiling fan should complement your kitchen's style. If you are a more traditional person, you can pick a wooden ceiling fan to match the kitchen's ambiance.
Still, style isn't everything. When looking for a ceiling fan, you must consider function and performance. It is a common misconception that the number of blades in ceiling fans affects the airflow. That is incorrect; the number of edges is strictly for aesthetics.
However, the material, shape, fan speed, and motor affect the fan's capability.
Nowadays, a lot of fans come with DC motors. DC stands for direct current, and in most cases, a ceiling fan with a DC motor uses 70% less energy than an AC (alternating current) motor. 
Fans with DC motors are quieter, have a lot of speed options, and offer the opportunity to overturn the direction of the blades in a second. So, when it comes to the motor, a DC fan is better than an AC fan. 
The material of the fan blades is also an important feature. They can be made out of different materials. Every material has an additional value and affects the style and functionality. Mainly, there are 4 blade materials – MDF, plastic, wood, and metal.
MDF stands for medium-density fiberboard. Blades made of MDF have a final layer of laminate and are the least expensive. These blades are not suitable for outdoor kitchens since they droop if they get in touch with moisture.

However, they will be perfect if you want a cheap and chic indoor solution!
The second most used material in fan blades is ABS plastic. Easy and cheap, plastic can be molded into anything! Also, fans made from this plastic are durable and hold well outside and inside.
All wooden fans are premium, solid, durable, and good-looking. They might be the most stylish but offer the best aesthetic and fit well into any kitchen.
The last blade material is metal. Metal fans are best suited for large outdoor spaces and kitchens with a more modern, industrial look. They go well with stainless steel appliances, are durable, and can support different weather conditions, making them a popular choice amongst buyers.
Controls, Lights, and Features
With kitchen ceiling fans, it is not all about style. The most important things are that the fan has a quiet motor, is easily installed, offers good airflow, and comes with a warranty. 
Many kitchen ceiling fans offer extra features like lights, wall controls, Bluetooth technology, etc. Depending on your desire and needs, you can buy an intelligent fan that can serve you as an extra lighting feature and control it via an app on your phone. Awesome right?
The fancier the features, the higher the price. Still, if you decide to spend money on a ceiling fan that offers LED lighting, the investment may pay back soon. This type of fan is energy-efficient, helping save money on electricity.
Nowadays, the market offers you hundreds of options; ceiling fans with wall switches, remote control, or pull chains – it is up to you. 
The 6 Best Ceiling Fans for Your Kitchen
 Without further ado, these are the 6 best ceiling fans for your kitchen: 
 Portage Bay 50251 Hugger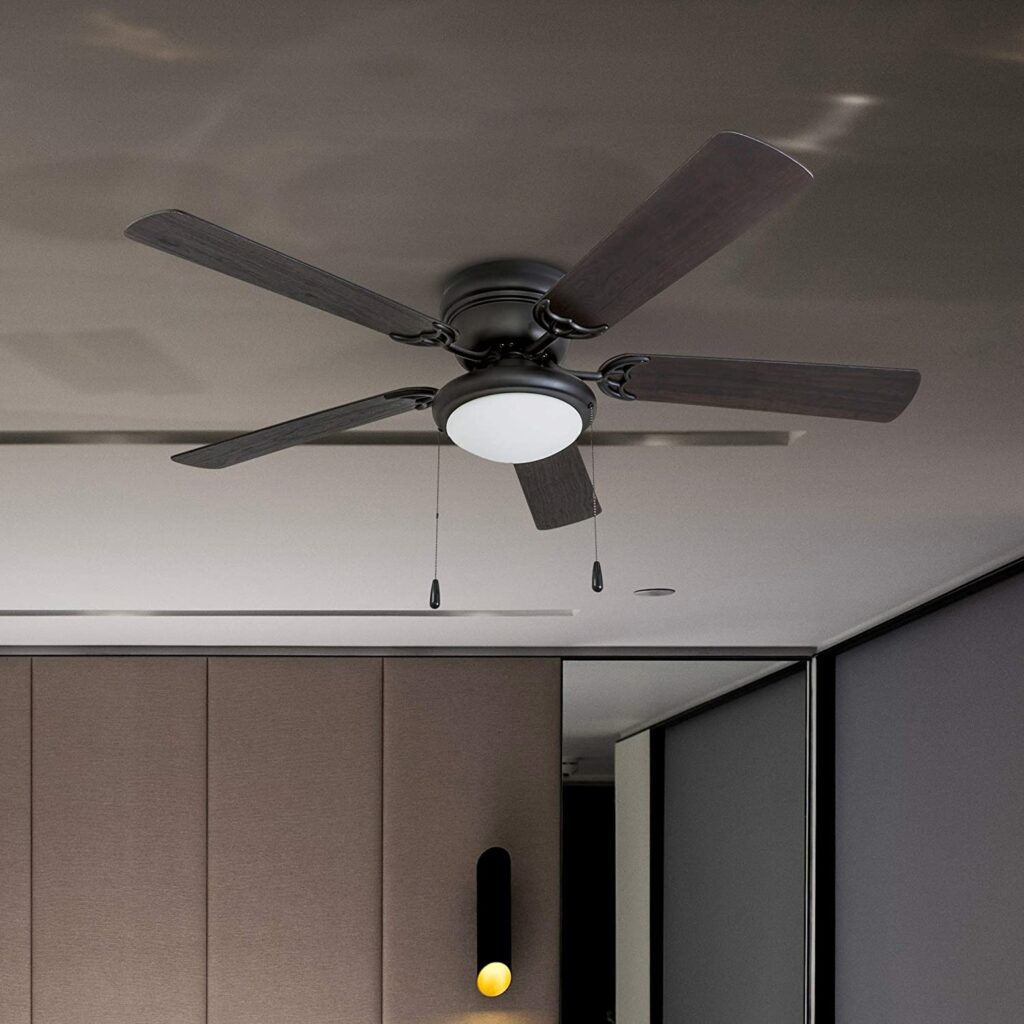 This corded electric ceiling fan is one of the best on the market for low ceilings. It fits perfectly in every room of your home, especially kitchens. 
It comes with an energy-efficient light kit and is 100% dimmable. Portage Bay has five 52-inch metal blades with dual finishes. The motor is reversible to enable quicker and better airflow, and the engine is tranquil.
The ceiling fan is easy to install and has a slick, modern look.
Casablanca Wisp Indoor Ceiling Fan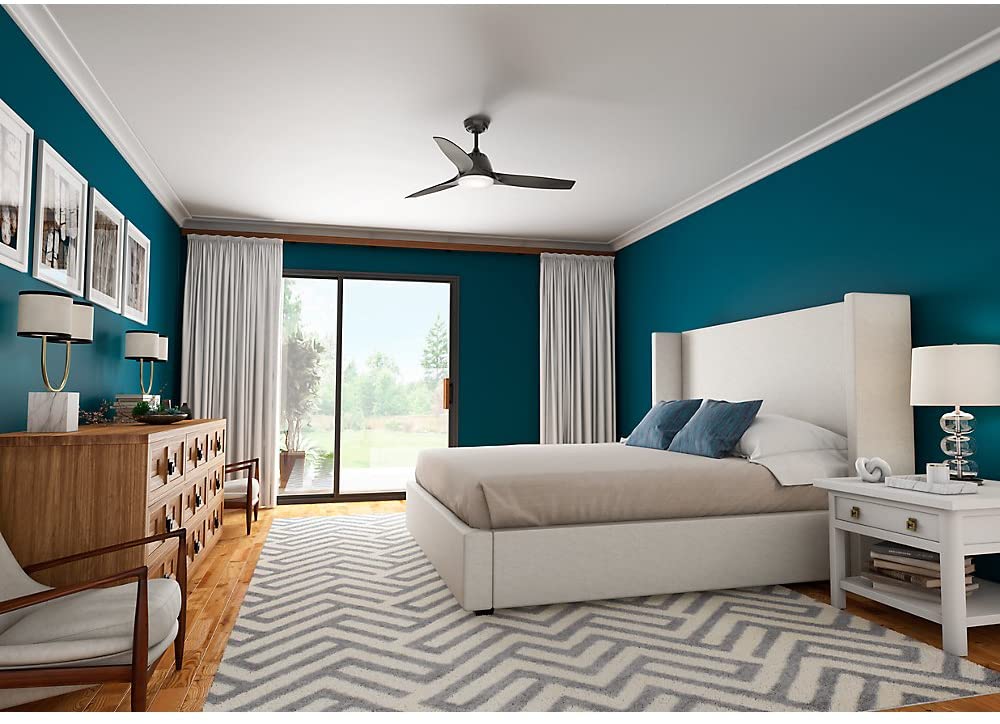 This electric indoor ceiling fan is one of the best contemporary ceiling fans with LED lighting. 
The Casablanca is one of the most popular modern ceiling fans. It has a multi-speed, reversible motor that offers ultra-powerful but quiet performance. The fan comes with an energy-efficient LED light bulb that has a much longer lifespan than a traditional one.
It can be managed with remote control. The height is adjustable and ensures the proper distance between the ceiling and the floor. 
The blade span is 44 inches which means this ceiling fan is very well suited for the small and medium-size kitchen areas.
Honey Well Ocean Breeze Contemporary Ceiling Fan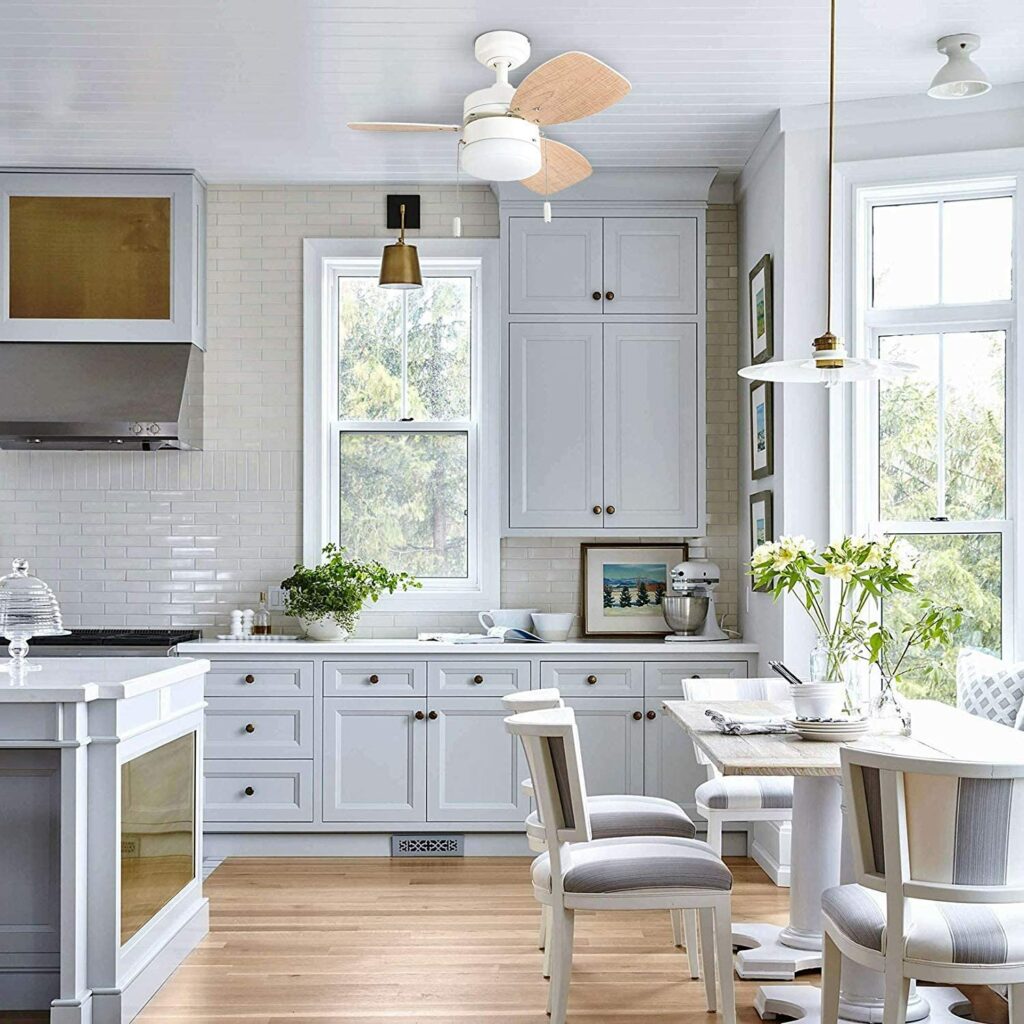 If you are a fan of the traditional pull chain, the Honey Well Ocean Breeze ceiling fan is the perfect fit! 
Being one of the best-rated ceiling fans on Amazon, the Honey Well Ocean Breeze comes with a reversible and ultra-quiet motor with 3 different fan speed levels. Also, it has 3 dynamic hanging options: the standard, angled-mount, or flush mount.
The Honey Well is the perfect contemporary ceiling fan that is easy to install, quiet, and offers the ultimate airflow.
 Harbor Breeze Mazon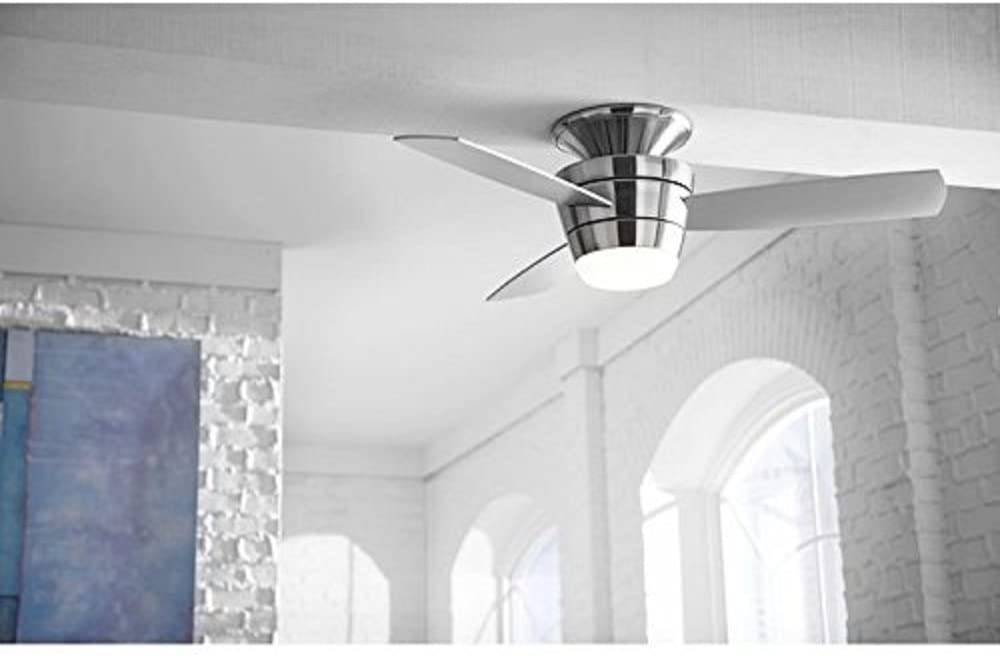 Fourth on our list is the Harbor Breeze Mazon. This ceiling fan can be managed with remote control and comes with a powerful DC motor that offers maximum airflow and minimum noise.
The Harbor Breeze Mazon comes with 1 LED bulb of 18 watts which will help you illuminate your space and save energy simultaneously. The fan has 3 different speed levels and 44-inch blades made of brushed nickel.
It is the perfect choice for anyone going for the industrial, modern look. 
Westinghouse Lighting Alloy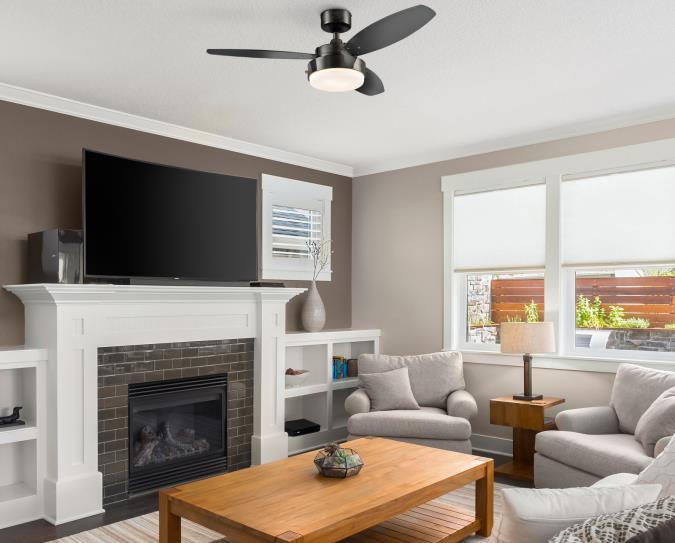 This ceiling fan is hardwired and has 3 blades of 42 inches. It is ideal for smaller kitchens.
The Westinghouse Lighting Alloy has 3 speeds, high, medium, and low, and offers fantastic airflow of almost 2,900 CFM. It uses only 53 watts of energy and comes with 78-ich wire.
It is noiseless, easy to install, and managed with remote control. The Westinghouse ceiling fan is rated the best overall fan and offers impressive features for a great price. 
Hunter Sea Wind Indoor and Outdoor Ceiling Fan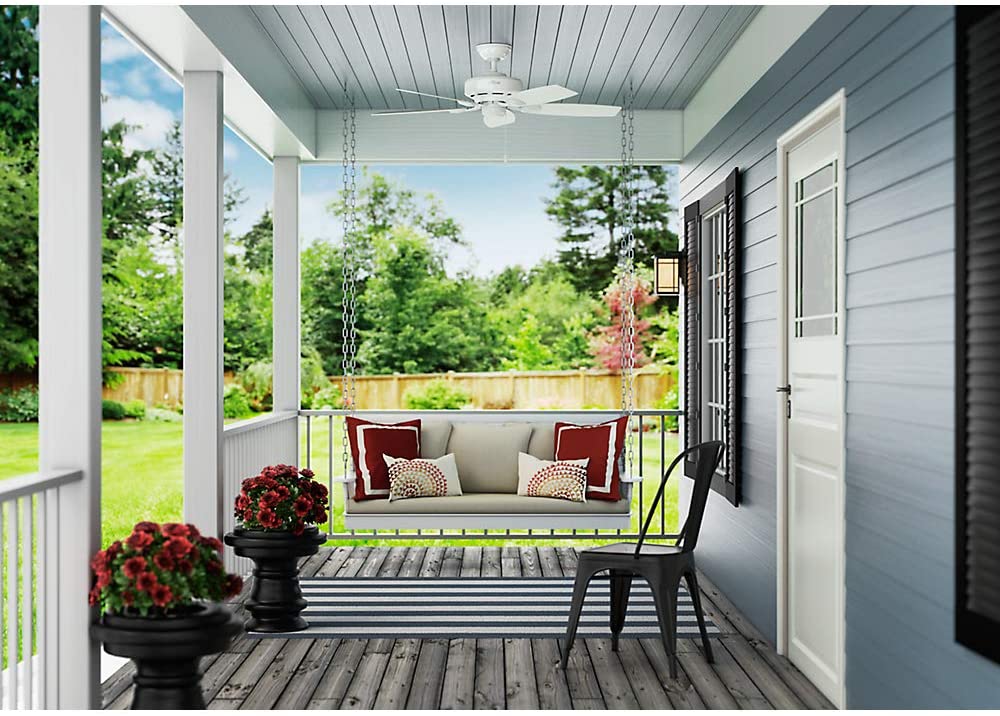 Last but not least is the fan from the hunter fan company. This traditional ceiling fan has reversible 48-inch blades. 
The Hunter Sea Wind Ceiling fan blades are coated with unique nanotechnology to fight off dust and wind.
It has a multi-speed powerful motor with quiet performance that allows excellent airflow during the summer. It works on a pull chain and is designed to fit spaces with low ceilings. 
The Hunter Sea Fan is damp-rated and an excellent fit for an outdoor kitchen. 
Conclusion
Since there are a hundred different models on the market, choosing the best kitchen ceiling fan may be difficult.
To choose the best ceiling fans for your kitchen, you must consider good airflow, efficient cooldown, size, height, style, power, and overall functionality. 
The best advice is to never choose style over function because style can change quickly, and you will get stuck with a ceiling fan that does not work correctly.
FAQs
Which are the best ceiling fans for kitchens?
The ceiling fan must fit appropriately into the room; it shouldn't be too big or too small. Also, the height and position are important things.
Since kitchens are often crowded and hot, the ceiling fan must have a powerful motor that will provide good airflow.    
Is it clever to put ceiling fan in a kitchen?
Kitchen ceiling fans are always a good idea. It helps keep you cool, lowers energy and costs, eliminates smoke and foul odors, can serve as an additional lighting feature, and keeps insects away from you.
How many blades should my kitchen ceiling fan have?    
The number of blades does not indicate the power of the ceiling fan's airflow. While most people usually go with 3-blade ceiling fans, a fan with 4, 5, or 6 blades can also create a good airflow and offer many quality features.