What Is The Quietest Window Fan?
Tired of the sweaty, humid summers? Looking for a window fan but dreading the noise? Look no further! This silent machine will keep you comfortable with a cool breeze at a low cost.
The Bionaire BWF0502M-WM is the quietest window fan on the market, making no sound even on high-speed settings. With its high airflow and compact form, the fan fits in most windows, cooling even large rooms. However, the thermostat is manually controlled.
Read on to learn everything you need to know about the Bionaire window fan, including its pros and cons so you can decide whether this is the model for you.
Why Buy The Bionaire Window Fan?

When it comes to quiet window fans few models can beat the Bionaire BWF0502M-WM. Most window fans these days come with constant noise, especially at a medium or high setting. If you have experience using a window fan you'll be pleasantly surprised with the sound control the Bionaire model offers. Of course, it also has several other great features.
So here are a few of the reasons why you'll want to buy this fan.
1. High Air Flow
If you're buying a window fan you're mainly doing it for the air quality and the Bionaire BWF0502M-WM definitely delivers on that front. It will cool down your apartment pretty quickly and comes with 3 comfort settings, low, medium, and high. 
Depending on the setting you pick the fan switches between its various blades. Setting 1 runs the central motor, setting 2 runs both the external motors while setting 3 runs all of the above. As a design feature, this means the cool air is spread out more evenly. 
According to Bionaire, this model offers 40 percent greater air velocity than other comparable window fans, and customer reviews definitely back this up. The higher velocity means you can install this fan in your living room, garage, basement, or kitchen, as well as, your bedroom. 
As far as basic air circulation goes, the Bionaire model is an efficient, high-powered machine that gets the job done! You'll get optimal cooling at a significantly lower cost than you would by running air conditioning the entire day.
It also provides a range of other benefits. Whether you want to vent out cooking fumes or cigarette smoke the Bionaire window fan will bring in the fresh air and keep your home ventilated. All in all, definitely a good buy if you're looking for a mid-priced, solid window fan. 
2. Versatility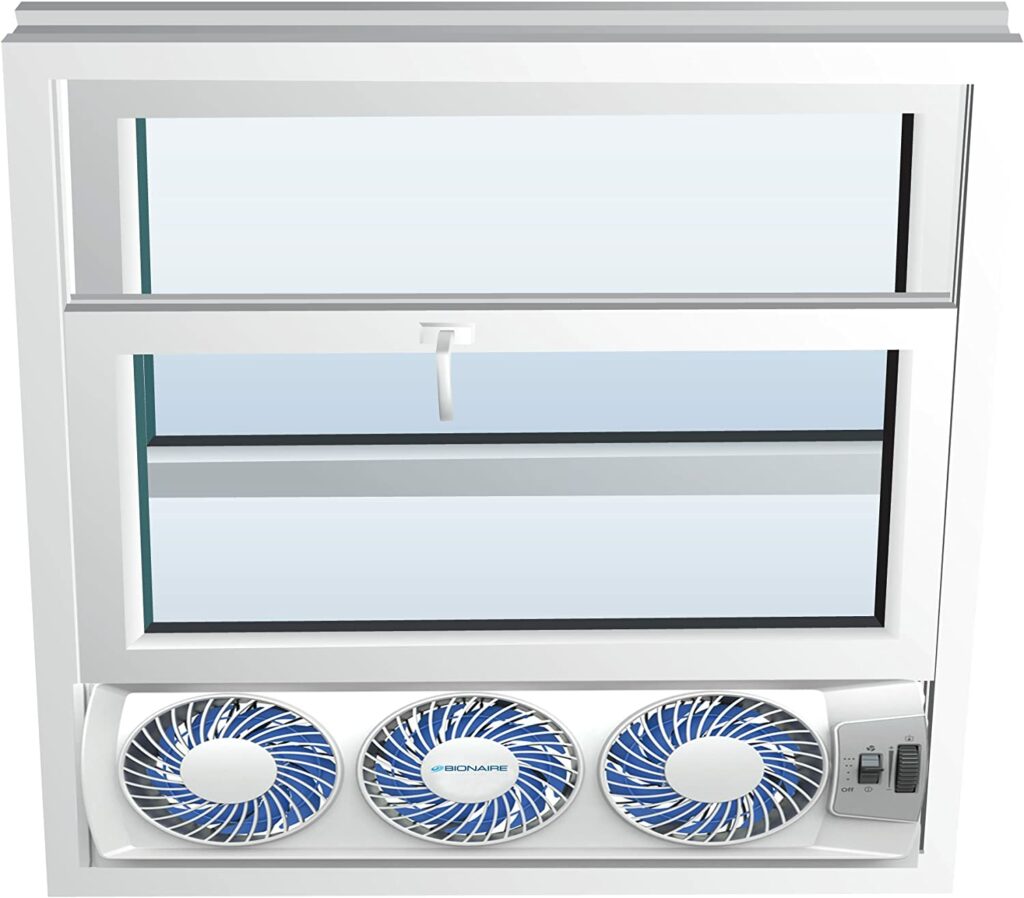 Another reason why the Bionaire BWF0502M-WM works well is its versatility. The design is compact and long, making it ideal for a variety of window shapes and sizes. You can install your Bionaire fan in a vertical or horizontal orientation, depending on your home's requirements and the fan will work equally well.
The unit including the casing adds up to a width of 9 inches while the overall fan is small enough that it doesn't feel overpowering or draw too much attention. The plastic case is of relatively good quality and shouldn't crack unless you put a lot of pressure on it. You can purchase this model in white or black. 
Overall, the versatility of the design definitely racks up a few points in Bionaire's favor. Regardless of the size of your window, or what direction it opens, you will be able to use this fan.
3. Sound Control
Noise is often the biggest complaint people have with window fans. The ventilation loses its charm when you're trying to sleep and there's a machine making a loud buzzing sound near your head. Regardless of which room you want a fan for sound control is definitely a priority. 
The Bionaire BWF0502M-WM is without a doubt a quiet window fan. The low and medium settings are completely soundless while some customers have noted a slight buzz on the highest speed. Overall, as far as window fans go it's nuisance-free. If you're looking for a super quiet window fan this Bionaire model is definitely the one for you!
4. Warranty
One of the biggest highlights of this model is definitely the 5-year warranty. This is longer than the standard for window fans, which is a huge plus. While the fan itself is a high-quality product, even if something does go wrong you can always replace it with a newer model. 
The warranty is serviceable across the US, but you'll have to look up specifics if you're shipping to other countries.
Of course, you can always shop for parts, like fuses, and change them out regardless of where you're living. The routine maintenance on these fans is pretty easy so you can get quite a lot of use out of them, which isn't bad for the price point.
5. Additional Features
Another great feature of the Bionaire BWF0502M-WM is its thermostat control. Re-setting your ideal temperature each time can quickly turn into a nuisance, but with the Bionaire fan, you'll never have to worry about the details.
Once you adjust your thermostat the first time, it will remember your previous temperature setting even when you turn your unit off.
However, this does not apply to cases where you pull the plug out. If you're unplugging your unit the fan won't remember your previous thermostat setting and you'll have to readjust it. This may not seem like a big deal but when you're going in and out multiple times a day it definitely helps to have a fan that doesn't require constant fiddling.
What Are The Potential Drawbacks?
The most important thing to remember is that Bionaire BWF0502M-WM is a manual window fan. As long as you understand what you're getting into with this unit you won't be disappointed.
Customers who find the manual adjustment difficult can always check out our other posts on Smart Window Fans and purchase an automatic fan. But these won't be as quiet as the Bionaire unit.  
Manual Controls
When it comes to the Bionaire fan customers can expect an optimum reversible airflow. That means it brings in fresh outside air and exhausts hot stale air inside the room, creating a complete air circulation system. However, the vents that allow this transition from intake to exhaust must be adjusted by hand.
There are two sets of control switches, one inside the unit and one on the outside of the unit. So depending on which setting you want you'll have to turn the fan around. That's right, to reverse airflow and circulate air you need to remove the fan from the window, flip it, and then push it back in. 
Now if that seems like too much effort, this fan isn't for you. There are always other window fans that either has a remote control automatic reverse shift or let you switch the airflow without removing the fan.
Check out the Genesis Twin Window Fan or the Air King 9166F. You can explore these options to find one that makes the least amount of noise. 
Ultimately it is a question of whether the quiet ventilation of the Bionaire BWF0502M-WM is worth the extra effort for you!
The good news is that the fans aren't heavy and you can make the switch relatively easily.
Repair Ease
If you're living in the US you shouldn't have any problem getting your fan repaired or parts exchanged. Bionaire offers a 5-year warranty on their product and all the spare parts are easily available. However, for customers living outside the US, you may find it difficult to find replacement fuses for your unit.
In case you blow a fuse it takes more of an effort to contact the Bionaire customer support team and figure out a way to resolve the issue. This may affect your experience with the product.
So if you live outside the US and want to get your window fan shipped via Amazon this is definitely a drawback you'll need to be mindful of.
No products found.
Conclusion
Overall, the Bionaire BWF0502M-WM is one of the quietest window fans, with an extremely powerful airflow system, and a versatile design that makes it ideal for most users. It does have a manual reverse system which may make it less than ideal for some customers. 
However, if your goal is to use it for one-way circulation, to either bring in fresh air or exhaust fumes, you're good to go.
The unit is ideal for smokers who want to keep their homes smoke-free, and families looking to exhaust kitchen fumes. It also works great as a way to ventilate basements, bedrooms, and living rooms. 
If you need a two-way circulation system the Bionaire fan definitely gets the job done. It may take you a few tries to figure out how to flip it easily, but the unit is lightweight and you'll have it done in no time!
As far as repair and maintenance are concerned, Bionaire offers a 5-year warranty to all customers, which is a lot longer than the market standard, and offers a wonderful safety net to all buyers. 
On the off chance that something does go wrong with your unit or it is damaged during shipping, you can always replace it! All in all, this is definitely one of the best window fans you can buy!