If you desire the cooling of an air conditioner at the cost of a regular fan and with lower power consumption, what you need is a mist cooling fan. While the regular fans circulate the warm air indoors, the misting ones provide cooling by adding moisture. The result is being able to beat the heat faster. Luckily, it's not only for homes, shops, or restaurants, but also for the backyard, patio, or garden too.
You might be surprised to know the range of models available in the market are almost as many as what you may come across for regular fans. The styles include handheld, wall-mounted, ground, and pedestal fans in addition to the choice of corded, battery-operated, and rechargeable ones. Based on your budget and needs, some of the best models are mentioned here to help you make up your mind.
How Do They Work?
To keep an air conditioner running through most of the summer is an expensive affair. Fans generally don't cool the entire room, rather they create a cooling effect by evaporating the sweat on your body faster. For experiencing an extra cooling effect, misting fans come cheap, without compromising on the outcome.
The misting function of these products works because of the effect of flash evaporation. The water that is sprayed into the air is done as fine mist. This fine mist evaporates rapidly and disappears before touching your skin, while reducing the temperature of the hot air around you without getting you wet. The outcome is 15 to 40 degrees F reduction in the ambient temperature.
The Varied Types to Suit Your Needs
Based on customer needs, there are a range of models to select from. The misting fans work to cater to your cooling requirements anywhere. Some have additional features for extra comfort.
Pedestal Fans
These standing models are the typical, widely-used sort. Easy to move around, adjustable height, and with the misting function that could be turned on/off, this is ideal to use in your home as well as outside. Plug it into a socket and connect the water supply to the hose connection, and you're good to go.
Wall-mounted Fans
Whether you're tight on indoor space or looking at cooling your backyard, patio, or outdoor cooking/BBQ area, wall mounted equipment works the best. With power and water supplies, these fans spray cool mist at the angle that they're set on. Instead, if there's a large space, having more of these wall-mounted devices will help in cooling the entire area. 
Portable or Carry Around Type
Travel a lot? Prefer outings more often? The portable misting fans will keep you cool through it all with just batteries and a little water. Since they don't need electrical or water supply connections, these are the most convenient ones to have on the move. You could go to the beach, shopping, hiking, or outdoor events and carry one around with you at all times.
Misting Kits
The most affordable option around is to convert your existing floor or wall-mounted fan into a misting model with the conversion kits. With the hose and nozzles, an existing compatible model could be converted easily. All that's required to assemble it is included and the misting features combine with the airflow of the fan to provide additional cooling.
Things to Keep in Mind
For the device to create mist, it obviously needs water supply. So, the first thing you need to figure out is if you're going to attach it to a standard garden hose or maintain a reservoir; and accordingly look at the model specs. Typically, most fans have three speed settings and some have adjustable mist settings. Other factors to check out include the cooling area of the device in terms of square feet or cubic feet per minute (CFM) how far does the ejected mist get sprayed.
Place of Use
Whether you intend to use a misting fan at home or outside, there are models that cater to these needs; some that could be used both indoors and outdoors. For outdoor fans, it would be wise to select a product that is rust-proof and weather-proof, with a protected motor and controls.
Ideally, the floor standing models work most efficiently by dispersing air and mist over a large area, although they do take up floor space. If indoor space is an issue, there are wall mounted misting fans or even portable ones, and if you're on the move, battery-operated devices would suit better. On the off-side, they're not as effective as their counterparts that run on power.
Dimensions and Coverage
Once you've decided where you'll be using the device, it'll be easier to look for the right one based on the size and coverage. Apart from the size of the product itself, the blades also vary, with larger blades creating a stronger airflow.
A smaller area such as a deck could do with a compact fan, while a large area such as a garden, backyard, or patio, especially on hot summer days will need a model with higher speed that cools a larger space.
How Easy Is Its Use?
When something is easier to use, you'll be able to utilize it regularly and to a greater extent. Once you've figured out the proper arrangements for power and water supply, these fans are a blessing in disguise.
Most models can be assembled with ease and quickly. What's even better is the availability of a conversion misting kit to convert your regular fan into a misting model. If you've already got a fan, you could check out these conversion kits that are available at a budgeted price.
The Mystical Misting Fans
Here are some of the different models with good reviews and mostly affordable, to help you decide on a good misting fan.
Geek Aire Rechargeable Misting Fan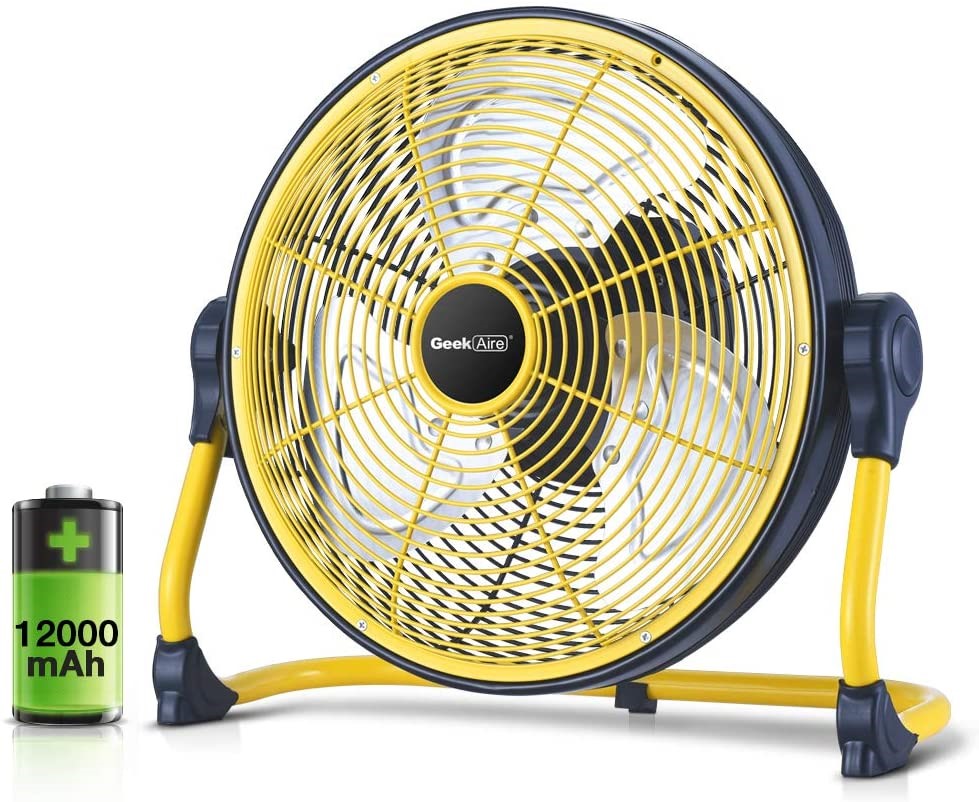 This 16″ highly portable, cordless, battery-powered product is the perfect companion for your outdoor activities, including camping. The best part about it is the detachable 15,000 mAh battery, which offers 2-10 hours of run time when fully charged. Carry a couple of extra batteries, and you're good to go for a full day or even more. You could even charge your phone and other devices by using it as a power bank.
With an airflow of 2300 CFM, it has three misting nozzles that spray the cool and refreshing mist up to 11.5 feet. The 360 degrees pivot on its stand adds to its advantage of being rust and waterproof and UV resistant. Weighing just 13 pounds, it is lightweight, made of ABS plastic, and works wonders for any outdoor activity.
Windchaser Outdoor Misting Fan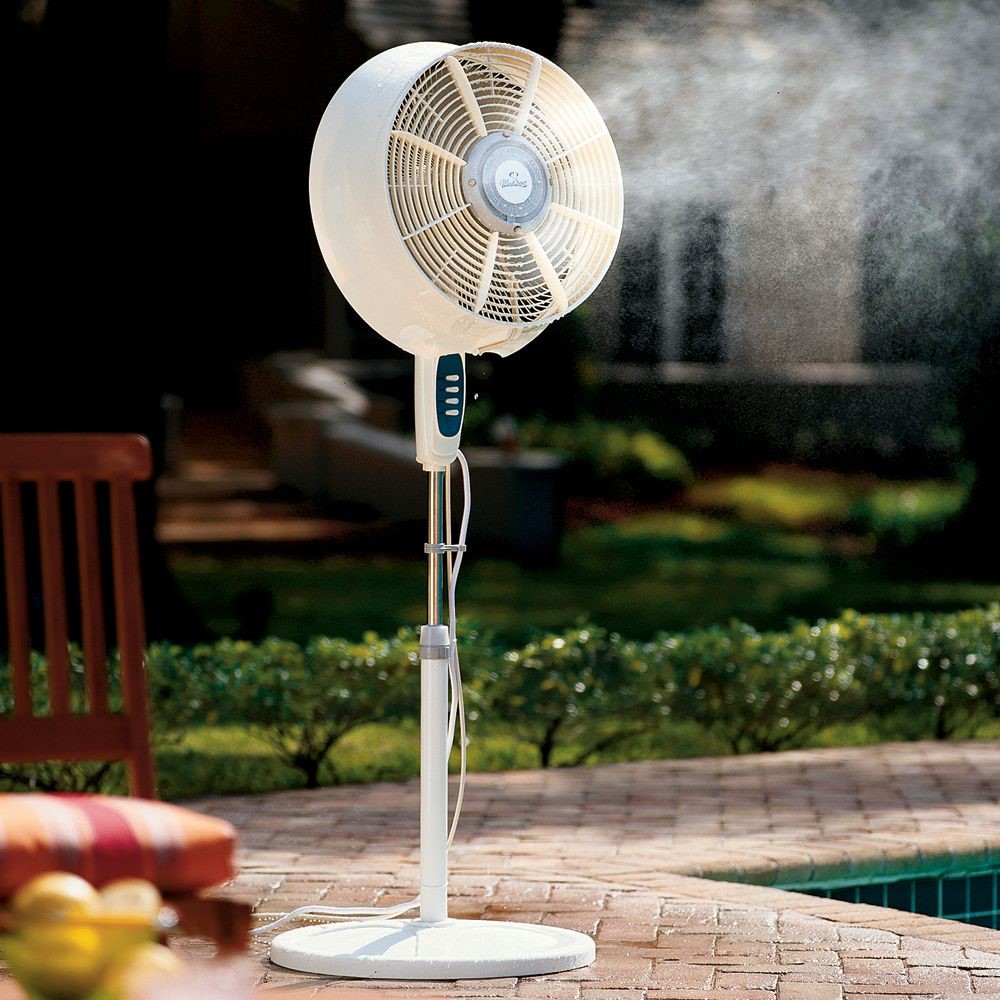 This popular, dual purpose oscillating misting fan makes it suitable to use indoors and outdoors. A standard garden hose could provide the water supply for the four misting nozzles. The high-velocity shower-proof motor works at three speeds, but care must be taken to keep it out of rain.
Designed for outdoor use, it's made to be resistant to rust and UV rays. On the hot and dry summer days, the fan's oscillation, the spinning of the three blades, along with the mist, cools the temperature by at least 25 degrees F, making it one of the best outdoor misting fans. For indoor use, the misting function could be disabled, while the oscillation could be disabled with a pull button at the back.
iLiving Wall Mounted Weatherproof Fan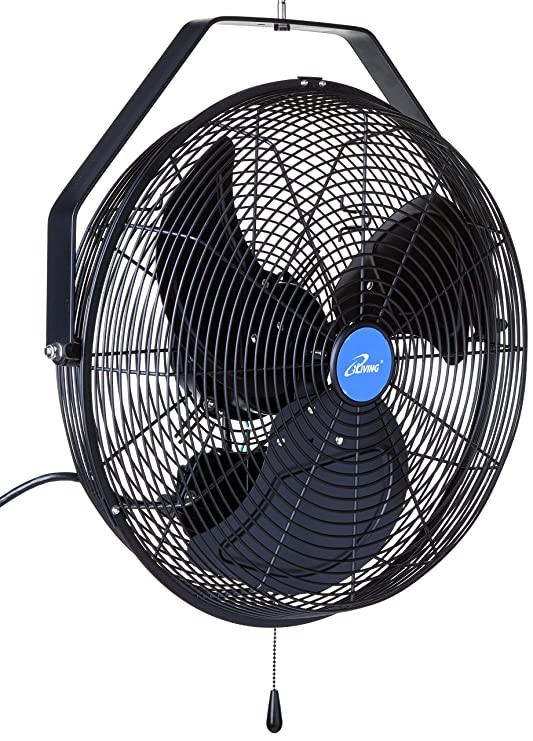 This is an example of a normal wall mount 18″ fan that can be converted to a misting variant with the conversion kit. At a much cheaper price than other options, this is suitable for homes, shops, greenhouses, or outdoors as well. The galvanized steel frame and the curved aluminum blades are moisture-resistant and corrosion resistant, making it ideal to use for outdoor misting.
A pull chain allows control of the three fan speeds and it contains a permanently lubricated, well-sealed motor. With the additional misting system that needs to be purchased separately at an extra cost, the air circulating around you will be a lot cooler. When you're tight on space, or you need multiple fans for a large space, this is your go-to option.
Ecojet by Joape Hurricane 660 Wall Mount Misting Fan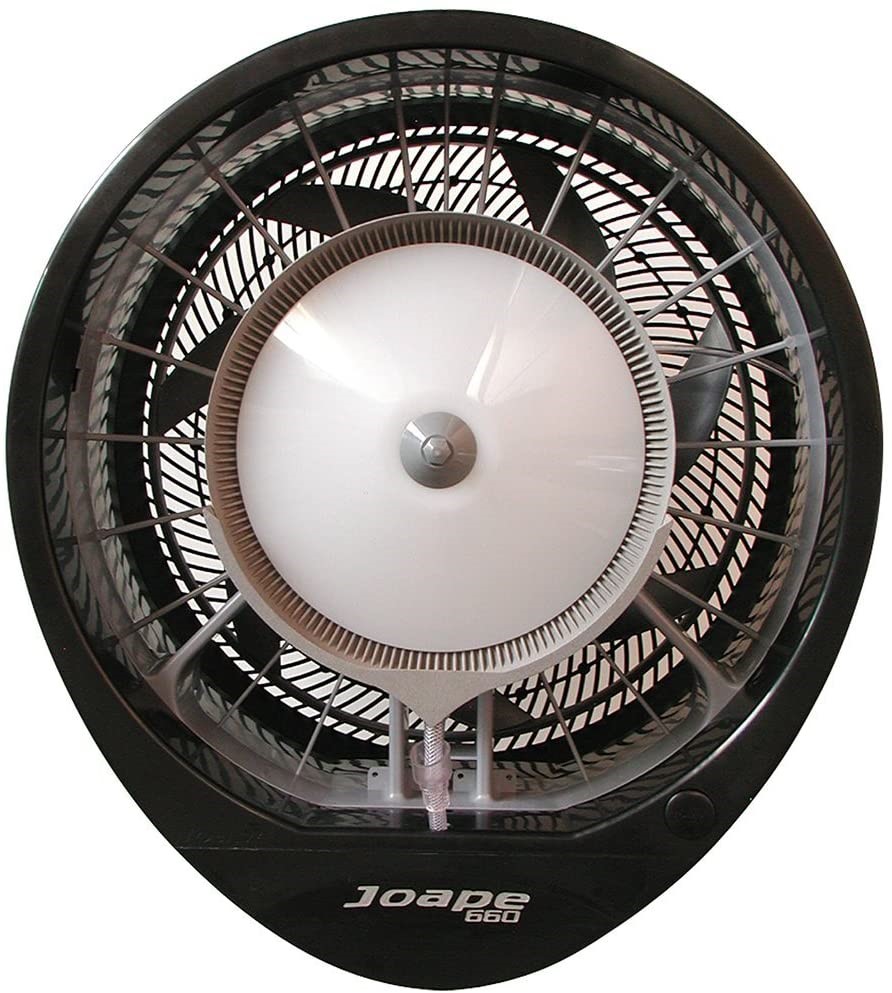 If you're willing to spend more for your cooling needs, this outdoor misting fan is the best you could consider. With no spray nozzles or filters, the maintenance needed is extremely minimal. What's more impressive is that the mist level is adjustable from low to high. The ultra-fine mist created by the spinning disk mounted in front of the fan doesn't get you wet even if you stand right in front of it.
Apart from lowering the outdoor temperature by 20 degrees, the air is also purified and humidified, which helps reduce airborne allergens and eliminates odors. What you get with 5,885 CFM is a cool coverage area of 1,500 square feet. Surprisingly, for this performance, the noise levels are quite less at 67 dB.
NewAir AF-600 Outdoor Misting Fan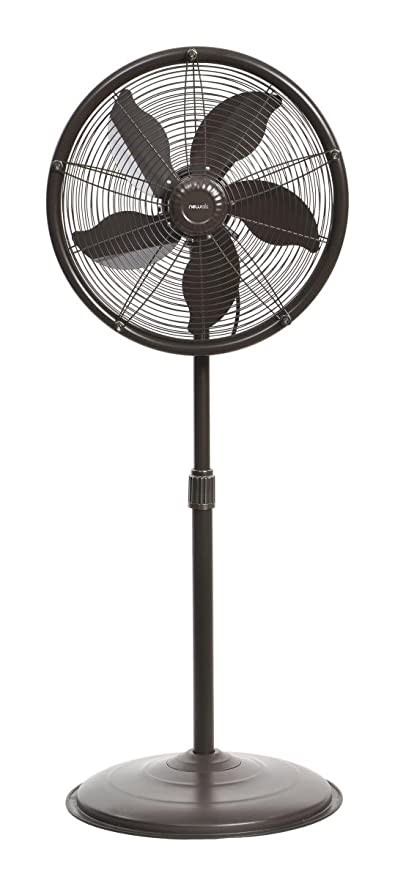 This multi-feature slim design product, with its lovely bronze blades and five gentle mist nozzles, is one of the best patio misting systems with an amazing misting coverage of 600 square feet. Ideal for the backyard, patio, or play area, this 18″ device has many benefits including being energy-efficient, eco-friendly, and air temperature reduction by almost 10 degrees F.
Its compatibility with a 0.75-inch garden hose, along with wide-angle oscillation and three speed settings makes it worth the spend. The equally important safety features include a GFCI plug that cuts the power when necessary and a leakage protection device that shuts down the fan on detection of a potential water leak. You're guaranteed to be one satisfied customer with this purchase.
Dynamic Collections Oscillating Misting Fan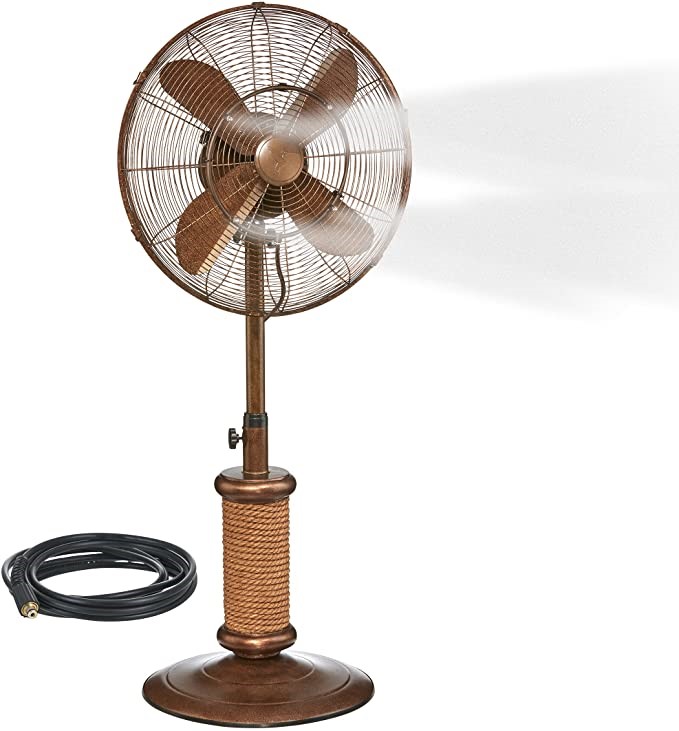 When you want your cooling equipment to have a unique, retro design to go with your interiors or stand out on your patio, this fancy looking rich bronze color fan, with a faux rope design at the bottom will capture anyone's attention. With three speed settings, oscillating options, and completely adjustable features, you could have a barbecue party in your backyard or a pool party.
An all-weather paint with UV resistance makes it suitable for full-fledged outdoor use. Additionally, for safety, a GFCI plug is included and the product has a ETL 'Wet Listed' safety rating making it safe to use outdoors. The misting kit attached to the 19″ oscillating head lowers the temperature around rapidly.
HandFan Portable Misting Fan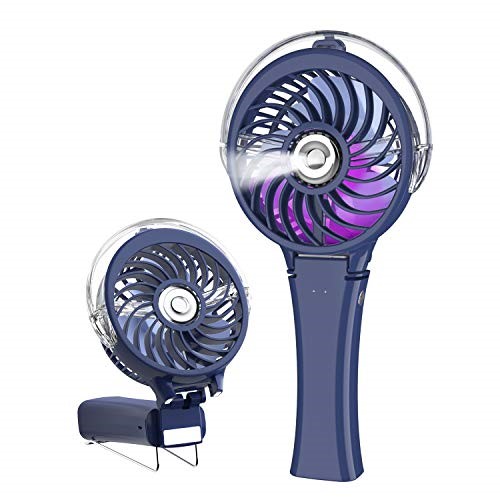 If you love being outdoors during summer for hiking, camping, or mini outings, this small and portable device will keep you cool when you need it the most. Not only is this one of the best portable misting fans, but also, it has seven colorful night lights and is foldable by 180 degrees. Just fold it and place it in your bag to take to the gym, travel, shopping, work, etc.
Quite conveniently designed, all functions can be controlled with a single button. With a short press of the button, the device will turn on/off, long press turns on the misting system, and a quick double press turns on/off the nightlights. Along with these features, there are three speeds to choose from and the DC brushless motor can cool you down instantly.
Yet another impressive feature is its clip-on provision, with an enclosed metal bracket, making it convenient to clip it on the treadmill, in your car, or for the baby stroller. This also works as a desktop fan for the office or classroom. The USB charging makes it easy to plug it into a PC, power bank, or even car charger.
Final Thoughts
Although not as popular as other cooling equipment, misting fans have good potential to cool you and your surroundings when the heat gets intolerable. Quite affordable when compared to an air conditioner and more efficient than many fans, when the misting function works, you'll know that you've put your money in the right place.