The summer heat can make it difficult to stay cool, especially when working at a desk. Traditional desk fans are often bulky and require external power sources.
The Vornado Zippi desk fan offers a solution to this problem. This small, stylish gadget offers the power to create a cool breeze wherever you are.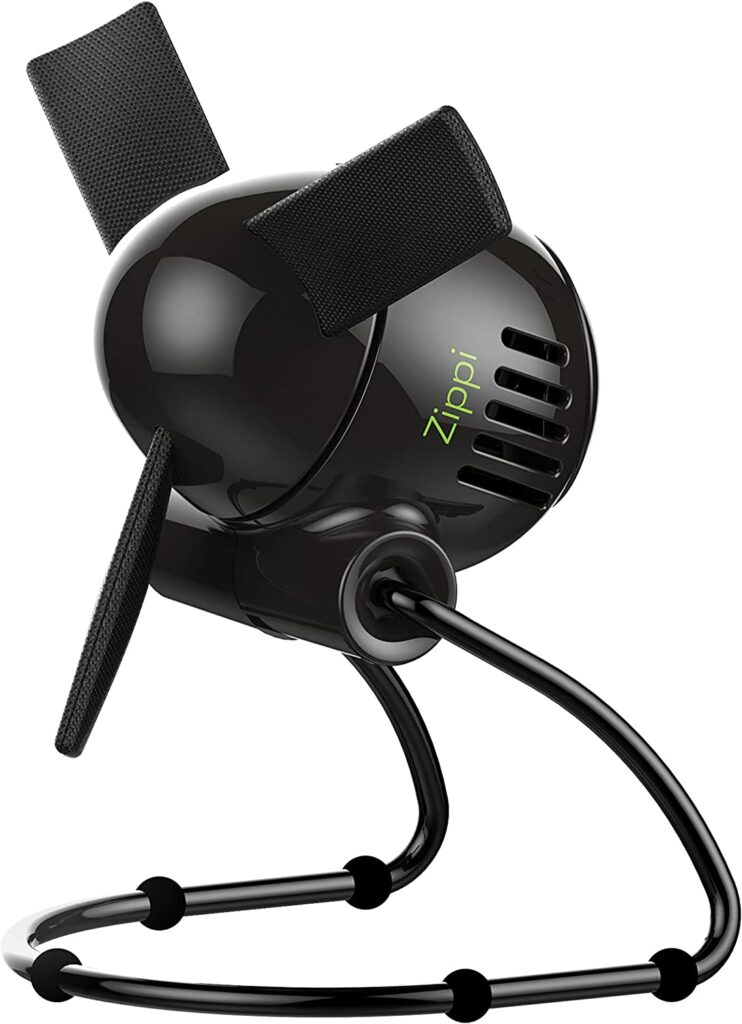 This article will review the Zippi fan in depth so that you can make a better decision regarding whether or not it meets your needs.
Zippi Desk Fan Specifications
Before making a decision regarding the purchase of any electronic item, it is important to note the safety of the product. This is because having improper specifications can result in short circuits, failure to operate, or even fires.
The Zippi personal fan has the appropriate certification to be on US voltages. This ensures that, as long as you are in the states, you will not run into problems such as the fan needing a different voltage than the default outlet. For international operations, there is also always the option to use an AC converter to get the right voltage.
In order to ensure safety, Vornado has used high-quality craftsmanship throughout the product.
Consider, for example, the power cable leading into the fan. Unlike most cables which are vulnerable to tears over prolonged use, the Zippi USB desk fan makes use of a braided cable.
The advantage of a braided cable over a standard cable is that it is less vulnerable to tears when being bent and moved around, something you are likely to do with a small fan kept on your desk.
Zippi Desk Fan Features
Apart from useful technical specifications, the Zippi fan also comes with a few quality-of-life features that can make it a much nicer personal fan to use.
Speed Settings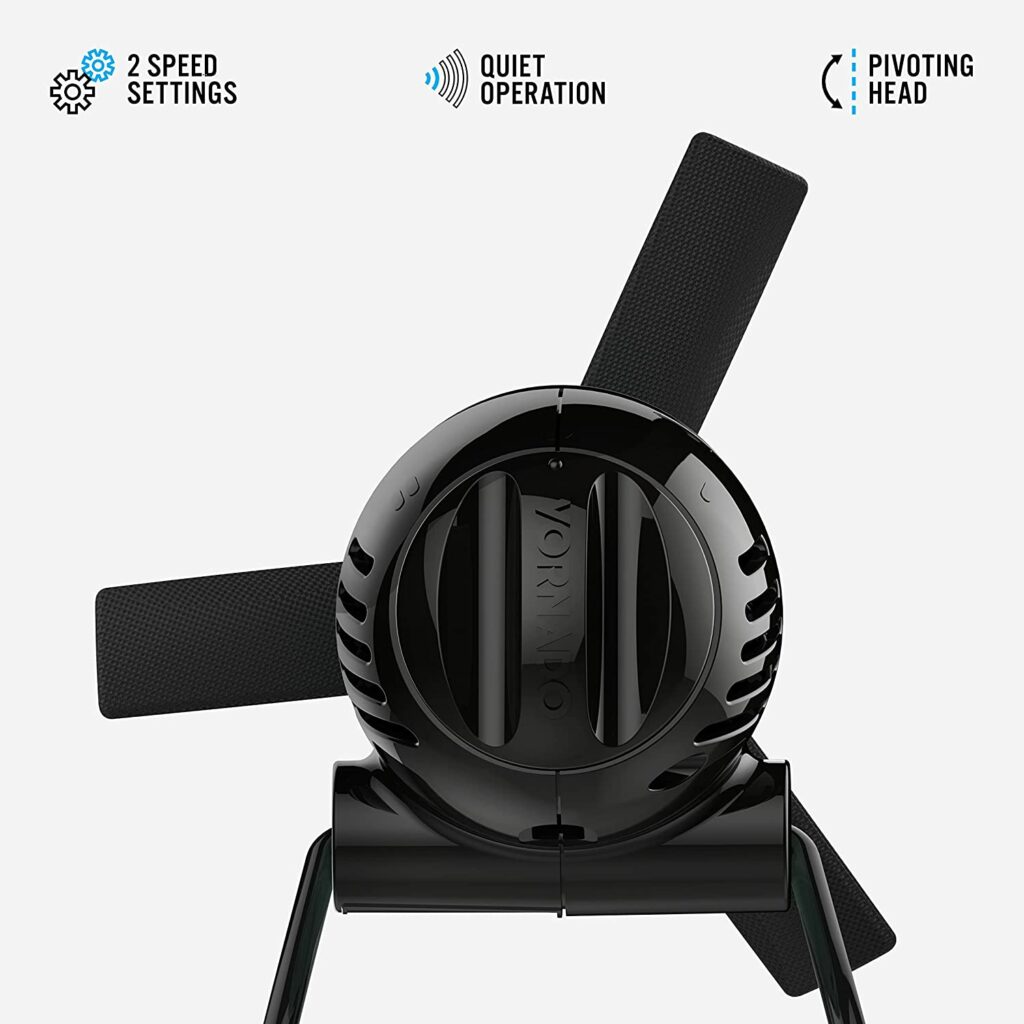 One of the issues with having a smaller personal fan is that there is no way to adjust the fan speed of the product. This means that you are unable to increase air circulation on days when it is particularly hot, not decrease it when you want to reduce noise or power consumption.
Fortunately, the Vornado personal fan comes with two-speed settings. This allows the user to have greater freedom and control over the airflow generated by the fan as they can pick between two speeds. This helps the Zippi stand out above other offerings on the market which lack speed settings.
Soft Foam Blades
In order to keep the weight and bulkiness of the fan to a minimum, Vornado decided to forego the addition of a protective cage around the fan, as is the case with most fans. This, however, means that when in operation, the blades are directly accessible, and accidental bumps could result in injury.
To fix this problem, the fan blades are made with mixed materials, including fabric and foam. These innovative soft cloth blades are perhaps the greatest defining feature of the Vornado fan as they eliminate the risk of injury.
In fact, soft foam blades and USB fans are not particularly common on the market. Hence when you use the Zippi, you will find that the fabric blades confer a series of advantages beyond safety. For example, thanks to the fact that the fan has soft blades, the Zippi fan folds instead of breaking like other fans.
This means that the Zippi is easily packed, and you can take it wherever you work. An essential quality of a fan is meant to be portable and used on the go.
Quiet Operation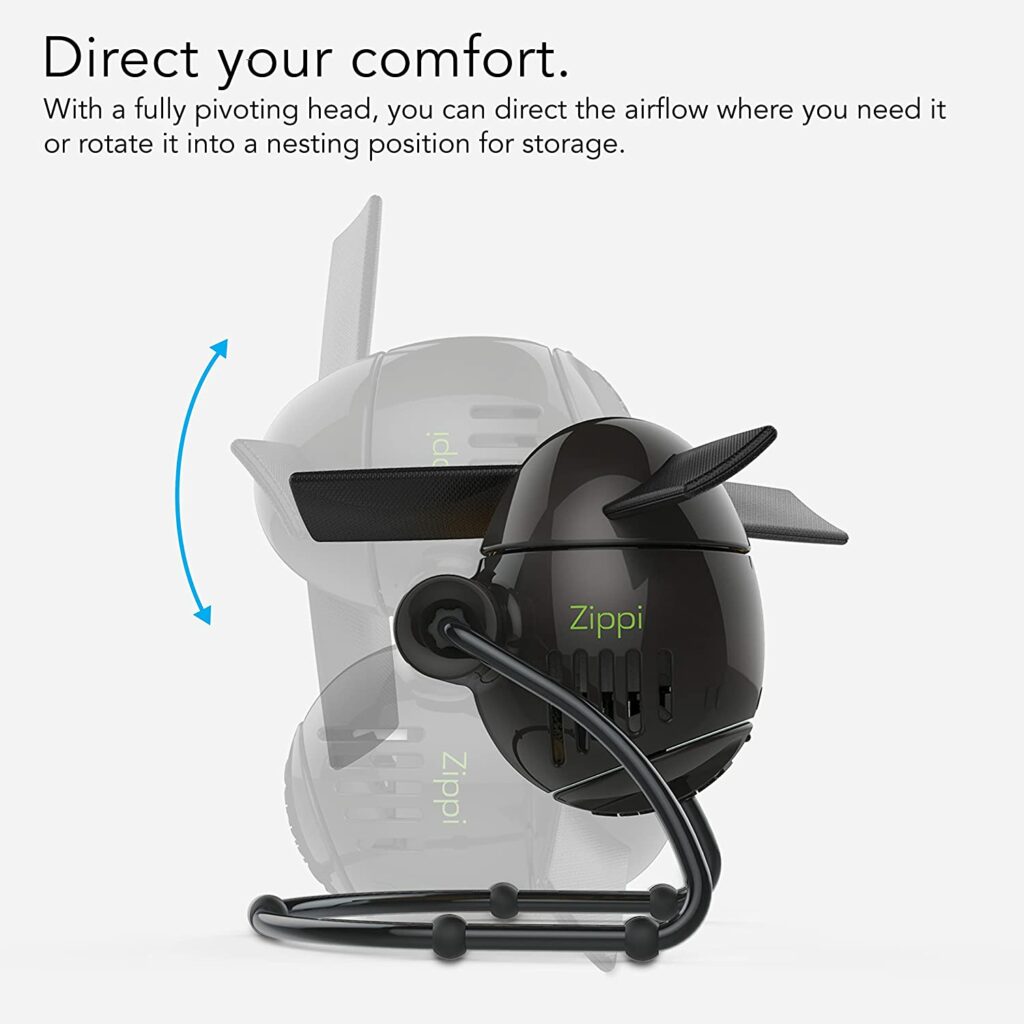 One of the biggest issues with having a fan on your desk while you are working is the noise that it can produce. Despite the fact that this problem is most apparent with bigger fans owing to the larger air current they form, even a little fan can produce a decent amount of noise due to the fact that it spins faster.
Vornado's Zippi fan, however, solves this problem with its intriguing design. Once more, not having a metal blade comes in handy due to the fact that the innovative soft nylon blades quietly propel the air and do not make nearly as much noise.
This allows you to work while having the perfect comfort level as the Vornado is both a powerful electric fan but also quiet during operation.
Other Features
If, somehow, the soft blades and the two-speed settings are not enough to convince a customer. Vornado included a series of other less flashy but equally handy features.
Consider that the Zippi USB desk fan comes with an adjustable fan head. This allows you to change the direction of the desk fan without having to move it entirely. The adjustable tilt head can also be a useful feature in case you do not want wind blown into your face but rather simply need an air current in the room.
Other than the pivoting head, Vornado also provides high-quality customer support. For 3 years after purchase, you can receive hassle-free assistance, this includes a customer satisfaction guarantee.
Rather than outsourcing this crucial part of the business. Vornado ensures that it is handled in-house to provide customers with a pleasant after-sales experience.
Zippi Desk Fan's Aesthetics
For some buyers, the form can be even more important than function. This is especially the case when the product is a portable USB desk fan that will likely be used in public settings. Due to this fact, the Zippi stops being just a useful piece of equipment, rather, it also becomes a form of self-expression.
This is a fact recognized by Vornado hence they put a great deal of effort into the overall aesthetic design of the product.
For example, consider the fact that the Zippi desk fan comes in a series of six different colors. This allows one ample selection to choose a theme that they feel resonates with them. Perhaps black if you want to seem stealthy and serious or neon green in order to stand out and showcase your persona.
Whatever color you prefer, it is likely that you can get it or something similar in the selection offered by Vornado.
The sleek, colorful finish pairs extremely well with the elegant design of the project. The glossy finish also exudes quality and style to anyone passing by. Brilliant chromed accents add a finishing touch to the overall aesthetic of the device. It might be a little fan, but it comes with a big attitude!
Considerations Before Buying The Zippi Desk Fan
Before you can go ahead and make the final decision regarding this USB desk fan. There are a few things to consider.
Firstly, there is the value proposition. This will be different for different people as some might find the price to be a steal, while others think it's too much. At the time of writing, you can pick up a Zippi fan for between 15-20 USD.
The exact price depends on the color that you end up purchasing. Certain colors, such as neon green, are on the cheaper end, while black will cost you more. Most colors, however, have almost the same price at about 18 USD.
Despite all the fan's positive qualities, it is not perfect. This is true for any product and applies to the Vornado equally.
One common complaint is that the USB desk fan might not arrive working properly. In situations like these, you can easily use the warranty and get a free replacement. However, the hassle of having a brand-new fan break on you and waiting for a substitute can be a bit annoying.
The Zippi creates a fair bit of vibration in operation. To achieve Zippi's space-saving size, one of the additions is the fact that it can be folded.
This means that when in operation, there is a bit more give in the fan's construction which causes vibration. This is not a huge problem if you are using the fan on a wooden desk or on something soft such as a couch.
It may make the fan a bit noisy when using it without padding directly on certain surfaces such as glass.
No products found.
Conclusion
With 2 speed settings, a universal serial bus power connector, and a powerful motor, the Zippi is far from a quintessential fan, rather, it is one of the best options on the market. With overwhelmingly positive reviews online, Vornado's offering seems like it would be suitable for most people in most circumstances.
However, the only way to know for sure whether this fan is the right purchase for you is to carefully consider your own needs and use cases. For example, despite how great the Zippi is, if you expect to be operating it outside the US most of the time, then it might not be suitable.
We hope this article helped you make up your mind and wish you the best of luck with your purchase.