Vornado 660 vs 733 : 5 Key Differences
Introducing the best Vornado air circulators for what you need, BUT, which one to pick? That is what we are about to find out. In particular, we will be going in-depth with the Vornado 660 and 733 models.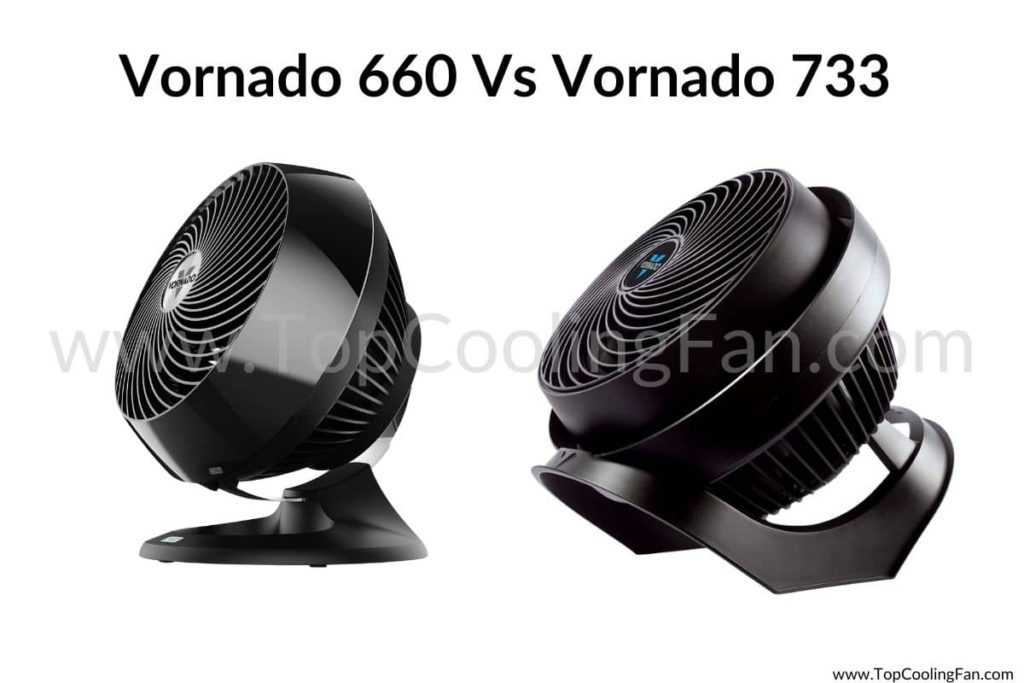 There are various factors to consider when it comes to choosing the ideal air circulator for your needs. This is especially during the warm summer months when high temperatures are sometimes unbearable. For instance, the brand, capacity, power consumption, design, noise and more. We considered all these and more when preparing these best Vornado air circulator reviews.
Vornado 660 Vs Vornado 733

 
Table could not be displayed.
Let's cut to the chase and start out with OUR PICK of these two air circulators. After the comparison and really diving into everything the winner was the Vornado 660. Due to FIVE key differences.
The Vornado 660 even at a smaller and lighter size puts out the same top-end CFM with more speed options to choose from to really narrow in on that preferred comfort level.
Vornado 660 uses button controls instead of a dial controller like the Vornado 733 and we preferred that. The 660 also has the option of Alexa if you get the AE model. Check 660 AE price on amazon here.
Ease of cleaning. Both are easy to clean but the 660 takes the cake here with its removable grill.
Vornado 660 also won on the fan direction contest as it has more options to adjust how and where you want the airflow.
The last key difference for us was the design. Vornado 733 is not an ugly machine but the 660 is just so good looking you actually don't mind people seeing it.
BUT! HOW did we come to this decision?…
Continue on and we can dive into the nitty-gritty of why and how we made our decision.
Overview of Vornado 660 Air Circulator Fan
No products found.
Price
Averaging around $100, the Vornado 660 air circulator fan is a powerful machine that offers solid affordability and impressive performance. This makes it one of the best bangs for your buck when it comes to fans, much cheaper than air conditioners for the initial costs and the ongoing costs. Additionally, this price also comes with a 5-year warranty for added peace of mind.
Dimensions
The Vornado 660 has dimensions that average at 15×13.5. x11.5. As a result, this machine has been designed to leave a small footprint on your property. This is just the standard size of most air circulators that are available on the consumer market.
Weight
It weighs about 7.3 lbs. As a result, it is simple to transport around the house and a portable solution for your air conditioning needs. This is when compared to most air circulators that average at 10lbs, so the difference will be noticeable and appreciated.
Design
This machine has a sleek and contemporary design which provides various benefits. For instance, this unique design helps to provide reliable power and optimal stability.
This makes it a worthwhile addition to your interior décor that you don't have to hide in a corner. It also has a vortex design which is customized for air circulation purposes.
Capacity
This unit has a good power capacity that averages at 120/60Hz. As a result, it can be used in different countries and without any power supply complications. The fan is therefore dynamic enough for use in different air circulation applications
Speed Setting Options
Vornado 660 has 4-speed settings selected by a simple push of the button. Optionally you can get the 660 AE that lets you control the fan with Alexa for added convenience.

Power Consumption
This Vornado fan is also reasonable when it comes to power consumption. It consumes an average of 32 watts of power, and this makes it perfect for the budget-minded with waste energy concerns.
Speed
The fan also has four-speed settings, which make it ideal for use for power consumption purposes. You can customize the speed to match your air circulation needs. The speeds increase gradually from one to four, with four being the highest speed.
Noise
This machine is almost silent in operation when compared to other conventional air circulators that are available out there. In fact, it is quiet enough to be used while you sleep or during social events. The fans have been customized to be quiet even at high-speed settings.
Key Features 
Unique Gloss and Matte Finish- Discover the excellence of the Vornado 660 fan that comes with a unique gloss and matte finish. Users will also appreciate the simple to maintain design which features a detachable grill. This works to provide convenient access to the blades and is backed by high-performance features

Vortex Action-

It has a unique whole room vortex action that allow it to move air up to 100 feet. It has been designed to provide a unique airflow pattern that is referred to as the Vortex Action. This helps to promote optimal air circulation for cool, fast and constant air cooling benefits

Chrome Glide Bar-

The inclusion of the unique chrome glide bar allows users to perform a full 90-degree tilt. The 660 fluidly tilts in between different airflow positions along the chrome glide bar.

Special Air Inlet-

This device raises the bar with a specially sized inlet that can be used to direct the flow of air to different sections of the blade.

Push Button Controls-

It also has reliable push-button controls found on the top of the machine which allows for convenient selection. With its heavily contoured blades, this fan optimizes the amount of air that flows with each turn of the motor.
Warranty 
This machine also comes with an exceptional five-year warranty for convenience. The warrant is valid as long as you don't tamper with the device. This warranty is very reasonable, especially when compared to the affordable prices. Most products in this category often have an average of 2 years warranty.
Customer Opinions For This Fan
On average this air circulator has received exceptional reviews. For instance, it has received as much as 71% of 5-star reviews, 15% four stars, 5 % for three stars, 4% for two stars, and 5% for 1 star. Most of the users like the sleek and appealing design of the fan.
It has unique lines and a sleek matte finish to make an appealing addition to any interior. Users also rave that it is highly portable and its unique design provides exceptional air circulation performance while being very quiet.
Overview of Vornado 733
No products found.
Price
The Vornado 733 air circulator is also around $100. This is probably the reason these 2 air circulators are compared so often. With similar function and performance, this makes a lot of sense.
Dimensions
This machine has dimensions that are 16.2 x 14.2 x 15.2 inches. As a result, this makes it compact enough for your air circulation needs. This is the standard size accepted by most people for air circulators. It's neither too big nor small thereby making it ideal for small and large spaces.
Weight
It also weighs 8.5 pounds meaning that it's simple to carry around and place on your desired surface. When compared to the 660, this makes it relatively larger, though it is still highly portable for your air circulation needs. You can conveniently move this machine to any room in the home as well.
Design
Similar to the 660, the 733 comes with a unique vortex design. This makes it perfect for air circulation purposes. In addition to this, this fan also has an appealing finish is ideal for any interior décor. It also has sleek lines and u unique matte finish that is resistant to stains. Some would argue the 660 has a better design.
Capacity
Similar to the 660, this machine also comes with a normal 120watt/ 60hz power capacity which makes it perfect for use in almost any country. This exceptional power capacity means that this device is dynamic enough and reliable for your needs.
Speed Setting Options
Vornado 733 only has 3-speed settings that are selected with a dial controller.

Power Consumption
The power consumption of the machine averages 38 watts, which is slightly higher than the 660 version. As a result, this machine is also perfect for those who want a powerful and practical machine for air conditioning purposes.
Speed
This fan has an exceptional speed level, and it can provide a good air supply to as many as 100ft away. The speed of this fan is slightly higher than its counterpart the 660 at the lower levels but basically the same CFM on High.
Noise
This Vornado air circulator is not only powerful in operation, but it also produces only a small amount of noise. As a result, you can easily use it during sleep time or when watching TV without struggling to listen. Thanks to the innovative design of the blades which provide optimal performance.
Key Features 
Compact Design-

Experience the superior quality of the Vornado 733B powerful air circulator which has also been designed to provide space saving benefits.
Vortex Action- It comes with a unique vortex air circulation feature, which creates a swirling and deep penetrating currents of air. These work to rejuvenate and enhance the flow of air in the room.
Three Different Base Positions- This fan is also designed to circulate air from as many as three different base positions. The inclusion of the three-speed control that is found on the back, allows for easy access and convenient speed selection benefits. You can use the 733B all year to provide reliable air supply performance.

Simple to Use Dial-

This machine also comes with a dial that makes it simple to customize the speed features. It is conveniently located on the side of 733 for convenient access.
Classic Design and Elegant Color- With its classic design and elegant color, this machine blends well with almost any type of interior décor. It is also durable and stain resistant as well.
Warranty
Similar to its counterpart, the 733 is also available with an excellent warranty of 5 years. This means that you can easily repair the unit should it be damaged. In addition, the warrant covers any defaults as long as the machine has not been tampered with.
Customer Options For This Fan
This machine has received several exceptional reviews from users. Most love the vortex design which provides a powerful air supply regardless of the weather conditions.
Also, it is also durable and with an appealing finish to complement your interior décor. In particular, 72% gave it 5 stars, 9% 4-stars, 7% 3 stars 9% 2 stars 6% 1 stars. This clearly shows this machine is perfect for most needs.
What is the Main Difference Between Vornado 660 And Vornado 733
Broadly speaking, these two machines have both been designed to provide solid performance and impressive affordability.
Although the 733 version might be more powerful at low levels, than its counterpart the 660 due to its bigger blade size, both machines are perfect for your air circulation needs. Both devices have practical and fully functional designs. The 733 is larger than the 660, though both provide similar performance.
The 660 is, therefore, our choice here due to being smaller with similar performance, better design(our opinion), more speed options, and of course more versatile when it comes to fan direction. The Vornado 733 is larger, though it does not provide any significant edge over the 660 version.
No products found.
Final Verdict: Which Fan is The Best
All things considered, both these machines have been designed to provide unrivaled performance. That said Vornado 660 has been designed to provide a better performance level than its counterpart. The 733 might be larger and with a higher air capacity, but the 660 is much more reasonable.
It is smaller in size, and it provides almost the same performance benefits as its counterpart. The added benefit is that it's slightly cheaper and with improved air circulation capabilities. Generally, when it comes to the Vornado 660 vs. 733 reviews, the 660 is a much better investment for your needs.
Reference: