Rustic Ceiling Fans with Lights: A Brief Guide
Even the most beautiful home can be suffocated by stagnant air and that's when rustic ceiling fans come to the rescue!
A rustic ceiling fan with lights can make the ambiance feel relaxed and airy. Carved wooden panels float through the air, giving your house a cool look and feel.
Let's learn more about rustic ceiling fans with lights!
Can Rustic Ceiling Fans Have Lights?
Several fans include lighting, but don't worry if they don't. Light kits are available linked to your chosen fan by a component number and manufacturer. 
Can Rustic Ceiling Fans with Lights be Dimmable?
Yes, of course! If your fan comes with a light kit, check the specs to determine the availability of a dimmer option. Several light kits are adjustable, but you must have the appropriate dimmer control and bulb for your fan to be dimmable.
Light Kit Options
When choosing a fan with lights, the design of the light kit is one of the most important factors to consider. Bowl, branch, and globe light kits are just some of the options. These are small details that can elevate your room's decor.
How Many Speeds Do Rustic Ceiling Fans Have? 
A rustic ceiling fan offers up to 5 settings, giving you the ability to find the ideal amount of air circulation for your room. 
Some fans have reversible speeds, offering year-round climate control. As a result, you may turn your ceiling fan back on during the chilly winter months to transfer the warm air held in the attic down into your room.
How to Choose the Right Ceiling Fan for Your Space
The right ceiling fan delivers much more than just a pleasant atmosphere. 
For a distinctive appearance, many rustic fans combine wood and metal, creating modern and homey feelings.
In a modern space, a rustic fan adds a natural touch that blends in with the décor. If you have wood floors, the rustic design might complement the color in your hardwood flooring, giving a pleasing, mirrored image. 
Consider a rustic ceiling fan with worn wood and darker hardware for a dramatic statement if you're going for a log cabin or lodge-like vibe.
Color isn't the only consideration. Here are a few other things to consider.
Room Size
Rustic ceiling fans are available in several sizes to fit your environment. A fan with a small blade size of 30 to 42 inches may be the best choice for a tiny area. Having more space is helpful in accommodating a fan with bigger blades to provide more air circulation.
Mounting Type
You'll also need to think about how you'll attach your fan. Flush-mount or low-profile rustic fans are a fantastic choice if your ceiling is 9 feet or below. Or you can choose a down-rod extension if your ceiling is higher.
Location
You'll need to get a fan that can withstand the weather if you're going to use it outside. 
If your patio, deck, or porch is partially covered, an 'outdoor covered,' damp-rated fan is perfect, while a wet-rated fan is a safer choice for locations that aren't sheltered from rain or snow.
Rustic Ceiling Fan Styles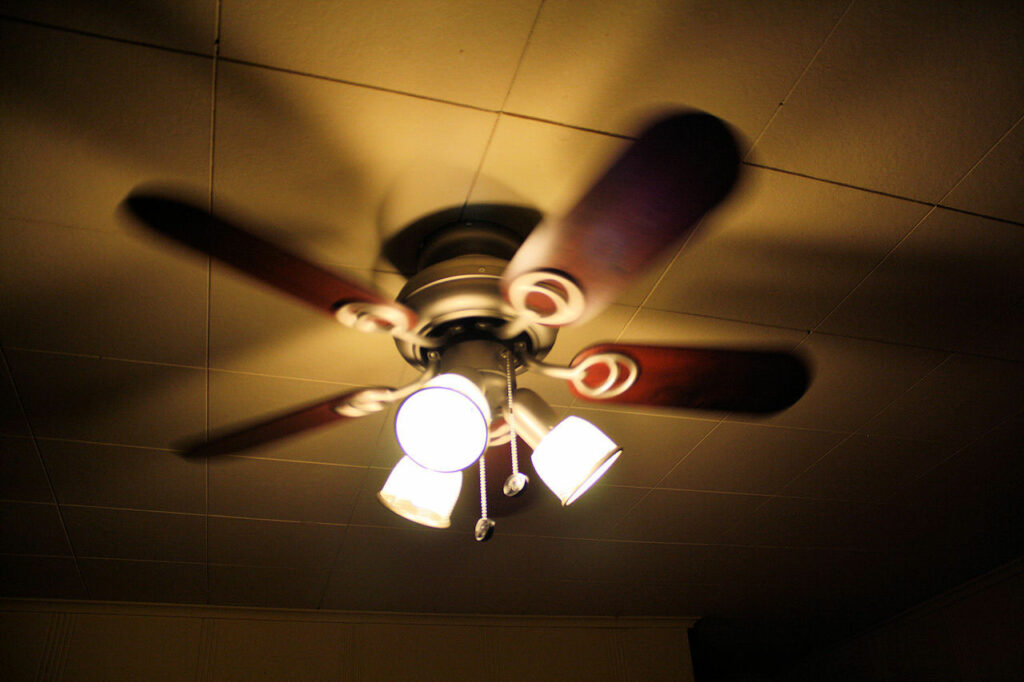 Ceiling fan styles today are varied, and some of the most striking differences are apparent in the blades themselves. 
Some modern fans might have blades that bend at unusual angles or have only 2 blades. Also, they might come in a sleek color like nickel or matte black and showcase weathered finishes or quaint shapes. 
For example, an industrial ceiling fan tends to have a more rugged or minimalist look and has more than 5 blades or a protective cage around the fixture.
Fan Blade Shapes for Rustic Ceiling Fans
Color and size aren't the only design ideas that influence your fan's aesthetic. The availability of fan blade shapes feels practically unlimited. You can find a style that fits nearly any decor you have in mind. Here are a few of the most popular ideas.
Windmill Fan
This style has a large number of blades to resemble a traditional windmill, and they normally have a better pitch for better airflow. Wooden blades are used in indoor fixtures, whereas metal blades are common in outdoor lights.
Cage Fan
These fixtures are heavy and industrial, enclosing the fan's body and blades in a cage. Also, these are often smaller. If you like this style but have more space, use multiple nickel-plated cage fans around the space to create a stylish look.
Aviator Blade Fan
This fan looks similar to a propeller fan but is more angular and has more than 3 blades. The blades are rectangular, but they have a comparable pitch, body form, and finish. Experiment with brushed nickel, oil-rubbed bronze, or matte black.
Turbine Blade Fan
Turbine blade fans generate drama with a large number of blades placed at a steep pitch. This fixture has a strong industrial feel to it and comes in a variety of sleek metallic finishes.
Twisted Blade Fan
Twisted blade fans may be what you're looking for if efficiency is your top priority. These fixtures provide increased airflow. To match a contemporary setting, use a brushed nickel finish.
Leaf Blade Fan
Leaf blade fans are available in various styles, from classic to nautical, tropical to bohemian. The blades of these fixtures are normally 5 wide, flat blades that resemble leaves.
Propeller Fan
Another modern classic, this fan is designed to appear like a plane propeller. The most common arrangement is 3 blades but sometimes has 2. The blades are often slender and rounded, giving these fixtures a flowing appearance.
Common Finishes for Rustic Ceiling Fans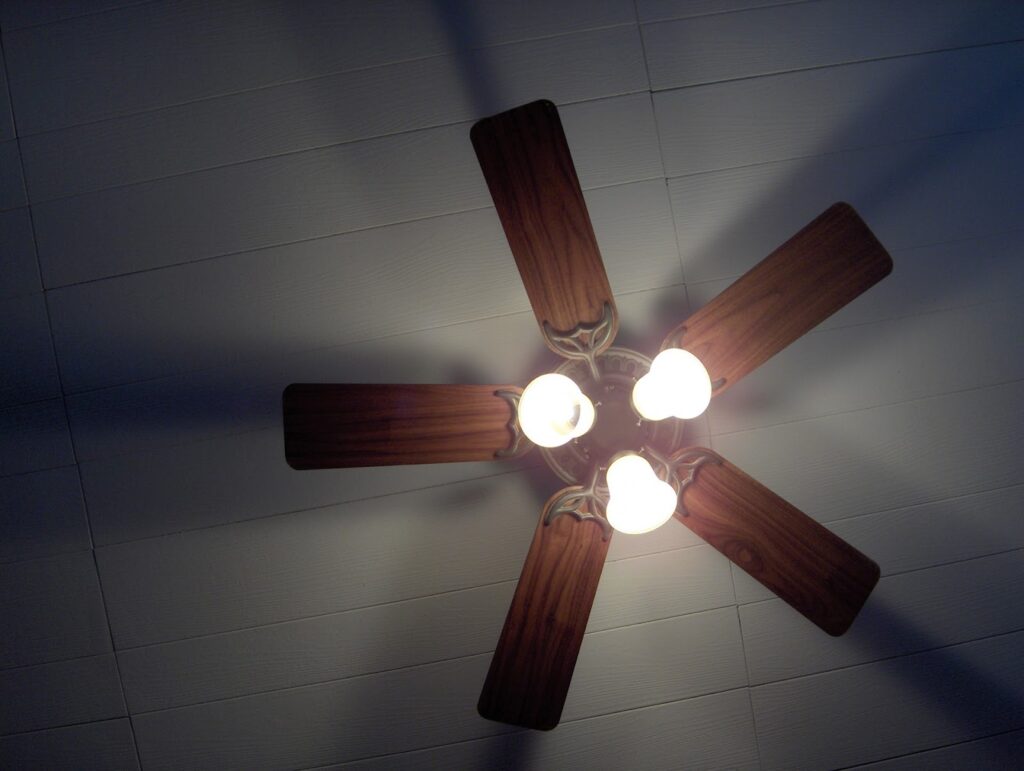 Rustic ceiling fans sometimes have a wooden appearance or use wood blades. Other popular offerings are oil-rubbed bronze, brushed nickel, and matte black. These complement a natural wood color and add to the rustic appeal.
Final Thoughts
Combining lighting with air circulation is one of man's most brilliant ideas! 
The right lighting can create a beautiful ambiance, add color to your setting, and a fresh breeze is equally relaxing. The style you choose is your call, but if you have chosen the right fan to fill your space, you'll be in excellent shape.