Quiet Cabinet Cooling Fans That Are Worth Buying
When you have a bunch of electrical or electronic equipment such as home theaters and audio video equipment placed in a cabinet, you're going to end up with an over-heated enclosure because of all the heat emitted by these working devices. Overheating causes them to fail functioning eventually. The safe way to ensure this doesn't happen is by creating an airflow within the enclosed space, with the hot air moving out as much as possible.
You could leave the cabinet doors open to let out the heat, but the smart choice would be a cabinet cooling fan system that will work far more efficiently. These devices exhaust the heat out into the environment and draw ambient air into the enclosure. This keeps the equipment contained within it at a normal temperature, without overheating, and promotes efficient operation. It's a simple yet economic solution to manage the heat for several applications.
Optimal Positioning and Configurations
Ideally, a fan system designed for ventilation must have an inflow in addition to the exhaust. The most effective setup would be placing a fan near the top of the cabinet to exhaust the hot air out, and one near the bottom to let air flow in. Warm or hot air is less dense and rises up; cold air settles at the bottom as it is more dense. An efficiently designed cooling system will rapidly exhaust warm air from the top and push cooler air in from the bottom.
Suppose your cabinet fan system has only one fan, it would be suitable to configure it at the top to exhaust the hot air out. Additionally, drill holes around the bottom of the cabinet to intake air would be a good idea for ventilation. With the air pushed out, the pressure within the enclosed space is reduced; with the natural movement of air from high to low pressure areas, ventilation holes let the outside air flow in.
What to Ensure Before Using One?
There are certain criteria that must be considered before using a cabinet cooling fan system. The ambient temperature and humidity level must be lower than within the cabinet that must either be indoors or have limited exposure to the natural elements. While exposure to corrosive materials must be completely avoided, there must be little or no risk of exposure to airborne contaminants or hose spray.
In case of extreme environments or locations where spraying of water or cleaners is done regularly, such a device not might not be appropriate. Essentially, the focus of your purchase must also be a quiet cooling fan system.
Suitable Applications
The most common type of cabinet fans are those that are used indoors to protect electrical or electronic components from overheating. This includes heat control for home theater systems, televisions, stereos, and audio video cabinets. On the other hand, there are models that are suitable for indoor or outdoor use. Portable substations used at construction sites, concerts, large outdoor events, or a manufacturing plant for power distribution require filtered fans.
Huge spaces such as hospitals, parking lots, stadiums, airports etc. have lighting contactors that control the lighting load. The overheating of this equipment can be avoided with the use of cabinet cooling fans. This also works for cooling electrical components in an electrical power system such as fuses, circuit breakers, surge protectors etc. and for wiring and junction boxes that are located indoors or outdoors.
The Best Ones Around
Cabinet cooling fans suit the thermal management requirements of a range of electronics. This is a far more affordable option to the use of air conditioners or heat exchangers. Here are some of the highly rated devices available in the market for varied needs.
AC Infinity Airplate S3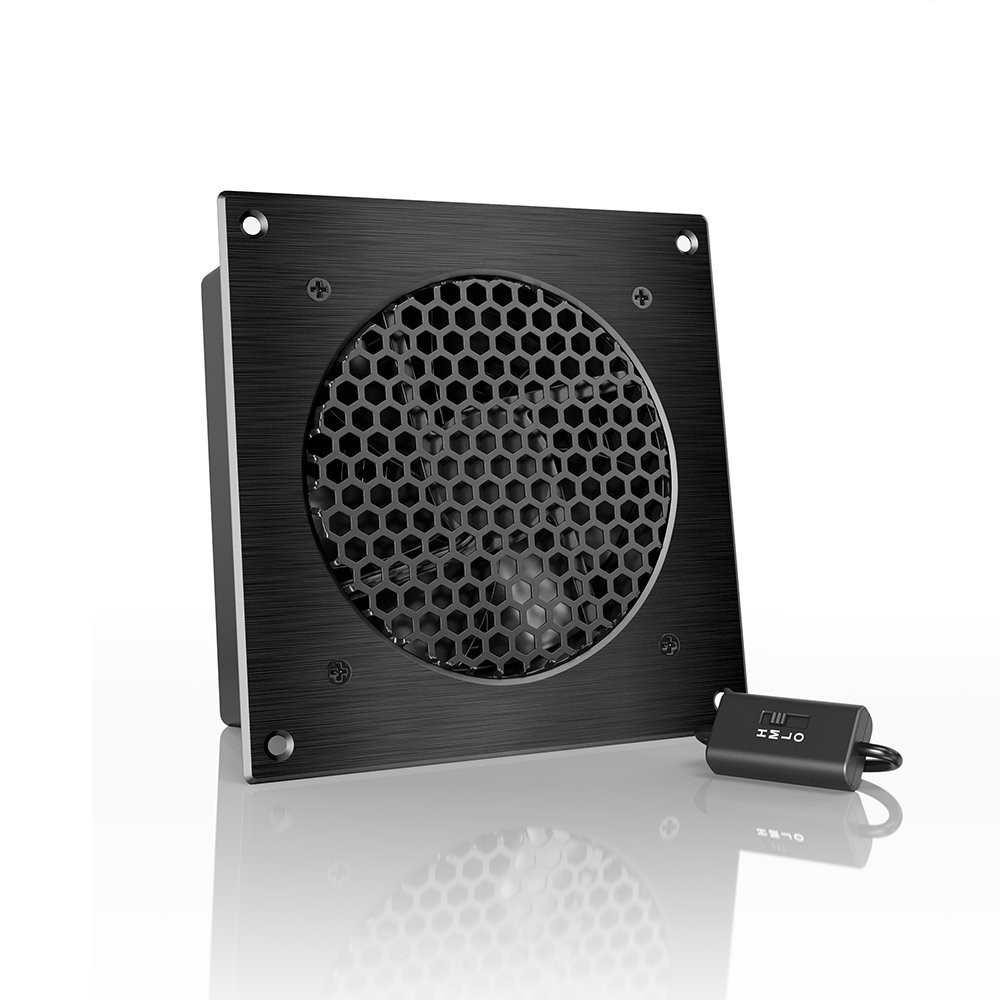 This 6″ quiet cooling fan is well-suited for home theater AV cabinets. With a controller, you can select the appropriate speed of the fan for the required level of airflow and minimal noise, to suit different applications and environments, with the noise level specified to be around 18 dBA. The ultra-quiet UL-certified product contains dual-ball bearings rated at 67,000 hours that let the device be mounted vertically or horizontally with ease.
The AC Infinity axial fans that are contained within an aluminum frame that has been CNC machined, are quality approved with UL certification. The final product has a black finish and a wall outlet or a USB port can be used to power the unit. This quiet cabinet cooling fan also includes a Turbo adapter that boosts the fan's speed by 25%, with a wall adapter input of 100 to 240V AC required. Pair it with an AC Infinity Thermal Controller, and this system can be used for cooling home theater and AV cabinets.
Connection of Additional Units
When the cabinets need more airflow and one unit may not suffice, connecting additional units of the Airplate S and T series will be more effective. With the single fan Airplate S1 model, up to four units can be daisy chained to share the same USB power source, while a single thermal controller and wall outlet power source can be shared by up to six units.
The S5, S7, and T5 models contain two fans and the S9 model contains three fans. Avoiding overload when more than four such fans are connected could be done by setting the inline speed controller high. This combinational use expands the areas of use to racks with computers, amplifiers, and receivers as well.
An Added Advantage
A plastic template that comes along with the fan aids in positioning of the drill holes, easing up the installation process. Also, while the fan is set to exhaust hot air out of the enclosure, it can be reversed for intake of air by using a screwdriver.
AC Infinity Airplate T7 Home Theater And AV Quiet Cabinet Cooling Fan System 12″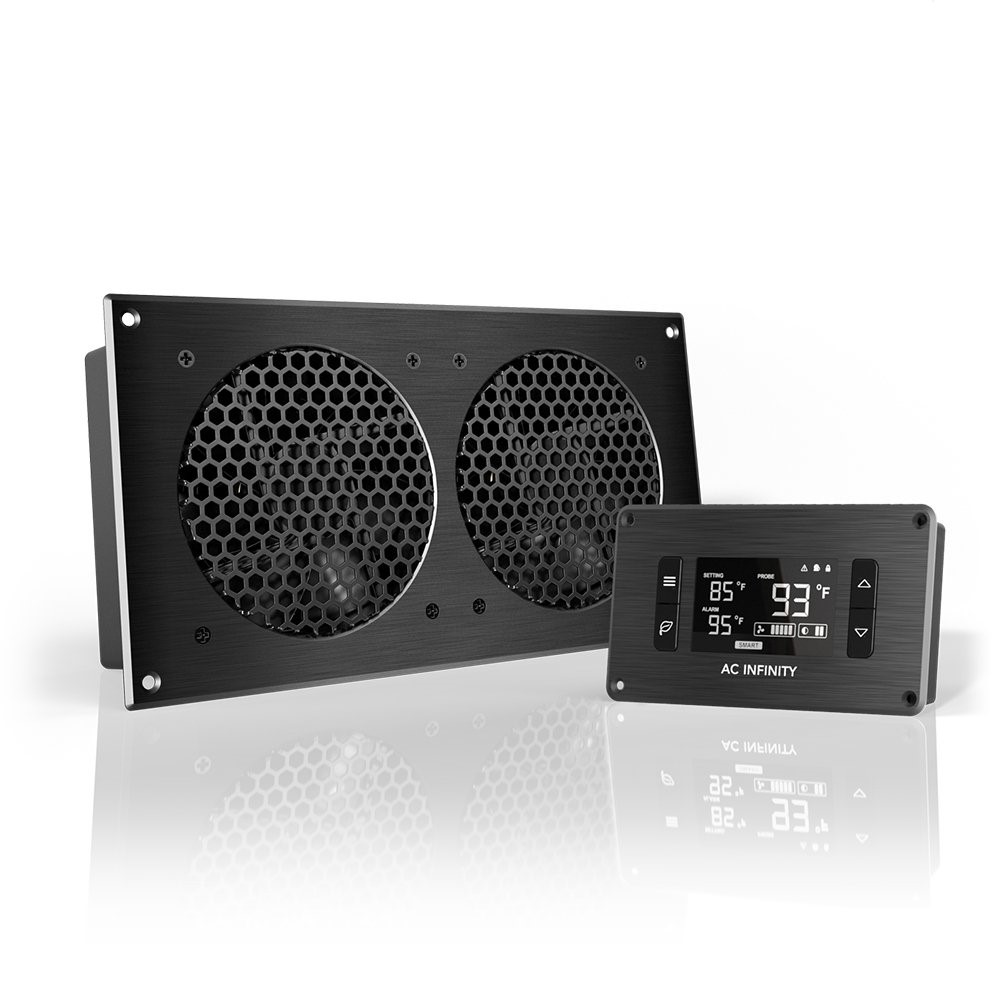 Yet another noteworthy product of the AC Infinity Airplate series, this model quietly cools AV cabinets, with dual-ball bearing fans and a PWM motor to reduce noise while doing so. The additional feature of the T-Series models is the digital LCD controller that provides automatic thermostat control as well as the fan's speed control, along with three back-light settings.
Like the other AC Infinity Airplate models, this one also has a UL-certified fan system, with an ultra-quiet operation, where minimal noise is preferred. The automated programming feature self-adjusts the cooling power as per the temperature variations around. An black aluminum frame that is CNC finished comes around the fan and the controller.
Thermal Controller
An on-board processor for the controller is responsible for monitoring the temperature actively and intelligently performing the fan speed control. In addition to the LCD display, the other features include an alarm system, six fan speeds, and a display lock/off. There's also a power failure memory and two buffer options.
Connection of More Units
Larger cabinets or ones that have too much electronic equipment, need more airflow. The existing thermal controller or power source from a wall outlet can have extra AirPlate S series devices attached to it in addition to the two fans that are inbuilt in this model, with the total capacity of six fans.
Other AC Infinity Airplate Models
One of the leading brands in cabinet cooling systems, AC Infinity has a range of products within the Airplate series.
Airplate S1 4″
This model is similar to the S3 model and is designed to quietly cool home theaters and AV cabinets. The same ultra-quiet UL-certified fan system is used in this too. The speed control features low for minimal noise, medium for most applications, and high for maximum airflow. Being one of the earliest models developed, an airflow of 26 CFM is achieved with a noise level of 17 dBA.
Airplate S2 6″
Designed quite differently from the other S-models, this is a cabinet cooling blower system that quietly cools. A low profile aluminum frame of this device makes it ideal to mount in limited space or for a smaller footprint. The noise levels are specified at 17 dBA and a higher airflow of 36 CFM is achieved, as compared to the S1 model. This device contains AC Infinity axial fans that meet the UL-507 standards for safety.
Airplate S5 8″
Common to the S-series, this is also powered by a wall outlet or USB port and includes a turbo adapter that boosts performance by 25%. While S1 and S3 have a single fan, the AC Infinity Airplate S5 model has dual fans with total airflow of 52 CFM and noise levels touching 18 dBA.
Airplate S7 12″
Priced slightly higher than the previous S-models, all other features remain the same. Apart from the size, the other difference lies in the total airflow specified to be 104 CFM. A stronger airflow is bound to have slightly higher noise levels. Surprisingly, the specification states the total noise to be around just 19 dBA.
Airplate S9 18″
With three fans built into a single unit, the price is also higher than its predecessors. The appearance of this is the same as other S-series components; containing a CNC machined aluminum frame with a modern brushed black finish. The noise level is about 21 dBA for a total airflow of 156 CFM.
Airplate T3 6″
This T-series device, one of the earlier makes, has a single fan and a LCD controller with multiple display features as in T7. While other features of this are similar to other T-models, the noise specification is 18 dBA with an airflow of 52 CFM.
Airplate T8 6″
Standing out from the usual design, this features a dual fan system with two separate fan units and is available in the higher price range of the entire series. The two color varieties made available for this are a modern brushed black finish and a modern matte-white finish. The automated programming and self-adjustment of cooling power according to temperature variations around is the same as with the other T-models. The noise level specified is 19 dBA and airflow specification is 104 CFM.
Airplate T9 18″
Priced same as the T8 model, but with bigger dimensions, this device has three inbuilt fans and the same LCD controller. The product includes everything needed for easy plug-and-play. Additional cooling can be achieved with S-series or T-series fans being daisy chained to the controller to share the same programming. The total airflow specified is 156 CFM, which is higher than the previous ones, owing to three fans in one device, also contributing to a slightly higher noise level of 21 dBA.
Tupavco TP1511 Network Cabinet Fan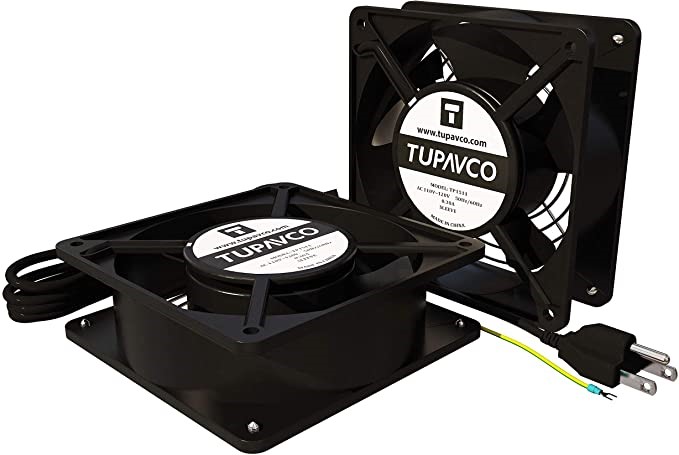 This model comprises a set of two roof fans that must be mounted horizontally on the network cabinet, AV cabinet, or entertainment center. The blades of the pair of axial fans are specially designed to maximize the airflow to protect the components from overheating. Any standard 19″ network cabinet will be able to fit this device. With a noise level of 39-42 dBA, the operation is ultra quiet/silent.
The finger guards function as a barrier to prevent accidental contact with any objects or someone's fingers and also protect the fan's blades from any damage. For convenience of the customer, the necessary items are included in the package for two mounting options; self-tapping screws for the standard mounting method or silicone rubber screws for quicker mounting. The applications of this device range from server cabinets, entertainment centers, trays, media cabinets among others.
Cool Components SlimSix Vent System With Grill
In case you're willing to pay a higher price for your cabinet cooling requirements, this product is the all-round solution that exhausts the heated air, while moving ambient air from the back of the unit to the front. A choice of five colors are available for the grill, for customers who are particular about these devices suiting their decor. The slim design makes it easy to install for cabinets, closet doors, or other small enclosed spaces that cannot accommodate the standard cooling products.
The six ultra quiet specialty fans are brushless and have vapo bearings for a longer life. With the magnetic levitation DC fans, the mounting can be done vertically or horizontally, and noise caused by the fan's vibration is eliminated. The custom, specialty mounting feature facilitates easy change of the airflow direction for maximum flexibility. This quality product with its innovative features is powered by a Universal Power Supply that has voltage adjustment features.
Different applications have different cooling requirements; and the SlimSix system has been professionally engineered for both quiet and aggressive cooling. Mount the unit onto the top of the cabinet behind the TV or in built-in cabinet or shelf units.
Final Thoughts
Turns out, it's not just us that need cooling when our surroundings get heated up, but electronic equipment too. It is essential for these heat-producing devices to remain cool, for efficient operation. Choosing the right cabinet cooling system based on the requirements, cabinet space, and amount of heat generated will ensure their longevity.