Outdoor Wall Mounted Patio Fans – Everything You Should Know
During the sunny summer months, nothing is more relaxing than sitting on your patio, sipping some lemonade, and watching the world go by. Unfortunately, as one would expect, summers can sometimes be a bit too warm for comfort, so some sort of cooling solution is needed.
This is where wall mounted fans come in. A good wall mounted fan has the advantage of being able to replace the need to have a more expensive solution. If you get a particularly powerful wall fan, you can cool down a nice sized outdoor area.
Purchasing the right outdoor wall fan, however, is no easy exercise. Due to a wide array of different options, each with its own specifications, on the market, some serious research is required so that you get good deals with all the features you need.
This buyer's guide will help you with exactly that!
Speed
The first and perhaps most important criteria to consider when purchasing a wall mounted fan is the speed at which it spins. This is also commonly measured in Rotations Per Minute (RPM).
Unsurprisingly, a higher RPM corresponds with the blades of the fan spinning faster and thus generating more air. So the faster an outdoor wall fan spins, usually, the more effective it is at providing a cooling effect.
However, a faster RPM is not always a good thing as there are a few drawbacks to address. Firstly, the higher the speed is, the more energy the outdoor wall fan uses.
This has the potential to add up when it comes time to pay your utility bills, especially if you plan to have the wall mounted fan running for long stretches of time.
Another drawback to having a higher RPM is noise. The faster a fan spins, the more powerful it gets, but it also gets noisier. If the wall mounted fan is too noisy, it threatens to ruin your relaxing outdoor experience on your patio.
If you plan on using the wall fan in outdoor garages or workshops, then you need not worry as the noise of the fan will be comparatively insignificant in the context of other machinery.
One potential solution is to get a fan that has different speed options. This allows you to adjust the RPM depending on the needs of the hour.
Warranty
When spending money on outdoor wall mounted fans, one of the primary considerations to take into account should be a warranty. This is for two reasons.
Outdoor fans are exposed to the elements, in particular, moisture and dust. Both of these have the potential to destroy the sensitive electronics inside the wall fan.
Additionally, if you use an oscillating wall fan, the risk of damage is even greater due to the increased number of moving parts.
Thus, in case there is an issue with the fan, having a warranty will mean that you can get it checked out or replaced for significantly discounted or at no cost at all.
Secondly, when brands offer their customers a decent warranty, it indicates that the manufacturer has faith in the quality of their product.
Even if you do not end up claiming your warranty, having one offers the piece of mind that the price you paid when you went fan shopping was for a quality item.
Adjustments
One of the crucial ways in which an outdoor wall mounted fan differs from a conventional ceiling fan is that it can only send out air in a set direction rather than everywhere in the room or space.
Due to this, it is important to consider whether or not you can adjust the direction of your wall mounted fans. This way, you are able to point it towards yourself after the fan has been attached to the wall.
Additionally, we are also starting to see new features in the market such as the oscillating wall mount fan. These wall fans have the ability to automatically oscillate periodically so that there is a more even distribution of air and more people can make use of the fan.
Despite this, however, if you are planning on ventilating a larger space or outdoor shop, it is crucial to install wall mounted fans that can be adjusted, and to install multiple to provide full coverage.
Blade Size
The final crucial criteria to consider is blade size. The larger the blade size of a fan is, the more air it can produce.
Crucially, having a larger blade also means that you can run the fan at a lower RPM while still making the same wind current as a fan with a smaller blade size but higher RPM.
Thus, by getting a wall mounted fan with a bigger blade size, you are able to minimize the amount of noise produced. This can be very useful when, for example, you have multiple fans set up around the patio.
In such an instance, having many, smaller and noisier fans would be unsuitable and uncomfortable. By choosing fans with bigger blades you can create a quieter environment to match the relaxing summer afternoons.
Which Outdoor Wall Mounted Fans to consider
Now that we have gone through the basics of how to go about shopping for outdoor wall fans, we can consider a few of the options on the market to see whether they are suitable for you.
No products found.
iLIVING Wall Mounted Variable Speed Indoor/Outdoor Weatherproof Fan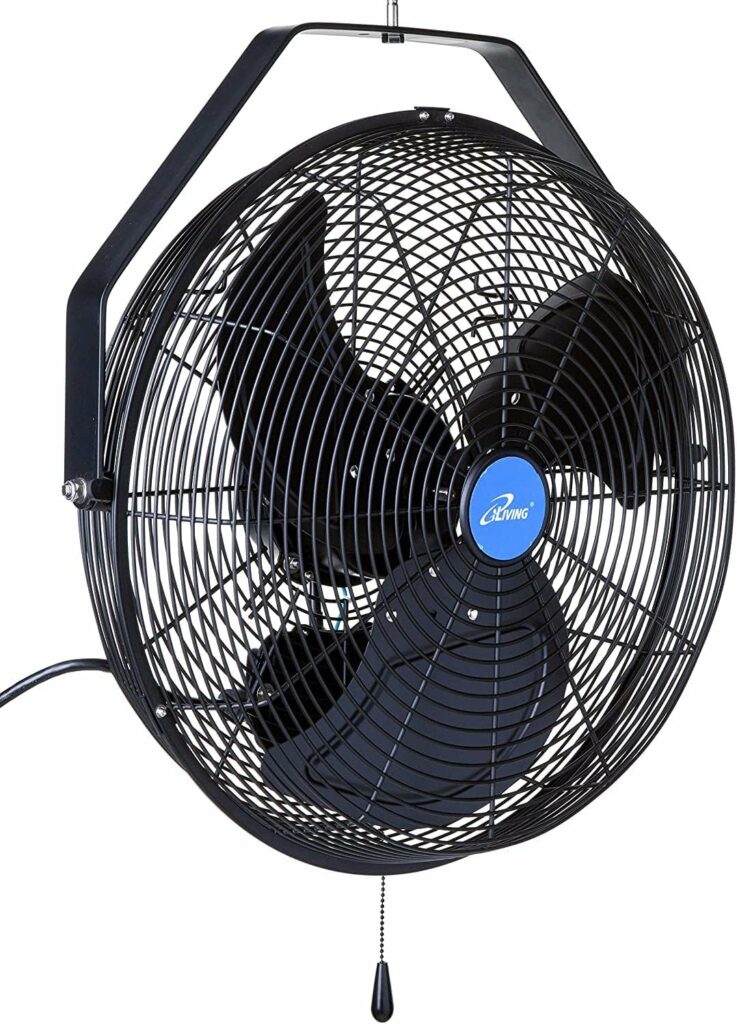 No products found.
This fan is an industrial grade option that comes in a whole host of different blade sizes. What makes it a good buy is that it is designed to be rugged.
Everything on the fan is completely waterproof and the motors are already permanently lubricated. This is in an effort to ensure that no maintenance is required.
The iLiving fan also comes with a relatively long 10-foot power cable so that you can set up the unit somewhere far away from a power source.
Another quality of life feature is that the fan has an attached pull chain which can be used to cycle between three different fan speed settings. Thus allowing you to reduce electricity usage and noise when needed.
Finally, the iLiving also has the option of being able to be converted into a misting fan with the purchase of an additional conversion kit.
No products found.
The 1-year warranty assures you that in case there is a manufacturing defect in your product you can contact the company and get the items replaced.
Lasko 20″ High Velocity Quick Mount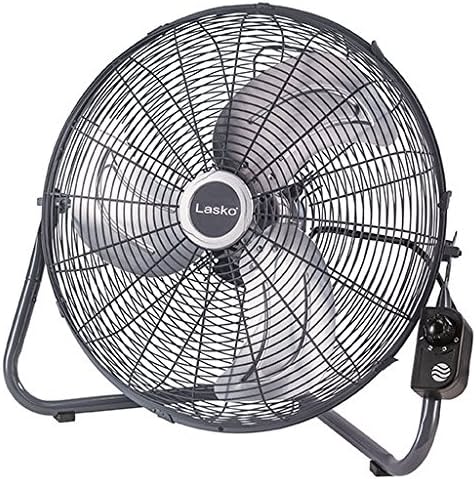 No products found.
This fan has the unique distinction of having one of the largest blade sizes of any of the fans on this list. The Lasko has 20-inch blades which give it an unparalleled ability to operate quietly while still creating a large and strong wind current that can cool a person off on even the sunniest of days.
Additionally, this outdoor wall fan comes with a special mount which allows for quick and easy installation.
This has the potential of either saving you a great deal of time and effort or, even saving you the need to hire someone for installation. Thus making it efficient when it comes to money.
The Lasko also has a pivoting head which allows it to cover a wider area with wind flow so that no one is left wanting.
Matthews KC-CR Kaye 13″ Outdoor Wall Fan with Wall Control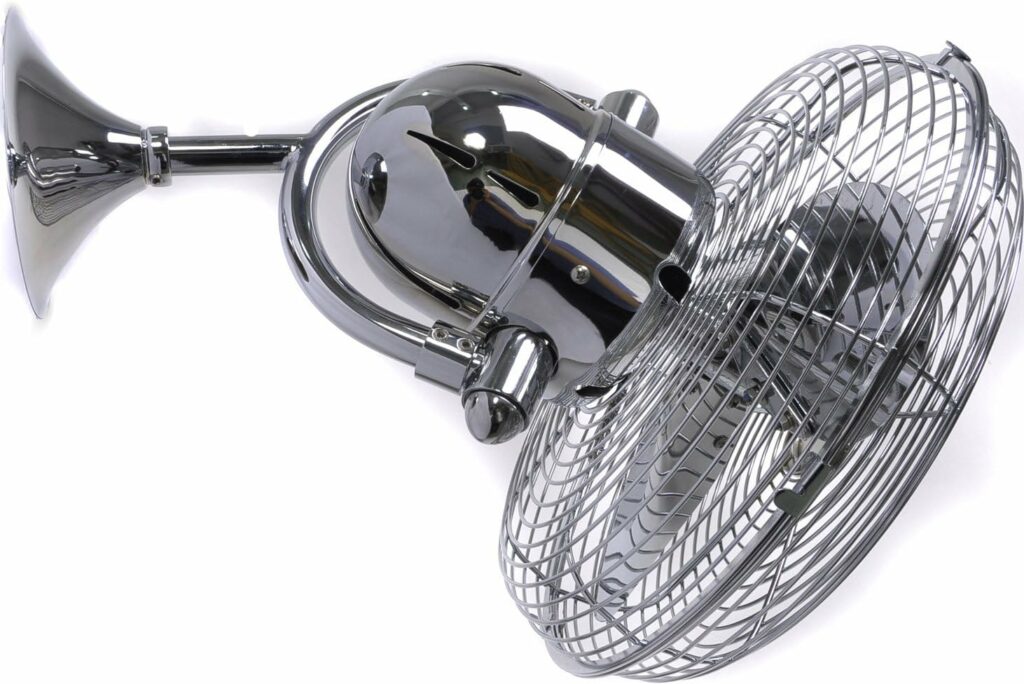 No products found.
With a reflective chrome finish and a style silver stainless steel cage, the Matthews is easily the most stylish option covered today.
One of the primary charms of this fan is that it has a vintage appeal that other options on the market simply do not. This may be one of the few wall fans that can serve as a conversation starter.
The Matthews also has exceptional quality due to the heavy-duty materials used in its construction and the fact that it is built with exceptional craftsmanship is just a nice bonus.
If the silver and chrome finish is a bit too reflective for you, you can also get this fan in options such as matte black.
Another distinguishing factor of this oscillating wall fan is that it can be controlled with the help of a wall-mounted control panel.
This is a handy feature as, instead of using a tacky pull chain, you can instead simply push a button or two in order to change the desired settings or get the fan speed you want.
One thing to note about this option is that it has relatively small fan blades while still being a bit pricey when compared to its competitors.
This is because the Matthews is not meant for industrial use or to be put up in an area where no one will notice it. Rather it is a premium product due to its stylish appearance and build quality.
Conclusion
Summing up, although going for your first outdoor wall mounted fan purchase can seem like a daunting experience when you understand the basics of the selection criteria, its really not that hard.
One thing, however, is to remember that your use case may be unique and different to that of other people or from generic cases. Always take into account your own specific circumstances so that you can purchase a product that fulfills what you need it to.