Oscillating Tower Fans – How To Choose The Best
With the summer coming up, now is a time better than any to purchase a suitable fan to provide you with cool air when the temperature rises!
Purchasing the best tower fan, however, can be a daunting experience given the plethora of options available on the market. This article is going to focus on oscillating tower fans.
Fortunately, this article shall serve as a handy guide regarding how to buy the right oscillating tower fans for you and your home.
Great Options For An Oscillating Tower Fan
Great price on the Honeywell Quietset for an absolutely fantastic oscillating tower fan.
Another option is to go for power and placement over oscillation, and for that the Dyson AM07 is one of the best tower fans on the market.
No products found.
I'll elaborate more on both of these fans so you understand why these are my picks. So let's dive into the meat of topic.
What To Look For In An Oscillating Tower Fan
Everyone's home needs are different when it comes to keeping cool you may need a fan with a lower wind speed in order to minimize the noise level, or if your space is compact, you might prefer a tower fan with a small footprint.
However, putting these individual requirements aside, there are aspects of a tower fan that will matter to everyone and should be the first and foremost considerations in your purchasing decision.
Setting Options
Firstly, it is important to get a fan where you have the ability to play around with a lot of the settings, whether this is through a control panel or remote control.
By having more settings, you can get the most out of your tower fan by changing air circulation modes, oscillation settings, and energy use. The more customizable a fan's operation is, the better!
Weight
One of the main reasons people purchase tower fans over standard ceiling mounted fans is the fact that the former come with the option of being lugged around and put wherever they are required.
This portability, however, cannot be taken for granted.
Just because you have a tower fan does not mean it will be easy to move. The fan itself must not weigh too much, otherwise you risk hurting your back or arms when lifting it.
A lighter fan is also safer to have around children in case it falls over. So going for a fan with a compact size and a slim profile should be a priority.
Air Filtration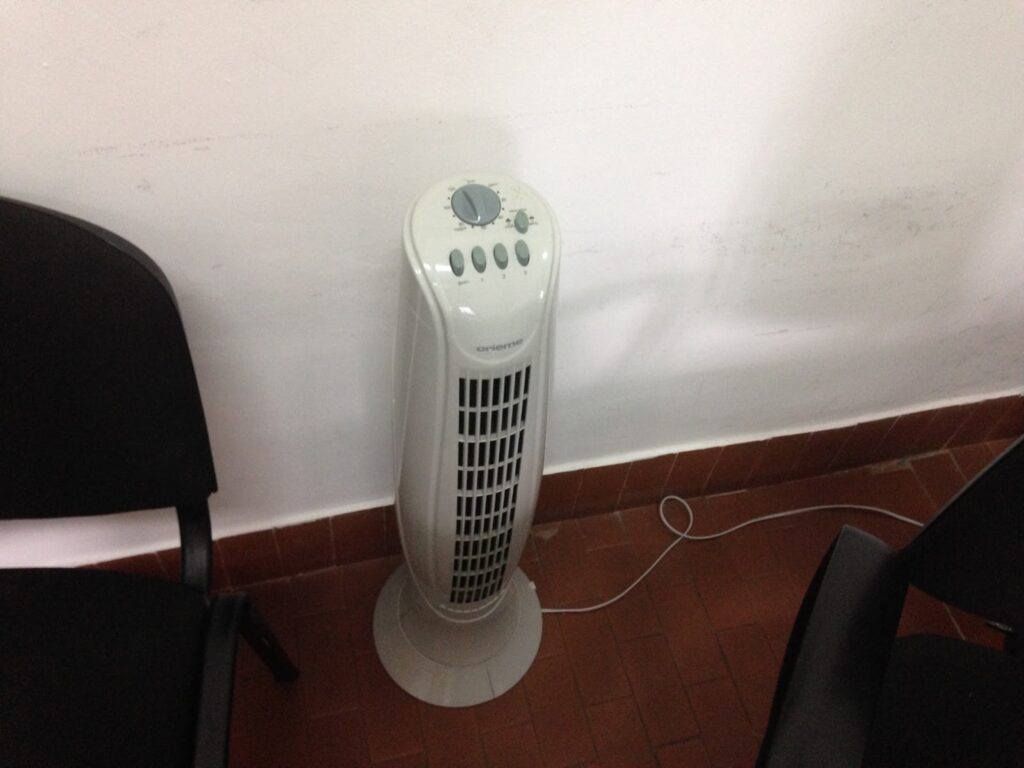 With the scourge of air pollution continuing to spread across the world, the air quality in one's living space is becoming a big concern for an ever-growing number of people.
This is especially important if you or one of your loved ones suffers from asthma, pollen allergies, or a sensitive respiratory tract.
Whether or not the tower fan has a built in air purifier is an important consideration to keep in mind before moving forward with the purchase of a tower fan.
Some of the best tower fans on the market have the option to enable air purification through the remote control, giving you the best of both worlds.
Smart Features
Another mainstay of the modern world is that most homes have WiFi as well as additional smart devices connected to the internet.
These have the ability to communicate with one another and form handy features. For example, you can link your smart door lock and smart fan to have an automatic shut off timer after you leave the house and lock the door.
Alternatively, paired with smart air conditioners, you could program your fans to turn off when it gets too hot and for the AC's to take over so as to have a seamless transition.
Are Tower Fans Environmentally Friendly?
A question that pops into the head of any environmentally-conscious consumer is whether or not the product they are purchasing is good for the environment. In this regard, tower fans have the potential to significantly lower your carbon footprint.
Consider the following use case, you have a large room in your home where you enjoy sitting alone sometimes, in the summer months, however, it is far too hot to be comfortable.
You could potentially get a much costlier air conditioner which would have to cool down the whole room and use a lot of energy during that process.
Alternatively, however, you could get a tower fan and place it next to you while you're there. This way you could be reasonably cool and comfortable without needing to waste energy by cooling down the entire space.
In such use cases, when compared to alternative methods of cooling, tower fans shine. Not only do they save the environment by reducing energy use and, by proxy, your carbon footprint.
But they also save money because of the fact that they can help lower utility bills if they replace conventional air-conditioning solutions.
Are Tower Fans Safe Around Kids?
Another concern that comes up is whether or not tower fans are safe to be operated around kids. Unlike ceiling fans, which are high up and away from a curious toddler, tower fans are on the floor and children have easy access to them.
Admittedly, this used to be a significant safety risk and tower fans could not be safely used around kids, however, as of late, this has changed. Now, most designs come in a bladeless format.
This has a few distinct, advantages, the most obvious of which is the fact that there is a much lower safety risk to children who might poke and prod at the oscillating tower fan.
Another side effect of bladeless designs is the fact that they have quiet operation, thus reducing the amount of white noise created and making the entire room much more comfortable to be in.
The Best Oscillating Tower Fan Options
Now that we have gone over some of the most important features and common worries to consider when purchasing the best oscillating tower fan for your home.
We can go over a few of our top picks, that, for the most part, are versatile and affordable options that can work in any situation.
Honeywell QuietSet Whole Room Tower Fan

No products found.
The Honeywell QuietSet is a bladeless tower fan design that comes with a few important features, making it a good option for most circumstances.
Firstly, its strong airflow at the highest speed means that it can keep large rooms cool all on its own.
Moreover, the optional oscillation means that if there are multiple people in the premises, they can make use of the oscillating tower fan and its ability to direct air to different directions.
Additionally, you can also control fan speeds due to the speed settings available. Choose among eight speeds and find the right one for you given the weather on the day.
Another feature worth noting is that the QuietSet oscillating fan comes with an led display that you can use to control all the functions within the fan.
The fan also has built in lighting which can help it serve as a nightlight in your bedroom while you sleep alongside its regular function as a fan.
Finally, the Honeywell QuietSet also includes a series of creature comforts such as the inclusion of a remote control so that you can operate it from your bed or couch without having to get up.
The multi-function remote provides you the option of changing speeds and power levels without issue. The tower fan also has a handle that you can use to easily lift it and change locations so that you can keep any part of the home cool.
Dyson Cool AM07 Multiplier Tower Fan

No products found.
The Dyson Cool tower fan is a pricier option that comes with a host of added benefits over its competitors.
Firstly, of course, is the fact that it is a comes in completely bladeless design, a feature which greatly improves safety with children and pets and also acts as a great space saver as the fan does not need to be as wide.
Moreover, the Dyson also has an auto shut off timer which allows you to pre-program when it will turn off and turn on from 15 minutes to 9 hours in advance.
Additionally, the built in timer can also be accessed from the remote control that comes with the device.
The Dyson tower fan also has 10 speed settings which gives you you precise and fine control over the strength of the wind current.
At lower speeds, due to the bladeless design, unlike other tower fans, there is very little noise at lower speed settings.
Another advantage to having a tower fan with remote is that in case, during the night, the noise is too much or you need more airflow you can easily change power, cool the room and go back to sleep.
Although the Dyson tower fan is not an oscillating tower fan and does not have wide angle oscillation, it can still make a stronger wind current than other fans allowing it to make up for this shortcoming.
Finally, the higher price comes with unique perks such as a two year warranty with each unit. This goes to showcase that the company has a high degree of faith in its product and all the features.
Even if you are spending a fair bit of money, you are getting a reliable fan in return.
Conclusion
As long as you keep the basic features of best tower fans in mind, such as speed settings, an included remote control, and a bladeless design it is hard to go wrong with any quality option.
It's crucial when getting an oscillating fan, to consider your own needs and requirements for the specific use cases that you will need your fan for.