Lasko 2554 Wind Curve Fan Review
We all know the value of staying cool. As it gets hot outside, it will get hotter inside your home unless you have an air conditioner.
Unfortunately, many people are unable to afford air conditioners because they are expensive and they make your electric bill go sky high.
Thankfully, there is a full-proof solution to beat the heat of the summer. Lasko 2554 Wind Curve Fan might be a great alternative to expensive and bulky air conditioning units.
Maximize air delivery and purify the air in almost any area of your home or office with the Lasko 42 inch tower fan.
This Lasko 42 inch tower fan is a solid entry-level tower that delivers decent airflow and desired temperature control. It is more than capable of cooling down a room over a period of time.
The high-reaching tower design and sophisticated profile of the tower fan with ionizer will complement any home or office decor.
It is devised in a lightweight fashion to be easily moved from one spot to another, in fact, the model weighs in at less than five pounds. Even for those that don't live in hot climates, you can still make full use of it.
Quick Specification:
| | |
| --- | --- |
| Criteria | Value |
| Power cord length | 4 feet |
| Wattage | 42 W |
| Current Rating | 0.4 A |
| Voltage Rating | 120 V |
| Available Colors | Silver and Maroon |
| Warranty | 1-year warranty |
| Item Dimensions | 13 x 13 x 42.5 inches |
| Product Weight | 13 pounds |
| Made in | China |
| Manufacturer Brand | Lasko |
| Model Number | 2554 |
| Height | 42.5 inches |
KEY Features of Lasko 2554
No products found.
1. Variable Speed Setting Modes
Lasko 2554 tower fan has three-speed settings, and they are low, medium, and high-speed. You can change the speed from a distance with the tiny remote that comes with the fan.
If you are near the fan then you can use the manual control panel located on the top of the fan.
Some of the popular tower fan brands like Dyson AM07 tower fan have 10-speed settings. This does not mean that this fan has less power. This Lasko fan really blows speedy air.
Fewer speed options may create problems adjusting the speed according to your demands.
2. Oscillation
This Lasko wind curve fan can oscillate from side to side by a range of 90 degrees. Honeywell Quietset tower has a little wider range of oscillation.
But there is no complaint from the users of this fan regarding the coverage of the room with this range of oscillation. With 90 degrees oscillation, it will cover a large size room when placed in the corner of the room.
5. Remote Control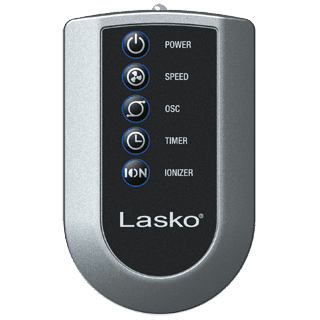 This Lasko tower fan has built-in remote control storage that is perfectly hidden in the backside of the fan.
There are 5 well-designed buttons on this remote control. You can use this remote control to operate the Power, Speed, oscillation, timer, and Ionizer. 
So, enjoy your favorite TV series in your living room and comfortably operate the tower fan using the remote control sitting on the sofa.
The remote control needs two AAA size batteries that are NOT included with this Lasko fan.
3. Air Ionizer
The air ionizer technology of Lasko 2554 will fresh up the air by removing the dust and dirt in the air. The air ionizer in this fan creates negative ions to attract dust and dirt. The filter of the air ionizer does the rest of the work.
4. Automatic Shut Off
You can set the preprogram auto shut off from 30 minutes to 7.5 hours. So, this will save on the electricity bill and would be perfect for a kid's room.
6. LED Indicators
The digital control of Lasko 2554 comes with 8 LEDs and they show the status of the fan. From left to right, first 4 red color LEDs indicate how much time is left from the automatic shut off feature.
If 1 LED is on then its 30 minutes left to automatic turn off and 2, 3, 4 LEDs representing 1 hour, 2 hours and 4 hours respectively.
The next 3 green LEDs indicate which mode the fan is operating. The first green LED from left to right indicates the LOW-speed mode. Second and third LEDs represent the MEDIUM and High-speed mode respectively.
The single blue light indicates whether the air ionizer is turned ON or OFF.
Lasko 2554 wind curve fan has 5 controller buttons in the top of the fan. They are used to control the power (ON/OFF), oscillation (ON/OFF), auto shut-off timer (every pressing of this bottom will add 30 min automatically), and last the fan speed mode (LOW, MEDIUM, and HIGH).
Rating and Analysis Provided By Top Cooling Fan Experts
➊
Design
★★★★☆(4 out of 5)
Lasko Engineers have upgraded the design of the previous version of Lasko wind curve fan (Lasko 2551) and introduced this newer version Lasko 2554. This newer version of the Lasko tower fan is made with fake wood instead of sleek plastic.
This in our opinion was an upgrade in design but this varies depending on your own tastes. This Lasko tower fan is available in two different colors maroon and silver. The stylish curve design of this 42 inches tower fan will definitely give a very special look to your house.
The slimline style and dark color tones will blend with your contemporary home décor. You will get a 4 feet long black power cord with a beautiful blue safety plug. A well-placed carry handle will help you to take the fan from one room to another.
➋
Price
★★★★★
(5 out of 5)
Lasko 2554 is unquestionably a savvy fan. For the elements it accompanies, for example, the tender breeze and air purifier, this is an awesome purchase.
It iѕ also significantly less expensive than the Dyson tower fan models which can every now and again run a few hundred dollars. The price is around $60, which is considerably less expensive.
➌
Functionality
★★★★☆(4 out of 5)
This tower fan has all that you're searching for in it and it does these things well. It keeps the air fresh and new and accompanies a energy sparing mode that will keep service charges low.
While it won't impress with awesome new technology, it does what it says it will and it does it well.
➍
Durability
★★★★☆(4.5 out of 5)
Lasko 2554 tower fan is a test to break this item. The tall tower outline accompanies a durable base that makes it a task to knock over. You could even lay this gadget on its side and still have it work well.
With a handle to effortlessly transport from place to place, you shouldn't need to stress over dropping this gadget either.  Without pivoting sharp edges, there essentially aren't a lot of parts to this gadget you can break.
➎
Noise
★★★☆☆(3.5 out of 5)
Our experts tested this tower fan with a decibel meter and the testing results are as follow:
At low speed, the reading is 58 decibel.
At medium speed setting, it is churning out 60 decibels.
And last it is around 63 decibel at high-speed mode.
Assuming you are not familiar with what these numbers suggest let us just say that it is not loud for a fan by any means but it is not quiet either.
Lasko 2554 tower fan generates less noise than traditional fans so you could still sleep. This gadget is fresh and smooth. This fan is quiet enough to watch TV or have discussions without being annoyed or having to yell to be heard.
This model is still a tiny bit louder than the Dyson models that essentially push the air as opposed to creating their breeze. While you can hear the engine running, it is peaceful.
➏
Cleaning 
★★★★★(5 out of 5)
As the blades of the Lasko tower fan are hidden, they collect a great deal of dust but you can't see the dust. You can simply clean it using compressed air or an air compressor.
You don't need to disassemble this tower fan. So, cleaning this Lasko 2554 tower fan will take 5-10 minutes. You have to clean it on monthly basis.
Pros
♡ The base is pretty sturdy.
♡ Easy to assemble. Just need to attach the 2 piece base together with the fan body.
♡ It blows really good air around your room.
♡ Home delivery of Lasko is extremely quick.
♡ Pretty lightweight and easy to carry with the carry handle.
♡ Smooth operation as expected.
♡ The lowest setting blows out ample cool air.
Cons
✘ The blue "ion" indicator light is really bright. Lights up a small dark room and might trouble your sleep at night.
✘ Noisy at high-speed mode.
✘ No digital display.
FAQs
Does the Lasko 2554 emit ozone?
The Lasko 2554 is a ceramic tower heater with a built-in fan, and it does not emit ozone.
Ozone is a type of gas that can be harmful to human health if inhaled in large quantities. It's often produced by electrical appliances such as air purifiers, but it's not a byproduct of heating or cooling devices like the Lasko 2554.
However, it's always a good idea to check the product specifications and any safety certifications before purchasing any appliance.
Can I use Lasko 2554 horizontally on a table?
The Lasko 2554 tower heater should not be used horizontally on a table. It's designed to be used vertically and using it in the wrong position can be dangerous.
What is the amps and voltage rating of Lasko 2554?
The Lasko 2554 tower heater operates on 120 volts AC, 60 Hz, and 12.5 amps. You can usually find this information in the product manual or on the manufacturer's website. For more information, you can visit the Lasko website at www.lasko.com.
Is the filter in Lasko 2554 be washable?
The Lasko 2554 tower heater does not have a filter, so it does not need to be washed or replaced. It's designed to be maintenance-free and easy to use. However, it's always a good idea to keep the exterior of the heater clean by wiping it down with a soft, damp cloth as needed.
Could small children get their fingers through Lasko 2554 fan grill?
The fingers of a baby can be entered easily through the fan grill, but their fingers can't touch the blades of the fan. As the blades are kept at a fair distance from the grill of the fan, this fan is safe for a family with a baby.
Is this Lasko 2554 tower fan Easy to Clean?
The Lasko 2554 is generally easy to clean. To clean the exterior simply wipe it down with a soft, damp cloth. To clean the fan blades and interior, open it up by removing the grill and gently cleaning the blades with a soft brush or cloth.
How much power does the Lasko 2554 consume in an hour?
In a standard seed setting, this tower fan will consume 48 watts per hour. So this fan is very energy efficient.
Final Verdict
It gets really warm in my room over the summer and I did not want to purchase a ceiling fan, I'm more of a tower fan or pedestal person. I have allergies so I wanted something that will help clear particles from the air and this fan with the ionizer was the perfect fit.
Assembly is super easy and takes just a few minutes. I always have it on the lowest speed which blows a lot of air (unless I just came in from a workout or the hot sun, I up the speed.)
Unfortunately, the remote iѕ very cheap and slow, I always use a great deal of force and pressing like ten times just to get it to work.
I finally gave up and tossed the remote and installed an app on my Smartphone instead that controls the fan. Other than that this fan is amazing!
I use it literally EVERYDAY and it also helps me sleep deeply at night. If you have doubts, erase it from your mind, this fan is definitely worth buying!