Key Differences Between Indoor Outdoor Ceiling Fans
What could be better than sitting outside on your front porch swing, sipping iced tea, and watching the world go by? 
It's a perfect setting for the beautiful spring days when the days are still perfect enough to enjoy, and all you need is a gentle, cool breeze to keep you enjoying it for hours.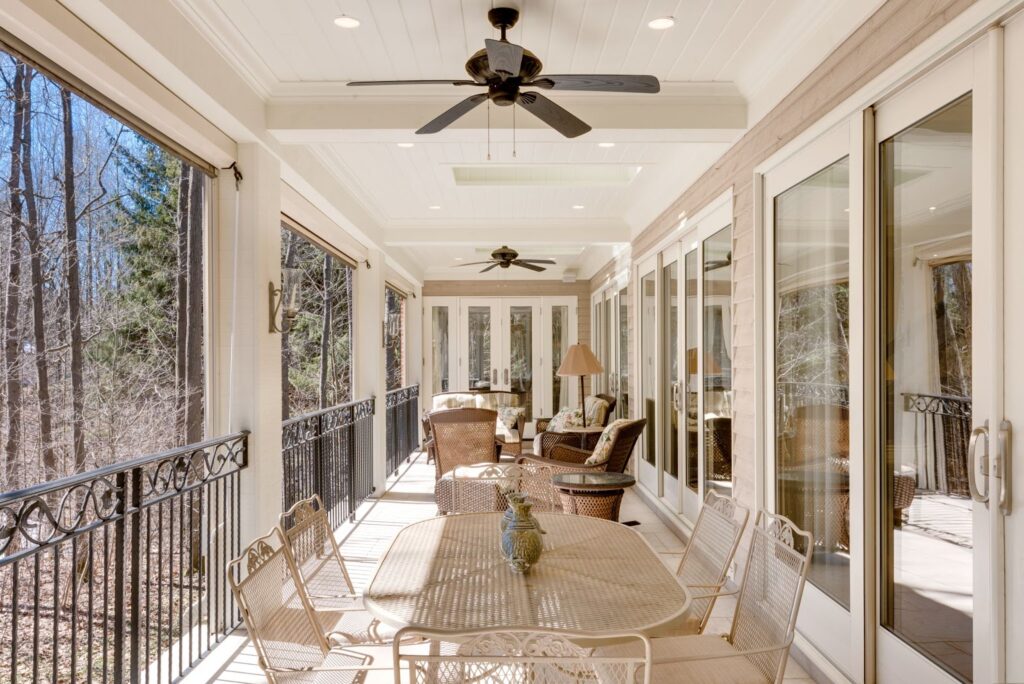 To prolong those days, add a contemporary outdoor ceiling fan to your porch to keep those breezes blowing even when the temperatures start to increase as summertime creeps into view. 
Adding a fan to your outdoor patio can be a fun project. But don't make the mistake of thinking it's as easy as picking up the first cheap ceiling fan you find, assuming it will work for your situation.
There are differences between indoor and outdoor fans and even indoor/outdoor ceiling fans. Make sure you choose the right one for the job.
What are the Main Differences Between Indoor and Outdoor Ceiling Fans?
Indoor and outdoor fans serve the same function, which is to circulate the air and freshen the atmosphere in an area and chill the occupants. 
However, such functions must be performed in different environments due to the differences between both fan types.
Here are 7 critical differences between indoor and outdoor ceiling fans:
Outdoor fans are designed to withstand the elements.
Outdoor fans require more power than indoor ones.
Both types of ceiling fans have different materials.
Ceiling fan ratings differ for indoor and outdoor units.
Blade designs are different in outdoor and indoor fans.
Outdoor fans are stronger than indoor ceiling fans.
Indoor ceiling fans can become rustic, accumulate dust and require services from time to time.
A ceiling fan with wall control can be a great addition to an indoor or outdoor sitting area. Understanding the differences between indoor and outdoor fans will help you make the best, well-informed decision on the right fan for your home or business. 
Read about their differences below.
Ceiling Fan Rating
There are 3 primary ratings:
Dry-rated ceiling fans can only be installed inside the home in dry locations.
Damp-rated fans are for covered outdoor areas or indoors where there is moisture.
Wet-rated fans can be used at home or outdoors, even in the rain or snow.
The materials and design depend on the rating. For example, a wet-rated fan must be water-tight to protect the motor, lights, and sensitive wiring against harsh weather conditions.
Wet Rated
Wet-rated ceiling fans are perfect for any type of living space. 
This is because companies use waterproof material while making them. So, you don't have to worry about using them outdoors. 
You can use them for indoor purposes as well. They are made of lightweight materials like plastic, wood, or steel. They are durable and waterproof. 
You can clean these fans with water, but we would not recommend doing the same with dry-rated fans because they are made of different materials. However, you can use a duster to clean those kinds of fans.
Dry Rated
As the name suggests, dry-rated ceiling fans are not waterproof. They are made up of wood or plastic without waterproof coatings. 
So, if you're considering using a dry-rated ceiling fan outside, you might want to change your decision because the weather can destroy it, and it will quickly get broken.
Damp Rated
Damp-rated ceiling fans are good when you are confused about whether you want to use them outdoors or indoors. 
Plus, their blades have protective coatings to stop moisture. So they are perfect for both indoor and outdoor venues and for places like kitchens and bathrooms where you might experience a good deal of humidity. 
But, of course, many people prefer damp-rated ceiling fans for their garages, warehouses, and workshops.
Can You Use An Outdoor Fan Indoors?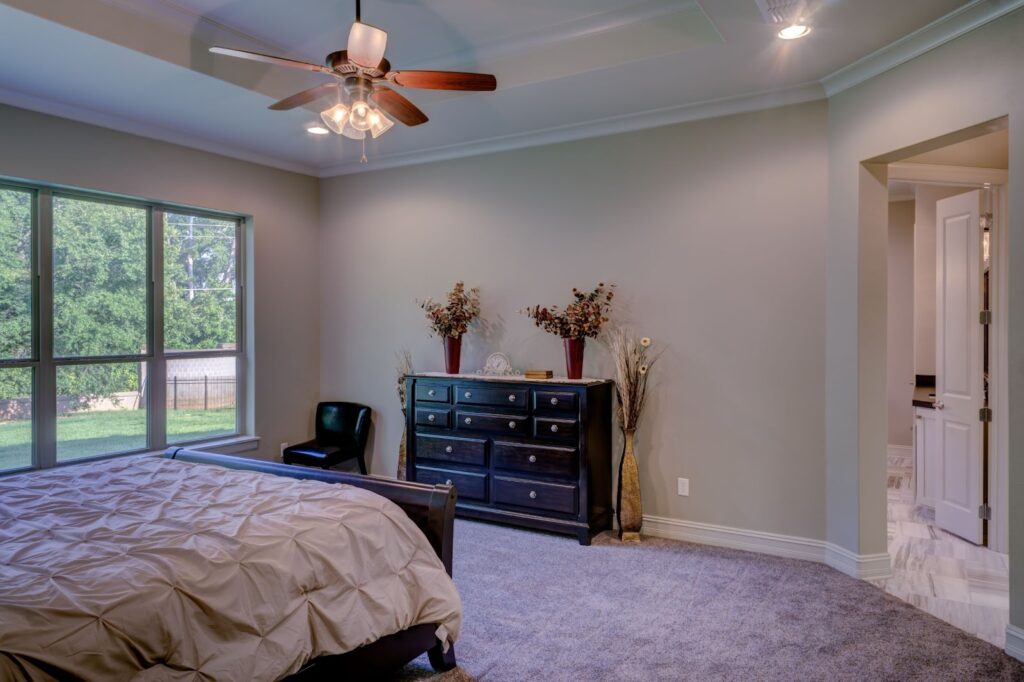 A common mistake people make when shopping for a fan for their house is to limit their search to indoor fans only. Unfortunately, doing so will make them miss out on some of the best fans. 
The truth is, many of the best fans on the market are made explicitly as wet-rated so that they can be installed anywhere. 
Also, wet-rated fans are more durable and easier to maintain. The finishes last longer, the blades don't warp or split, and you don't have to worry about getting water inside the motor when you clean them.
Can you Use An Indoor Fan Outdoors?
If you place an indoor ceiling fan outside, you'll see the difference because the weather will destroy that ceiling fan very quickly. Plus, the material of your fan will rust soon. Thus, it is essential to use the right ceiling fan in the right place. 
If you have an air conditioner in your room, it is best to use an indoor ceiling fan because it works very well with air conditioners. They help move the cool air around the entire room. They do not need waterproof coatings over them since they use electrical wiring.  
Indoor ceiling fans should be used only indoors, but on the other hand, you can use outdoor ceiling fans both outdoors and indoors.
What to Think About When Buying A Ceiling Fan
If you place an indoor ceiling fan outside, you'll see the difference because the weather will destroy that ceiling fan very quickly. Plus, the material of your fan is going to rust quickly. Thus, it is essential to use the right ceiling fan in the right place.
Blade Pitch
The angle or pitch at which the blade is set is another telling feature between indoor and outdoor fans. 
Outdoor fans tend to have their blades set at a more dramatic pitch, causing a more aggressive air stirring. This is effective for pushing large amounts of air around, as is needed in an outside setting.
However, indoor fan blades are usually set at a more mild pitch, as they must move air through a room without creating a wind tunnel. They are better for gentle breezes.
Blade Shape and Size
Outdoor fans are tasked with moving a much more considerable amount of air than indoor fans. 
To accomplish this in the most energy-efficient way possible, many outdoor fans feature broad blades made to push the maximum amount of air with every rotation.
The outdoors provides a larger area, allowing for larger fan blades. This is one of the most crucial elements of an effective outdoor fan. However, larger blades are also heavier and require more energy to rotate, making them less energy-efficient.
RPM 
Federal regulations dictate the maximum limit of RPMs permissible for a low ceilings fan. This is a safety regulation to avoid blades reaching hazardous speeds in case of an accident. 
The RPM limit of a fan is based on the blade's thickness. 
A thinner blade at high speed does more damage than a thicker, heavier one. Therefore, more powerful motors must be accompanied by thick, blunted blades. Also, because outdoor fans require more robust motors, the blades must be thicker than those used on weaker indoor fan motors.
Height from Ceiling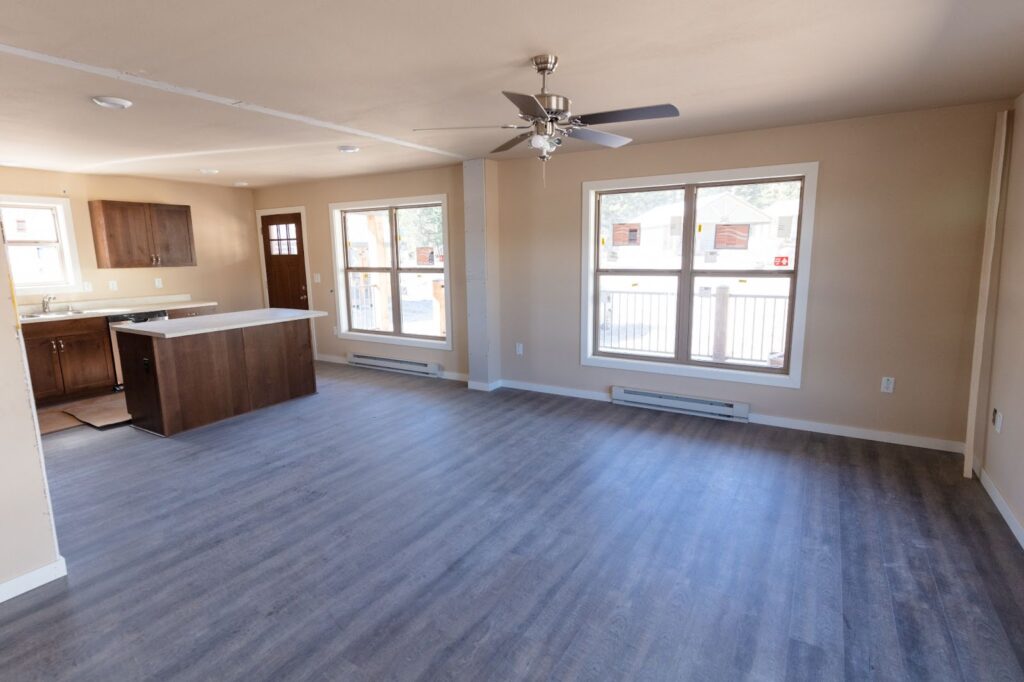 Ideally, indoor or outdoor ceiling fans should be mounted at least 10-12 inches from the ceiling. However, some units can be mounted closer but no less than 7–8 inches from the ceiling. 
All ceiling fans should be 24 inches between the tip of the blade and the nearest wall and no less than 84 inches above the floor. 
If a room can't accommodate or create these requirements, it is not safe to install a ceiling fan.
These regulations and guidelines apply to both indoor and outdoor fans. While sleek outdoor fans tend to have more space laterally or distance between them and the nearest wall, some are mounted on lower hanging ceilings than indoor fans. 
This may call for a hugger fan, allowing more vertical space and reducing the risk of taller individuals being decapitated by the turning blades.
Conclusion
Ceiling fans not only help keep your energy bill down, but they can add design to your space and even be a light source if it includes lamps while keeping the air in your home circulating. 
Again, the internet has a wealth of information on this topic, and the advice is generous regarding the type, style, size, and more subject to specific circumstances. 
Do a little research for your specific space, and perhaps this will help you navigate the market to make the right choice to get the best ceiling fan for your area. Then, in no time at all, you could be enjoying that soft breeze under your vintage fan with a good book.