While it is not a necessity, a bedroom ceiling fan with lights is a huge convenience that brings plenty of benefits!
The right ceiling fan will improve the quality of your sleep, bring you more comfort, create the perfect lighting atmosphere, and enhance your bedroom décor.
Before buying the first one that looks cute, you need to consider a few things. This article will help you get a clear picture of what the right bedroom ceiling fan should possess and also offer you a list of the top picks for bedroom ceiling fans in 2022!    
The Perfect Ceiling Fan Should Bring You Comfort and Enjoyment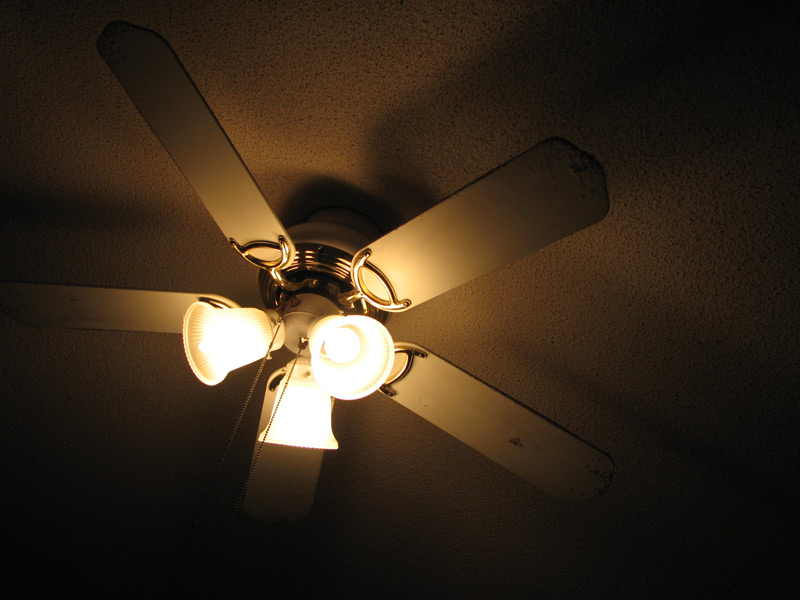 When we talk about ceiling fans with lights for the bedroom, our minds immediately go to enjoyment and comfort. But not every ceiling fan offers that. While almost every ceiling fan is created to provide better airflow, most sacrifice many other features, losing your comfort.
But the best one should provide both; excellent airflow and comfort. For example, if you own a noisy ceiling fan, you want to get out of the room every time you put it on.
Contrary, if a fan is quiet, it may not offer the most outstanding performance. 
If you are focused on owning the best fan, you need to look for a bedroom ceiling fan that operates on a DC motor instead of an AC. Ceiling fans with DC motors are always quieter than the ones with AC.
Moreover, bedroom ceiling fans with DC motors have fewer voltage spikes and miniature switches in frequency. They have more power and are energy-efficient. This way, you get to combine your comfort with incredible performance features.
Additionally, an excellent ceiling fan should offer remote control and integrated lights. Because let's be honest, once you get in your cozy bed, you wouldn't want to get up to turn off the lights or put the fan on, right?   
What Should I Consider When Buying A Bedroom Ceiling Fan?
There are many elements to review before buying a ceiling fan. Ultimately, no matter what you choose, your comfort and pleasure should be top priorities.
Fan Size Is The Most Important Feature
If you get the size of the ceiling fan wrong, it will not circulate the airflow as it should. Therefore, you will be stuck with a fan that looks good but serves for nothing.
Before buying a bedroom ceiling fan, you need to measure the bedroom. The size of the blades will change proportionally with the size of the room.
If your bedroom is less than 100 square feet, you need to look for small ceiling fans between 20 and 45 inches. If you have a bedroom between 100 and 350 square feet, you need a medium-sized ceiling fan with a blade span between 45 and 60 inches.
A ceiling fan with a blade span between 60 and 100 inches is suitable for large rooms of more than 350 square feet. 
Another element to think about when buying a ceiling fan is the height. If your bedroom ceiling height is between 10 and 12 feet, you need a fan with a downrod size between 12 and 36 inches.
If the ceiling height is between 12 and 14 feet, look for a downrod size between 36 and 72 inches.   
General tip: Ensure the ceiling fan is at least 7.5 feet above the floors and about 20 inches from the bedroom walls.    
Fan Style Is Crucial
Style is also essential since the ceiling fans are decorative features almost as much as they are functional. This is where the fun begins!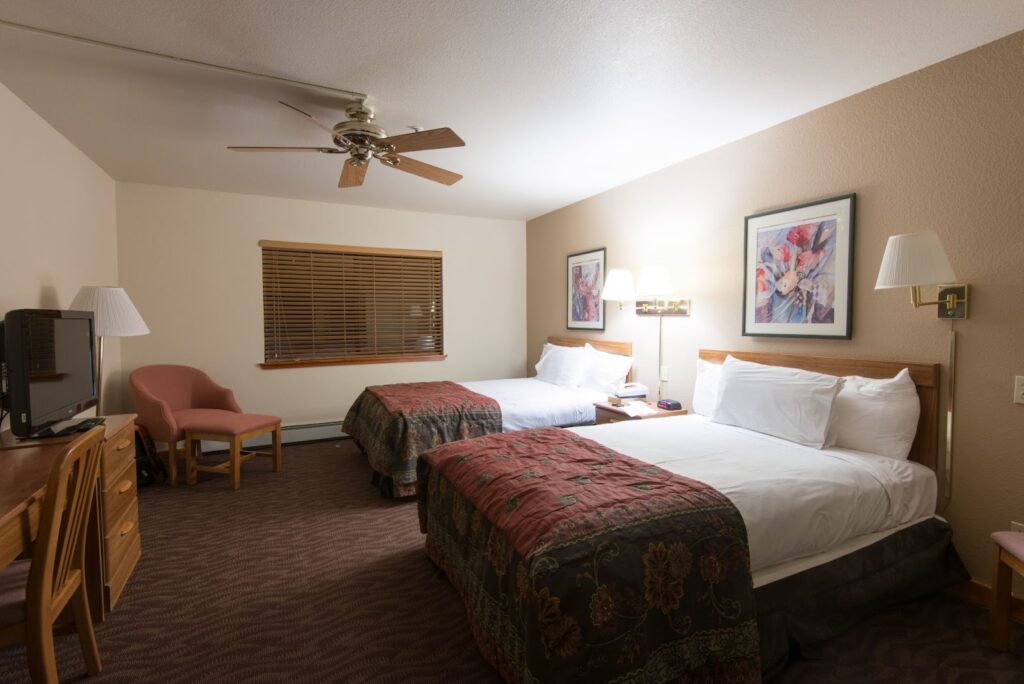 There are dozens of different ceiling fan styles to complement your bedroom design. You can choose a ceiling fan that is more modern or more tropical; also, there are a lot of traditional, classic, industrial, and rustic ceiling fans on the market.
If your bedroom has a specific feel, you should try matching the ceiling fan with the bedroom style.
The Blade Material Can Make Or Break The Experience
The blade material is also an important aspect. While it mostly depends on the fan style, many different materials exist.
Commonly, ceiling fan manufacturers use plastic or metal ceiling fan blades. These are the most popular material choice since they are easily replaceable. If one of your blades is broken or destroyed, you can undeniably find the perfect replacement.
Still, there is a huge contrast between these materials. Metal blades are more durable and provide stronger airflow than plastic ones. You should consider buying a metal blade ceiling fan if you have a higher ceiling or more oversized bedroom.
Metal blades are more robust and heavier. They do not fit well in places with a lot of moisture and can easily rust.
On the other hand, plastic blades are more convenient since they are lighter and easier to install. Since their weight is not so great, the motor does not require a lot of power to get them moving. They are easier to clean and cheaper, plus they fit great in smaller bedrooms.  
Extra Fan Features For Ultimate Pleasure
Lighting and remote control are a ceiling fan's most required additional features. A modern ceiling fan with integrated LED lighting will save you money and space.
LED lights are durable, energy-efficient, and work great in a small bedroom where there isn't much space to put extra lights.
Even extra features like fluorescent lights or CFLs (compact fluorescent lights) enable you to light the temperature in the room.  
Though it sounds like a luxury, it is not. Features like LED light bulbs and remote control are essential for pleasure and comfort.
Top Bedroom Ceiling Fans For 2022
Now that you recognize what to look for in a ceiling fan, here is the list of the top-rated best ceiling fans for the bedroom.
Hunter Ceiling Fan Dempsey Indoor Ceiling Fan With LED light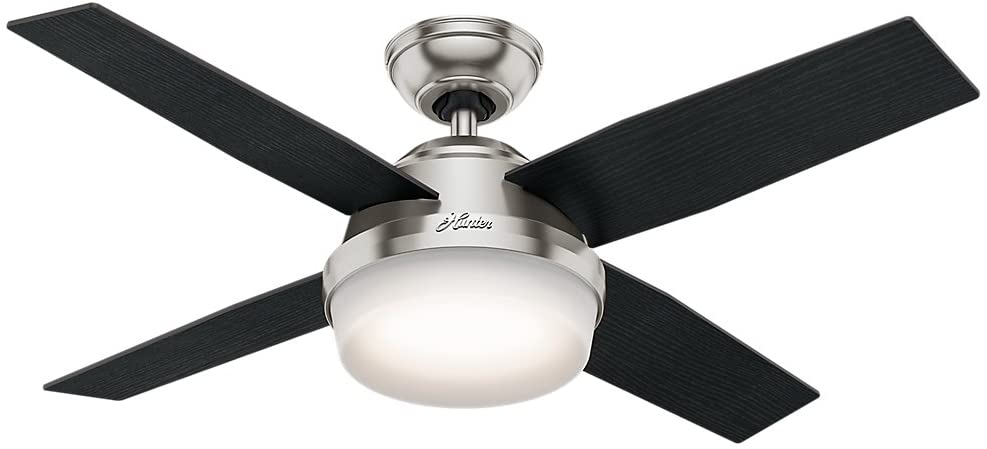 Our first pick is from the Hunter fan company. This 44-inch metal ceiling fan is a perfect fit for your bedroom. It has a modern, contemporary look and comes with a multi-speed reversible motor.
This Hunter ceiling fan has the most efficient dimmable light fixtures and a universal remote to control the fans' brightness and fan speed. The flush mount ceiling fan fits perfectly in bedrooms with low ceilings. 
Hunter Ceiling Fan Dempsey has a rating of 4.3 stars on Amazon, and it has hundreds of positive feedback from over 3,000 ratings.
Honeywell Ceiling Fan 51473-01 Xerxes

The Xerxes is an excellent ceiling fan, but this time from Honeywell company. This electric ceiling fan has a bold and beautiful design, integrated LED lighting, and superior airflow.
Many satisfied customers praise the Honeywell ceiling fan mainly because of the 3-speed setting controls, dimmable light kits, standard downrod mount, and convenient remote control.
This ceiling fan has dual finish blades with a matte black finish on one side and a beautiful ash finish on the other.  
Hunter Ceiling Fan 53238 Transitional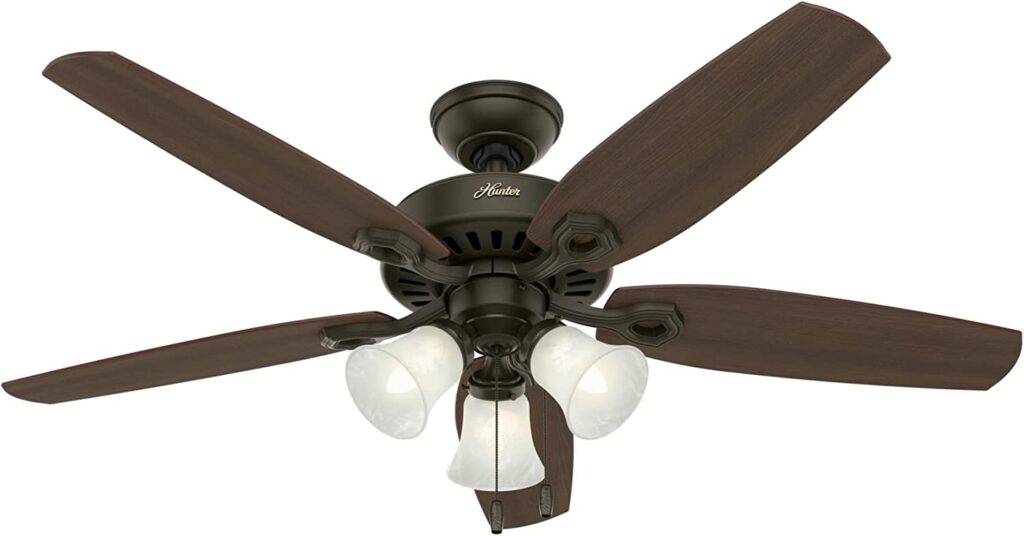 One more from the hunter fan company! This ceiling fan is hardwired and has blades coated with nanotechnology to revoke dust spread.
It has a multi-speed and powerful motor that offers the ultimate quiet performance for your pleasure. The blade's direction is reversible so that you can make the mode shift from summer to winter.
The Hunter Ceiling fan comes with dimmable LED light bulbs that are both long-lasting and energy-efficient. The fan has a 52-inch blade span that fits perfectly in bedrooms with low ceilings.
Westinghouse Lighting 7861400 Industrial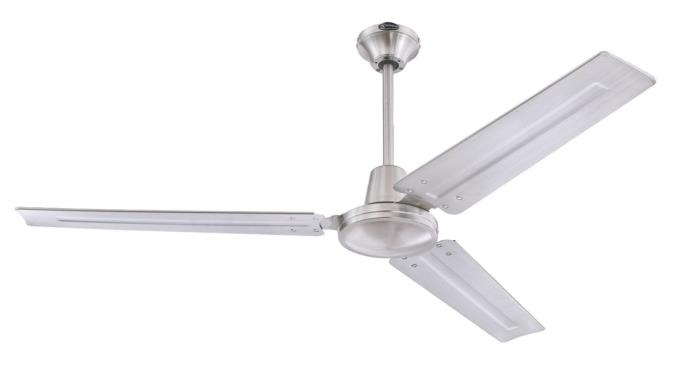 The Westinghouse fan is a 56-inch, electric corded ceiling fan that is another excellent choice for bedrooms that follows the industrial style. It has a beautiful brushed nickel finish, and an energy-efficient LED light kit.
The high-quality motor makes this brushed nickel ceiling fan a compelling and quiet option. It has five different speeds and three steel blades that are great for large rooms up to 350 square feet.
Prominence Home 51585 Alvina Ceiling Fan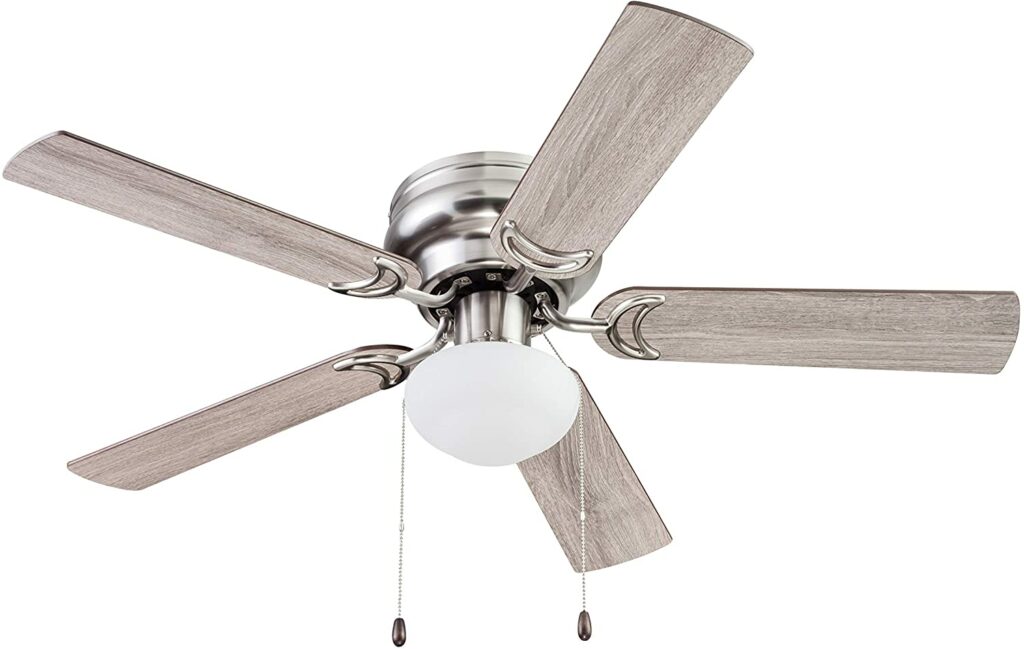 Last on our list is a ceiling fan from the Prominence family. It has more than 6,000 positive ratings on Amazon because it is highly efficient and quiet. The fan material combines metal, glass, and laminate and gives the perfect aesthetic for your bedroom.
This traditional ceiling fan has a reversible motor and fits only tiny bedrooms. On the negative side, the ceiling fan does not have a remote control.  
Conclusion
Choosing the perfect ceiling fans with light for a bedroom requires much research. First, you must ensure that the ceiling fan size is proportionate to the size of the bedroom. Otherwise, you will lose all function and comfort.
It is also crucial that the fan style matches one of the bedrooms; it must essentially fit like a glove! Different blade materials will give you other benefits, so consider them before buying anything.
Every decent ceiling fan should include an LED lighting kit that is both economical and functional. Also, to ensure pleasure and relaxation in the bedroom, it is best to look for a remotely controlled ceiling fan. This way, you get to control the lighting, the speed, and the fan direction.
Ultimately, every single one of us has different needs and wishes, so if it works for you, it is the right one!