Finding The Smart Window Fan For Your Home
Looking for a window fan to cool your home? Sick of constantly having to adjust the thermostat settings? Why not get an easy to use, intuitive smart window fan that runs automatically? With one of these high-tech units you'll be able to enjoy a cool home and lower electric bills at an incredibly affordable price.
Smart window fans are a great investment for customers who don't want to waste time constantly fiddling with their thermostat settings. High-tech units like the EcoBreeze 2 automatically shift between the AC and fan to give you the most optimum balance of comfort and cost-efficiency, while versatile units like the Aspen Smart Fan sync with your WiFi and mobile app so comfort is only a click away.
Read on to learn more about these smart window fans and how they can improve your home. With just a one-time purchase, you can save hundreds of dollars in electric and AC repair bills. So what are you waiting for?
What Is A Smart Window Fan?
Manual and even automatic window fans require you to change the thermostat settings to turn the fan on or increase its speed. In contrast, smart window fans turn on whenever they detect a drop in external temperature.
During the day, when its hot and sunny, the fan will not turn on because the temperature outside is higher than the temperature inside your home. However, when the outside temperature drops your smart fan will catalog this temperature difference and automatically turn on.
This could happen during the day if its cloudy or in the evenings when the sun sets. The best part about the smart window fan is that its sensors keep track of the difference in temperature outside and inside your home. That way it always knows when to bring in fresh, cool air, keeping your home well ventilated.
Eventually, the temperature inside will reach the set point and the fan will turn off. Smart window fans are ideal for customers who don't want to go through the hassle of turning their fans on and off all day, or people who want their units to run on auto while they're sleeping.
Some smart units can run 2 fans simultaneously, one to blow in and another to blow out. These help circulate the air in your home. Others only work in one direction. It all depends on your individual preferences.
Best Smart Window Fans For Your Home
1. EcoBreeze 2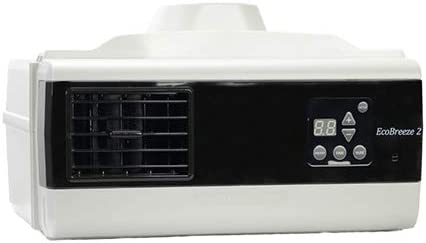 No products found.
EcoBreeze 2 is one of the top smart window fans on the market for several reasons. With high-tech filters the unit stops pollen and bacteria from infiltrating your home.
The design is sleek, lightweight, and easy to maneuver, switching between fresh outdoor air and cool air conditioning seamlessly. Not to mention, the EcoBreeze uses the same amount of energy as an LED light bulb! That's right, you can cut down on your power bills by 75 percent with this amazing smart window fan.
So what sets EcoBreeze apart from its competition and how does it work?
How Does It Work?
Ventilation cooling is one of the most effective methods of regulating internal temperatures and the EcoBreeze 2 does this in the best way possible. The fan connects with your air conditioner and works to perfect the balance between fresh and cool air.
Its patented SmartFan technology, perfected over 7 years, monitors factors like indoor and outdoor temperatures, humidity, and comfort levels. Everyone has an ideal comfort setting, and although the specifics may vary from person to person the general range is around 70F (21C) to 75F (24C).
When the temperature rises above this level, you start feeling warm and uncomfortable. That's when most people turn on their air conditioning. Soon the room cools far beyond what was necessary, wasting an unnecessary amount of electricity. Here's where the EcoBreeze comes in.
First, you need to figure out your comfort range. Then set the air conditioner temperature towards the higher end of this range and the fan towards the lower end. Together these devices will make sure you're comfortable and regulate your energy consumption. 
When the external temperature is lower than the internal temperature the EcoBreeze will automatically turn on to bring in fresh, cool outside air. This may happen in the evenings, at night, or on days when it's cloudy and pleasant out. However, when the outdoor air is humid or hot, the fan will stay turned off and the AC will turn on instead.
The best part? You don't have to do anything. The smart window fan system works automatically to give you the best air quality without running up your electric bill! The wider the gap between the temperature settings, the more money you'll save. 
How Much Can You Save?
The EcoBreeze 2 cuts costs with its cutting-edge technology. Cooling your home with this fan will use only 2% of the energy you'd use with just an air conditioner. And if that wasn't enough, the EcoBreeze 2 uses 75% less energy than other window fans, which further improves your savings rate. 
With a hyper-efficient motor and patented SmartFan technology, this unit pulls in free outside air, cooling your home all day. Since all its processes are automated, the fan senses minute temperature differences and creates a highly efficient air circulation system. 
Customers who have to manually change over between their devices tend to use air conditioning a lot more than those that use smart window fans, especially at night.
Nature's cooling solutions have even crunched the numbers to show you exactly how much money you'd save with this smart window fan. At a minimum, you can expect a saving rate of 30%, while most users in the US can expect savings rates up to 70%!
If you live in hot areas like Los Angeles, you'll make back the installation costs for this unit in under a year. Not to mention the money you'll save on AC repair and maintenance. Now that you're using your air conditioner less, it will last a lot longer, with the compressor staying in pristine condition. 
With a device as advanced as the EcoBreeze 2, the savings add up in a lot of different areas. It isn't just a number on a bill after all. It's all those hidden costs that add up over time. This is definitely the best time for you to invest in a high-tech device like the EcoBreeze 2.
Filtration and Noise Reduction
The EcoBreeze 2 also comes with other benefits like its amazing filtration system, which traps dust and smoke, smog, bacteria, and viruses. The MERV-13 filter even removes pollen, dust mites, and mold spores. 
So if you're worried about the quality of air you're breathing in this fan can definitely help improve the air purity. For people who struggle with allergies or other health problems, the EcoBreeze 2 can do a lot more than simply cool their air!
Additionally, the unit is incredibly silent, especially when compared to other popular window fans that offer the same type of airflow. The fact that you can get clean and natural cooling with such significant energy savings makes the EcoBreeze 2 your best smart fan option.
EcoBreeze is Available Online at
Amazon: https://amzn.to/3TDhrWi
Natures Cooling Solutions: https://naturescoolingsolutions.com/ecobreeeze-2/
2. Aspen Smart Window Fan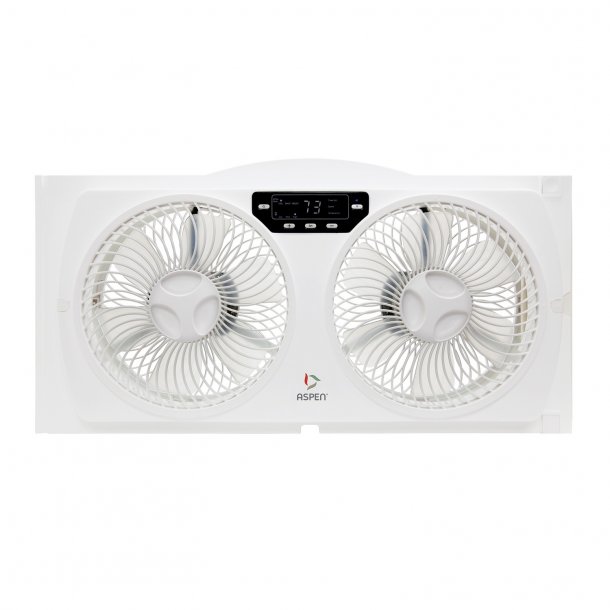 No products found.
The Aspen Smart Window Fan is another highly efficient energy-saving cooling solution for your home. It connects directly with your WiFi network, which lets you change the thermostat settings, fan speed, and temperature levels directly from the app on your phone. You can even reverse airflow while out of the house as long as you get phone signals.
This top-of-the-line smart fan is ideal for people who want complete control over their fan settings. Unlike the EcoBreeze 2, the unit won't start or stop automatically. Instead, you can choose when you want it to work and even set a customized schedule according to your routine.
How Does It Work?
With a user-friendly LED control panel that integrates with your home's WiFi, you can easily change the fan's settings to turn it on or off, speed up the fans, or switch between the intake or exhaust options. The Aspen Smart Window Fan also comes with voice control that can be activated through Google Assistant and Amazon Alexa.
The Aspen Smart Fan has 3-speed settings, low, medium, and high. The dual blades speed up depending on the option you pick. It also offers electronic reversible airflow so you won't need to manually flip the fan if you want to change the airflow direction. 
That means you can use the Aspen fan to cool your home by bringing in fresh air from the outside or even use it to ventilate your kitchen or basement by expelling the stale air indoors. The seamless automatic transition between these two conditions makes the fan extremely easy and effortless to use. With the 24 hour timer you can pre-set schedules for rotation or use. That way you won't have to worry about turning the fan on or off on a regular basis and can even ventilate your home while you're at work!
Additional Features
The fan itself comes with two 8-inch blades covered with protective grilles and durable blades. With the help of the additional extender panels you can fit one of these units into windows that measure anywhere between 24 to 36 inches. Both the blades and grilles can be removed for easy cleaning. As for installation you can simply push the unit in, no tools necessary.
While the unit is quite durable and sturdy, it does come with a 1-year warranty. This is definitely shorter than the EcoBreeze 2, however, this fan is also a lot more affordable. So you'll definitely need to weigh the pros and cons of either option. 
The Aspen Fan comes in white color and requires a lithium metal battery. Also, keep in mind that the battery does not come with the fan and will need to be purchased separately. All in all, definitely a solid option to consider.
Aspen Smart Wi-Fi Window Fan is Available Online at
Amazon: https://amzn.to/3F8hHsB
Aspen: https://www.theaspen.com/products/asp-200
Wayfair: https://www.wayfair.com/home-improvement/pdp/aspen-smart-wi-fi-window-fan-apen1003.html
FAQs
Are Window Fans Effective?
Window fans are a great way to reduce power costs while cooling your home, especially when the temperature outdoors is lower than the temperature indoors. At times like these, the fans bring in fresh, cool air from the outside and ventilate your home. Even if it's hot during the day, you can always use a window fan when it gets cooler in the evenings or at night.
Smart fans like the EcoBreeze 2 work in tandem with your air conditioner, automatically switching between both to make sure your room is not too hot or too cold. In addition to cooling your home, window fans also make sure you're not breathing in stale, recycled air the entire day.
Do Window Fans Work When It's Hot Outside?
This depends entirely on what you mean by hot. Window fans work when the temperature inside your home is higher than the temperature outside. Certain materials like concrete and brick have a high thermal mass and retain a lot of heat. So if your home gets a lot of sunlight, it is entirely possible for your indoor temperature to be at a higher value even when it's hot outside.
As long as there is a relative difference, your window fan will work. Alternatively, the temperature outdoors will lower in the evenings, even in the summer. You can use your window fan quite effectively at this time.
Can You Use A Window Fan In The Rain?
All window fans come with an enclosed motor and this covering lets you use the fans safely, even on rainy days. That said, if there are heavy winds you may want to remove your window fan because the wind can blow water into your home.
Conclusion
All in all, investing in a smart window fan is the best decision you can make. Choose between some of the best options on the market based on how hands-off you want your experience to be. 
With the automated EcoBreeze system, you won't have to spare your window fan or AC a single thought. Once you've adjusted your comfort settings the system will run on its own. It also uses about the same energy as an LED light bulb.
Meanwhile, the Aspen Window Fan gives you a lot more direct control over your settings directly from your phone. It comes with a programmable electronic digital thermostat so you can preset your schedule. Overall, the entire cooling process helps with minimizing energy consumption and lowering your electric bills.