Everything You Need To Know About Outdoor Utility Fans
Looking for a strategy to stay cool this summer while spending time outside? Consider using an outdoor fan to make the most of your time outside, from elegant roof fans that would match any veranda or outdoor space, to rechargeable outdoor fans with built-in batteries for that impending beach trip.
Stay cool with an open-air utility fan; create a peaceful ambiance on the balcony with a fan that can also serve as an outdoor light at night, or even create a burst of wind to help you keep those pesky bugs and other insects at bay with an outdoor fan.
Important Advantages of Outdoor Fans
The following are some of the benefits that outdoor fans offer, in addition to the most obvious use during the warmer months or during the summertime.
Keeping You Cool With Outdoor Fans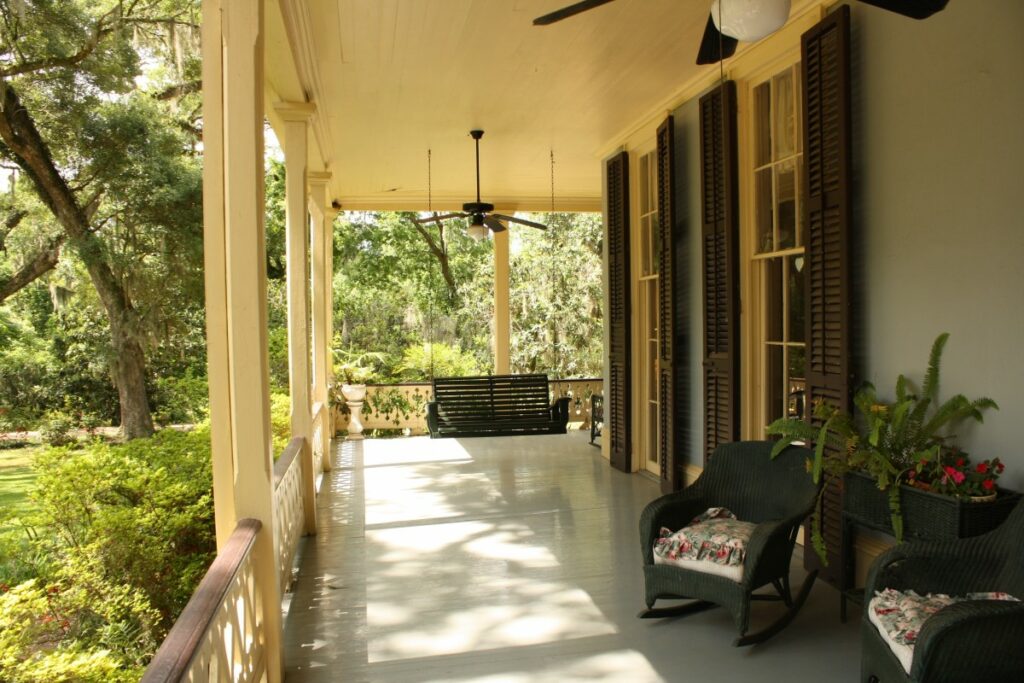 The obvious benefit of outdoor fans is their ability to keep you cool during the hotter months. A large outdoor fan provides the same job as your air conditioner does inside. If you wish to relax outside, installing an open-air outdoor fan is a terrific option.
Lighting for the Outdoors
Another advantage of these outdoor fans is that they give additional outdoor lighting. Most outdoor fans come with a light fitting, which will provide ambiance and convenience to your outside recreational activities. These outdoor fans' lighting systems are usually more efficient than lamps, with modest lighting features.
Control of Pests
Pests like flies and other flying insects, which may disturb night-time parties and social activities, will also be kept away by outdoor fans. The whirling blades' cold air will keep insects at bay, making your outside meetings more enjoyable and comfortable.
There are Many Options for Outdoor Fans
Outdoor fans can be fully customized. They come in a number of colors, sizes, and patterns to suit your needs, outdoor space, and the ambience you want to create in your environment.
This customizability provides you with options that helps you stay comfortable and pleasant outside, during the summer.
What Size of Outdoor Fans is Required for Outdoor Use?
Choosing an appropriate size for an open-air outdoor fan is similar to selecting a fan for indoor use. They are both determined by the size of the area in which they will be used. Consider the outdoor space and then compare it to the size of the fan.
Keep in mind, however, that a small fan will only cover a small area. If the fan is too large, it will blow out too much air, especially in tight spaces. And no one wants to enjoy a relaxing noon cocktail while sitting in the heart of a strong breeze.
Where Should I Put Outdoor Fans?
Don't forget to select an outdoor fan that is a suitable fit for your environment. As long as the fan is a perfect fit, you can set it over the most often utilized area.
If you prefer to position your fan on the side rather than directly overhead, choose a somewhat larger fan to ensure that the air circulation adequately cools the entire space.
If the area is divided into sections, it may be necessary to have adequate outdoor fans in each section. It implies that you will save energy by not using a large fan to cool the area. Instead, turn on the fan for the portion being used.
However, bear in mind that when choosing a fan for your space, choose one that fits physically and has blades that are not too close to the sides.
Finally, as previously indicated, elegance is quite important, but this is totally a question of personal preference. For example, do you want the fan to match your existing décor?
Do you want the fan to be the focal point of your room? Keep this in mind while choosing a fan for your open spaces.
Where Should Outdoor Fans Be Used?
Veranda
The veranda is an essential component of virtually all contemporary houses. Your outdoor fans will do very well in this area. It is perfect for staying cool on hot days and for appreciating the chill of the night-time breeze.
You can opt to unwind on your veranda after a hard day's work or entertain friends and family in the evening by using properly installed outdoor fans, which is a terrific addition to any open space. In any case, you can take advantage of its benefits.
Sunroom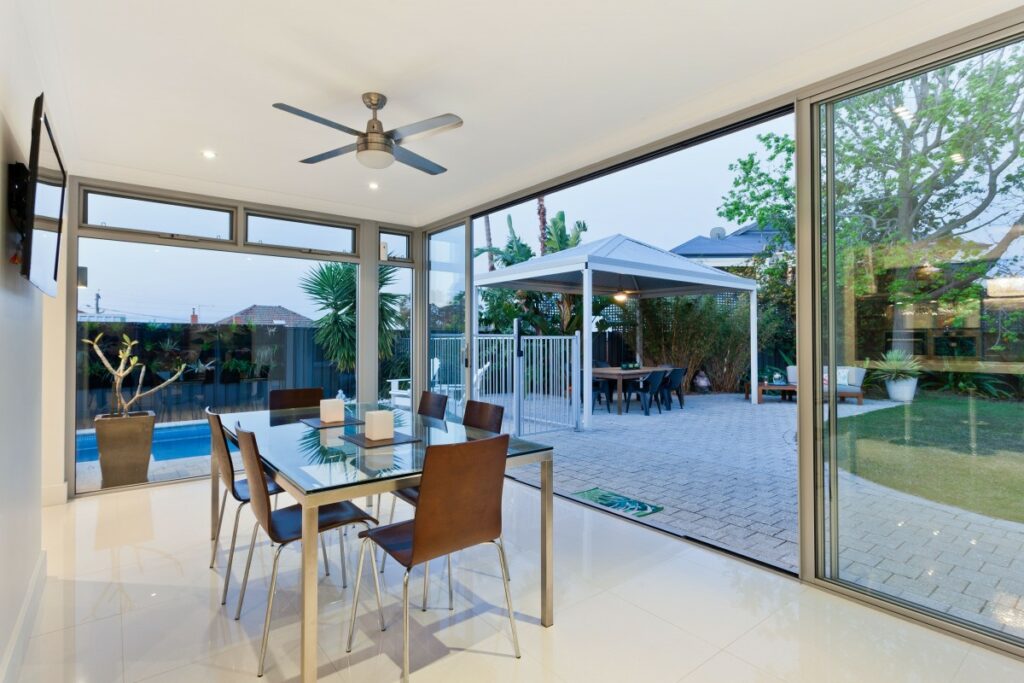 Sunrooms and garden rooms are two common outdoor space choices. Whether for your new home, office, or café, this totally accessible space provides cool air, sunshine, and the sensation of being outside while being shielded from adverse weather.
Sunrooms, on the other hand, can quickly become uncomfortably hot due to their huge open space, especially in the summer. An open-air fan or a set of open-air outdoor fans spread around the space is a must-have addition to your sunroom during the hotter seasons.
Balconies
Even apartment residents seek some type of retreat during the summer. Installing appropriate outdoor fans on your balcony is great, especially in homes with gardens or small balconies.
Outdoor fans can also assist you in chilling places that are normally too hot to use in the summer, allowing the blast of air from your outdoor fan to save you from the discomfort of the heat.
Garage
Not everyone keeps their cars in a garage. Indeed, for the majority of people, it is the best site for a workshop. It's also a great spot for an outdoor ceiling fan.
It would not only make the room more delightful, but it will also help filter out any bad odors that may be present inside the garage. Garages can get very hot, especially in the summer, and the need of fans cannot be overstated.
Wet Rated And Damp Rated Outdoor Utility Fans
Outdoor fans are classified into two types:
Damp-Rated Outdoor Fans
Damp-rated outdoor fans are appropriate for enclosed outdoor environments protected from heavy rain. Damp-rated outdoor fans can withstand wetness to some extent, but not direct rain.
Wet-Rated Outdoor Fans
Wet-rated outdoor fans, on the other hand, can withstand heavy rain and be cleaned with a sprinkler. Each of these outdoor fans has protective covering over the wires.
How To Choose One
It is vital to use outdoor fans in the environments for which they were built. If an indoor fan is placed in an outdoor area and becomes wet, it can produce an electrical problem, such as a fire.
Outdoor fans have larger blades than indoor fans because they generate more airflow in warm air. Outdoor fans with timber blades should be avoided since they will distort when exposed to water.
This deformation will have a significant impact on both the fan's effectiveness and its aesthetic. In moist sections of the building, such as the restroom and laundry, outdoor damp-rated fans must be utilized.
Top Outdoor Utility Fans To Choose From
Lasko 20 Inches High Velocity Fan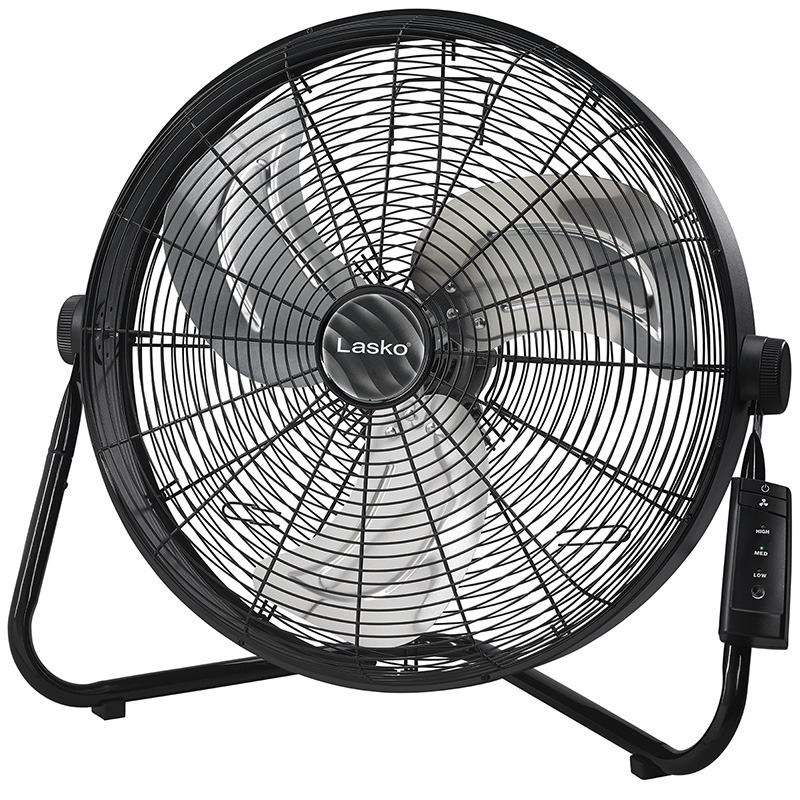 It is a strong, efficient, and versatile fan that will complement any outdoor setting. This high-speed fan is intended to cool off warm, partially confined outdoor locations such as basements and retail storefronts, and it performs wonderfully in that capacity, blowing air out in easily changeable directions.
While it is designed as a simple ground fan, it has a wall strap for simple changeover between the two positions (the floor or the wall).
It also includes a vertical angle that can be adjusted in both places, allowing you to find your own perfect area for air circulation, but it lacks an oscillating feature and no lateral swiveling; you will have to manually configure the fan every time you want it to change direction.
However, for the price, this would be the most well-suited fan of this design. It is particularly appealing due to its combination of effectiveness and design. The steel blade is a major selling point, and the whole metal structure distinguishes this fan from the less expensive plastic outdoor fans.
Homelabs Oscillating Tower Fan with Remote Control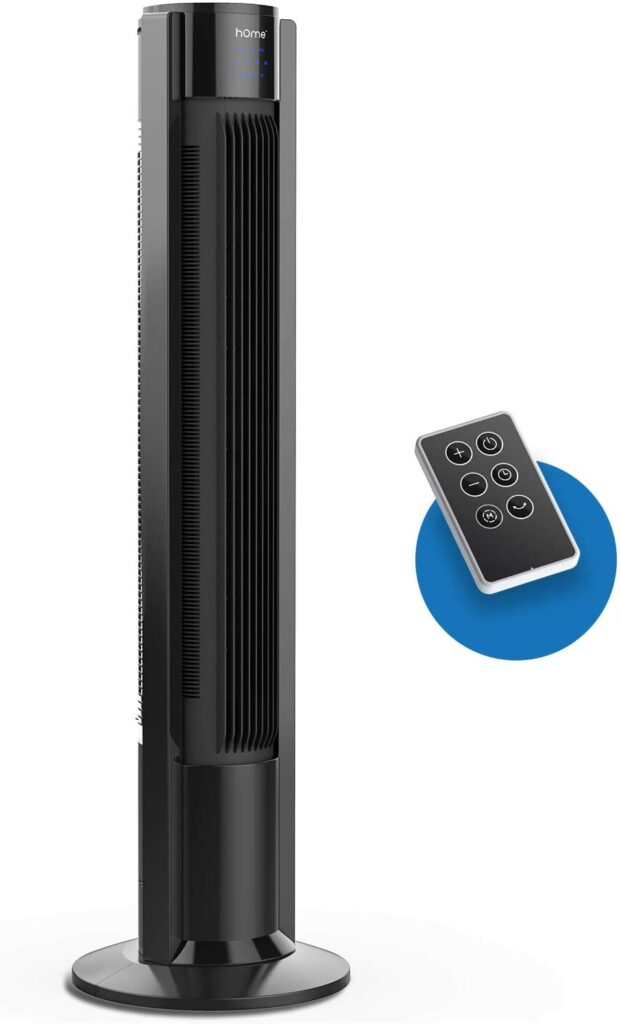 During the warm months, this fan is great for your offices (particularly home offices), as well as your veranda or garage workshops. It is not as efficient as Lasko and cannot match its high performance, but it does blow a respectable amount of air.
However, its main selling point is how quiet it is when working and oscillating, making it ideal for providing excellent cooling performance without interfering with your concentration.
It's also incredibly versatile, with three distinct air modes: limited, moderate, and powerful speeds, as well as sleep, oscillatory, and natural modes that can be used in practically any combination.
The use of a controller adds an extra layer of comfort to a fan like this, especially if it's utilized in a room where you'll be resting or where temperatures fluctuate throughout the day. Rather than walking all the way over to the fan, keep the controller nearby and press whichever key you like.
Outdoor Honeywell Turbo Force Fan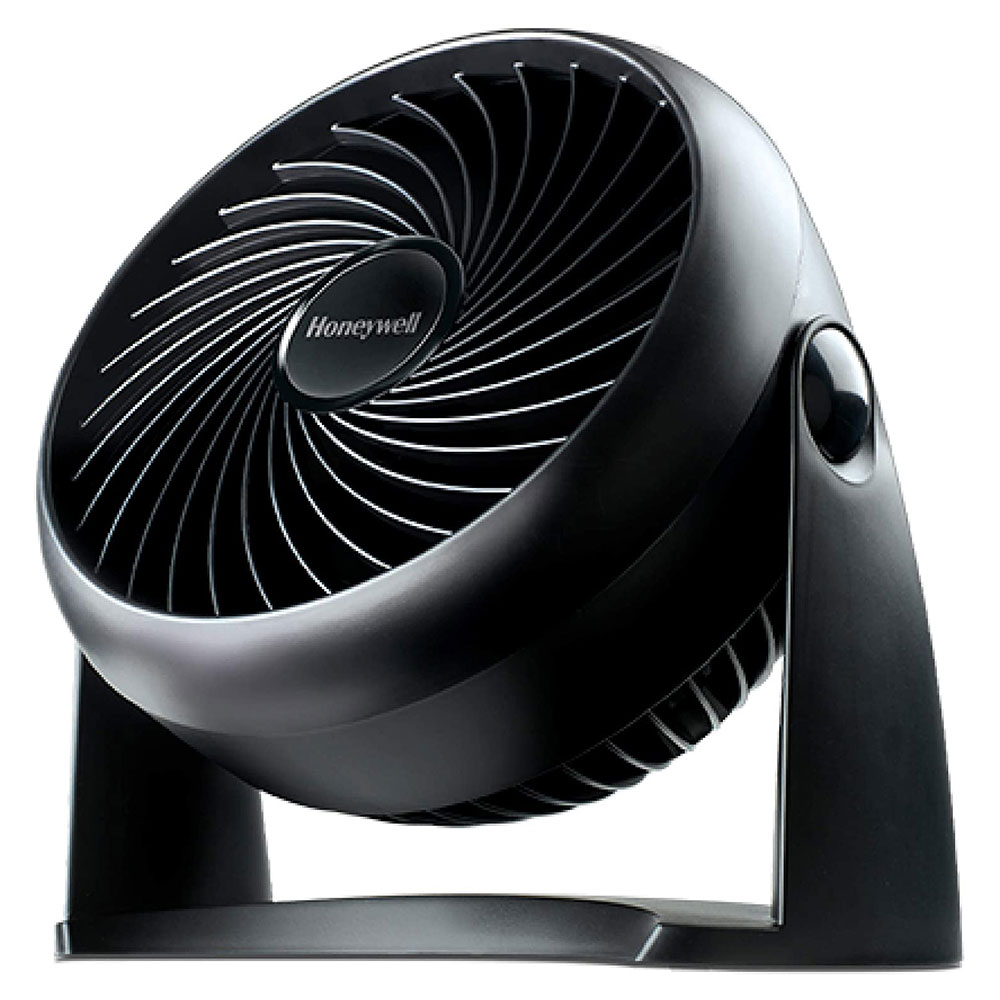 This fan is not as efficient nor as long-lasting as the options mentioned above. It is, however, affordable. This fan costs less than a fifth of what many other outdoor fans in this post do, but it provides excellent value.
It isn't as powerful as other options, but it doesn't have to be. This is ideal for placing on a patio table or something similar. On a relatively hot day, it's excellent for lounging in the quiet and reading. This option is not recommended for most people, but it is great for just about everything.
Geek Aire Battery-Powered Rechargeable Outdoor Fan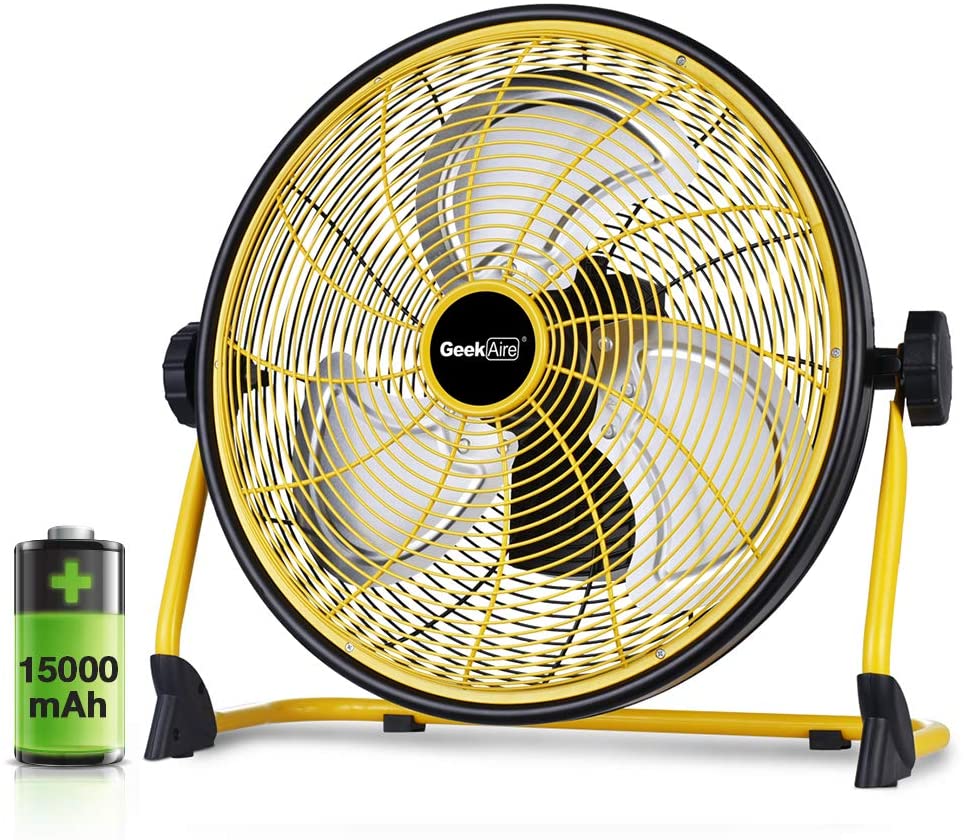 While a battery-powered fan may appear to be defective or unexpected at first, it is more common and useful than you would suppose in any domestic atmosphere.
We get typhoons at least once a year, and power is down for around eight hours.
In the height of summer, with temperatures topping 85 degrees Fahrenheit, it may be disastrous. This fan is great for these kinds of temperatures and provides a trustworthy portable option for any kind of situation.
A battery-powered fan would also be handy in a variety of other situations. Many people will be able to find considerable use for this type of fan, whether it's to provide greater airflow somewhere without electricity or just to acquire a trustworthy fan to travel with while you're continually moving.
But none of this would matter if the fan doesn't have the proof to back up its claims, which it fortunately does. It has the torque and speed you would expect from a floor fan, as well as a 1200 degree tilt to help you make the most of the air flow it produces. The device also has a lengthy battery life of twenty hours.
Stanley Air Blower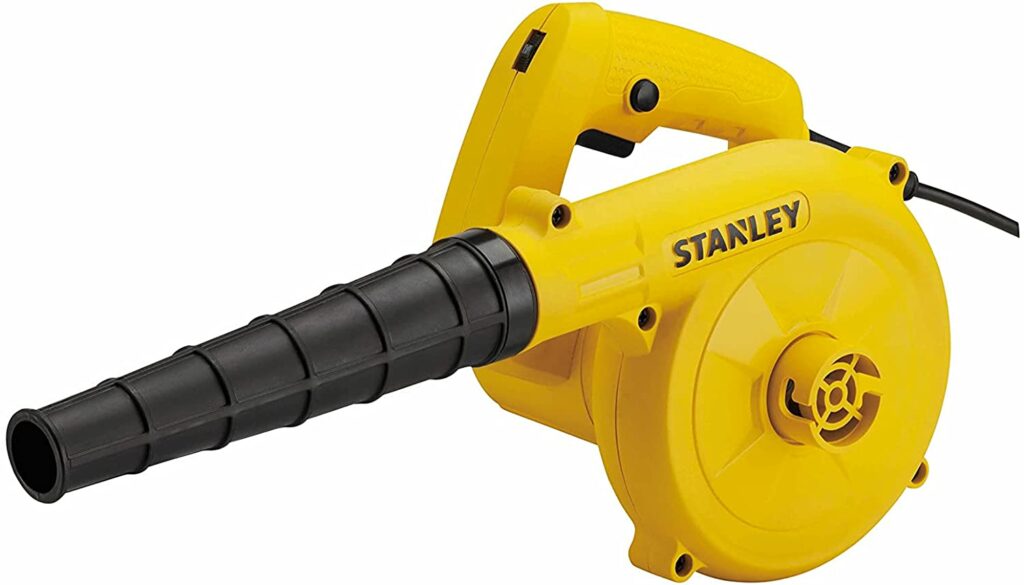 Much of its features is comparable, with a three-speed dynamic air flow that provides a great deal of versatility in its use. It might be used as a rug dryer or tilted at different angles to blow air as needed.
Unfortunately, it's significantly larger than the outdoor fans discussed in this post, making it more difficult to recommend as an option, even if it does have the handy tiny extra plug that allows you to attach other devices.
Frequently Asked Questions
Is it Worthwhile to Invest in Outdoor Utility Fans?
Elegant fans mounted on the roofs of the balconies keep the area cool in the evening and disseminate cooler night-time breezes. The system power of a veranda fan aids in temperature reduction.
Why are These Outdoor Utility Fans Safe for Use?
Outdoor fans, as opposed to interior fans, are built of steel and Acrylonitrile butadiene styrene plastic, and have blades that are suitable for any weather condition in the world.
These fans are constructed of galvanized tubular steel with beautifully coated acrylic coatings to avoid steel corrosion. To keep moisture out, even the outside sheath features a water-resistant cover.
Final Thoughts
Lastly, an outside fan could be used successfully indoors due to the fact that they function extraordinarily well in apartments that are prone to salinity and rooms that are damp. Keep this guide handy when choosing the right outdoor fan for your needs. And always make sure you assess all the features before making a decision.