Energy Efficient Box Fans – The Best Box Fans For Your Home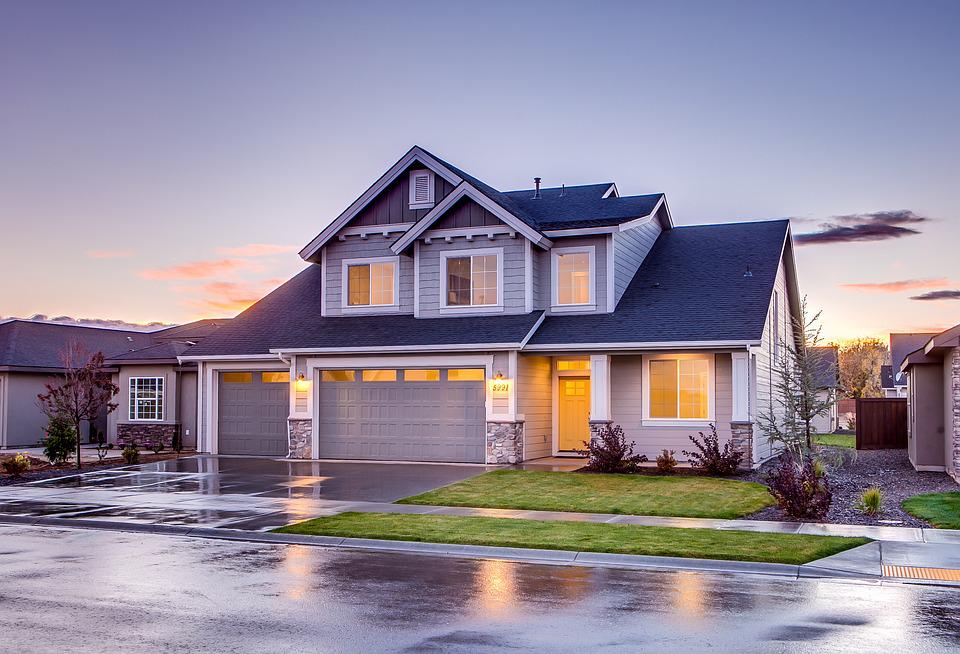 The market offers a wide variety of box fans, so knowing which one to choose can be challenging. The tips in this review will help you choose the perfect personal box fan for your home.
Box fans are electric fans whose blades are enclosed in a rectangular box. Box fans are usually portable and can be placed on any flat surface, such as a table or the floor. They are often used to cool rooms or circulate air.
Why Would Someone Need A Box Fan?
The use of a box fan might be justified for several reasons. For example, if the temperature in your home is too hot, a box fan can help to cool things down. Or, if you have allergies, a box fan can help circulate the air and keep it fresh.
What Are The Benefits Of Using A Box Fan?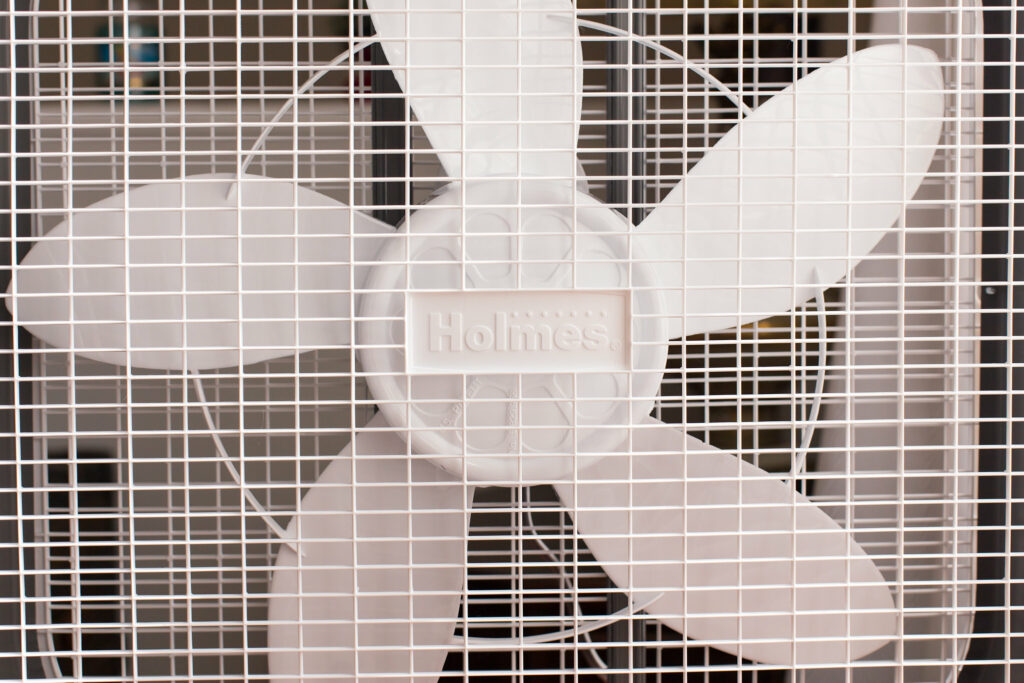 There are many benefits to using a box fan. The most obvious benefit is that it will save you money on your energy bill. They are very energy-efficient. Box fans use less energy than other electric fans, such as ceiling fans or oscillating fans.
Another great advantage is that box fans are available at an affordable price. Box fans are usually less expensive than other types of electric fans.
Things To Consider When Choosing A Box Fan
There are many box fans available on the market. Some of the most popular brands include Lasko, Honeywell, and Holmes. These fans come in a variety of sizes, so you can choose one that will fit your space.
You can also find box fans with different features, such as fan speed settings, timers, or remote control.
Here are a few tips that you must follow before buying personal fans:
First, look for a fan that has a high CFM rating. CFM stands for cubic feet per minute and measures how much air the fan can move. The higher the CFM rating, the more air the fan will move and the more energy it will use.
Second, look for a fan that has a low power consumption rating. It is the amount of energy that the fan uses to operate. The lower the power consumption rating, the more energy efficient the fan will be, and the more money you will save on your electricity bill.
You should also consider quality standards when purchasing an energy-efficient box fan. Some fans are ETL listed, and some are not. If a fan is ETL listed, it has been tested and meets certain energy efficiency standards.
When choosing a box fan, it is essential to consider the size of the room in which you want to use it. You will also want to think about how much airflow you need.
You will need a bigger fan with increased airflow capacity if you have a large room.
It is also important to consider the sound or noise level of the fan. Some box fans are very quiet, while others can be quite loud. If you have a small child in the house, you might want to choose a more silent fan, so they can sleep through the night.
These box fans can also serve as air purifiers. If you have allergies, this can be a great way to help keep the allergens out of your home. These fans will circulate the air and remove any pollen or dust in the air.
It is also a good idea to choose a fan that comes with a warranty. If something goes wrong with the fan, you will be covered.
Box fans are designed to provide cool air circulation within your home without breaking the bank. And if you choose an energy-efficient model, you can save money on your monthly electric bill.
There is no need for air conditioning when you have a box fan to keep you cool and fresh all day and night.
Let's look at some of the best box fans on the market today.
Five Top Box Fans
Lasko 20-Inch Box Fan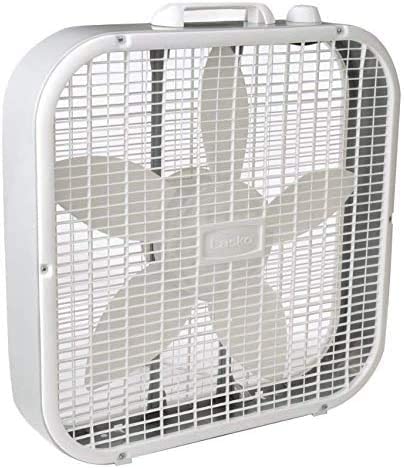 Lasko box fans are some of the market's most popular and affordable fans. The Lasko 20″ fan is a great choice for those looking for an energy-efficient fan. This fan has three-speed settings and an easy-carry handle, making it perfect for use in any room.
The exclusive Save-Smart feature is a power-saving mode that allows the fan to operate at a reduced wattage. This setting reduces energy consumption and can save you money on your electricity bill.
The integrated top handle makes it easy to carry the fan from room to room, so you can enjoy a cool breeze wherever you are.
The patented, fused safety plug helps to prevent electrical fires and safeguard against overloading. This feature gives you peace of mind, knowing that your fan is safe to use.
The extra thin design of the Lasko 20″ fan makes it easy to fit in tight spaces. This fan is perfect for use in small rooms or apartments.
Pros
Affordable
Lightweight
Durable construction
Cons
Hurricane Box Fan – 20-Inch Compact Design Fan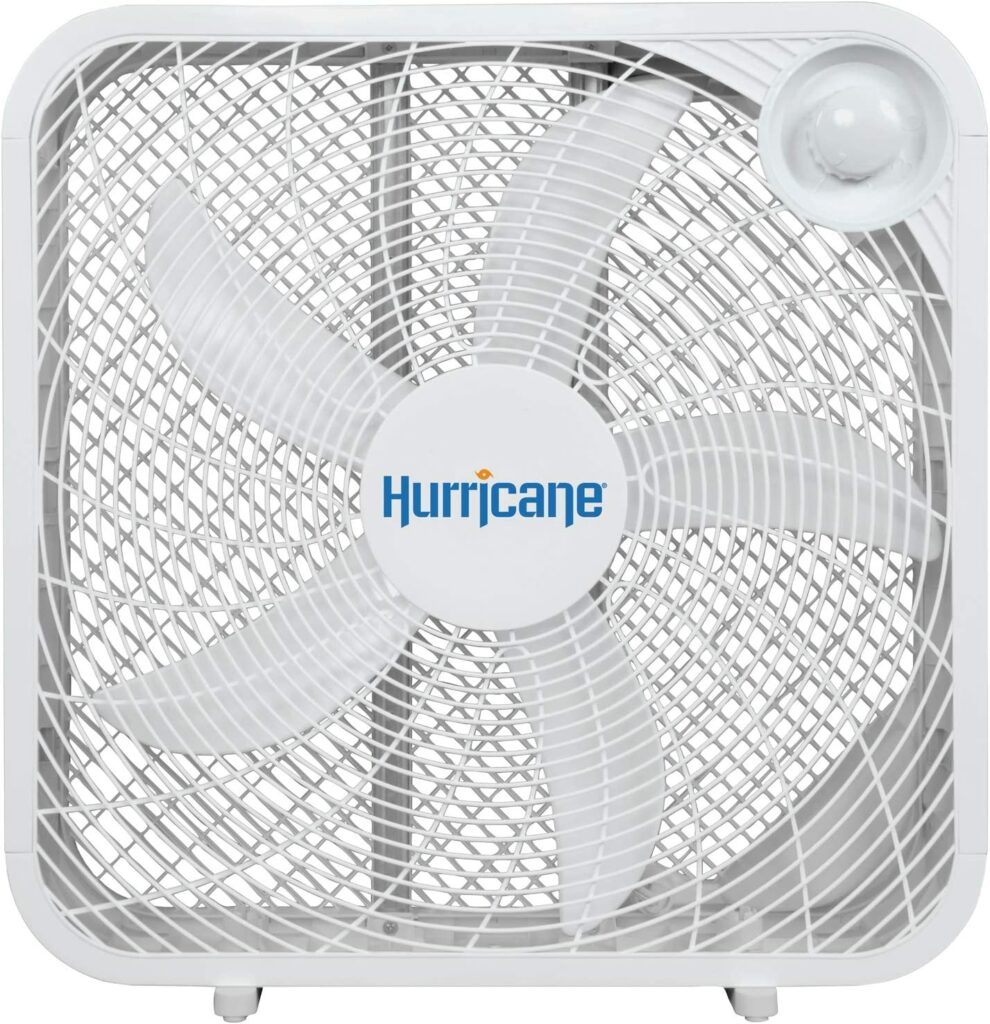 The Hurricane Box Fan is a great option if you're looking for a powerful, energy-efficient box fan. This fan has three speeds, so you can choose the level of air circulation you need. It's also compact and lightweight, making it easy to move from one room to another.
This fan is space-saving and portable. It is ideal for greenhouses, garages, and workshops as they have a quiet-yet-powerful motor. This motor generates a cooling breeze in large as well as small areas.
It is designed to run at 2,400 CFM and 1,100 RPM. The Hurricane Box Fan is ETL listed. The ETL listing mark is proof of product compliance with North American safety standards.
The dimensions of the fan are 20 in. x 20 in. x 3.5 in. It weighs around 7 lbs. Its slim frame makes it easy to carry and store. The adjustable feet allow you to set the fan at the perfect height for your needs. The durable metal grille protects the blades from damage.
It also has a power cord tucking feature. The cord wrap allows you to neatly store the power cord when not in use. This fan is available in white, and you can easily purchase it online.
Pros
Energy efficient
Compact and lightweight
ETL listed
Adjustable
Cons
Even at the lowest setting, it sounds very loud
Air Flex Air Purifier and Room Fan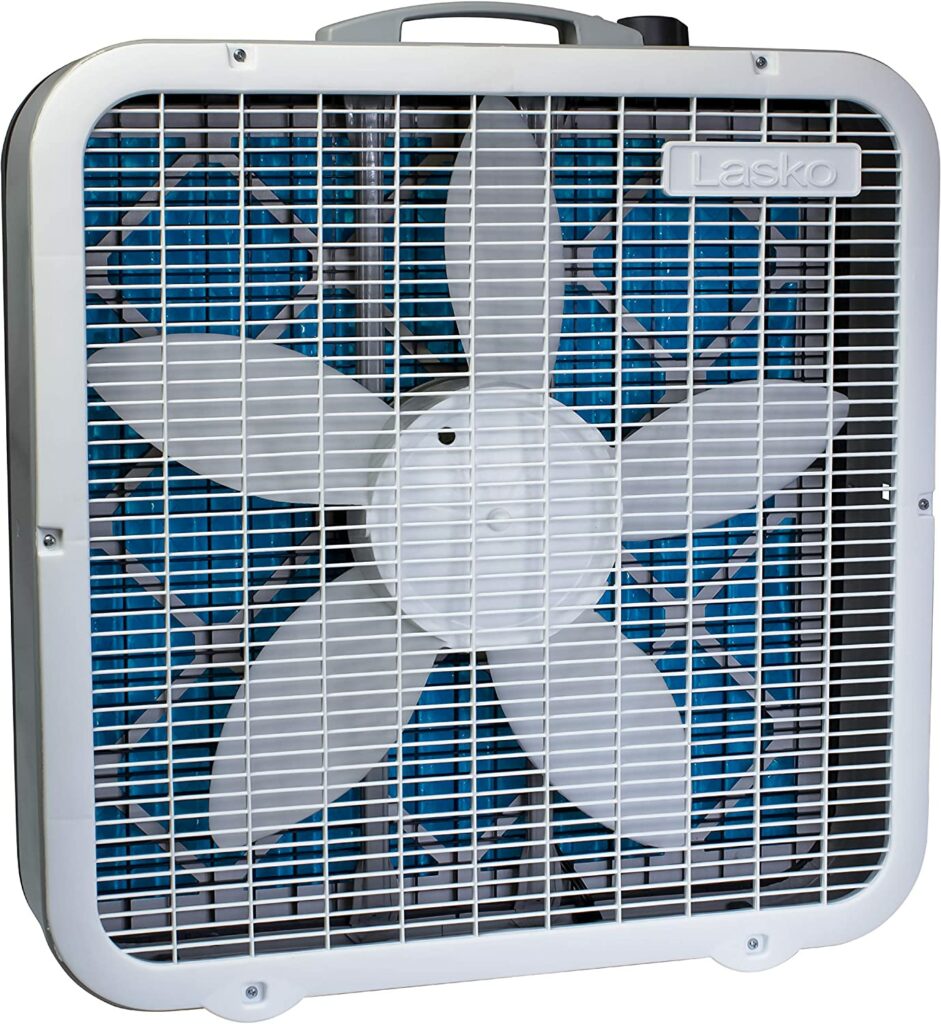 If you are looking for an air purifier and room fan that is both energy efficient and stylish, then the Air Flex room fan is the perfect choice for you. This elegant box fan comes in a sleek white finish that will complement any home décor.
The Air Flex comes with a MERV10 standard pleated filter. The filter is easy to install and requires no tools. Additionally, the fan can accommodate standard size MERV6 and MERV13 filters. The latter two filters are sold separately.
The advanced filtration system captures airborne particles such as dust, pollen, smoke, and pet dander. The purifier also helps reduce odors from cooking, pets, and smoke.
This box fan has a smaller footprint than traditional tower fans, making it ideal for use in smaller spaces. Additionally, the fan blades are encased in a durable grille that protects against fingers and other objects getting caught in the blades.
The Air Flex is perfect for small to medium-sized rooms and can be used in offices, kitchens, bedrooms, and more. It features a Weather-Shield motor and UV-protected paint, making it the perfect fan for indoor or outdoor use.
For maximum airflow control, the Air Flex™ is equipped with an easy-to-use control knob that offers three powerful speed settings. Whether you need a gentle breeze or a strong gust of wind, this versatile fan can do it all!
The Air Flex™ is built tough with a durable steel body construction. This fan is made to last, so you can enjoy cool air for years to come. To further extend the life of your fan, the fan is coated with UV-protected paint. It will help prevent the paint from fading or chipping over time.
The package includes a 6-foot power cord with a dual prong plug-in for easy setup. Plug the fan into any standard outlet, and you're all set. The voltage is 120 volts. Additionally, the fan features a carrying handle for easy portability.
Pros
Easy to use
Comes with filter
Safety features
Cons
It does not have any low fan setting
Amazon Basics 3 Speed Box Fan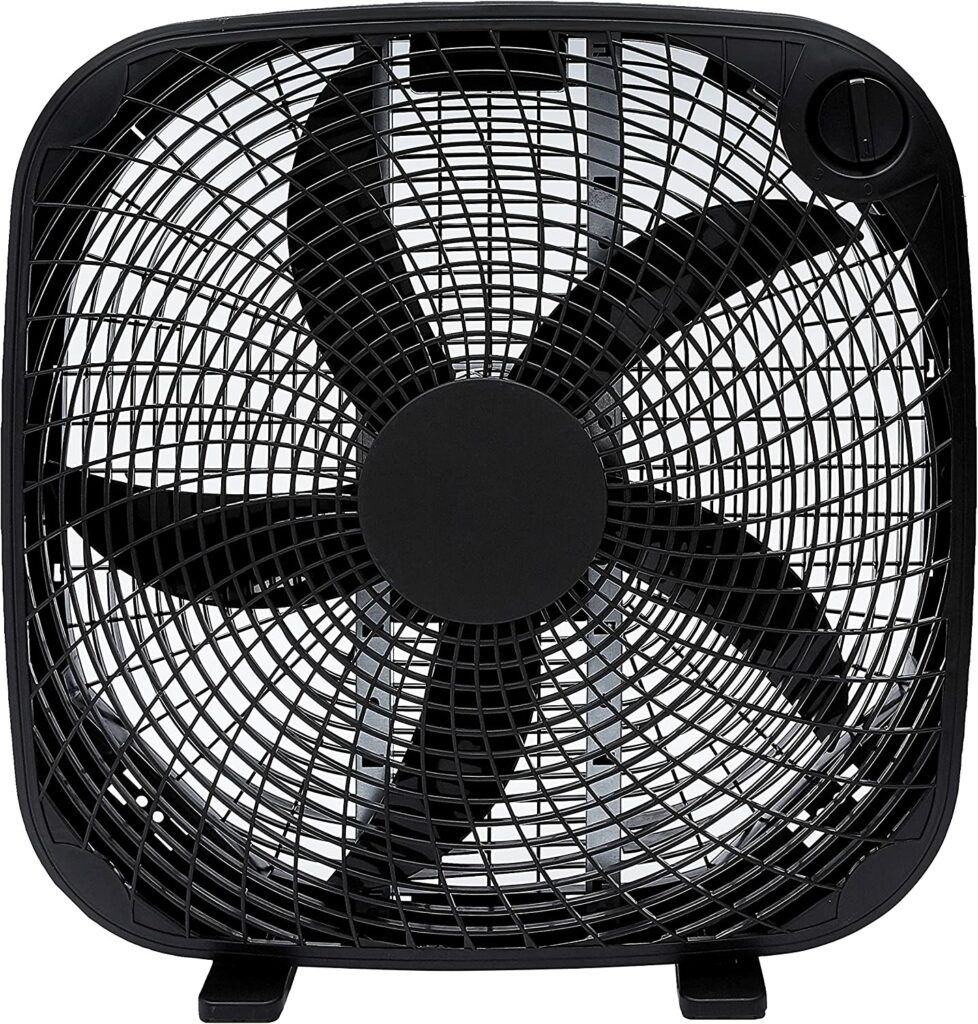 This square box fan from Amazon Basics is one of the most popular and highest-rated box fans available today. The fan has three speeds, making it perfect for a small- to medium-sized room.
The fan blades are made from high-quality material, and the overall construction is sturdy. The front grille is removable for easy cleaning. It is also very quiet, making it perfect for bedrooms and other quiet home areas.
The fan has front-facing controls that make it easy to operate. The fan's lightweight design makes it easy to carry and move around with a carrying handle for easy transport.
It has a free-standing design, enabling it to sit on any flat surface. The extra large feet make it stable and unlikely to tip over.
The cord wrap is recessed into the fan, so you can easily store it away.
Pros
Great quality
Portable
Efficient and powerful
Great airflow
White noise level
Cons
Comfort Zone Box Fan – Full-Force Air Circulation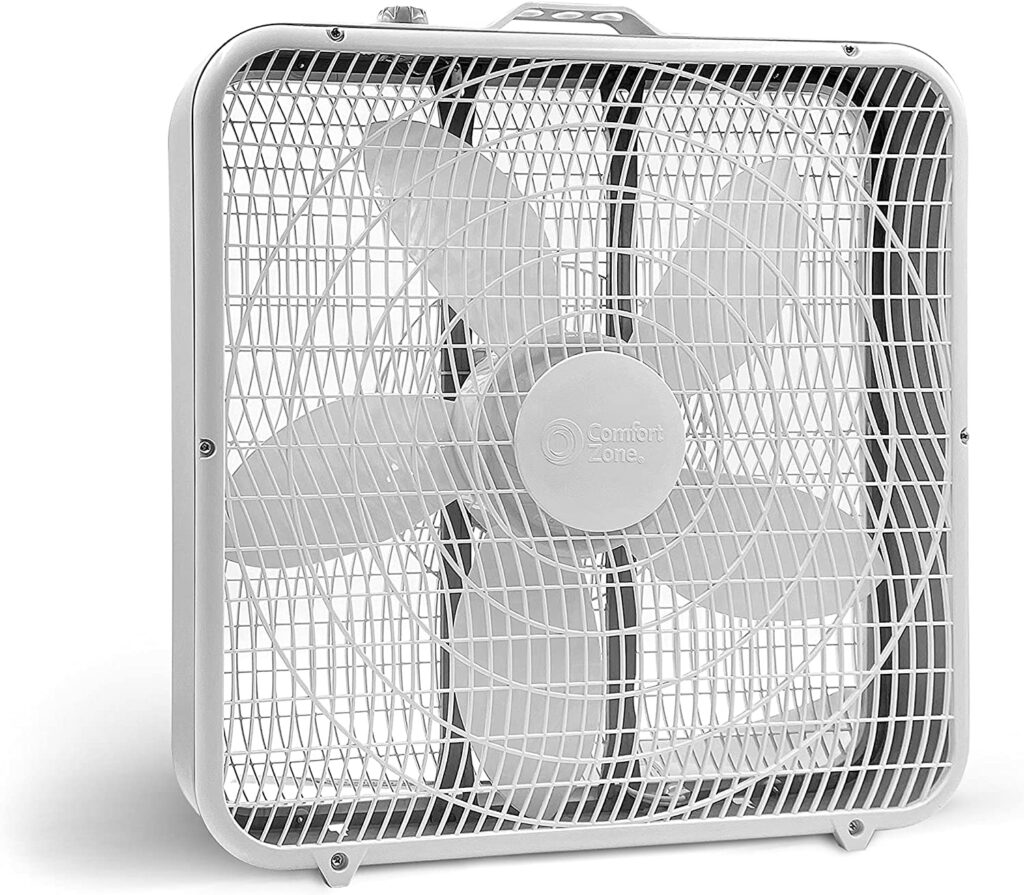 If you're looking for an affordable box fan that will move a lot of air, the Comfort Zone is a good choice. It's made of durable plastic and metal, so it should last many years.
It features high-performance blades for full-force air circulation and a sturdy grill for safety. This box fan has a top-mounted control panel with a three-speed dial for ease of use. You can choose from low, medium, or high settings to get the perfect level of airflow for your needs.
The highest setting is powerful, so it's great for circulating air in a large room. The fan is also pretty quiet, even on the highest setting.
When the air in a room is stagnant, more energy is required to run an air conditioning unit. Circulating the air with a box fan can help your AC unit run more efficiently and use less energy. As a result, it helps you reduce your carbon footprint.
The fan is lightweight and easy to carry from room to room. Considering its small size, it can easily be stored in a closet or cabinet when not used.
Pros
Three-speed function
Safe and sturdy construction
Meets quality standards
Cons
It does not have any air filters
Frequently Asked Questions
How do energy-efficient fans use less electricity?
Energy-efficient box fans use less electricity because they are designed to move a large amount of air with less power.
Where can I buy an energy-efficient box fan?
You can purchase an energy-efficient box fan online or at a store that specializes in green products.
How to maintain an energy-efficient box fan?
To keep your fan running smoothly and efficiently, clean it regularly with a soft, damp cloth. If the blades become bent or damaged, replace them immediately.
Final Thoughts
An Energy-efficient box fan can be a great addition to any home. Not only can they help reduce energy bills, but they can also improve the air quality in your home. When choosing an energy-efficient fan, be sure to consider the size of the room, the type of blades, and the noise level. With so many different fans on the market, you are sure to find the perfect one for your needs.