The Best Vornado Table Fan For Your Home
Some of the best Vornado fans can help you circulate air and cut energy costs at the same time. To choose the perfect fan consider factors like room size, warranty length, airspeeds, and noise levels.
All Vornado fans come with energy-efficient vortex technology that provides highly optimized air circulation. Overall you should purchase the Vornado 630 for medium-sized rooms, the Vornado 460 for smaller rooms, and the Vornado 660 for larger rooms. Of course, if you want an electric yet beautiful design, the Vornado Vfan has much to offer!
Read on to learn more about the latest deals available. Pick from a variety of Vornado fans and make your home a lot more comfortable.
No products found.
The Best Vornado Fans
With top of the line technology, a 5-year limited warranty, and numerous amazing features the best Vornado fans will cool your home and leave it immensely comfortable. Picking the best model often comes down to the size of your room and the kind of power you're looking for.
Noise is also a factor to consider, but generally the bigger the fan, the more noise it will produce. The best part about Vornado fans is that they offer so many speed settings you can simply choose a lower setting if you want a quieter atmosphere. Most fans offer energy savings and competitive prices, and with Amazon orders you can even get same day delivery!
1. Vornado 630 Medium Air Circulator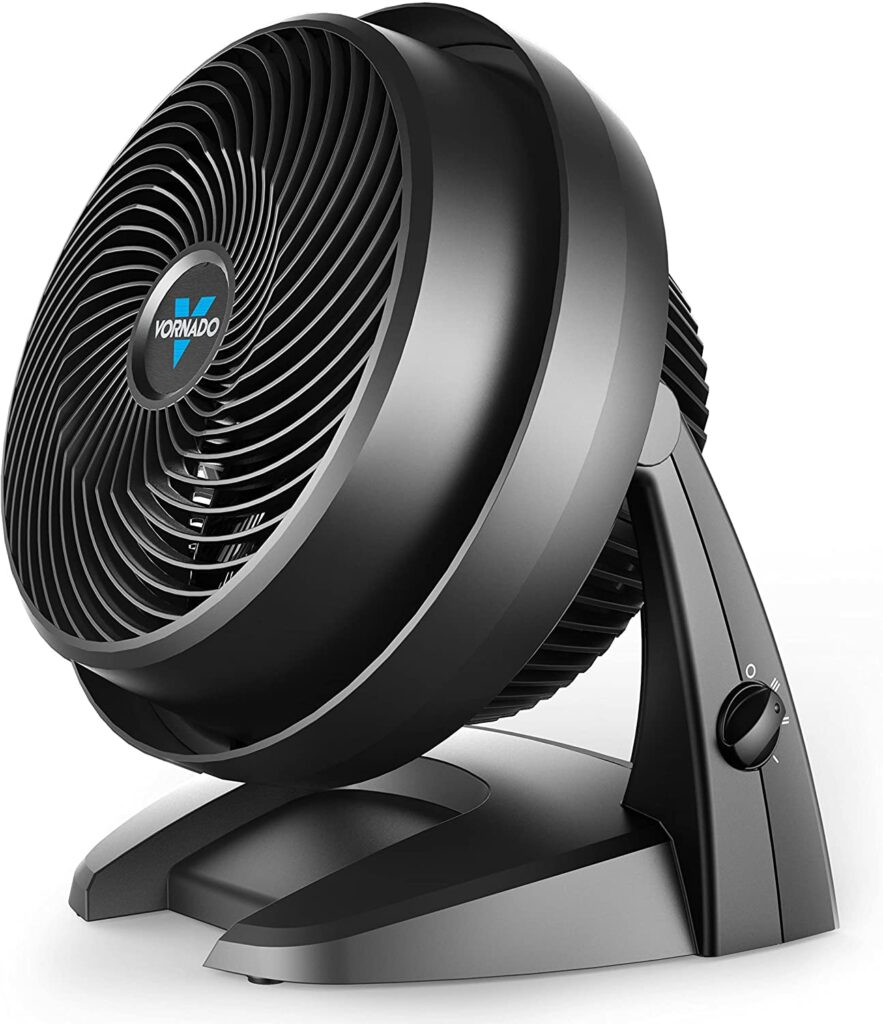 If you're looking for a room fan to circulate air in a medium or large room, the Vornado 630 is definitely your best option.
With its energy-efficient vortex technology, this fan is ideal for bedrooms, kitchens, and offices. The multi-dimensional airflow will cool your entire room, across up to 70 feet. You can place your fan on the floor or a tabletop and switch it to a quiet setting for cooling at the low noise level of 52 decibels.
Plus, the 630 has three-speed settings so you can adjust the airflow to meet your comfort needs at any given time. The 5-year limited warranty protects you against damage, making this fan a safe, long-term investment.
Overall, the sleek black design makes this fan a perfect addition to any home. A wall plug-in model, the 630 weighs less than 6 pounds and has blades that are 9 inches wide. You can ship it anywhere except California since it does not meet the state's regulatory requirements.
2. Vornado 460 Small Air Circulator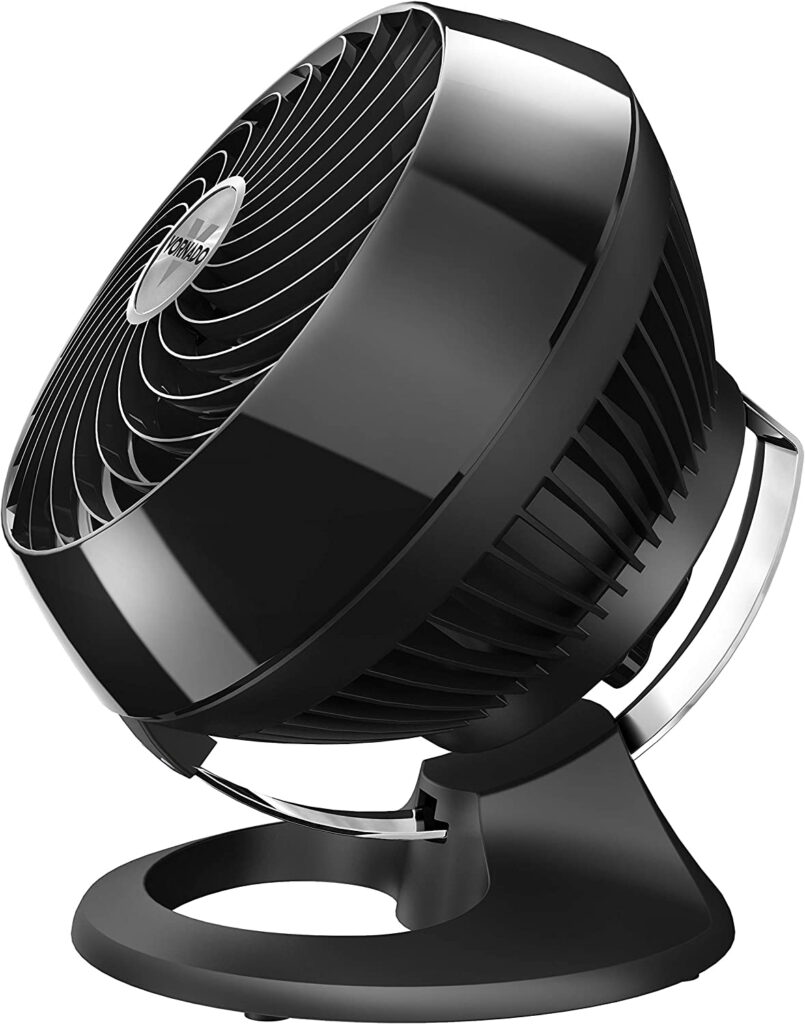 Although similar in features to the previous model, the Vornado 460 is both more affordable and less noisy. With its slight and steady hum, this fan is perfect for smaller bedrooms and customers. It is definitely a huge hit among customers who are light sleepers. In fact, with a noise level of 46 decibels, it is quieter than any other fan on this list!
While the signature vortex action technology does help optimize air circulation, the smaller size of this fan makes it unsuitable for larger rooms. The fan weighs 4.25 pounds and comes in a sleek black color. The three-setting speed control lets you optimize your comfort and the multi-dimensional airflow is easy to adjust using the smooth chrome glide bar.
The 5-year warranty is also a huge comfort to customers who worry about their fans breaking down or getting damaged. That said, the control dial for the Vornado 460 is placed behind the motor which makes it slightly harder to operate than other models like the 630. All in all, this is a solid choice for customers who want a small, high-quality, table fan to help them stay cool.
3. Vornado 660 AE Large Air Circulator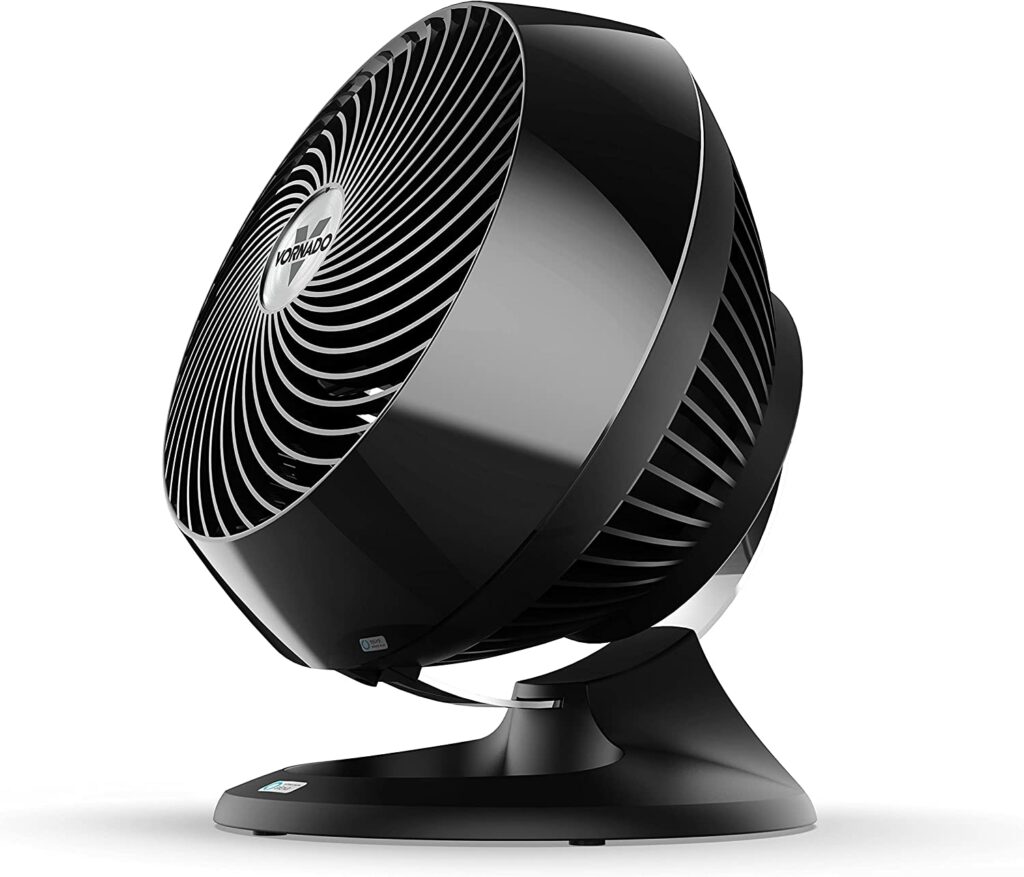 With its impressive build and Vortex Action technology the Vornado 660 is packed with power. This model creates a heavy breeze that cools up to 20 feet away and is ideal for larger rooms. That can definitely help when you're trying to cool multiple people sitting across a room. 
To direct the airflow all you need to do is move the chrome glide bar. The fan will tilt along a horizontal and vertical axis so you can set it up to optimize airflow. There are also four speed settings from whisper quiet to turbo.
As far as cooling is concerned, the turbo control beats all other fans on the market. However, this cooling efficiency comes at the cost of noise control. But don't worry. This is only a concern on the turbo-speed level. The first three speed settings – low, medium, and high – offer remarkable noise control considering the breeze they offer.
The Vornado 660 is also extremely easy to use. It comes with built-in Alexa compatibility and you can use voice or phone control to adjust the fan settings remotely. Plus, you can even set a custom schedule to help cool your home while you're sleeping or circulate air while you're out of the house.
All in all, as far as features are concerned the Vornado 660 is the best possible table fan you can own!
The only thing keeping it from number 1 on this list is the size and power might be too much for most rooms that require a tabletop fan.
4. Vornado Vfan Alchemy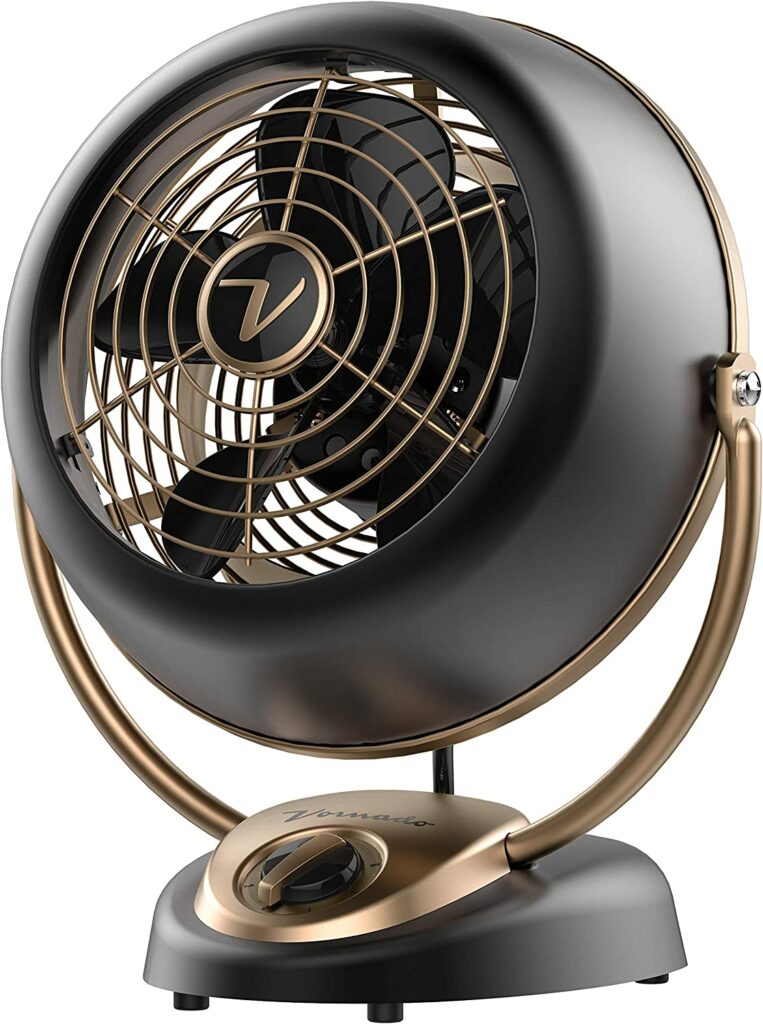 A stunning fan that offers a powerful breeze with a vintage aesthetic, the Vornado Vfan is ideal for customers who want a retro fan that looks like room decor. Available in seafoam green and gunmetal grey, the fan's shape is designed after the appearance of an airplane propeller.
It works well for small or medium-sized rooms, with its fully pivoting head that can effectively blow air in all directions. With 5 speed settings, this fan definitely gives you a variety of customization options so you can relax in comfort. It's an especially stunning fan for parties and events. 
The Vornado 5-year warranty also extends to their most elegant design, and while many customers worry that the form may overpower the function that simply isn't the case with the Vornado Vfan. 
It's certified, safety tested, and extremely easy to maneuver, weighing only 8.8 pounds. You can set it up anywhere and enjoy a lovely cooling effect. This fan is ideal for customers who don't want a traditional fan cluttering up the appearance of their home.