Weather is often unpredictable. Seasons come and go, and it is all quite poetic. However, when seasons change, the temperature changes, and with it brings woes like unbearable heat and nose-biting winter. 
In the face of such change, you will have varying home appliance needs. The most significant of these is requiring an indoor cooling and heating system. Often, these are two different contraptions.
What if we tell you that you can take care of both these extreme weather conditions with one appliance?
Give us the benefit of the doubt and read on to learn about the best tower fans that can act as a cooler and a heater.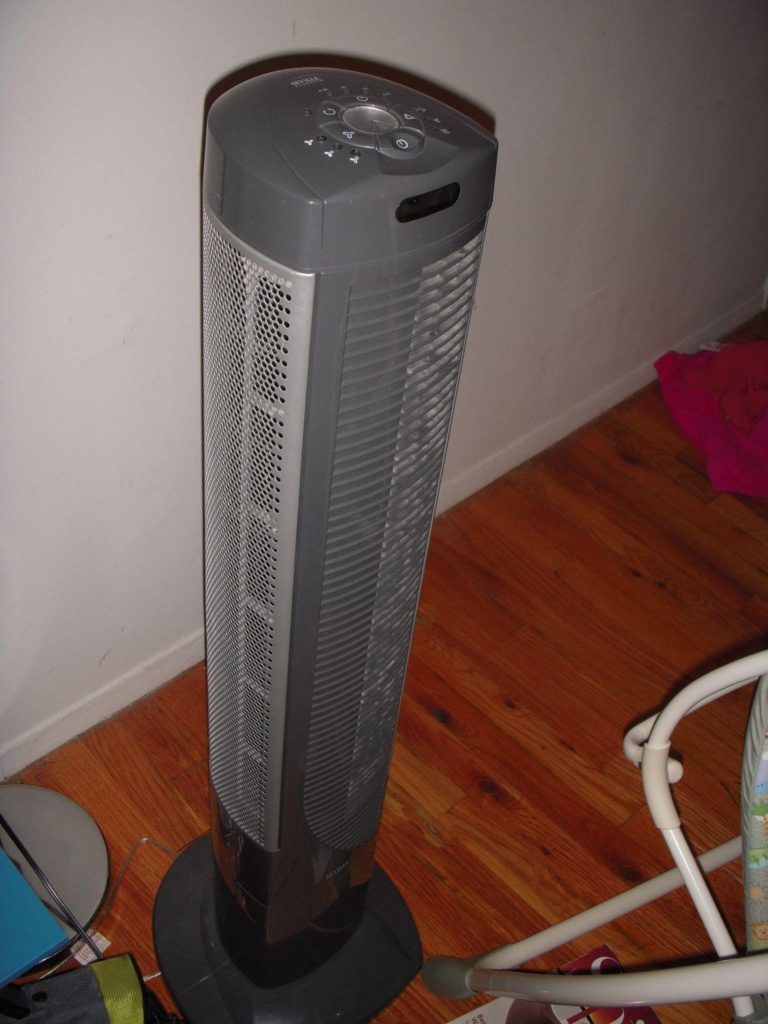 Why Should You Choose a Combo Fan?
A Combo fan is one that you can use to make your rooms cooler and turn up the heat in winter. Now you may wonder why you need this when you can work with a regular fan or a space heater.
Ultimately it is up to you but having a 2 in 1 solution has many benefits. So let's jump right in.
Helps You Declutter
Space is a significant issue that we face today. However, when it comes to bulky products like a space heater or a fan, this is even worse because you have to store these away for a period when they are not needed. 
Investing in a Combo fan will avoid this problem altogether, as all you need to do is adjust the settings and use the fan either as a cooler or a heater.
Versatility
In the current age, things only survive when they are versatile and can adapt according to the circumstances. This applies to home appliances as well. The more versatile the function, the better suited it is to a modern home.
Hence, getting a fan that has both heating and cooling options along with other features is a great step towards using minimal products for maximum benefits.
Save Money
When you buy a product that has multiple uses, you save money by not having to buy additional appliances to meet your requirements.
Heating and cooling are undeniable comforts that need to be met sufficiently and efficiently. Though it may be a little more expensive than just a fan or a heater, a combo fan will save you some bucks compared to buying two different products. 
Better Distribution
While a regular space heater may give you warmth, it does not perform well when evenly heating a room.
A heater with a fan will not only help distribute the heat more evenly throughout the room but can also be used as only a fan during warmer months. 
Factors to Consider when Buying a Combo Space Heater and Cooling Fan
Some things help your fan perform better, and it is essential that you understand them before making a purchase. 
You may not find the perfect combination of all these in one product, but you will admittedly make a better choice by learning these factors. 
Where Will You Use It
Whether you plan to use this combination fan in your bedroom, living room, kitchen, or office space, your requirements will change.
The coverage required, the number of people in the room at a given time, and the amount of time the fan must run for are all factors to consider. Another important factor to consider is if you would prefer a fan with a sleep mode, or if you need it in your bedroom.
Thus, understanding your needs comprehensively will help you zero in on the best space heater and cooling fan. 
Oscillation
If the space you are looking to heat and cool is large or usually inhabited by multiple people, you will need a fan that offers a good degree of oscillation.
This means that the turns and the degree to which the fan can twist itself will determine how well and far it can circulate hot or cold air. Even distribution of air is an important feature of any fan.
Wattage
Wattage is the rate at which energy is consumed or generated. Higher the wattage of the appliance, the higher the power.
Thus, if you need cooling or heating in a large space, it is best to invest in a combo fan with a higher wattage is best. 
Size
Although we also prefer to buy objects that do not take up much space, you should purchase a medium-sized yet, sturdy and sleek product to get better performance. 
Usually, combination fans with higher wattage tend to be larger as smaller appliances do not need more energy and are less powerful. 
Noise Level 
If you plan to use your heating and cooling tower fan in your bedroom while sleeping. It is definitely not going to help you sleep better if your fan is noisy.
Thus, choose a fan with low or adjustable noise levels so that you can sleep, watch television or have a conversation in peace without the monotonous sound of a flapping fan. 
Fan Speeds
Most models come with at least four fan speeds. Some have as many as eight with varying modes. When selecting a combination fan, buy one which has options for altering the fan speeds.
You don't always want to have the fan spinning at full speed. The combination fan model you choose should have adjustable speed options and preferably, modes that can be altered as per the weather.
Tip-Over Safety Switch
Tower fans are kept on the floor or a desk. This makes it prone to being accidentally tipped over. A safety switch automatically switches the fan off if it is tipped over.
You should definitely select a model with this function if you have young children or pets who may run around and tip over the fan. This is an essential safety feature that can help you avoid any accidents.
Cool Touch Housing
A tower heater is used for heating a room. But at the same time, the body of the heater must not burn up. Hence, a cool touch safety housing system keeps the surface of your fan cool to touch.
This avoids burning your fingers or curious pet's noses and is a safety feature that you must look out for when purchasing a combo fan. 
The Best Fans with Heating and Cooling Function
Ready to make your living space better and more comfortable? Read on to see our best picks where you can get the best out of both functions.
Dyson HP01 Pure Hot + Cool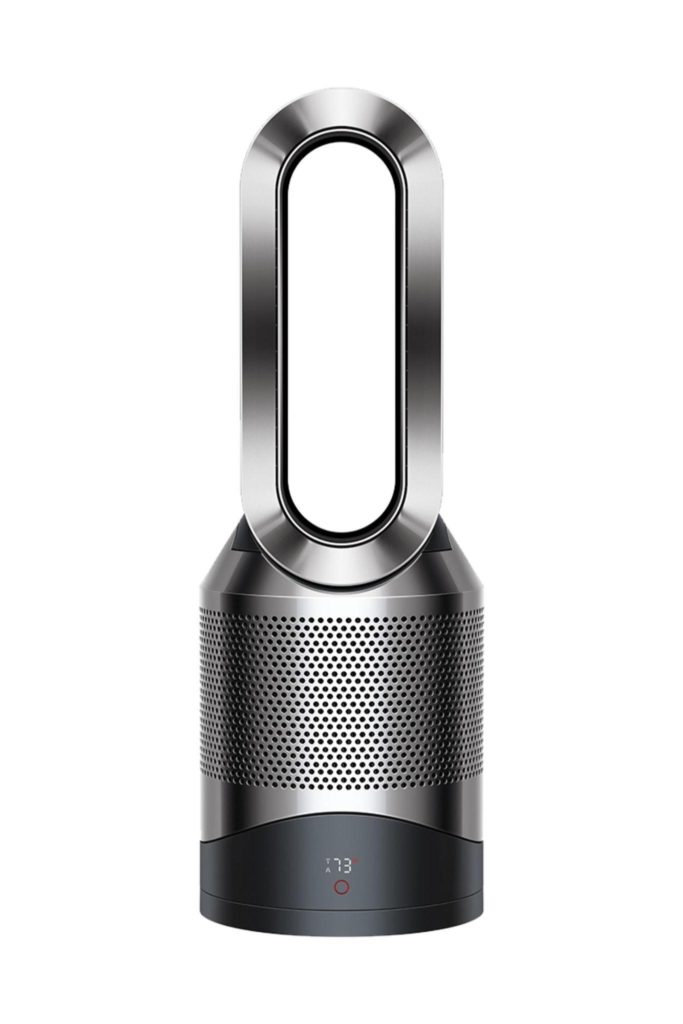 This is not just a two in one fan, it is a thing of dreams itself. Apart from heating and cooling options, this model is also an air purifier. It can automatically detect impurities in the air and reports them efficiently.
This multifunctional product is armed with HEPA filters that filter 99.97 per cent of allergens and dust from the air. It offers an amazing 350-degree oscillation function that permeates air through the entire room. 
The Dyson Tower Fan works for long-range heating and the fan also allows the room to get heated evenly. Additionally, it can work as a perfect fan for during summer days.
Most importantly, its backward airflow mode allows you to use it just as a purifier alone. It is fairly expensive but since it does the work of three appliances, the cost shouldn't be much of a deterrent.
It comes with most of the features we discussed earlier. It has a sleep timer, ten air speed settings and even a tip-over safety switch. There is also a two year warranty period and requires no assembly assistance.
This model can be connected to Wi-Fi and is compatible with Amazon Alexa voice commands. It is an intelligent fan that detects the temperature changes in the room and optimizes its setting accordingly. 
TRUSTECH Portable Space Heater and Cooling Fan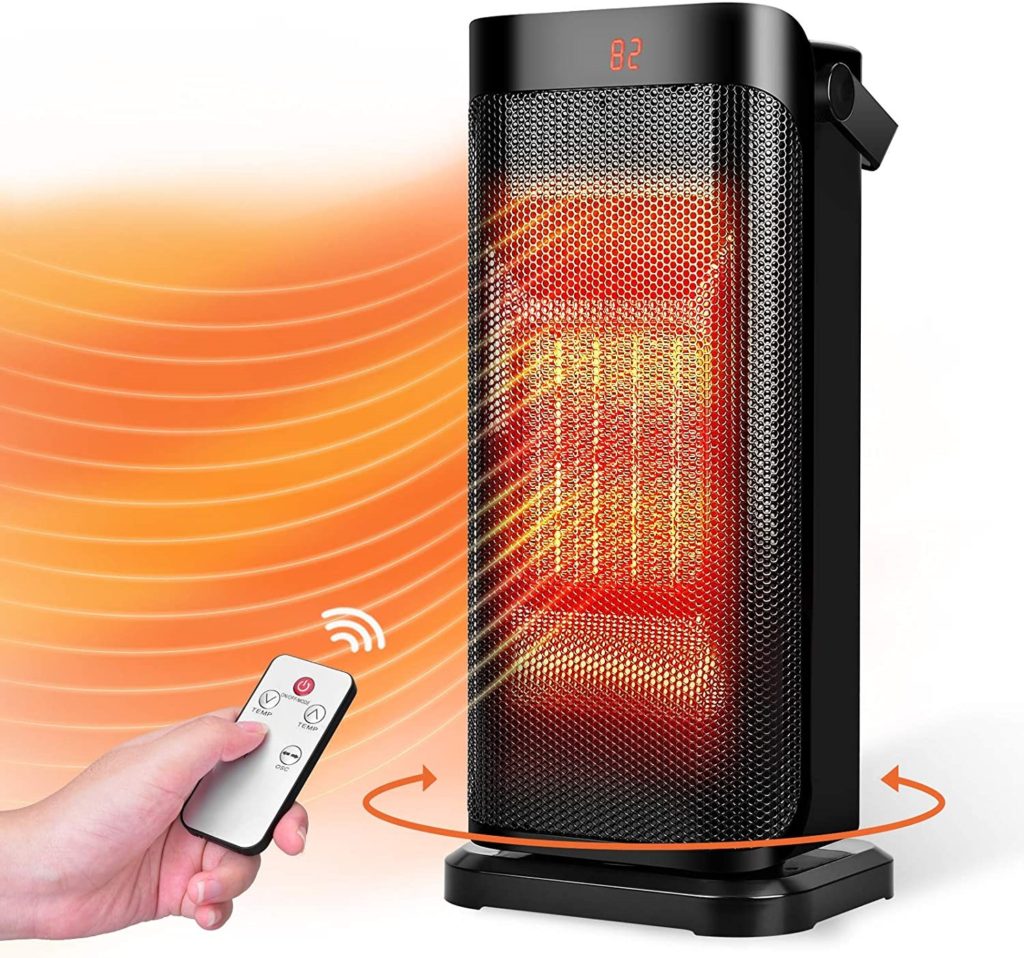 Hot or cool, whatever your demand, this fan delivers perfectly. An added advantage is that it is small in size and easily portable. It is also a great option for someone on a budget.
You can even carry it along on trips. It does not oscillate but has a tilting feature at a 45-degree angle that allows good circulation of air. The noise level is also quite low. To ensure complete safety, this model includes a tip-over switch as well as an anti-overheating system.
It is so compact that you can even take it along to the bathroom and save yourself or family members from a chilly bath time. It has two speed settings each for its hot and cool functions. 
Most customers have commented on the product's ease of use and value for money. We recommend this versatile and compact fan to meet your changing weather needs.
Lasko Oscillating Tower Fan and Space Heater Combo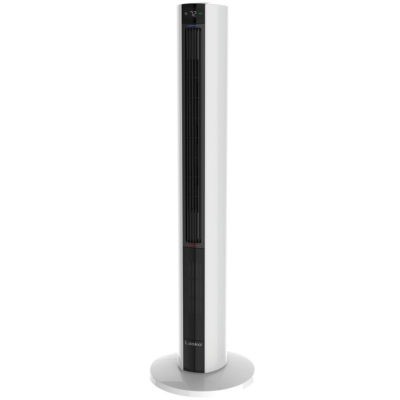 This 41-inch wonder machine is a remote-controlled tower fan that works well both as a heater and a cooler. Its sleek design ensures that it doesn't take up much space and at the same time looks really stylish. 
It comes with four different speed settings for cool air and three heat speed settings. The AutoEco thermostat it uses vouches to use less energy without compromising on performance. The fan also has a remote control onboard storage space that comes in handy. 
It also offers widespread oscillation along with an 8-hour timer for a peaceful night's sleep. This combo fan is ELT listed and has cool-touch housing, tip-over safety switch, safe ceramic element and overheat protection. The easy vacuum filter makes this a great choice for a fan heater combo that is also easy to clean. 
This model comes with a 3-year limited warranty and promises year-round comfort with its versatile functions.
Envion Four Seasons 4-1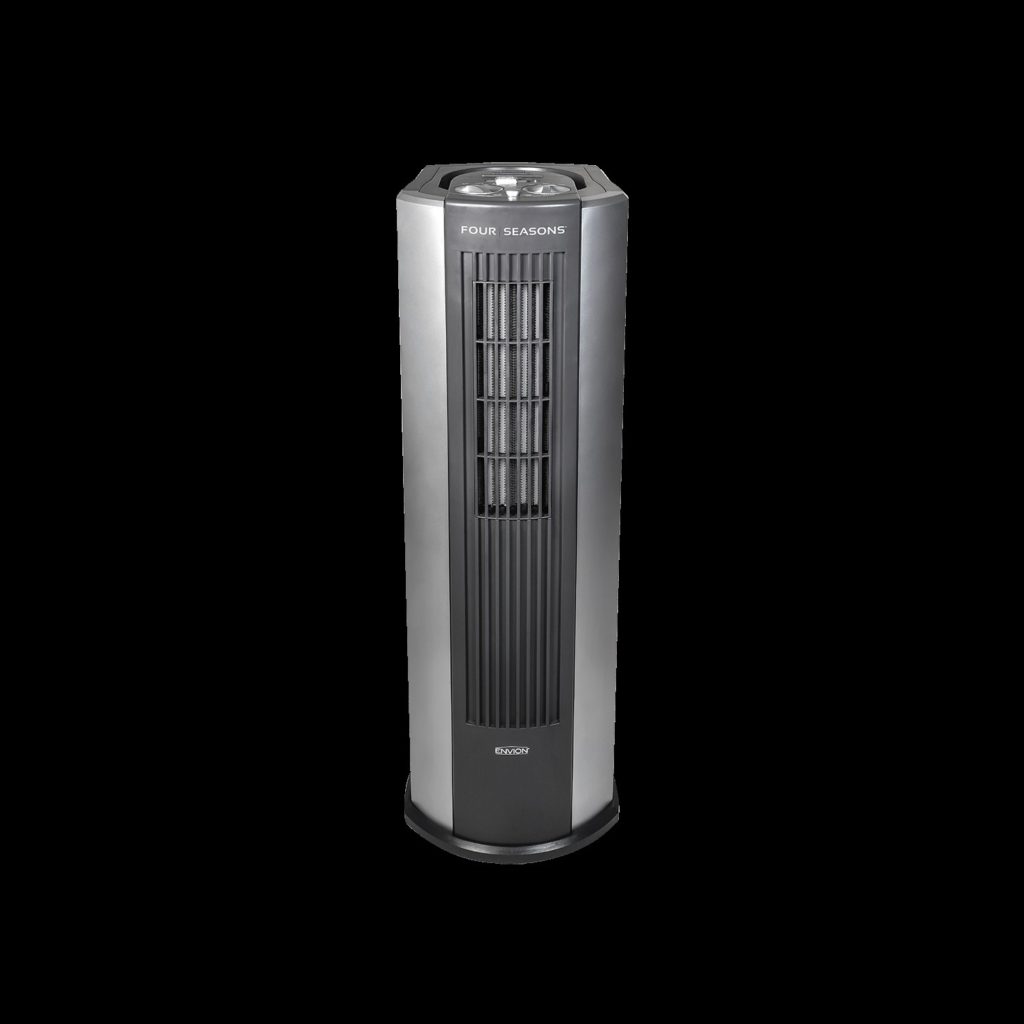 This is a tower fan, space heater, air purifier and humidifier rolled into one and a great buy if you have the budget. This model allows you to maintain comfort while breathing in pure, moisture-rich air.
With a relatively small footprint, this can be kept in any corner of the house. The best aspect of this model is that the multiple functions can either be used simultaneously or one or two at a time. 
It has HEPA technology that carefully purifies the air. This is a high-efficiency product with a space-saving design and almost noise-free functioning. Additionally, it is compact enough to be moved from one room to another and has a built-in carry handle for this purpose.
This fan heater also comes with the tip-over safety switch but offers only a limited warranty for a period of one year. The model, however, does not come with a remote control.
The customer reviews for this product are mostly positive with the only complaint being the need to refill the water chamber every other day. But that shouldn't deter you from trying out this amazing product. 
Honeycare Combo Heater Bladeless Fan
This is probably the slimmest among other fans that we have mentioned in this article.  Its stylish vertical design ensures air circulation even to the farthest corner of the room.
This bladeless fan is also extremely lightweight, adding to its portability. It claims to heat the room in 3 seconds and has a combination of ten speed settings. The additional features include a remote control and the option of using this as a dehumidifier and cloth drier during monsoon. 
This heater fan combo has a 9-hour sleep timer setting and an oscillation range of 120 degrees. It is also energy efficient as it comes armed with a thermostat that can monitor and automatically control room temperature.
The safety features are an automatic tip-over switch and a PTC ceramic heating element that is very useful in minimizing the risk of accidental fires. The bladeless design makes it safe to use in homes with children and pets. 
Teio Small Space Heater and Fan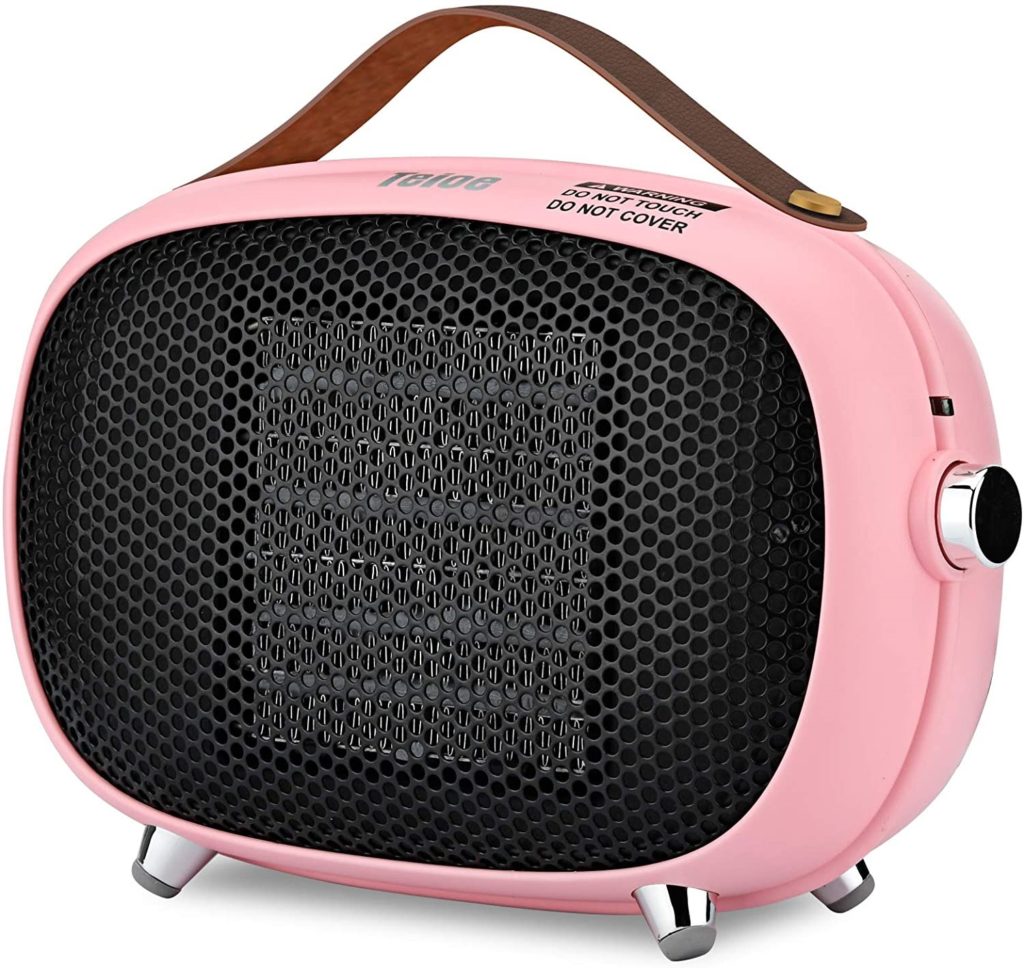 This cute little contraption is great for those on the go and who do not want to spend a bomb on a space heater. It is so compact, you can even carry it to work and leave it on your desk every day.
Made of flame-retardant material and built-in with safety features like PTC ceramic plates, overheat and tip-over protection with alarm, this is a product that you cannot go wrong with. 
It also has an 8-hour timer and auto shut off options. The pure leather handle only adds to its appeal and it produces noise below 50 decibels. The fan has three operation modes- high heat, low heat and natural wind. 
The air circulation speed can be adjusted accordingly. The fan does not have an oscillation function but its compactness and design allow easy manual turning as per need. 
GOFLAME Air Cooler and Heater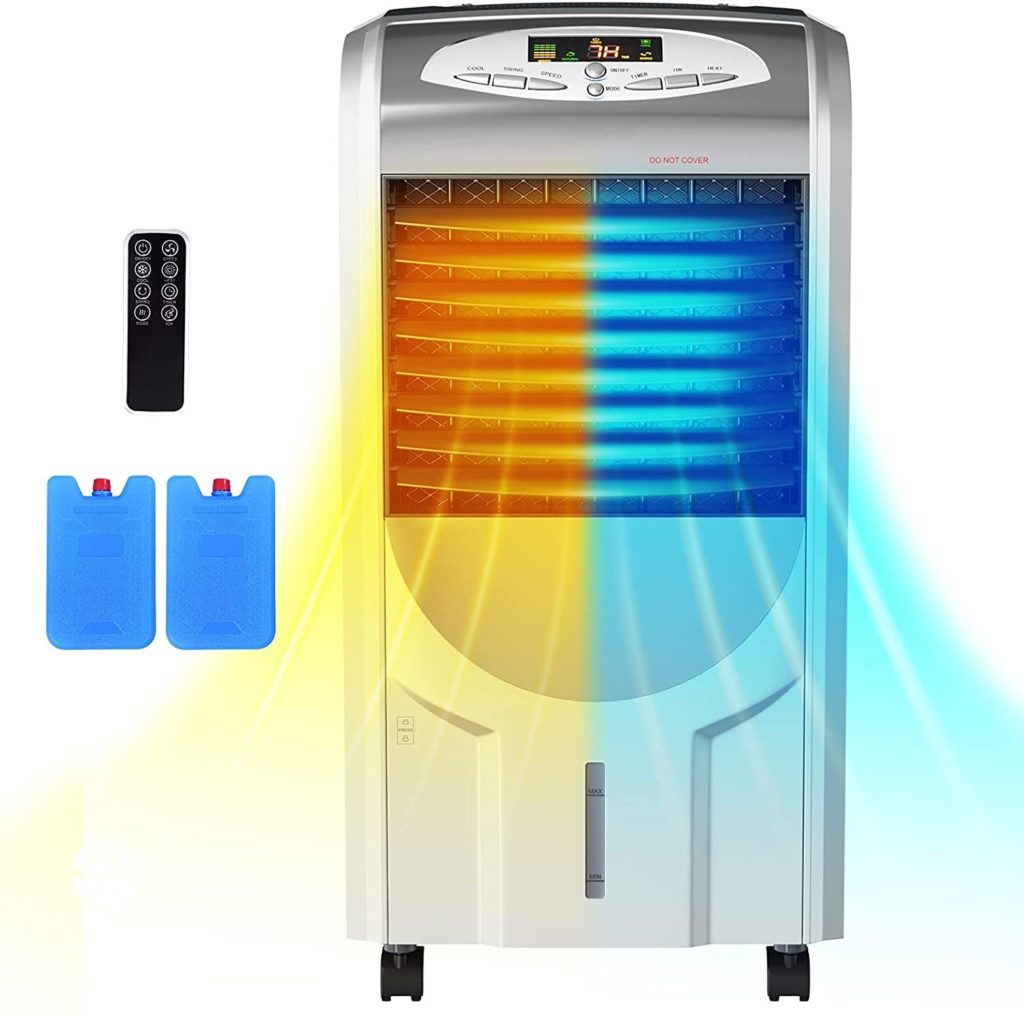 This multipurpose product is called a 5 in one product as it can be used as an air cooler (with water, without water, with ice), heater, humidifier and purifier. A bit larger than the other fans reviewed here, this is a great and affordable product.
It offers a wide-angle air circulation, an 8-hour timer function and three different fan speeds (apart from the 5 modes). It has an easy to use LCD control panel and a remote control that can access the cooler-heater from any part of the room.
Its water tank has a capacity of 7 litres which means that you do not need to refill it time and again. Although bulky in design, the cooler has four carter wheels that allow it to be pushed from one room to the other. 
However, customer reviews claim that it works better as an air conditioner than as a space heater. 
To Summarize
No one knows what you need better than you. Nevertheless, we hope that this article helped you gain clarity about the prominent features of combination fans and zero down on your options.
With a comprehensive understanding of your requirements and the features that other brands in the market offer, you can purchase an air cooler that also works as a space heater. 
This is a smart investment and one that you won't regret. When shopping, look out for the maximum additional features, certified safety standards and the most affordable price.
However, if you ask us, we would say that you should go with 
Dyson HP01 Pure Hot + Cool for the best overall space heater cum fan
Teio Small Space Heater if you live in a dorm or a similar smaller space and are on a limited budget.
Honeycare Combo Heater Bladeless Fan for the most stylish model.
Lasko Oscillating Tower Fan if you need to heat or cool a larger room or space.