Best Solar Cooling Fans And How They Work
Wouldn't it be amazing if the same sun that makes us feel miserable on the hot and sweltering summer days could cool us down as well? Thanks to solar powered fans that tap solar energy, this is possible. Not only can we stay cool and beat the heat, but also keep our electricity bill in check with these devices.
Whether you're indoors or outdoors camping, traveling, fishing, or just relaxing, a solar fan is the solution to your summertime woes. The hotter it is outside, the more efficiently these fans work. As long as there is enough sunlight, you'll get all the cooling you need.
How Does It Work?
Basically, solar powered equipment utilizes stored energy that is derived from sunlight. The solar panels contain photovoltaic cells that tap sunlight and convert it into power for the appliances. The energy is transferred from the solar panels, through the connecting system, to power up the electronic devices. 
When we talk about solar fans, these mechanical appliances are powered by the panels that can be mounted on the device or installed independently. Ranging from the common ceiling models, to box types, attic fans, stand-alone, or clip-ons, the options to choose from have expanded in recent times. Although relatively easy to use and maintain, a few extra precautions could add to the benefit of use. 
Get The Most Out Of Your Solar Fan
When the solar panel is separate, you must be extra cautious about where you mount it, depending on whether it's waterproof or not. Placing the panel on a south-facing window ensures maximum sun exposure any day, and more power. Alternatively, mounting the panel, but leaving it portable to move around through the day could also work.
Keeping the solar panel clean and clear of dust and debris build-up increases the efficiency and power of the product. Shades must also be avoided as this will cause a significant reduction in the power generated. A cleaner unit lasts longer and runs better. 
The Outdoor Cooling Solutions
Depending on your requirements, there are quite a few models to choose from. Some of these have multiple functions as well. Be it camping, on-the-go, outdoor events, or the attic of your house, converting the hot air into cool breeze is possible with a solar powered fan. Here's some top picks that are affordable, have good ratings, and superior efficiency. 
Cowin Solar Fan System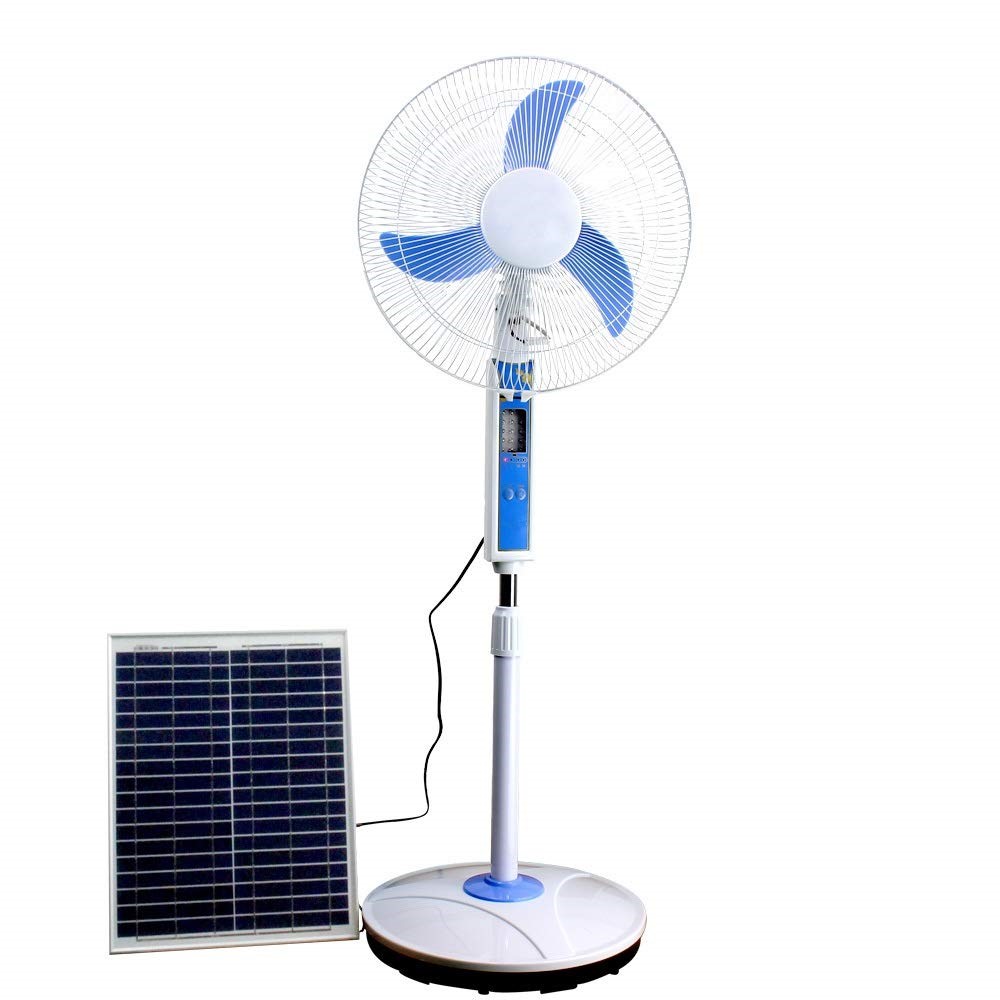 Considered as one of the best solar fans, this makes a great camping gear too. With three different speed settings and a built-in led light, this portable fan includes a 15W DC solar panel for power. However, if there isn't sufficient sunlight, an AC adaptor is available for charging. This makes it compatible with AC and DC power. 
A USB port is included that lets you charge other electronic devices as well. Yet another appreciable feature of this product is the rechargeable battery that includes charge overprotection. With a 19.6 feet cable, this is a great option for outdoor activities.
Hereta Multi-function Portable Fan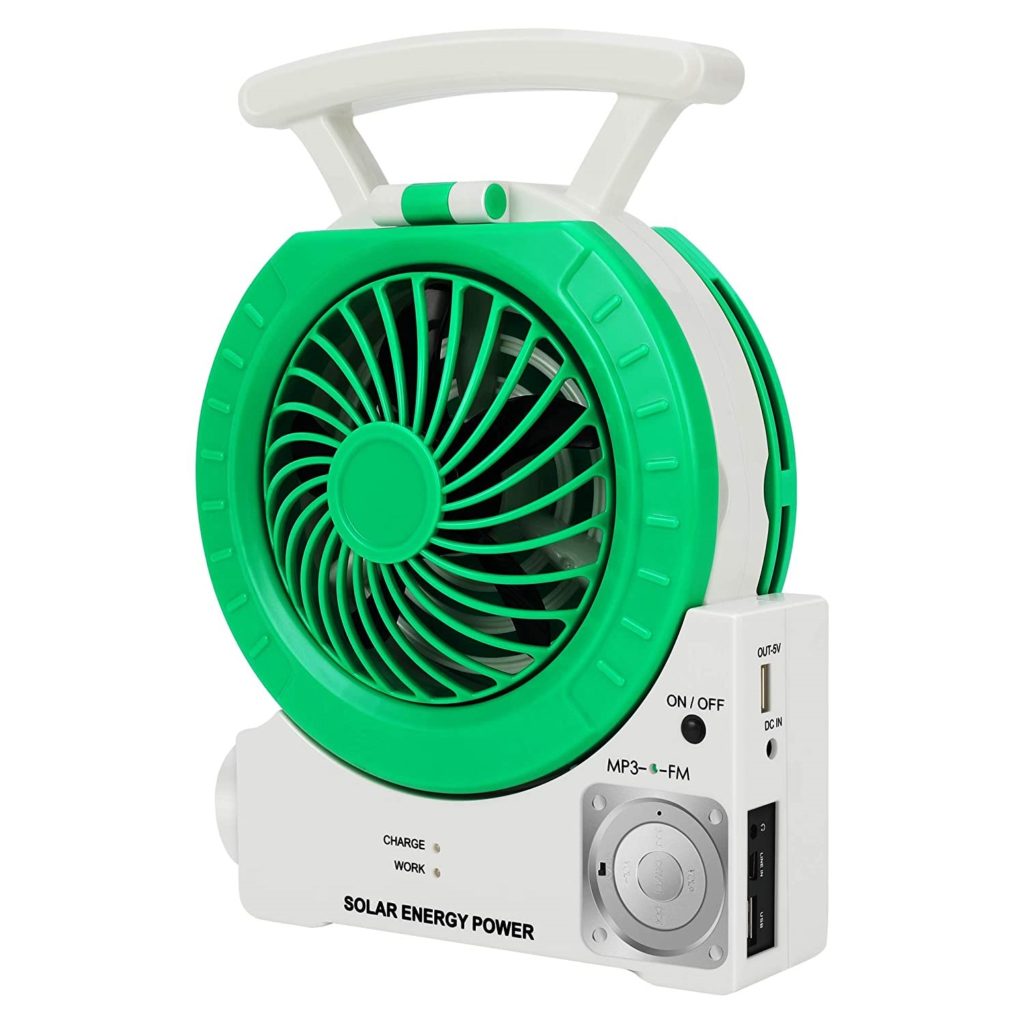 This solar powered portable fan is the ideal outdoor must-have gadget for camping, road trips, events or functions, lounging around in your lawn, or waiting for the kids to be done playing at the park. 
With five powerful blades, the cooling power is highly satisfactory. Additionally, this can function as a desk lamp, with 26 LEDs that last for 9 hours following a 6 to 8 hour charge out in the sun. While it's basically silent, an impressive add-on function is an FM radio that keeps you entertained up to 8 hours when fully charged. And if this wasn't enough, it has a USB port that you can use to charge your phone.
Stylooc Solar-Powered Car Ventilator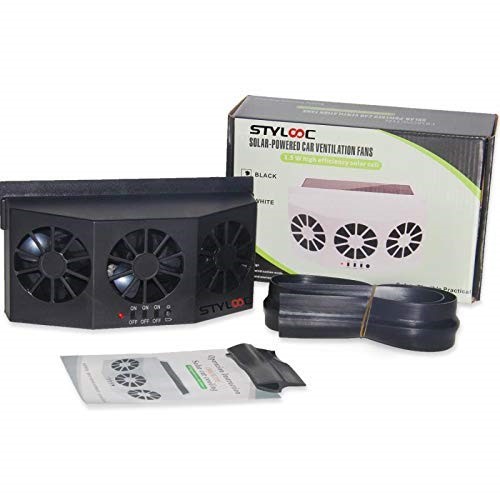 Road-trips and long drives, with friends or family, are a great way to take that break from your daily routine. Driving along the countryside or the highway makes you want to roll down your windows and enjoy the fresh breeze. The fun spoilers in such a situation could be slow traffic or construction work.
If you want good fresh-air circulation that also removes odors from your car, this solar-powered car fan is the best solution. Hung at the top of your car window, this model has three fans, each having a separate on/off control. At 3500 rpm blade rotation, this product is guaranteed to keep your car cool for years together. 
When your car comes to a stand-still on heavy-traffic roads, and you're not keen on turning on the air conditioner, or looking to save energy, this product is a good alternative. Just to clear the air, this does not work like an air conditioner to reduce the temperature in the car. Rather, it circulates the air to create a cooling effect. 
Make Room for the Best Ones
Keeping yourself cool indoors is as important as keeping cool outdoors. After all, camping and outings are occasional, and the cooling needs at home are vast. Whether it's the attic, barn, chicken coop, or the patio, there are fans available in the market for all these places.
Natural Light Solar Attic Fan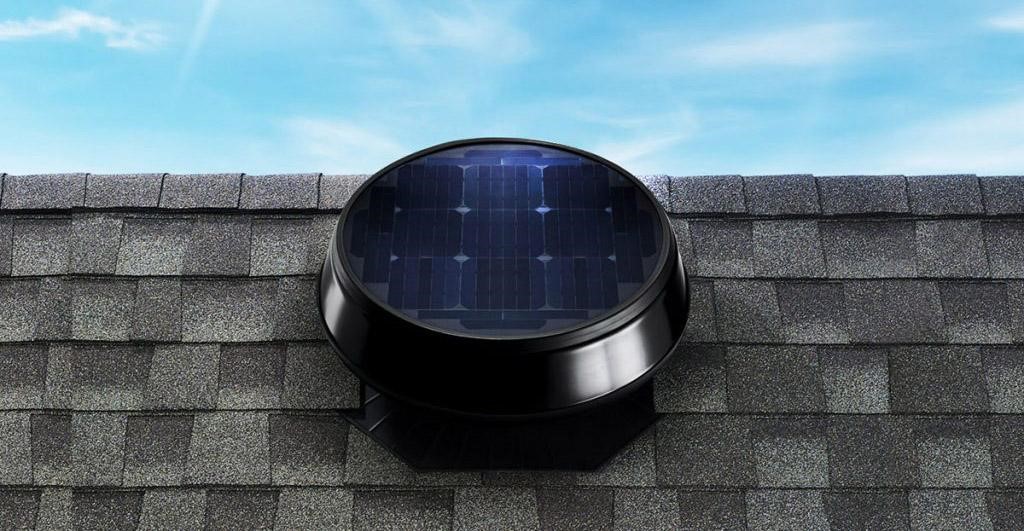 This cooling equipment has the most positive reviews owing to its reasonable price, high grade material, and trouble-free installation. With a dimension of 27.2 x 27.2 x 11.5 inches, it takes up 2625 square feet of space, and must be installed on the roof at a 45-degree angle. While it's efficient for cooler climates, this can be used all-year round. 
Here's the best part. There's a 25-year warranty that comes with the product. Apart from the attic, it could also be used in barns, stables, chicken coops, and greenhouse settings as well. At any time of the day with full sun, the 48-watt solar panel powers the DC motor that gets this attic fan to get hot air and moisture out of the attic space.
Amtrak 40-Watt Galvanized Steel Solar Attic Fan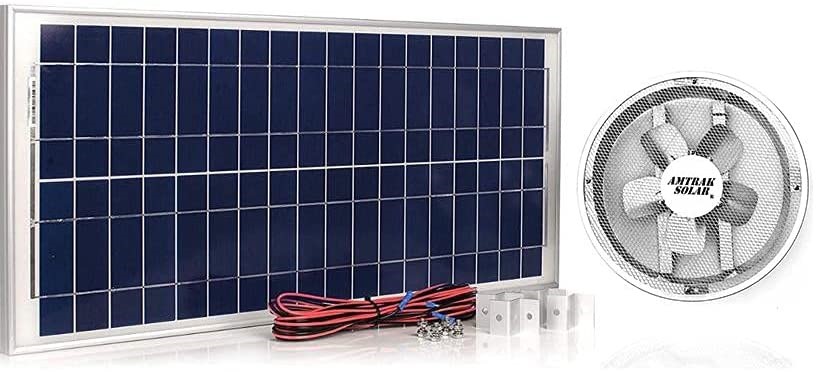 If you're looking for a gadget to cool down your attic, barn, or even stable, this is the product to suit your needs. The 40-watt solar panel provides high power and great cooling and ventilation. The durable materials used to make this fan keeps it protected from rust or any damage that gadgets normally deal with on farms or barns.
With a 25-feet wire, this 14-inch fan, taking up 2250 square feet space, can be placed conveniently, and its solar panel can be positioned to tap direct sunlight. Easy installation and thermal protection are the pros, along with a 25-year manufacturer warranty. 
When the Pros Outweigh the Cons
Quite obviously, using solar powered fans will help reduce power consumption, in turn reducing power costs. All that's needed for it to work is the sun; there's absolutely no need for any battery or electricity. On the contrary, cooling your home with air conditioning might be a costly affair for your wallet. 
When you use electric fans or air conditioners, the electricity is tapped from the city's power grid. Most cities use fossil fuels like coal and natural gas to generate power. Instead, the use of electronic devices that are solar powered consumes nothing but the sun's energy that is 100% clean and renewable. 
Let's Not Leave Out the Cons
There's no denying that you have to shell out more money to buy a small solar powered fan, than a regular fan. It'll eventually work out in the long run with its use, and it cuts down the costs of using an AC unit by up to 30%. You could add this to the feel-good factor of not polluting the environment with the use of power derived from non-renewable sources.
Solar power needs direct sunlight; without it, these solar powered devices won't be able to function. While the bright and sunny days shouldn't be an issue, the cloudy days, with limited sun exposure, defeat the purpose of such energy-saving gadgets.
A Well-Informed Choice
Among the several features to consider, before making up your mind on which model to purchase, space, size, and noise are quite relevant. If you're looking at a smaller space to keep the fan, a lightweight or tabletop portable solar fan would be a better option. This isn't really an issue for larger spaces.
Large units occupy more space and could congest the room in your living space. Also, positioning a large solar panel could be troublesome, considering the need to capture the full sun throughout the day. Compact solar panels with long cords for convenient placement is the ideal combination.
You can't really come across a noise-free fan. But the next-to-best option is to have one that won't drown out the sound of your TV, music, or conversation. Add-ons of built-in lamps, USB charging ports, and multi-speed adjustment increase the appeal of the product.
Final Thoughts
If you've decided to reduce your carbon footprint on this planet for your cooling requirements, solar powered fans are your go-to option. Before you make up your mind on purchasing one, it would be wise to look around and explore the different models and categories. You'll know what suits your needs once you've seen a few.