Looking for the best outdoor misting fan to give you some relief on the hot summer days? Well, finding the perfect one for yourself can be quite tricky, we know.
That's why we have prepared this very useful misting fan buying guide below. So you get to have a clear idea of exactly which fan you want and why.
A good quality misting fan can make a world of difference to your time spent outdoors. They bring you the perfect solution to the uncomfortable heat of summertime.
Whether you are looking for a good mister fan for your backyard pool party, or want one to take to your camping trip, we are certain you can find your perfect match right here.
Quick Look At The Top 5 Best Outdoor Misting Fan Of 2020
[ninja_tables id="3424″]
Misting fans are essentially the combination of a powerful fan and a misting system. A high-pressure pump takes water from a water source and blows it through multiple nozzles into a fine mist.
Now, this mist works in two ways to give you a much-needed respite on hot summer days. Some of the fine droplets get evaporated into hot air, thus bringing the air temperature down eventually. Others travel with the airflow to give you a nice refreshed feeling.
Misting fans work not only by providing a nice cooling effect, but they are also effective in keeping flies and mosquitoes away. In addition, the mist also helps to settle down the dust particles and keeping the air clean.
A single misting fan can bring the air temperature down by as much as 25 degrees to 30 degrees, depending on the humidity level and the fan's design. While its evaporative cooling effect works best in low humidity conditions, many types of misting fans work great in high humidity too.
Types of Misting Fan
Misting fans come in various types of shapes and forms. Depending on the type of fan used with the misting system, most misting fans fall into the following types:
Standalone Misting Fans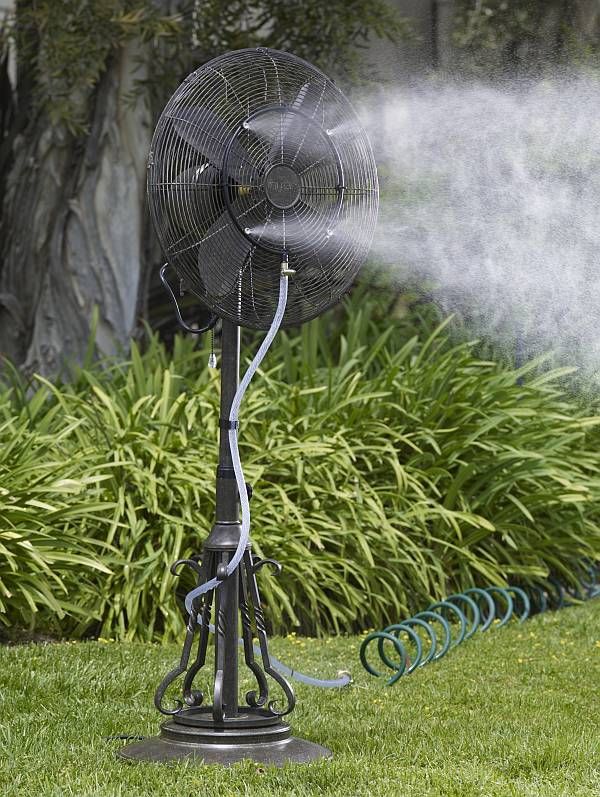 This is the most common type of misting fan you will see being used in commercial and residential areas alike. They can easily cover a large area because of their adjustable features.
Standalone fans are comprised of a long pole and a fan head, along with the built-in mister. In most of these fans, the pole is height adjustable while the fan head oscillating and angle and tilt adjustable. So, you can set it in any way you want for your best comfort.
This type of fan works great for large gatherings, outdoor events, and family afternoons alike. They are also popular for use in greenhouses as well.
Wall-Mounted Misting Fans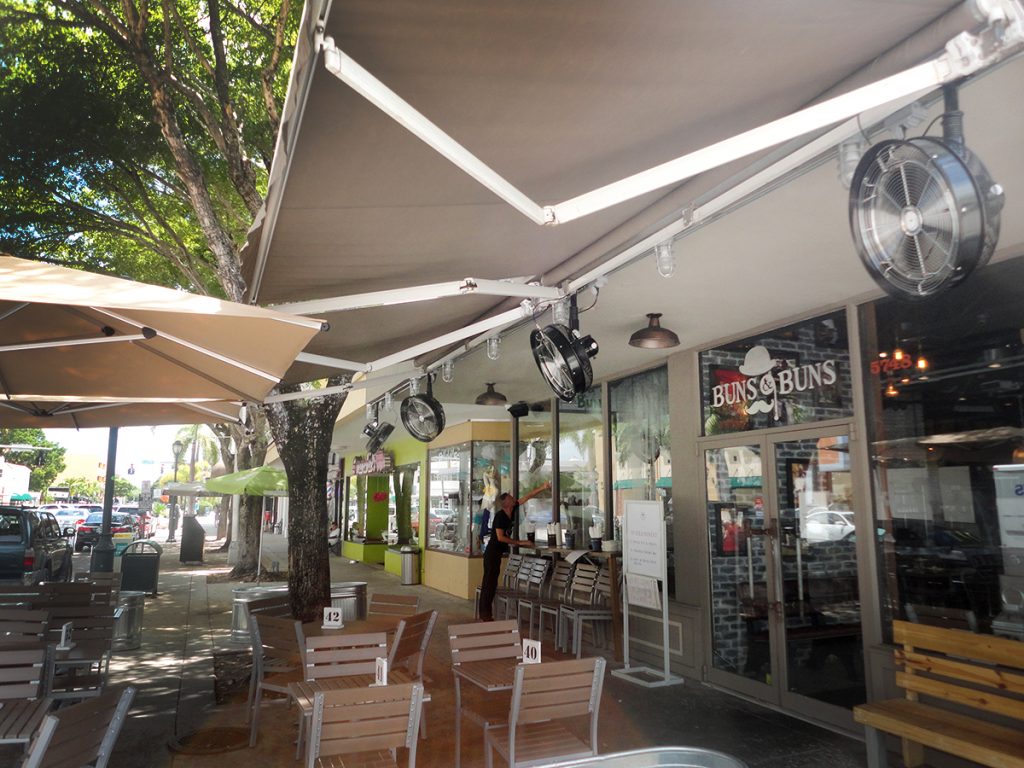 Misting fans that are wall-mounted are great because you get all the cooling effect without having to worry about tripping on its wires or getting the electrical outlet wet.
With their oscillating feature, these fans can distribute the air and mist flow nicely and evenly on the area around it. Although, wall-mounted fans source water from its own tank, which needs to be filled manually.
Compact Misting Fans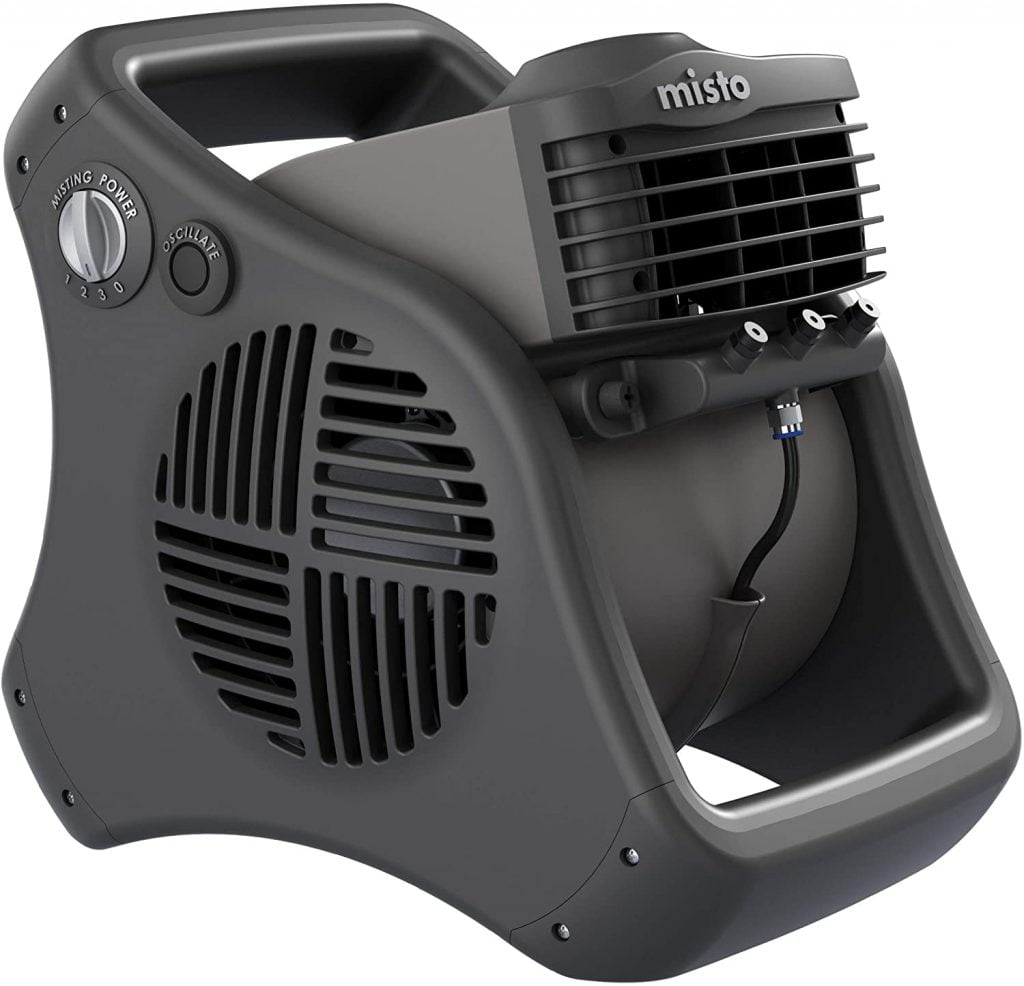 These fans are compact and small, as the name suggests. Because of their size, they are easy to take with you on you anywhere you go.
Compact fans are made with portability in mind. That's why most of them provide you with the option to power them using either batteries or standard electrical outlets.
In addition, most of them can also use water from a household spigot as well as an attached tank, making these the perfect fan for camping and road trips.
---
Expert Review Of Top 5 Best Misting Fans
For your convenience, we have prepared a list of the best mister fans available in the market right now:
Best Portable Outdoor Misting Fan: Lasko 7050 Outdoor Misting Fan
Best Patio Misting Fan: NewAir AF-520 Outdoor Misting Fan
Best Classic Look Fan: Newair AF-600 Outdoor Misting Fan
Best Low Budget Fan: Holmes Group Outdoor Misting Stand Fan
Best Large Misting Fan: Dynamic Collections Oscillating Fan with Misting Kit
Number #1: Lasko 7050 Misto Outdoor Misting Fan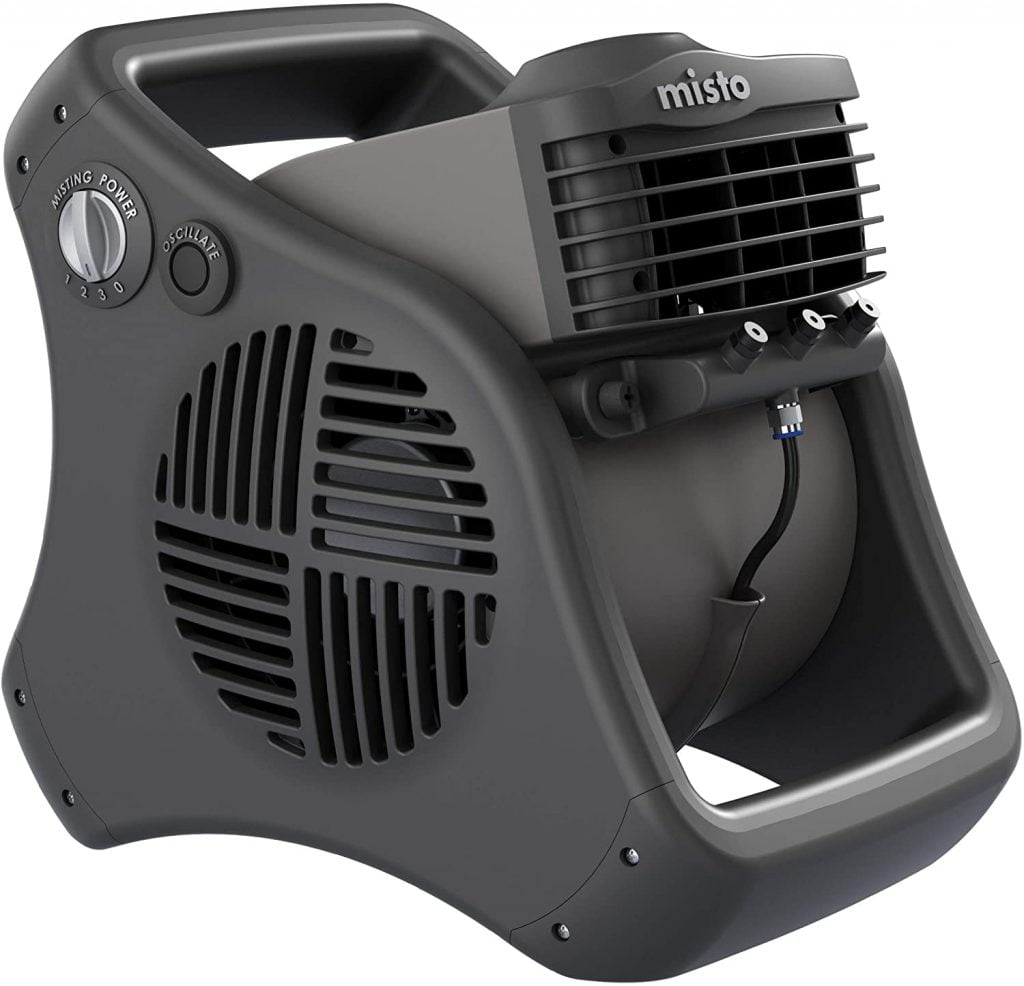 Highlighted Features:
Compact in size, portable
Lowers air temperature up to 25 degrees
Weatherproof, UV, and rust-resistant
90-degree pivot to direct mist and airflow
In-line GFCI cord to ensure safety
Do not get fooled by the size of this fan here. It may look small at first glance, but this beast of a fan will blow you away with how much power it packs, no pun intended.
Right out of the box, you can tell this one is a well-built fan by its weight. Once you hook it up to your standard garden hose, it creates a refreshing fine mist to effectively cool down the air temperature. This guy covers a pretty large area with its 90-degree pivoting head and wide sweeps.
The thing is weatherproof, UV resistant, rust-resistant, and features an in-line GFCI cord to prevent any unwanted accidents. Meaning, you can leave this thing out in the open without having to worry about it. Beating heat or rain, this guy can take it all.
One of the drawbacks of this misting fan is it will wet your patio floor if you operate this misting fan at high speed. It can be fixed by adjusting the amount of mist spraying out from the fan. If you place in on a table or something sturdy like that, it will spread the mist into the air and help to keep the patio floor dry. Also, it will stop wetting floor if you direct the airflow of this fan upward by using adjusting the head. It has awesome wide-angle pivoting head so you can easily do the necessary adjustment.  
Pros
Adjustable spay is superb helpful
Surprisingly blow excellent air
Outstanding design
Highly portable
Nice amount of mist and travels far
Premium build quality
Durable
Consume less power
No need to assemble
Easy to clean
Long cord length
Cons
Mist doesn't oscillate
Little bit noisy
No remote control available
---
Number #2: NewAir AF-520 18-Inch Outdoor Misting Fan

Click Here To View More Pictures
Highlighted Features:
Slim and lightweight design
Can be used dry or with mist
Adjustable height for maximum comfort
Compatible with the standard garden hose
Built-in safety features
This beautifully designed fan can fit right onto your patio with its slim frame and nice bronze blades. It can be used with its misting option turned on or off. This way, it is ideal to use during large gatherings and laid back alone times alike.
Setting this fan is quite easy and quick. It is compatible with the conventional 0.75-inch garden hose you probably already own, so you don't need any additional hose. The instructions included in the package are super easy to follow too.
You can also easily adjust its height and angle to direct the air and mist flow wherever you want. Just make sure to set it up at a distance from things, you do not want to get soaked.
A leakage protection device and a GFCI plug ensure maximum safety for you and your family from any potential danger.
Many customers complain that the mist nozzle is not perfect which the manufacturer provided with the fan free of cost. They also complain that using the misting function of this fan makes them wet and sometimes water leak out from the hose connector. The fix this problem you may need to replace the existing nozzle pipe with a newer one.
Pros
It looks pretty good
Well-constructed
Each parts id made of metal
Product excellent mist
Very powerful
Very straightforward assembly
Leakage protection
Can cover a large area

Cons
Mist nozzle spray too much water
Need some assembly
Quite noisy
Too much powerful for the small area
Not for indoor use

---
Number #3: Newair AF-600 18-Inch Outdoor Misting Fan

Click Here To View More Pictures
Highlighted Features:
Huge coverage area
Well-built and study
Easy to assemble
Safe and secure
Offers good value
Here is another great misting fan from Newair, but with more extensive coverage from the previous one. While the above-mentioned one covers an area of 500 square feet, this guy here is able to provide for an even larger ground: up to 600 square feet.
This fan has three powerful speed settings. As expected from a fan able to cover such a large area, it does make a fair amount of noise when in use.
Something else that we would like to point out, though, if you want to bring out the best output from these powerful beasts, you might want to buy some good quality nozzles and filter in addition to the fan itself.
Pros
Easy to assemble but take a long time (around 20 mins)
Made of sturdy plastic materials
Lightweight
Easy to move around
Easy to clean

Cons
Come with fixed water connector
It wobbles
Tough to control the mist
Noisy
May drench you with water

---
Number #4: Holmes Group Outdoor Misting Stand Fan

Click Here To View More Pictures
Highlighted Features
Fast and easy assembly
Heavy and stable base
Best bang for your buck
Variable mist amounts
Height and tilt adjustable
Looking for a great quality misting fan at a good price point? Well, here it is.
This 3-speed oscillating fan is well built and does its job well. It's adjustable height, and tilt options make it easy to use, while the metal base provides great stabilization.
With over 40,000 BTUs of cooling power, this fan will quickly provide you relief with its fine refreshing mist. It has three different nozzles with the option to use only one, two, or all three of them depending on how hot it is.
All in all, considering all the features and quality it provides, it would be quite hard to beat the price of this fan.
Pros
Powerful and push out sufficient air
Base is made of metal
The fan is stable, don't vibrate
Doesn't make you wet

Cons
Design is not good
Not easy to assemble since instructions aren't good
Spray nozzles are not top-notch
Jets are not durable

---
Number #5: Dynamic Collections Oscillating Fan with Misting Kit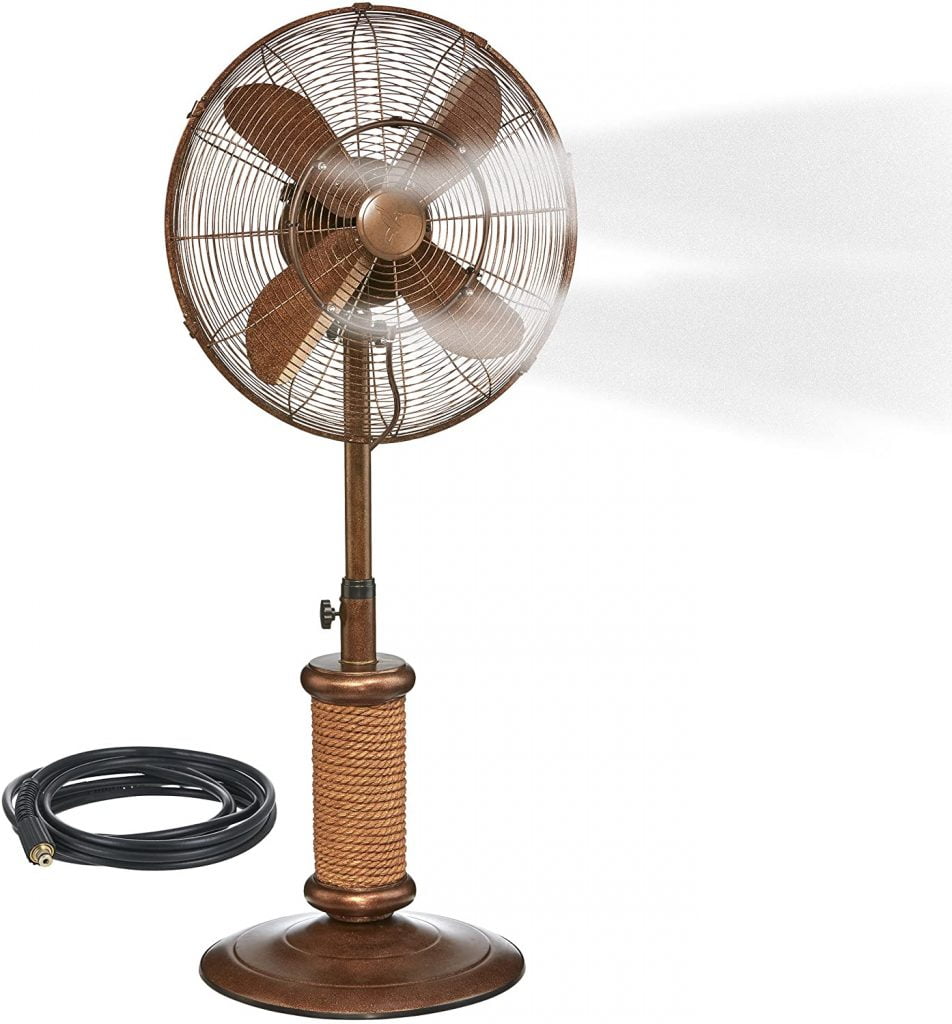 Click Here To View More Pictures
Highlighted Features:
Nice retro look
Easy to attach misting kit
Includes rain cover
Minimal noise
"Wet Listed" safety rating
If you are a fan of retro-looking household items, you must have a look at this beautiful outdoor fan. It's a nice bronze colored body with the faux rope design at the bottom gives this guy a unique look that goes perfect with any outdoor setting.
The easy to attach misting kit works quietly and effectively to cool down the surrounding air temperature. Thanks to the adjustable pole, the fan height can be set anywhere from 40" to 51".
In terms of speed, the three different speed settings on this fan are just perfectly set. The lowest setting is a refreshing, gentle breeze at 900 RPM, while the highest setting at 1280 rpm cools down the coverage area in the quickest time.
Pros
Easy assemble
Very powerful
Cools very fast
Keeps the bugs away from you
Lots of airflow
Solid construction

Cons
It vibrates
Bulky
Mister leaks water a lot
Make you wet on low speed
Hard to clean
Very heavy
Hard to move

---
What to Consider while Choosing the Best Misting Fan for Outdoor
Before buying an outdoor misting fan, you might want to consider some of the aspects that have been listed below:
Consider the amount of space the fan is going to occupy. Remember that for some misting fans, you might need to place the fan at a fair distance so as to not drench the people or objects right in front of it.
Depending on how large or small your patio or backyard is, you can thus opt for a small or large-sized fan.
Different fans cover a different amount of area. The coverage of a misting fan depends on its power and how it has been designed.
Fans with pivoting or wide-sweeping fan heads are able to cover a larger area. These types of fans are ideal for large gatherings.
The quality of the nozzles determines how fine the mist is. Finer mist travels farther and thus cover a larger area and cools down the air temperature effectively. It also means the people in front have less chance of getting their clothes soaked.
Fans with nozzles that are not of good quality may produce droplets of water instead of finer mist or cause the fan head to drip.
Some types of misting fans are ready to use right out of the box, while others need to be assembled.
If you are okay with assembling different parts to get it working, this should not be a problem. But if you would rather not have to worry about the assembling, go for one that does not require it, or simply ask someone else for help.
While misting fans are meant for outdoor use, some fans are going to last longer than others depending on their quality and features.
Weatherproof fans are built to endure the elements better and thus should last longer. UV resistance means the parts and materials of the fan are less likely to be damaged by the sun or UV radiation.
If you are someone who is easily bothered by noisy household items, look out for misting fans that might be a little too noisy for your tolerance level.
Not all oscillating fans are loud.  Try to keep in mind, though, no matter how quiet a fan is, the sound of the wind will still be there.
Water, coupled with electricity, can often spell disaster if you are not careful enough. That's why safety features in misting fans are very important for you and your family.
Fans with maximum safety measures will ensure the fan shuts off immediately in case of a faulty wire or potential water leakage. When it comes to outdoor misting fans, the more safety measures there are, the better.
Benefits Of Having A Misting Fan 
Temperature Deduction Capacity. Since misting fans spray water while it is operating, it can minimize the temperature of the space where it is placed. Our experiments show that it can drop the temperature to around 3°C sometimes 5°C running it for a very short time, even it can cool the space faster but not lower than the air conditioner. This is the only type of fan that can actually cool the room where other types of fans normally cool the body the human.
Control The Humidity. The special misting function of the outdoor misting fan also assists in balancing the humidity level of the space it is operating for. Balancing humidity is very important during the summer. Special thanks to misting fans which help to increase the moisture of the room and skin when the weather is dry without harming the respiratory system or causing any respiratory disease.  
Low Maintenance cost. The running cost of misting is a bit higher than the normal traditional fan. But, it is pretty affordable for any family. The cost is ¼ of the maintenance cost of the air conditioner. 
Kills Harmful Insects. Some misting fan units equipped with insect repellent systems. It will become the most beneficial feature of your fan if you are using it for outdoor space where you have to deal with lots of harmful insects particularly mosquito.
Good Investment. This fan will be the best companion for those people who love to spend lots of time in their outdoor spaces but can't stay there for a long time because of extremely hot.
Reduce the dust and pollen. The high-velocity airflow capacity of the misting fan helps to keep the dust and pollen far away from your outdoor chilling spot.
Frequently Asked Questions
Are misting fans useful in areas with a high humidity level?
While misting fans work better in areas that are less humid, they can still effectively bring the air temperature down in high humidity settings.
What to do if the nozzles become clogged?
Misting nozzles can become clogged due to a number of reasons, including hard water or grime. Depending on your preferences, you can choose to clean the nozzles manually, soak them in a cleaning solution, or simply replace them.
What precautions should I take when using a misting fan?
Always remember to keep your misting fan away from any type of electrical circuits. Electrical wires or components in close proximity to a misting fan can potentially be very dangerous.
Should my misting fan be soaking my clothes?
Only if it's not working properly or if it's not of a good quality. You may consider getting the nozzles replaced in that case.
Are filters necessary to use with misting fans?
If you do not want your misting nozzles to get clogged often, yes. Filter kits work to efficiently keep the water free of any impurities that might contribute to building up grime inside the nozzles.
Final Words
The best outdoor misting fans can make hot days a lot more bearable and enjoyable for you. Remember, they are supposed to make your life easier, not harder. So buy the one that feels just right for your particular needs.
Once you get the perfect fan for yourself, you can just lay back and enjoy its refreshing energy. We are certain all of your friends and family are bound to love it just as much.