Top 7 Best Outdoor Fan for Patio
Moving hot, stagnant air away from your outdoor space and supplying cool and chill air around is a crucial task if you want to enjoy every part of your house. It is not an easy task to cool your outdoor spaces since sunlight and wave enter directly in this spot, particularly during summer and fall.
Your beautifully decorated porch or patio would be full of waste if no one spends time there because it's too hot. By the way, you can change all that, though, with a proper cooling system in this spot. Placing an air conditioner in this spot (outdoor) isn't possible since you can't place an AC in an open space. It will not work properly either. But, you can make yourself cool with the best outdoor fan.
You can go for an outdoor misting fan if you have a very handsome budget. A misting fan will cool the place and supply airflow which is very exception for a fan since fans only supply airflow, it doesn't cool the place. 
Regular oscillating fans won't cut it for outdoor spaces, though. Outdoor fans are specifically designed to withstand the harsh outdoor elements. They're available in dry, damp, and wet-rated varieties, so they can best suit your region's climate. They're also not made equally, so it's important to find the right one for your home.
To help you do just that, here's a roundup of seven of our top picks.
Top 7 Best Outdoor Fan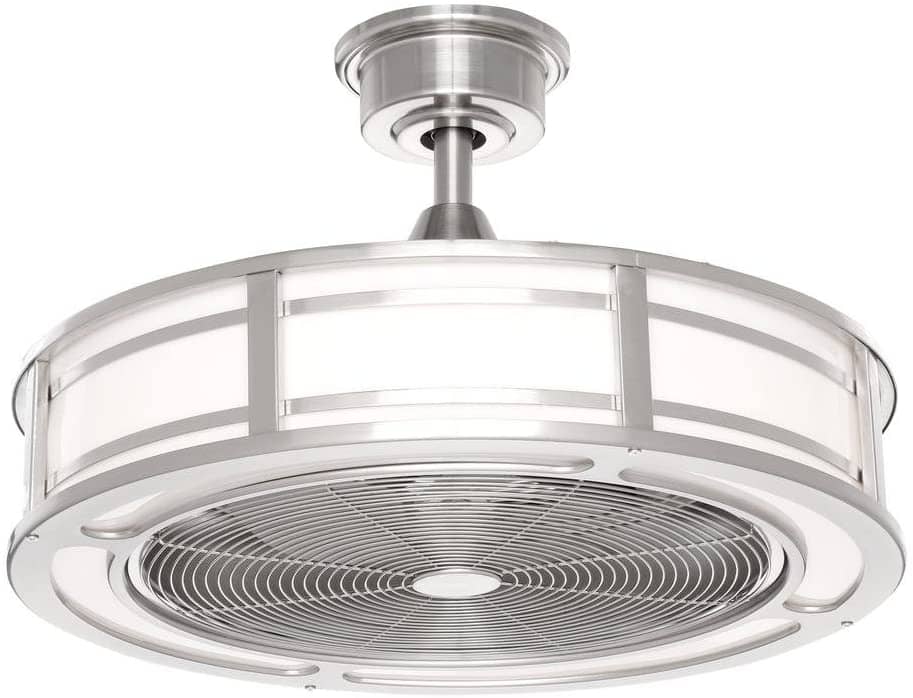 Click Here To View More Pictures
When choosing a fan for your patio, you can't help but have to consider a ceiling fan that is suitable for this kind of place.  The Brette 23 Ceiling Fan presented by Home Decorator Collections is what lots of people consider as it is the best outdoor ceiling fan for its high air output and beautiful design. It can also be used inside your house either. Although it is named a ceiling fan, it design is very unique and not even look like traditional ceiling fans. It is exclusively designed to suit modern and contemporary houses or apartments. Furthermore, this product also offers convenience and reliable quality.
Key Features:
It employs a drum cage design which gives it a modern industrial vibe. This makes it an attractive and even safe fixture.
With two 23-watt dimmable LED light strips, you can adjust how bright you want your space to be. It's also rated to last for up to 50,000 hours, making it a practical option.
Its 3-speed reversible settings are rated to produce up to 1063 cfm. This guarantees to effectively cool your indoor or outdoor space according to your preference.
Operated with remote control with a long-range, it also fuss-free to work with. There's no need to fiddle with strings and switches with this product.
Pros:
Attractive appearance will suit modern homes
Good for both indoor and outdoor spaces
Moves a lot of air around
Easy to install
The caged design makes it safer for lower ceilings
Cons:
Can be a little loud in its highest setting
Not rated safe to get wet
Small blade diameter tends to push out air in a single direction
Verdict
With its modern appearance and great performance, it's not surprising why lots of people recommend this Brette ceiling fan.
---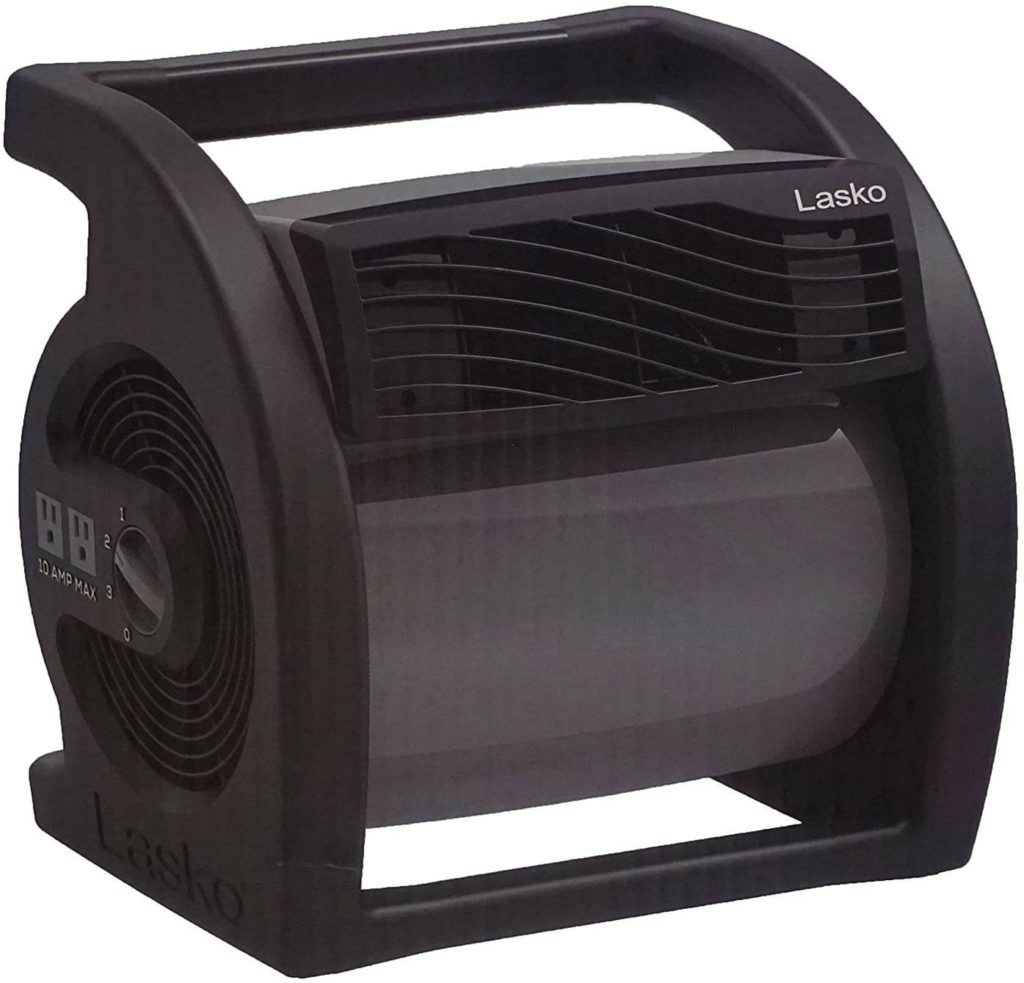 Click Here To View More Pictures
If you are looking for an easily moveable fan since you have a very large size outdoor space and a lightweight outdoor fan can ease the matter than you might want to check out the Lasko Max Performance Pivoting Utility Fan. It looks more like a power tool rather than a traditional fan but it does a great job in moving air, cooling, drying, and more. It is constructed with sturdy plastic material and carry handle so that you can take it anywhere with you to keep you cool and refreshed.
Key Features:
The fan head measures 12" across, making it big enough to cover a lot of ground. This makes it suitable for both indoor and outdoor use.
Equipped with a pivoting blower that moves vertically, it's very effective in cooling a space. Its air directionality also allows it to dry floors and push hot air out.
With 3-speed settings that reach up to 460 cfm, this fan is guaranteed to be powerful. Its different settings will suit your needs nicely.
Designed with an integrated carry handle, this fan is also very portable. You can lug it around with ease, making it a dependable and versatile home appliance.
It also comes with two electrical outlets. So aside from cooling your space, it can also serve as an additional power source for your activities.
Pros:
Durable heavy-duty construction
Excellent airflow
Multifunctional
Portable
Quite safe to have around kids
Cons:
Can be slightly noisier than desk fans which are just to be expected given the amount of air it moves
Quite pricey but its multifunctionality more than makes up for it
Verdict
With the brand's great reputation, this Lasko fan is deemed as a solid investment by many. Its versatility, great performance, and durability also make a good case for this product.
---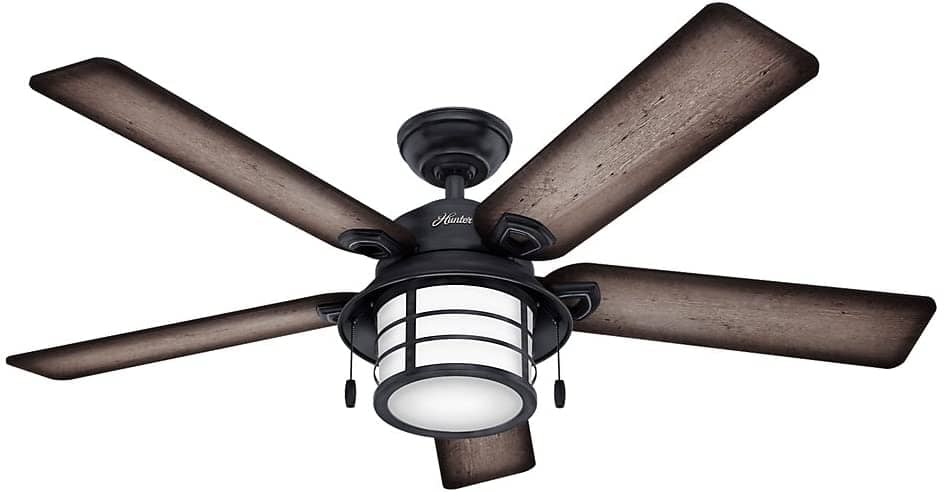 Click Here To View More Pictures
A weatherproof technology in a ceiling fan will be a great feature for those who live in regions with wet seasons, particularly, if you are searching for outdoor fans. The Hunter 59135 Ceiling Fan is worth considering in such cases. With its damp rating as well as its metal and plastic construction, it can withstand different, challenging and harsh weathers. Besides, it has a long list of top-class features which may attract you most. All in all, you will get a dependable air mover with a very affordable price.
Key Features:
Its 54" size promises great coverage. This makes it an excellent addition to porches and patios.
With up to 6239 cfm, this ceiling fan can move a lot of air. It can guarantee to cool or warm your space effectively.
It is equipped with a reversible Whisper Wind motor; it doesn't just offer quiet operation but it can also suit year-round use. Set it to downdraft mode for cooler summers and switch it to updraft mode for warmer winters.
This product is also ETL damp-rated, so it can be a suitable choice for covered areas in your home. This also promises durability.
It comes with an integrated light kit with 14W medium base CFL bulbs. This offers multifunctionality with just a single purchase.
Pros:
Great price
Rustic modern design
Quiet operation
Made by a reputable brand
Reversible directionality makes it ideal for year-round use
Cons:
Reversing the fan direction requires removing the light case
Some reports of missing screws
Installation can be slightly challenging
Verdict
Affordable, multifunctional, and damp-rated, there are lots of reasons why this product can be the perfect match for you.
---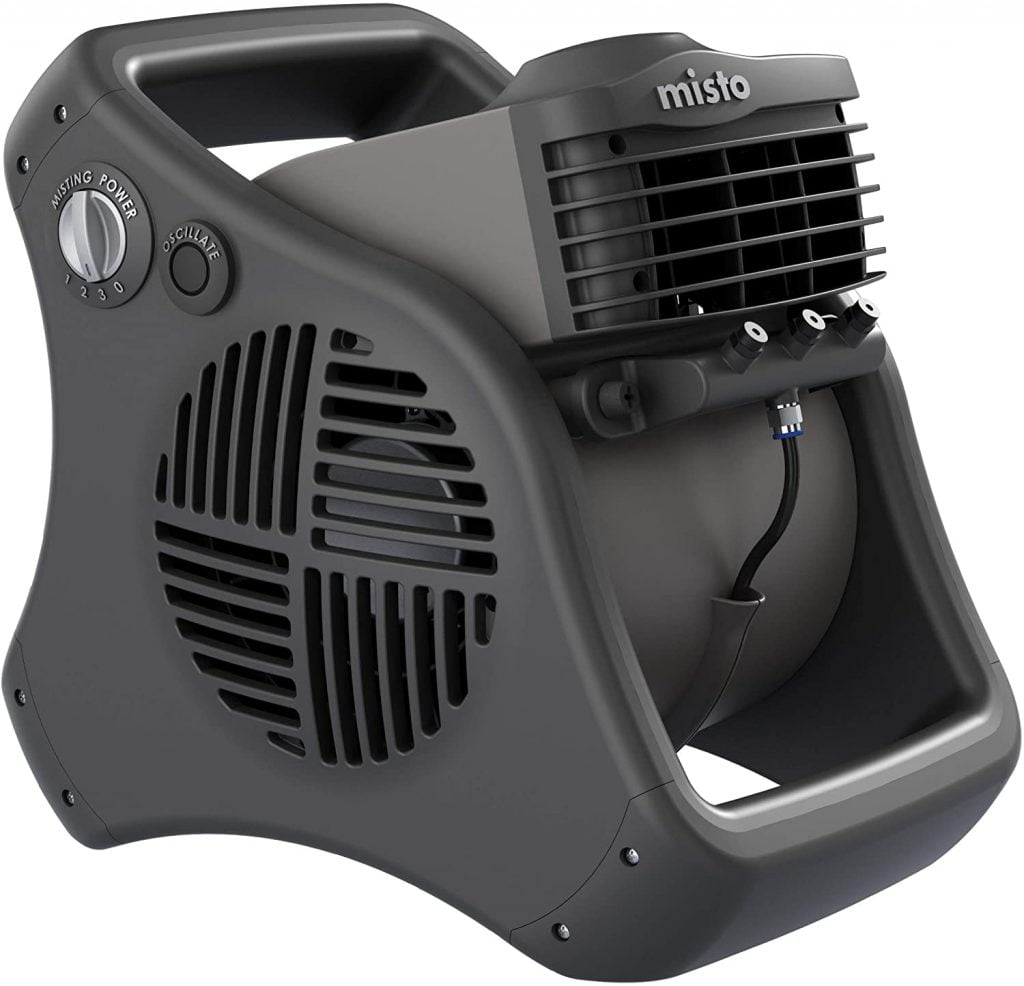 Click Here To View More Pictures
Being outside in hot and dry weather is nothing but a nightmare, especially, if you're living in the hottest climate zone in the world. Even sitting in an outdoor area like a patio which is fully shaded with a patio umbrella or a giant tree, is not possible on the hot day of summer. If you often have to experience this kind of scenario during summer and fall, the Lasko 7050 Outdoor Misting Fan can give you some relief with its specially built misting technology. It is specially engineered for outdoor use. With its tough plastic body, in-line GFCI cord, and patented 3-prong plug, it's possibly one of the best misting fans for outdoor use.
Key Features:
Its 16" blower width provides excellent coverage. Some outdoor fan reviews about this product say that it can cool up to 8 feet of space.
The fan pivots 90 degrees horizontally and can be tilted up or down. With this, you can easily configure how it can cool your area.
Equipped with 3 speed settings that you can control using a manual switch. This guarantees that you can select the amount of air it will push out.
Designed with a detachable misting kit, it can reduce the temperatures up to 25° and is easy to clean. It uses a standard hose attachment and won't require additional accessories to work.
Its built-in carrying handle makes it easy to lug around.
Pros:
No assembly required
Designed for outdoor use
UV, weather, and rust-proof construction
Can reduce temperature up to 25 degrees
Can be used without the mister
Cons:
Mist power is not adjustable but you can turn down the water pressure from the source instead
Can soak its surrounding area so it's best to control the mist when used in decks or patios
Verdict
Living in a dry climate and you want to spend time outside without melting from the summer heat? This Lasko product can come in handy for you.
---

Click Here To View More Pictures
Tower Fans are really trending among the people as a cooling fan. Generally, most of the tower fans are designed for indoor use only. But, since the use of tower fans is increasing as a cooling system, many top-notch manufacturers are very keen to produce quality tower fans to use outside of the house. Lasko 4890 Outdoor Tower Fan is the best among the top quality outdoor tower fan that you can trust and worth the money. It will add some charm with its outstanding design and sacrificing durability. It features a temple lantern design, so it can be a great addition to similarly themed outdoor spaces.
Key Features:
Standing 49.5" tall, this tower fan is housed in a beautiful case that's fashioned after a temple lantern. This makes helps protect it from the weather and adds visual interest to space.
Equipped with three speed settings, it promises to move air effectively.
It has an all-day timer that switches off after 14 hours.
You can use the included remote or the clearly labeled buttons to control the fan's settings.
It also has an accent light offering additional functionality.
Pros:
Very attractive design
Multifunctional
Keeps bugs away
Convenient features make it very easy to use
Designed for outdoor use
Cons:
Requires quite an investment
The air outlet is only from one side but the oscillating function helps distribute the air nicely
Verdict
This Lasko fan lets you hit two birds with one stone as it is used as a decorative masterpiece and outstanding cooling capability. If you value aesthetics as much as function, this can be a great choice.
---

Click Here To View More Pictures
Designer Aire Pedestal Fan is considered as the best outdoor pedestal fan by many. Most of the people love this outdoor fan since it offers great air versatility and excellent air movement. Its faux log detailing also gives it a distinct look so it can suit certain spaces really well. It is very easy to unpack and also very easy to assemble. It is not made as a heavy-duty fan because it is very lightweight. It can be used in a patio but we think that it is more likely to use in an enclosed space like a bedroom or living room. So, you can use this fan if you need an outdoor fan pretty rarely.
Key Features:
With an 18" oscillating fan head, it can cover more ground and offer optimal cooling.
It is equipped with a telescopic neck, you can easily adjust the height of the fan head. This will let you better tweak the air directionality and movement in your outdoor space.
Its three speed settings provide options for cooling and moving air.
Constructed to be weatherproof, it's coated with a UV resistant, all-weather paint to better protect the unit from the harsh elements. It's also ETL wet-listed and comes with an outdoor motor cover to better ensure the safety of its electronic components.
Pros:
Attractive rustic design
Adjustable settings from its height to air output
Designed for outdoor use
Stable base
Easy to install
Cons:
Can be a bit loud when used indoors but it won't be a problem when used outside
Faux log detailing might not appeal to everyone
Verdict
A unique, albeit kitschy, option, this outdoor fan will appeal to those who want an outdoor fan with a twist.
---

Click Here To View More Pictures
Last but not least outdoor fan in our list is the NewAir AF-520B Oscillating Outdoor Misting Fan. What sets it apart from the other misting fan on this list is its pedestal style which gives the fan pretty good height to flow cool air all around. It is made specifically for outdoor use only; it can be the perfect outdoor fan for those who live in dry climates.
Key Features:
Its 18" fan head oscillates and tilts to various vertical positions. It also has a 500 ft coverage so it can cool a large space.
Rated to produce up to 2475 cfm, this fan is also guaranteed to move a lot of air around.
Equipped with push-button controls, it's very easy to operate.
It comes with a misting kit that will help reduce the ambient temperature.
Pros:
Highly versatile
Durable construction
Great airflow
Easy to assemble
Adjustable features make it easy to position according to your needs
Cons:
Some adjustments to the misting tips might be necessary for non-dry climates
Vibrates a little so make sure to securely position it
Verdict
Misting fans can provide great relief for dry climates during the warm months. This NewAir product can be a good option for such, thanks to its affordable price and solid performance.
---
Final Words
As this list shows, you have tons of options when searching for the best outdoor fan. By considering your needs, preferences, and climate, you can definitely find your perfect match. You might even be able to find one on this very list, so make sure to consider each to make your search easier.