Best Outdoor Ceiling Fans for Patios, Decks, & Porches
In hot climates, people use their patios, decks, and porches almost every day of the year. The new way of indoor-outdoor living is becoming very trendy these days. 
Because of this way of living, the perfect outdoor ceiling fan will complement the cozy feeling of alfresco living like a glove!
We did our research and found the 15 best outdoor ceiling fans for patios, decks, and porches that will bring you some fresh air during hot summer nights. But, before we jump right into our list, we will share some knowledge on choosing the right fan for your space. 
How to choose the Best Outdoor Ceiling Fan for Patios, Decks, and Porches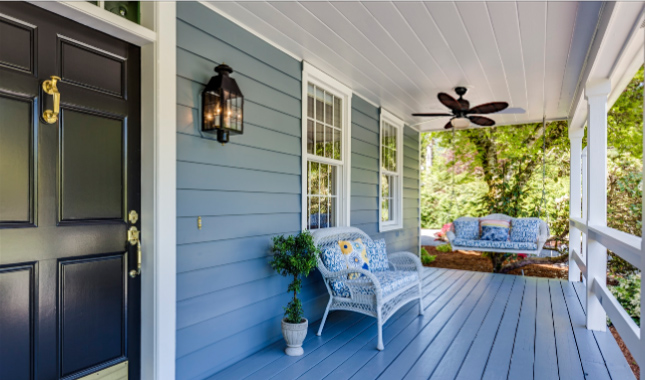 When buying an outdoor ceiling fan, you need to consider a few things: size, style, installation, features, and optimal performance. 
Size of the Ceiling Fan
The only way to properly determine the ceiling fan size is to use the square footage of your space. 
The size of a ceiling fan is presented in blade span inches. The blade span is measured starting from the end of one blade to the end of the opposing one. 
Since fans can range anywhere between 15 and 90 inches in size, here are the recommendations from the Energy Star: 
For an outdoor space that is up to 80 square feet, the blade span ought to be 35 inches or smaller.
For an outdoor space that is up to 150 square feet, the blade span ought to be between 35 and 42 inches.
For a space that is up to 225 square feet, the blade span ought to be 45 inches.
For an area up to 400 square feet, the blade span ought to be between 50 and 55 inches.
When it comes to the height, 9 inches is considered appropriate (this is the height measured from the blades to the floor).
Style of A Ceiling Fan 
Some people consider the style of a ceiling fan to be an essential feature and the type is undoubtedly a critical feature that can make or break the space's aesthetics.
Nowadays, there are many different designs and finishes for a ceiling fan. However, the most popular outdoor fans are the modern ones with a clean line design and a smooth finish.  
However, many sleek outdoor ceiling fans are for midcentury and industrial design lovers. Many trends are following industrial design as well. Industrial fans tend to combine modern elements with a loft-style design inspired by warehouses and factories.
Another popular design choice is the rustic farmhouse style. This includes an aged and cozy feel with incorporated natural elements. This aesthetic tends to have a wooden, unfinished look with many earthy colors.
Ultimately, there is the tropical beach style for all of you who like to feel like your patio is directly on the sand. This nature-inspired style includes a lot of neutral colors and coastal features.   
Higher Airflow for Better Performance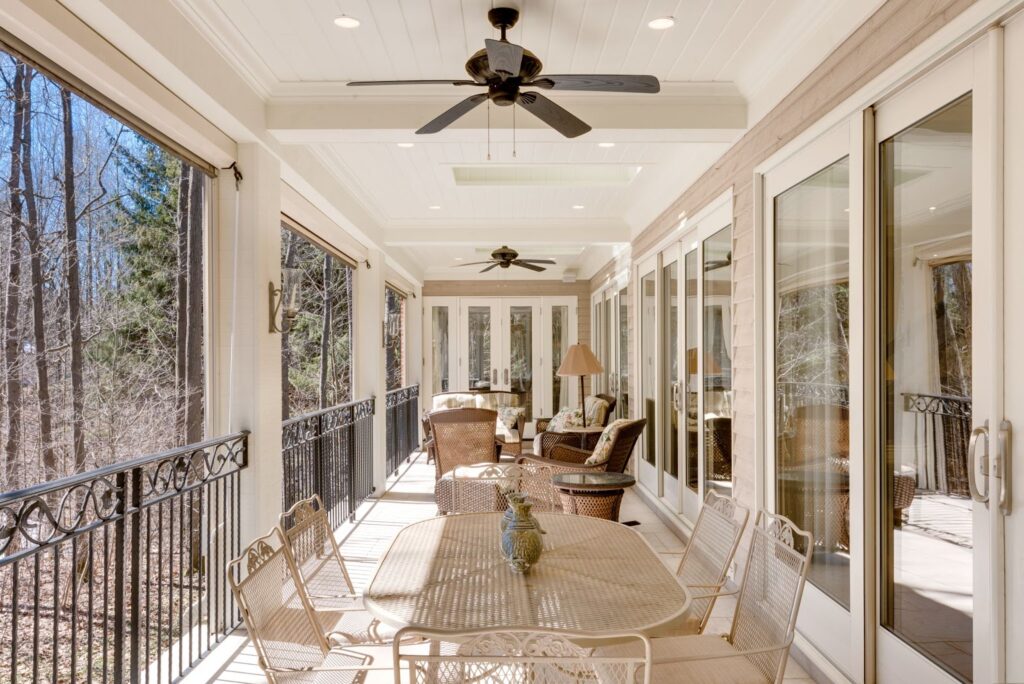 Every good ceiling fan should have high airflow effectiveness. The effectiveness is the amount of air circulating through the fan at the highest fan speed. The airflow is measured in CFM or cubic feet per minute. 
If a ceiling fan has a high CFM number, it will circulate the air better and keep insects away. 
Here is an example of an optimal CFM number: a ceiling fan with a blade span of 52 inches should have at least 4,000 CFM. 
Take note that the number of blades does not indicate higher CFM. The blade number is just a decorative feature. 
Energy Efficiency is Critical
Another feature that should be high on your demand list is energy efficiency. 
If the ceiling fan is energy-efficient, it will cool down the space without spending a lot of electricity. The most efficient outdoor ceiling fans are the ones that are rated as Energy Star.
Energy efficiency also depends on the fan's motor. If the fan works on a DC motor, it will save more energy than an AC one. This is because a DC motor uses less energy, cools the space faster, and is much quieter. 
Another thing that affects the energy efficiency is the light kit. If the ceiling fan has a light kit, it should use LED bulbs. The LED ceiling fans are the most energy-efficient alternative.
Durability As the Main Feature 
The durability of the ceiling fan is probably the essential thing to consider. An outdoor ceiling fan is exposed to many different weather conditions.
Hence, it is necessary to check if your preferred model is damp and wet-rated. For example, a damp-rated fan would work fine if you have a covered porch exposed to moisture. 
Meanwhile, wet-rated fans can tolerate direct sunlight, rain, and snow, so if you have an open outdoor area, it is better to go with a wet-rated option. 
Operational Features 
When ceiling fans were invented many years ago, they operated strictly on pull chains. However, there are many operational control methods in this day and age.
Aside from the budget-friendly pull chain, you can choose a ceiling fan that operates on the remote control. These fans include a remote that helps you control their settings without getting out of your chair.  
Another option is wall control. There are many models of ceiling fans that operate similarly to a light switch. 
With a simple push of a button on the wall, you can change the settings of the ceiling fan. Although this is a pricey feature, it is convenient for spaces with high ceilings. Plus, you cannot lose it!
Ultimately, the smart ones are the best ceiling fans. They operate on a smart technology that enables the fan to connect via Bluetooth or WiFi to all smart devices. Also, the smart technology lets you activate your ceiling fan via an app on your phone and forget about the pull chain! 
Pretty convenient, right?  
Best Outdoor Ceiling Fans for Patios, Decks, & Porches
Here is the list of our top picks for the best outdoor fans. 
1. Hunter Cassius Ceiling Fan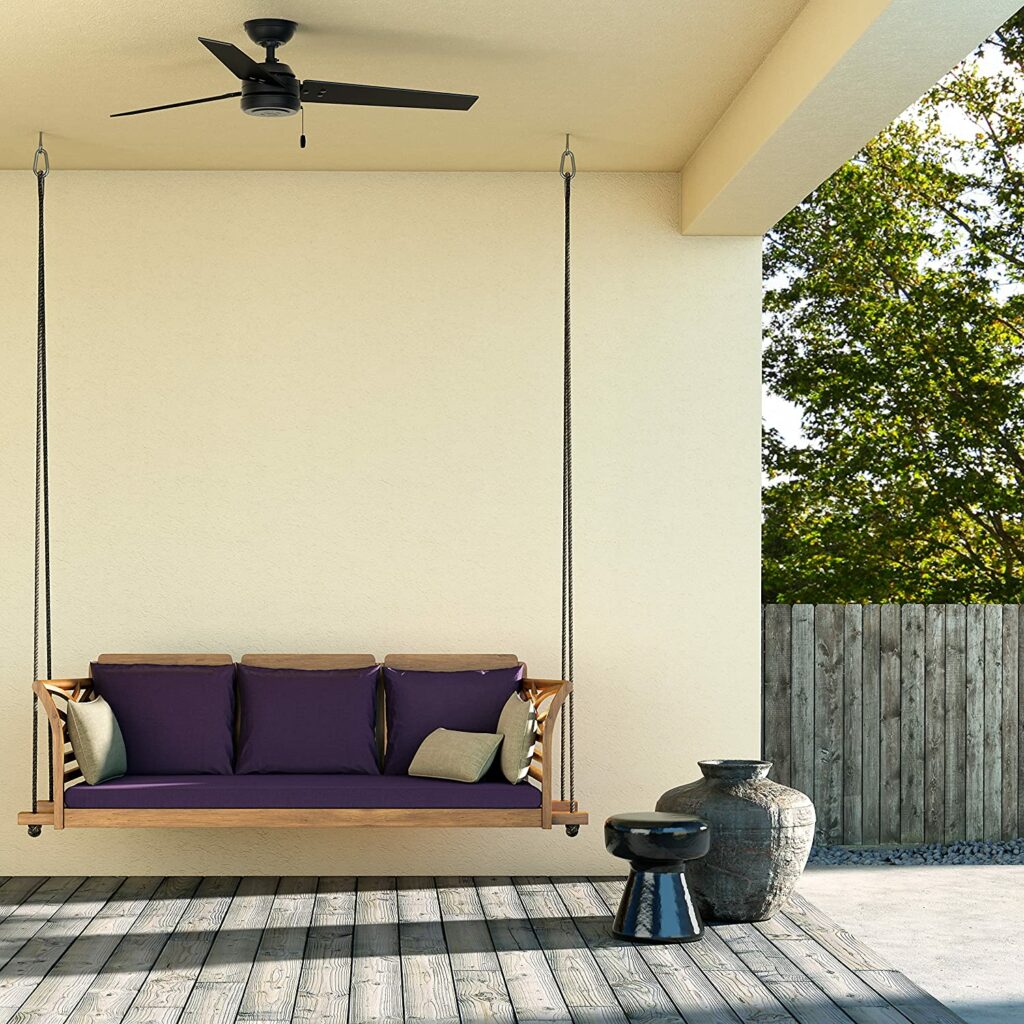 We put the Hunter Cassius Ceiling Fan first because this one is the best outdoor ceiling fan for general use. The style of this ceiling fan screams rustic-meets-modern-industrial! 
This outdoor ceiling fan is great because it has a wingspan of 52 inches and comes with a reversible motor. 
The reversible motor allows you to rotate the blades in any direction at any given time; you can set the downdraft mode for hot summer days and the updraft mode for cold winter nights. 
Some of the many advantages of this outdoor ceiling fan are that it's water-resistant, damp-rated, and has a silent motor. 
It weighs 14½  pounds, and you can adjust the height as you like. You can buy this model from the Hunter fan company on Amazon and get a lifetime quality guarantee.
The only disadvantage is that it comes in 1 color only.   
2. Hampton Bay Mena Ceiling Fan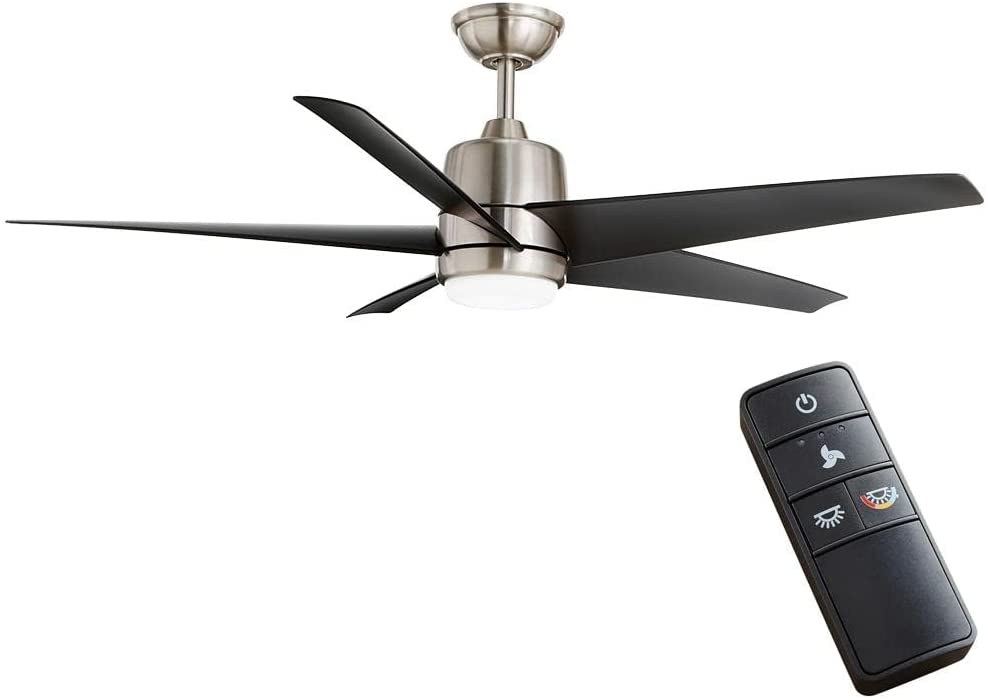 The runner-up for best overall use is the Hampton Bay Mena Outdoor Ceiling Fan. This awesome ceiling fan comes with an integrated LED that changes colors and creates the ultimate lighting atmosphere on your patio! 
It has 5 blades with a span of 54 inches. The quick-fit installation lets you install the fan easily and quickly without any screws. 
The good thing is that the Hampton Bay fan comes with integrated LED lighting and 3 distinct light temperature options. Also, the ceiling fan is damp-rated and remotely controlled. 
3. Honeywell Belmar Outdoor Ceiling Fan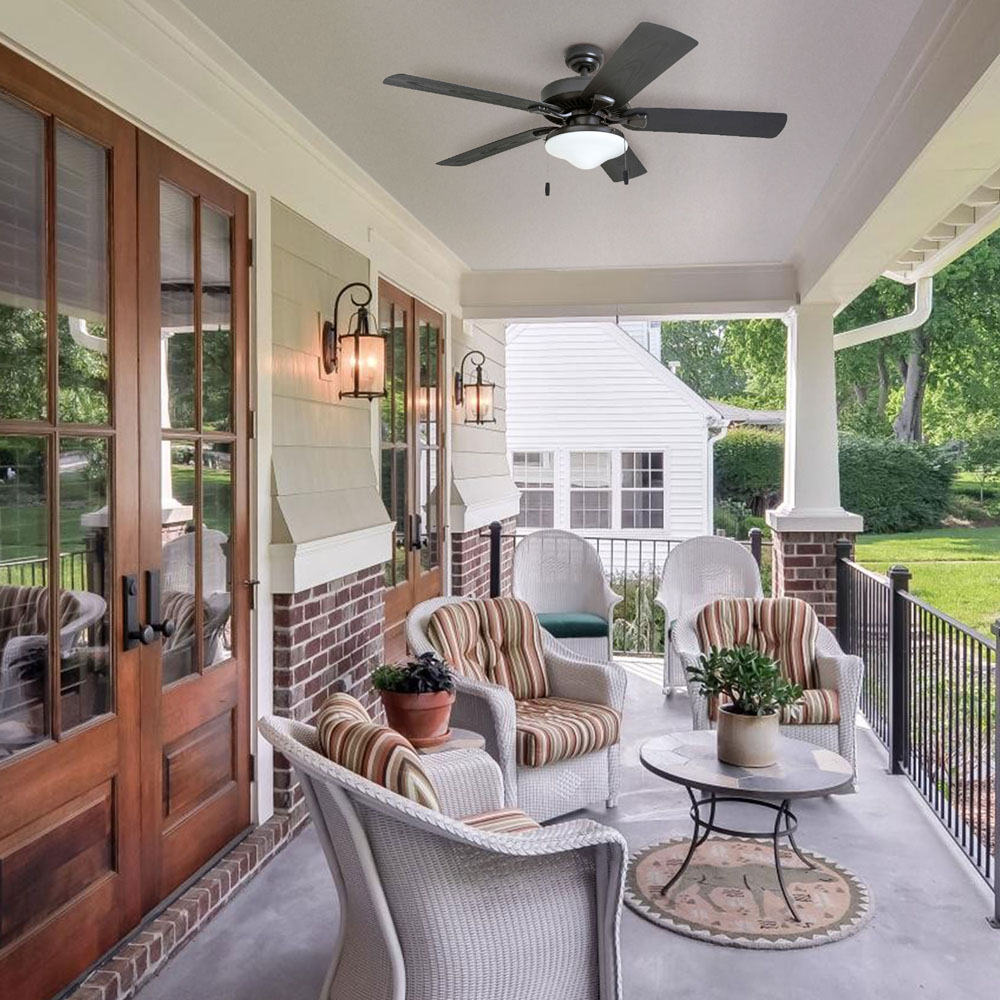 The blades of this budget-friendly outdoor ceiling fan are water-resistant, bend-proof, and damp-rated; they were built to last! It has a very classic, timeless design, with a 52-inch wingspan.  
The Honeywell Belmar has multiple speed levels, a reversible motor, and endless hanging possibilities! It is straightforward to install, lightweight and comes at a very affordable price. 
The only negative thing is that the blades of this outdoor ceiling fan are not reversible.
4. Honeywell Duvall Tropical Outdoor Ceiling Fan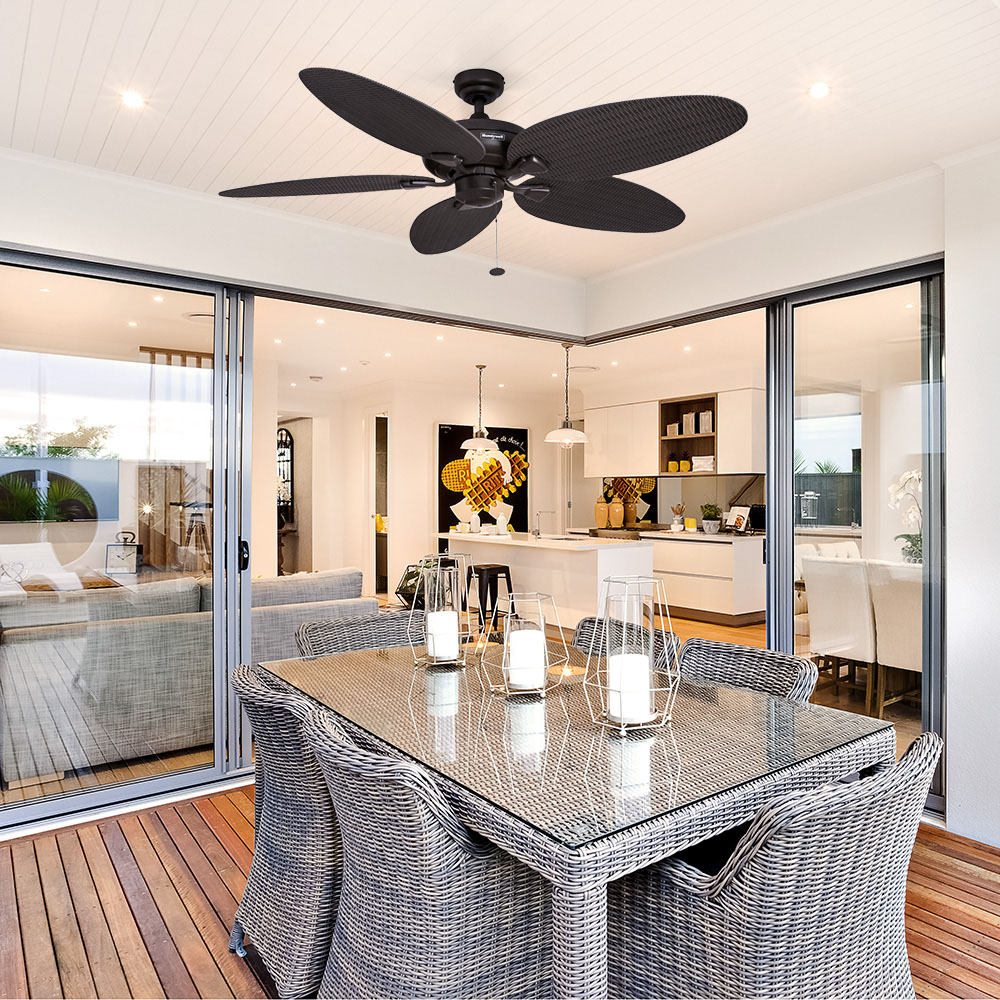 It is the perfect ceiling fan for your outdoor space if you are going for the tropical feel. This fan immediately brings tropical vibes to your home with its 5 leaf-like, textured blades!   
The ceiling fan works remotely and with a pull chain. It is appropriate for medium and large areas and is straightforward to install. 
The unique blades of this ceiling fan are 52 inches and wet-rated. It is available on Amazon and comes in 2 colors. On the con side, it doesn't have a light kit.
5. Hunter Key Biscayne Ceiling Fan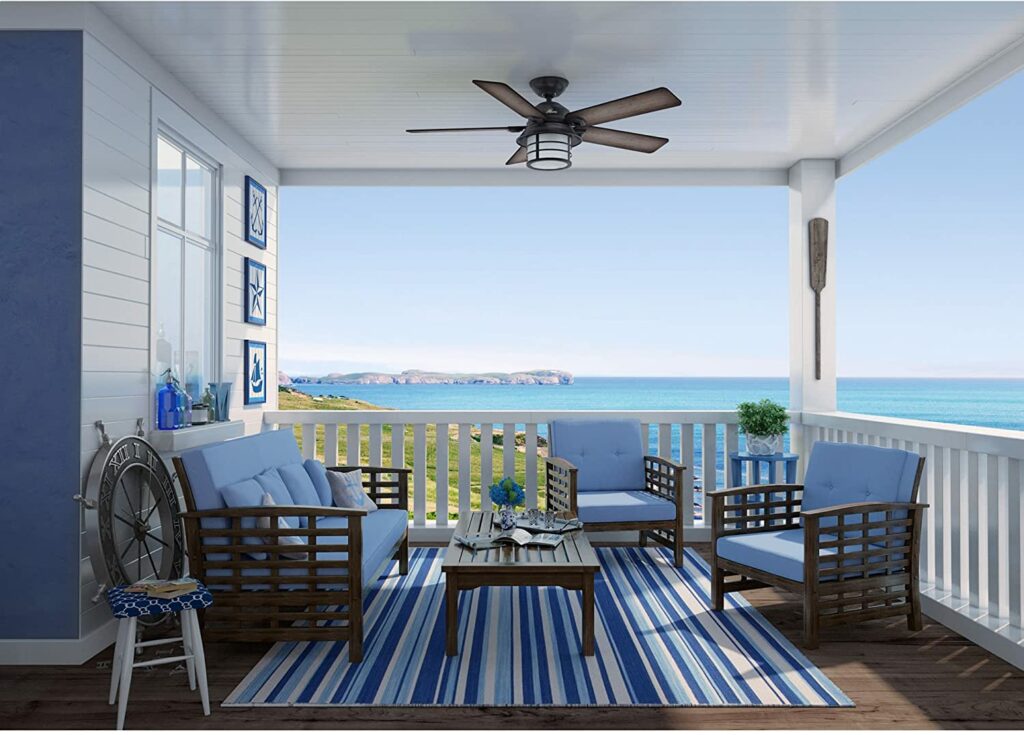 Fifth on our list of best outdoor ceiling fans is the Hunter Key Biscayne Fan. This reversible and multispeed fan works both for indoor and outdoor spaces.
It comes with energy-efficient LED lighting. The LED lights are dimmable, and you can customize all settings via remote control. Plus, the Hunter Key Biscayne Fan is heigh adjustable and damp-resistant. 
The 54-inch blades will offer both style and functionality to your space. On the con side, this is probably the heaviest compared to other fans on our list.
6. Prominence Home Abner Ceiling Fan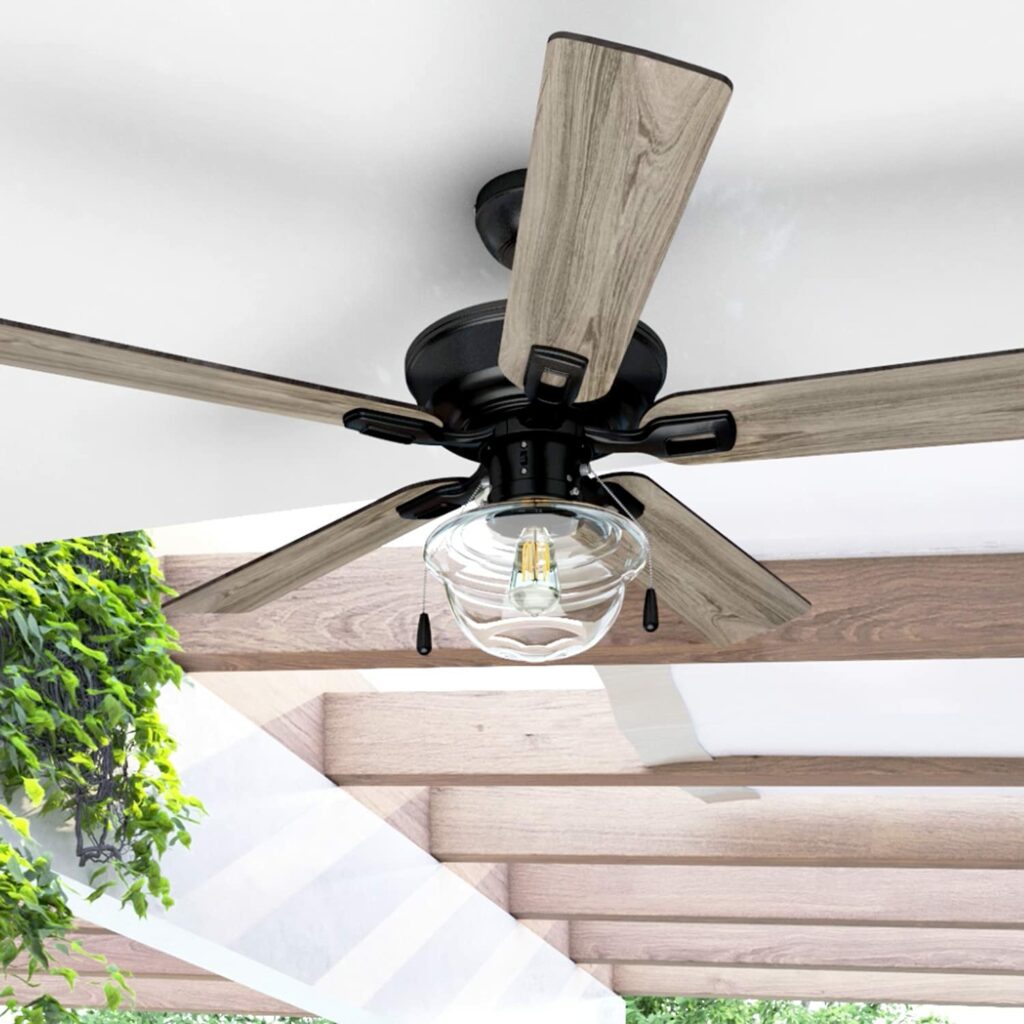 Next on our best outdoor ceiling fans list is the Prominence ceiling fan. 
It is an electric ceiling fan that offers the ultimate vintage style of dual-finish blades and an espresso bronze finish. 
It is damp-rated and has a fully integrated LED light fixture with an Edison bulb to light out the whole space.  
It has many hanging possibilities and can be hung low or high on your ceiling. The motor is reversible, quiet, and has 3 different speed levels. The Prominence fan offers an excellent value for the money, is very easy to install, and can be remotely controlled. 
7. Hunter Fan Coral Bay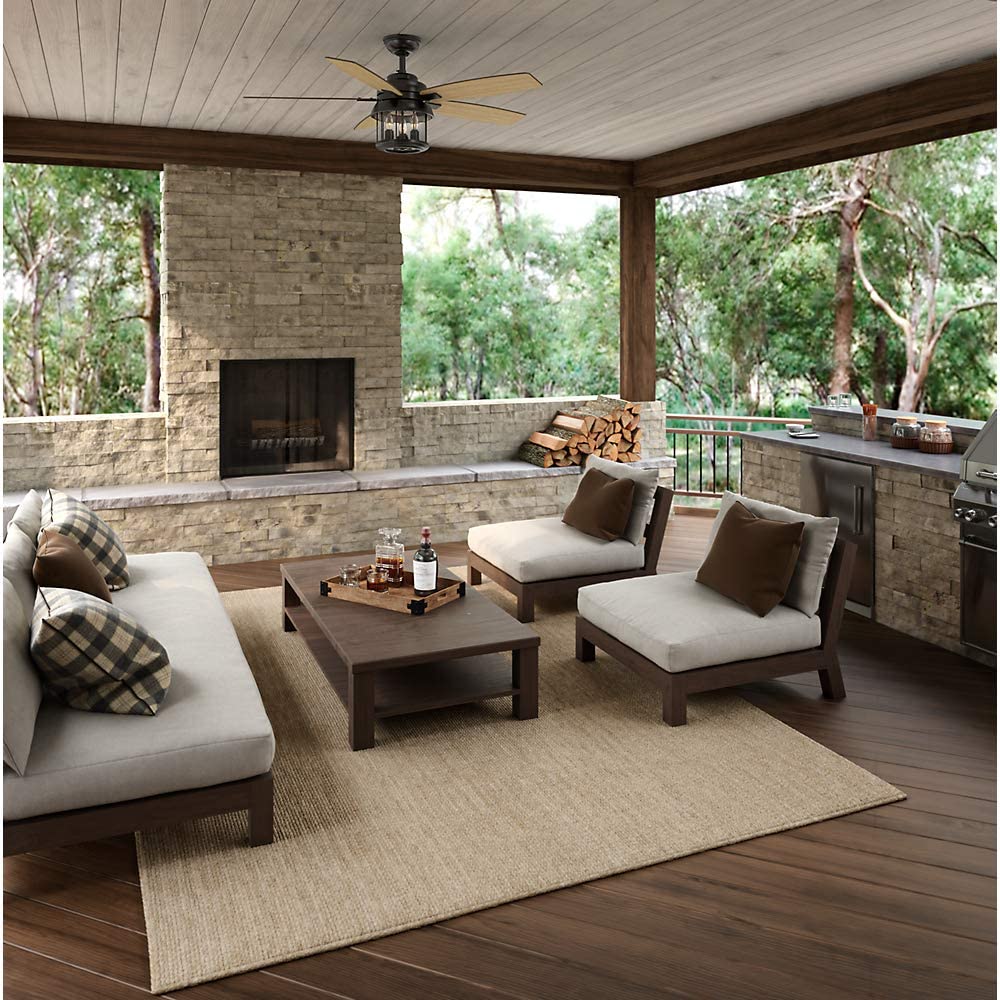 Another excellent outdoor fan from the Hunter family! This one is 52 inches and brings a chic, fashionable design that will elevate the character of your outdoor space!   
It has 5 blades with a sophisticated bronze-finished frame. The fan can be controlled remotely and offers a unique light kit. It has an adjustable height, so you won't have to worry about whether it will fit. 
It has a silent mechanism and provides exceptional air movement. It has only one disadvantage, and that is the tricky installation.  
8. Matthews Irene Hugger Ceiling Fan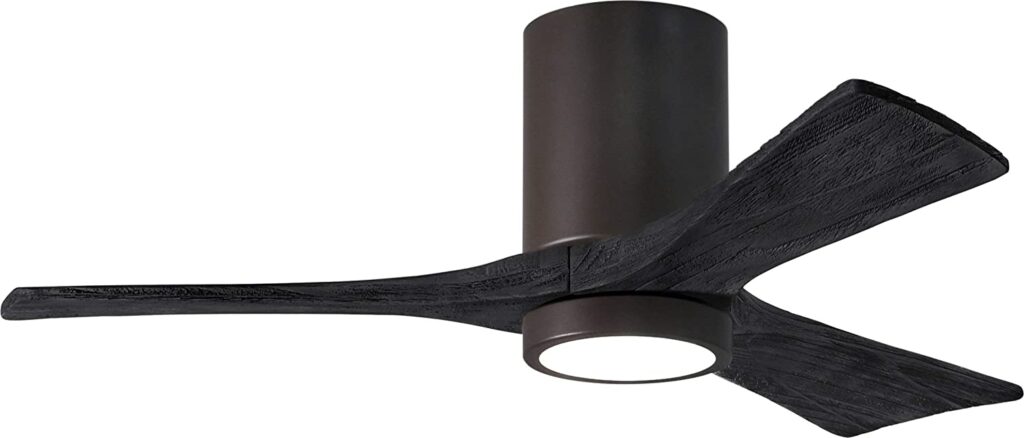 All hugger ceiling fans are great for small spaces, but this is the most powerful one, without a doubt!
The Matthews Irene Hugger Ceiling Fan has wooden blades and aluminum-steel construction. The dynamic DC motor and the 42-inches multi-speed functionality offer 6 different volumes of airflow, reversibility, and wall mountability.
Due to the damp-rate feature, this fan works great in climates with high humidity. Also, it comes with remote control, over 20 options of colors, and silent performance.     
The Matthews Irene Ceiling Fan is a bit pricey, but it is worth the money because of its uniqueness. 
9. Modern Forms Outdoor Smart Ceiling Fan 

What is better than a modern hugger ceiling fan with small but mighty features? A Smart, modern hugger ceiling fan like this one from Modern Forms! 
The fan has a 52-inch blade span and comes with blades and 6 different speed options. It works remotely and connects to smart devices via a Bluetooth connection. It is wet-rated and offers an optional cover for when you don't feel like using the lighting fixture. 
However, the fan is expensive and doesn't have 100% working Bluetooth connectivity. 
10. Monte Carlo Maverick Ceiling Fan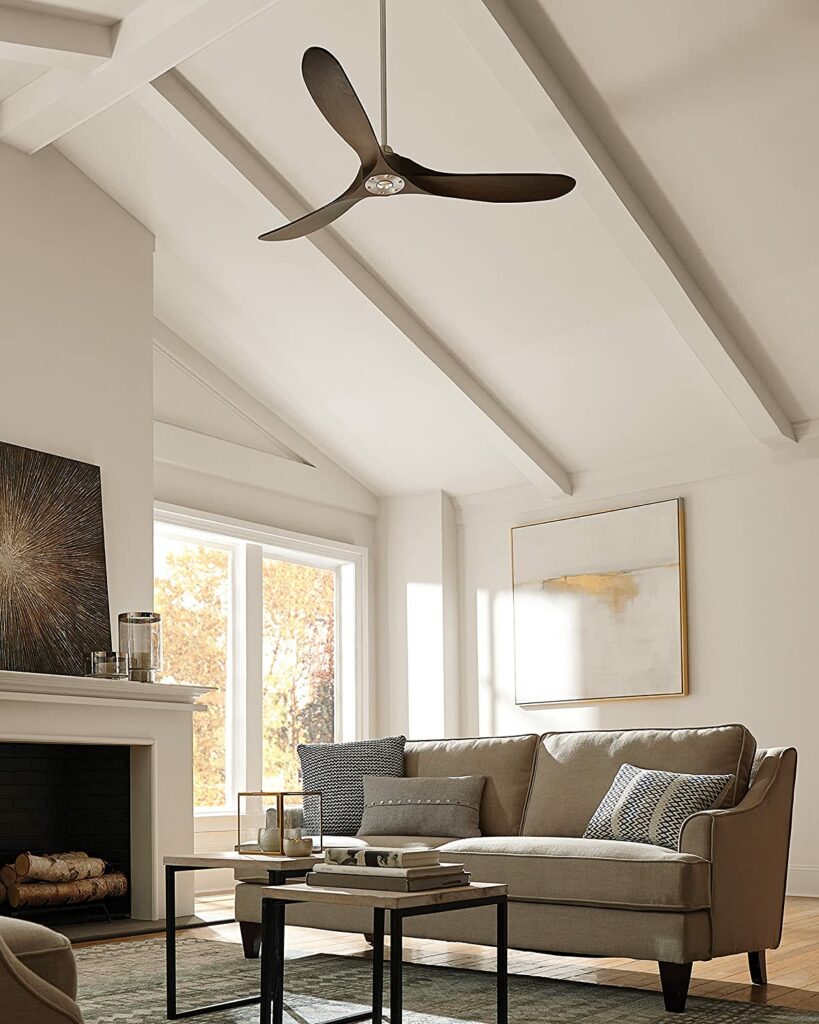 This large ceiling fan was designed for large spaces. It has an 89-inch blade span and 3 wooden blades. It is remotely controlled and offers 6 different speed settings. 
The Monte Carlo outdoor ceiling fan is most suitable for extensive outdoor patios, decks, and porches. It brings an awesome industrial vibe and helps you decorate large empty ceilings with style. 
This modern ceiling fan is more expensive than any other on our list.  
11. Greyleigh Alisson Outdoor Propeller Ceiling Fan
Here is another less pricey option for large outdoor spaces – the Greyleigh Alisson Propeller Ceiling fan! 
Its 60 inches and industrial design fits right on every large-sized patio or deck. It has a dimmable light bulb and 3 blades made out of plastic. 
The Greyleigh ceiling fan is designed to work in every weather condition, and it does not get affected by the humidity. You can choose whether to control it remotely or via a wall controller. 
On the downside, it has only 1 mounting option. 
12. Hunter Oceana Ceiling Fan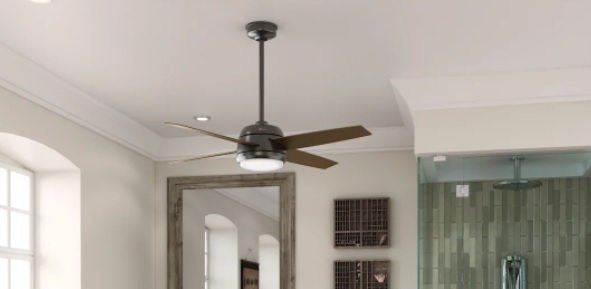 Damp-resistant and corrosion-resistant – the Oceana ceiling fan from the Hunter family is an excellent option for outdoor space near salt air. The outdoor fan has a strong polymer and is steel, making it water-resistant.
Aside from being an excellent option for salt air, it has incredible features like LED lighting, a wall control switch, and adjustable height with 2 downrods of 4 and 2 inches.
13. Hampton Bay Gazebo Natural Iron Ceiling Fan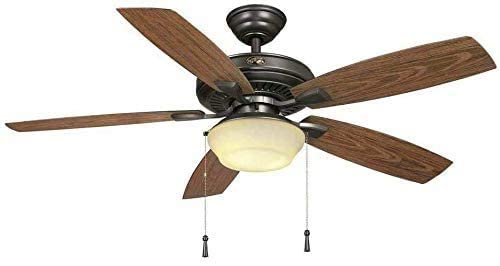 The Hampton Bay Gazebo is the best wet-rated ceiling fan for outdoor spaces. It has 5 blades and a size of 52 inches. The blades are reversible so that you can switch the airflow direction at any time.  
The Hampton Bay Gazebo is made of natural iron, which elevates the classical look of the ceiling fan. 
It comes with 2 integrated lights in a dome-style fixture and 3 different speed options. This outdoor ceiling fan is budget-friendly, but it does not offer remote control. 
14. Minka Aire Xtreme Outdoor Smart Ceiling Fan 

The Minka Aire Xtreme is one of the most innovative outdoor ceiling fans. 
It comes with a dynamic DC motor and adjustable downrod to customize the height to your needs. It has 8 blades that are suitable for any weather conditions. 
The blade span of the ceiling fan is 64 inches, and it is wet-rated. Also, the intelligent features of the ceiling fan offer you the ability to connect to WiFi and change any settings via the voice control feature without using a pull chain. Awesome, right? 
The disadvantages of this smart outdoor fan are that it doesn't include light fixtures and is too large for small outdoor spaces.   
15. Fanimation Studio Collection Slinger Outdoor Ceiling Fan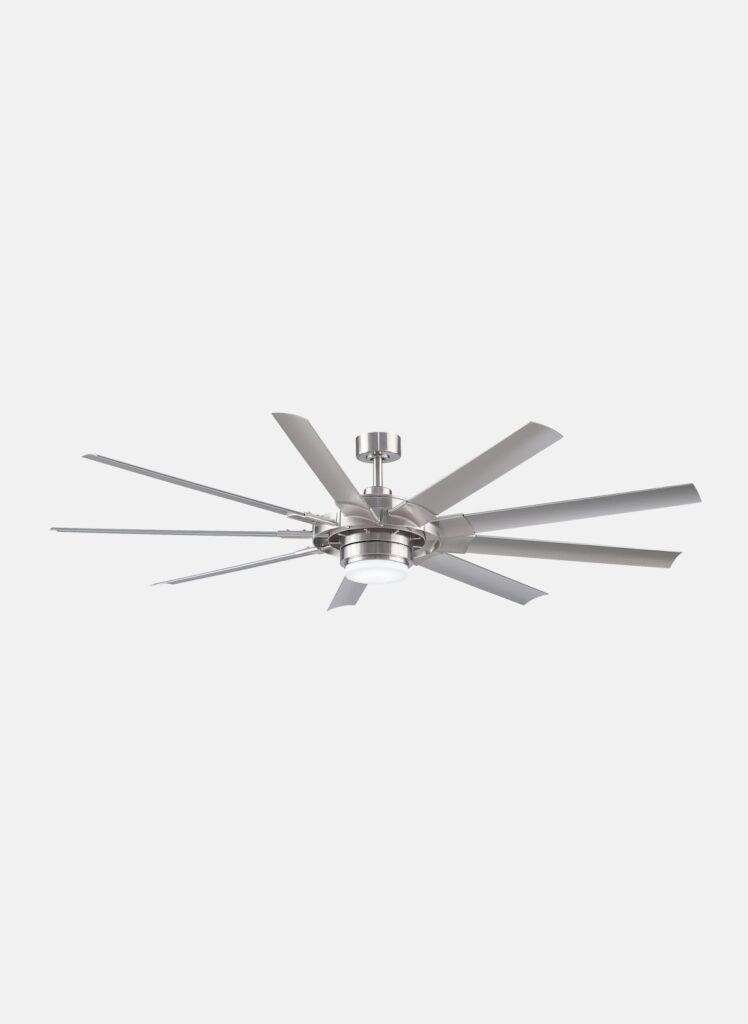 Last on our best outdoor ceiling fans list is the Fanimation Studio Collection Outdoor Ceiling Fan. The 72-inch outdoor ceiling fan is an excellent option for larger areas. It has 9 blades and offers remote control with 6 energy-efficient speed levels.
When the temperatures drop, you can use the reverse airflow characteristic. The Fanimation Studio Collection is a very quiet and damp-rated fan.  
The downside is that this modern ceiling fan is quite expensive. 
Conclusion
Our picks are durable, practical, and resistant to harsh weather conditions. However, you should choose the size and style you prefer for your outdoor area.
If you doubt whether to buy an outdoor fan, know those warm summer days and cold winter nights are more pleasant when you have a good fan that lets you hang out with your loved ones.