Top 7 Best Desk Fan/Table Fan For Office and Household Use
Maintaining the perfect and comfortable temperature in your workplace or office can be one of the most challenging especially in summer. Without any doubt, air conditioning is always a reliable and favorite option for modern office but it can expensive to get, and it has high maintenance costs. That's why most of the business starter is likely to use a desk or table fan to reduce the initial setup cost of an extensive cooling system and also cut the monthly energy cost.
A good quality desk fan can make the workplace cool and comfortable by removing stuffiness and hotness around the personal office desk.
These small appliances are more compact than other kinds of electric fans. Moreover, you can also use them as personal fans to cool your immediate surroundings. They won't take too much space either cost a lot.
After a few months of research, we have listed the best desk fan and arrange them in order based on customer reviews.
Things To Consider Before Buying Desk Fan
When you need to choose a perfect desk fan for a workplace, you have to take several things into account. First, you have to calculate the available space on your office desk. However, people always prefer slimmer models which will not take much space. Sometimes we need to move from one desk to another. In that scenario, you must choose a fan that is lightweight, come with a sturdy carry handle and have a long cord. For the desk, you may not need a high-speed fan (except in case your office in underground or basement) as for single person mild airflow is the best. Don't forget to check the noise level of the fan. If your desk fan produces much noise, then it will be tough to work as you are sitting next to a noise machine. The price tag of most of the desk fan is reasonable. However, if you want to purchase in bulk, it's essential to select a table fan according to your budget, and it could be a very easy task.
---
Top 7 Best Desk Fans For Regular Use
Which one should you get? Here are a few of our top picks for the workroom
Number #1: Holmes Blizzard Rotating Desk Fan (Best Desk Fan For Office)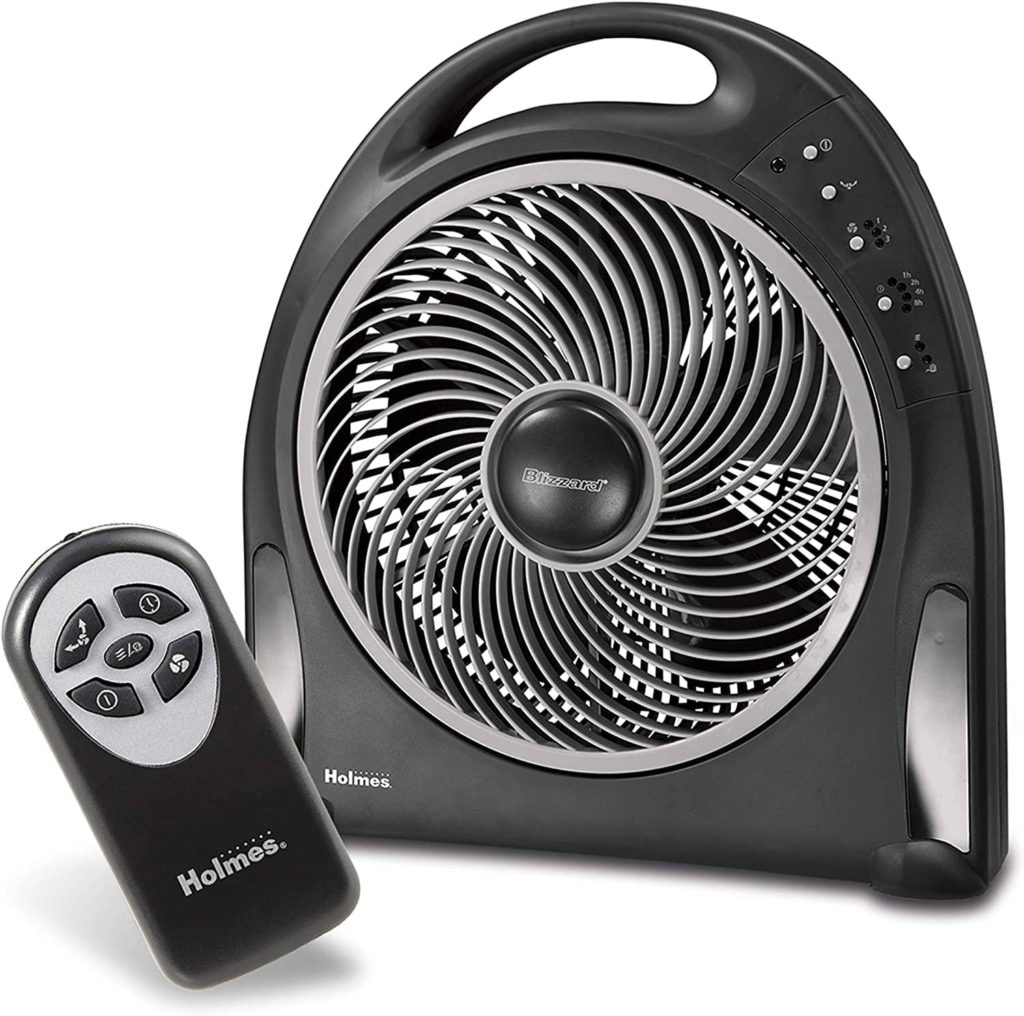 Holmes HAPF624R-UC Blizzard has enough power to cool a large room despite its small size. The CFM rating of this fan at high-speed setting is around 450 (which is very low compared to Rowenta VU2531) but ironically at such high speed, it doesn't make a huge noise. Instead, it produces shooting white noise. Which makes it the perfect quiet desk fan.  Also, it's ideal for bedrooms, a reading table, and lots of other applications.
Looks-wise, it's been inspired by the ever-dependable box fan. It's also just as reliable as it comes with a number of convenient features. 
Key Features:
Its rotating grill has a large blade diameter and shrouded housing. This exclusive design helps to increase the airflow by 40% and allows the fan to move the right amount of air in a wide area.
The adjustable speed controls system includes three-speed settings and two breeze setting options. With the help of these settings, you can control the amount of air and kind of breeze the fan can direct toward your way.
It comes with remote control with all control setting buttons. This will let you tweak, change, and adjust the fan's settings even from afar.
Additional convenience features like adjustable timer up to 8 hours, durable plastic carry handles at the top of the fan, and special storage for cord make this fan smart and modern.
Pros:
Ideal for large rooms
Portable
Comes with a convenient remote control
Rotating grill helps move the air effectively
Quiet in nature
Cons:
Not rechargeable
Balancing can be a bit tricky
Little bit costly but worth to buy
---
Number #2: Rowenta VU2531 Turbo Silence Table Fan (Best High-Speed Desk Fan)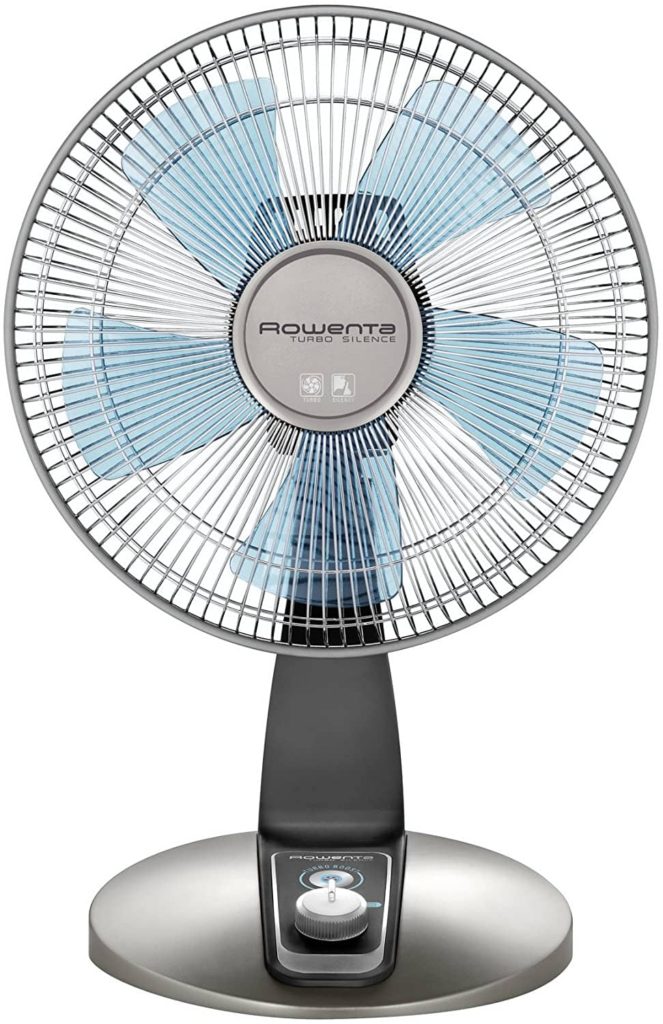 Rowenta VU2531 will be the best companion for your office during this hot summer. This versatile fan performs like a pro not only in desk but also in your bedroom or living room. Its airflow velocity is nearly similar to big size pedestal fan or tower fan. To use this fan in the office or library, you need to set this in a low-speed setting. Other speed settings will be too powerful for a desk fan. Rowenta is an old German brand and they are producing quality small household appliances since 1884.
Features and design of Rowenta VU2531 table fan are similar to Rowenta VU5670 Stand Fan (which is one of the best-selling and top-rated pedestal fan on Amazon). The only difference between these two is the size. It is a traditional design, but its features are more than basic. This table fan is a popular choice for its powerful and quiet performance.
Key Features:
Sporting a traditional design with a 12" head with a stable base. This product is more about functionality than aesthetics.
Its head can oscillate moreover it tilts upward and downward. You have great directional control with this item.
The propeller of this fan is made of five metal blades. These high tech blades are engineered in such a way that it generates powerful and quiet airflow.
The fan is very easy to clean as the frontal grill of this fan can be removed quickly and easily.
The fan is lightweight. Also, it has a sturdy carry handle which means you can move it from one desk to another in an emergency case.
It boasts of uniquely engineered blades which are tested to push air up to 1,695 cubic feet per minute.
Manual control of this fan is straightforward to understand and user-friendly. It has a knob that is used to control the speed settings manually. Nevertheless, it can be operated with a tiny and beautiful remote control in case you are far from the fan.
Pros:
Awfully powerful.
Very quiet with recorded noise levels at 38-55 decibels
Effective in moving air
Easy to move about
Durable as the body made of metal.
Cons:
Quite pricey
Not safe for the kids.
---
Number #3: Vornado 133 Compact Desk Fan (Best Desk Air Circulator Fan)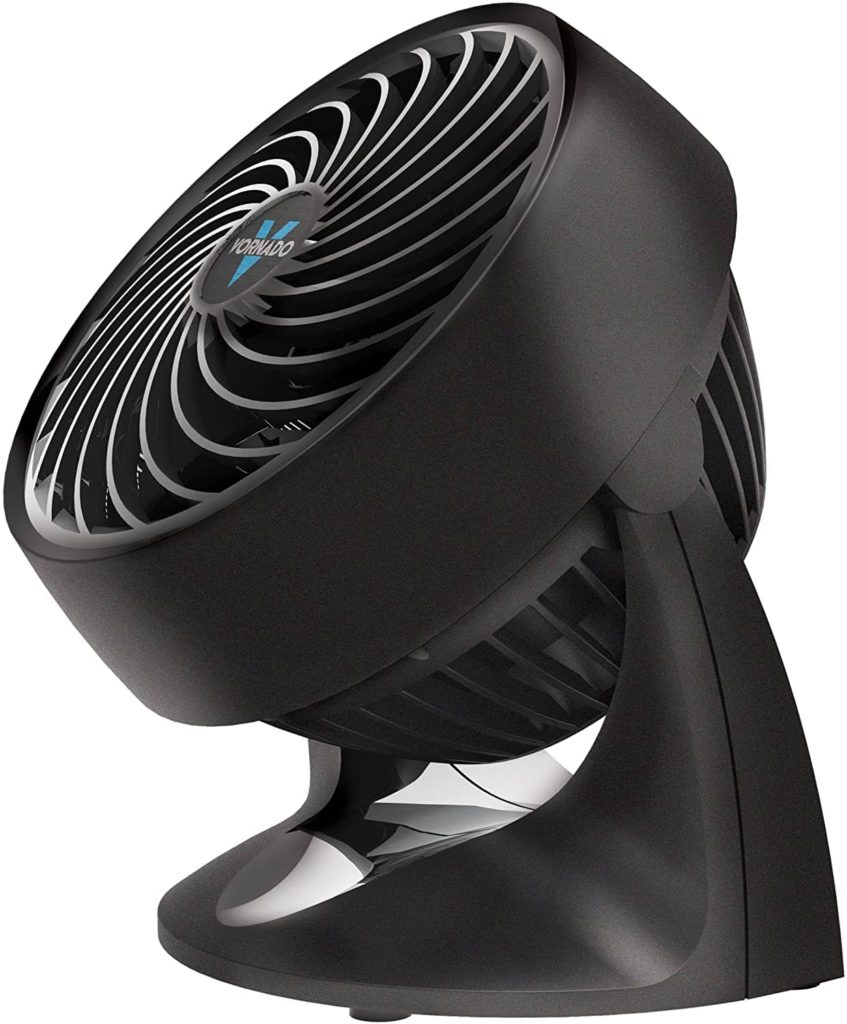 Vornado US-based company and they are a reputed brand that produces high-quality air circulators since 1984. Vornado 133 is another master place of the Vornado air circulator family. The Vornado 133 holds the precious "Amazon's Choice" label for personal electric fan category. It can be dubbed as a personal air circulator and will be a perfect fan for only a single person.
This tiny Vornado desk fan is the best pick for many young and new starters because the price is very cheap but the design of the fan is unique and attractive. Besides, it combines affordability with great performance, durability, and ease of use.
As one would expect from Vornado, this is quite a reliable air mover. It's also quite attractive, so you won't have to worry about it affecting how your interiors look.
Key Features:
Like other Vornado air circulators, this Vornado mini air circulator also composed of Vortex air circulation technology. This unique innovation of Vornado engineers allows this tiny 133 model to move air around the room more effectively than other table fans in our list. It is capable of moving air up to 25 feet notwithstanding it can't oscillate like other desk fans.
Equipped with two-speed settings that you can select using a mechanical knob found at the back of the fan. Operating this unit is fuss-free as a single movement can already help you choose your desired settings.
The unique curve designed front grill and deep patched blades inside the grille makes it compact and also safe for kids and pets.
It's come with an easily removable grill which is held by four screws. To clean this fan, only you need to remove the nut using a Philips Screwdriver.
Pros:
Compact in size
Easy to clean
5-year warranty
Simple controls
Powerful despite its small in size
Cons:
Limited control settings
No remote control
It doesn't oscillate
---
Number #4: Ozeri OZF6 Desk Fan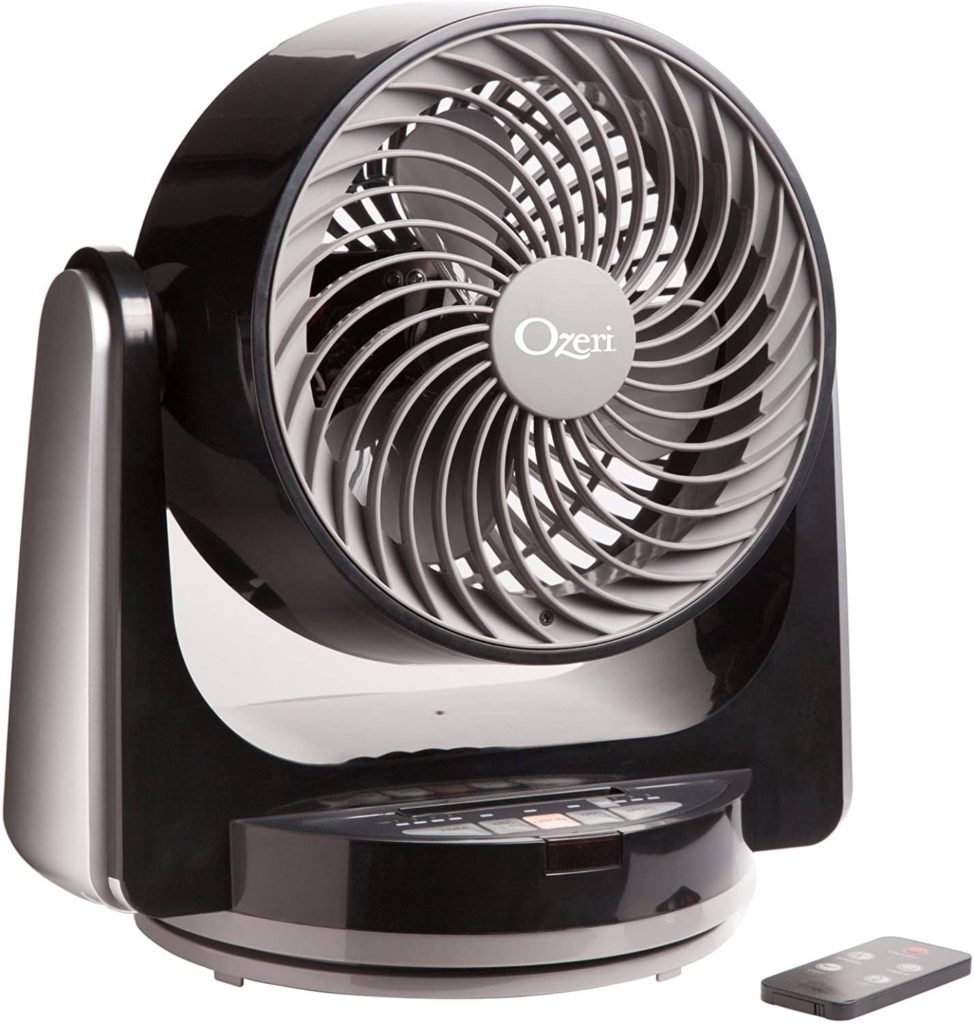 Ozeri OZF6 Desk Fan formerly known as Ozeri Brezza III is the upgraded version of the Ozeri Brezza family. It looks and designs almost akin to our top picked desk fan Holmes Blizzard Rotating Fan.
It offers a wide range of perks. These include an appealing design, high airflow, quiet performance, and great functionality. Another great fan for desk with some awesome features.
Key Features:
The fan is very compact. So, you can place this fan just about anywhere.
It designed aerodynamically which ensures the low noise output even at high speed. Engineers of Ozeri claims that it produces lower sound than their previous version table fan Ozeri Brezza II.
The dual oscillating motors allow vertical and horizontal movements. This offers excellent air movement.
The pushbuttons are placed in the right position. Controlling the fan with these buttons is fuss-free. They're also quite appealing.
Its remote control includes all of the functions that the fan offers. Moreover, it has a very extended range. This makes it even more convenient to have.
Equipped with a wide range of different settings including four-speed settings, a 4-hour timer, and oscillating modes. You can be as precise as you want in setting up this desk fan.
Pros:
No assembly required
Compact size
Quiet operation
Wide range of controls
Convenient operation with the help of the included remote control
Cons:
LED screen light can be too bright for some people
Vibrates a little which creates a bit of white noise
---
Number #5: PureFlow QT7- Bladeless Oscillating Fan (Most Modern Desk Fan)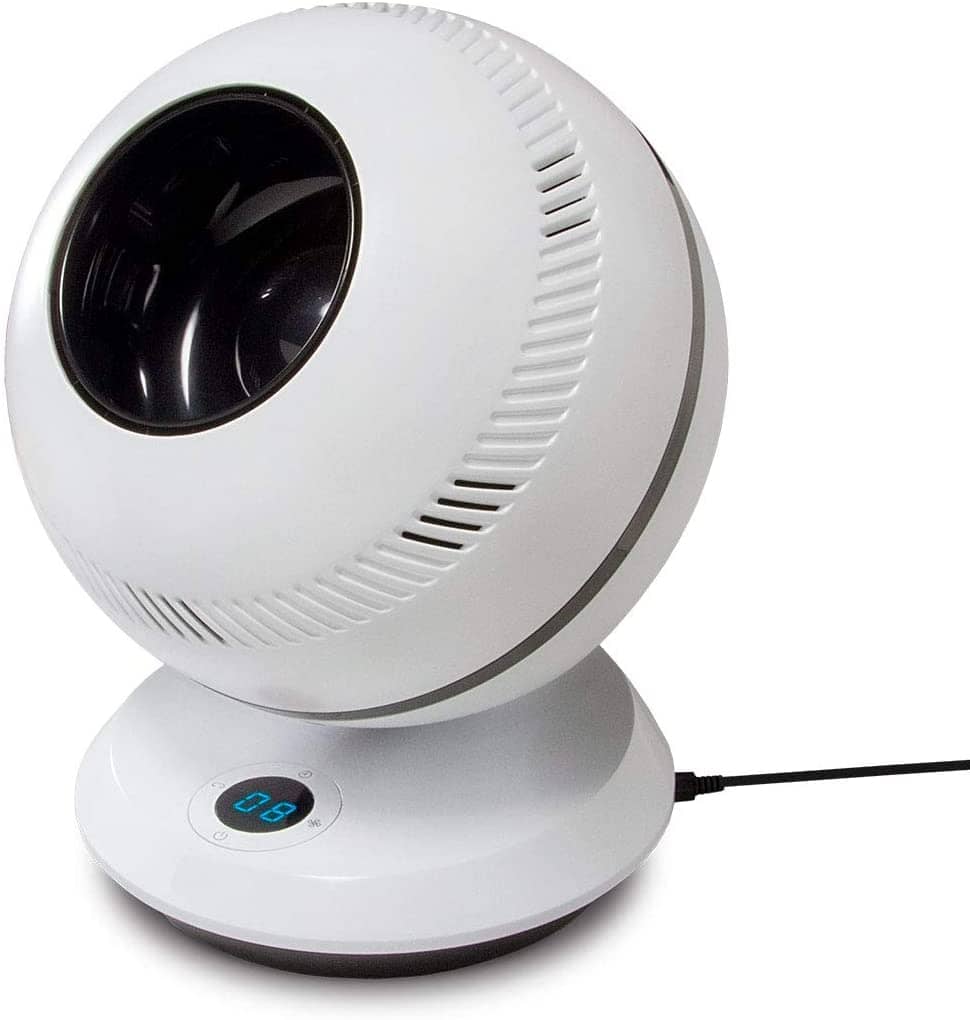 Pure Flow QT7 is a classic bladeless fan. This modern desk fan is best known for its futuristic design, wonderful performance, convenience, safety, and energy efficiency. Furthermore, Amazon.com labeled this bladeless desk fan as "Amazon's Choice" under the bladeless fan category. This particular tag increases the trustworthiness among the buyer of this fan.
Key Features:
It comes with a modern bladeless design that is designed to move air faster than traditional fans. It offers a stronger airflow and better air circulation.
It provides a twelve-speed settings option that is high among the desk fan we listed in this top 7 roundup. This will let you select the precise amount of airflow to get from this desk fan.
Uses as little as 2 watts of power. It might just be one of the most energy-efficient desk fans on the market today.
It can oscillate max 90 degrees and also it can be tilt in the vertical direction. These features guarantee more effective air circulation around the room.
The 9-hour auto shut-off timer and remote control make it more convenient to use.
Pros:
Safe to have around kids
Interesting and unique design
Customizable settings
Strong airflow
Quiet operation
Cons:
Beeps when you change settings
The back grill can be a bit challenging to clean
Can be affected by other remote controls
---
Number #6: Bionaire Mini Table Fan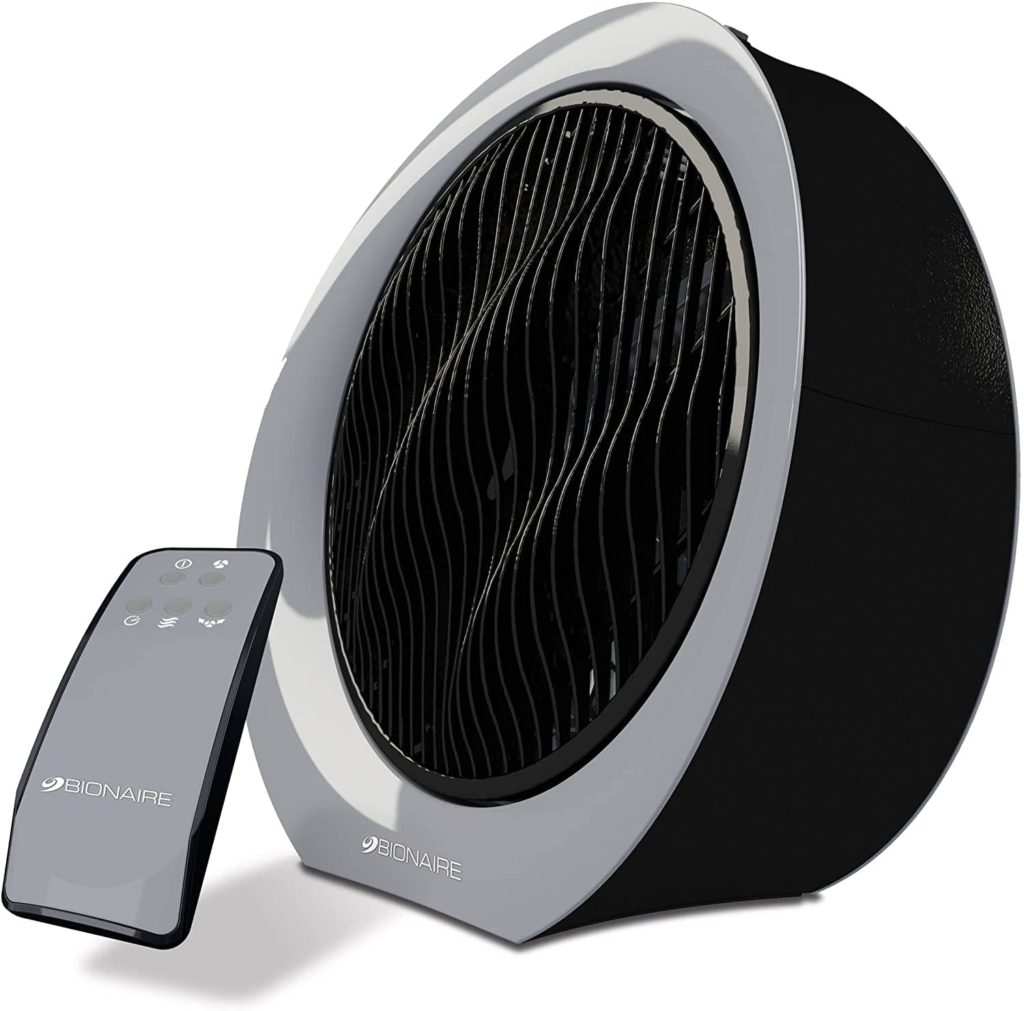 The Bionaire BFF1222AR-BM is also a good pick if you're after a unit that's relatively big and powerful. You shouldn't pick this fan for your office desk if there is limited space on the desk. It's also a popular pick for its ability to mix the air which offers a more refreshing air output.
Key Features:
It is coupled with a strong motor to move much air. It also generates cool air to provide better comfort.
Designed with convenient controls in the forms of a top-mounted panel and remote control. These make it very easy to operate.
A rotating grill provides the oscillation needed to move air around. With its size, it's perfectly capable of driving a good amount of air around.
Equipped with compact features like a retractable cord and carry handle. These add more convenience to the use of this product.
Its settings are customizable including its three fan speeds and auto shut-off timer. You can select the exact settings you need.
Pros:
Durable
Brimming with convenient features
Mixes air instead of blowing it directly to you
Sleek and stylish design
Very easy to operate
Cons:
Expect some white noise created by this fan
Limited directional control as it doesn't tilt up or down
Can be triggered by other remote controls
---
Number #7: Honeywell HT350B Quiet Set Table Fan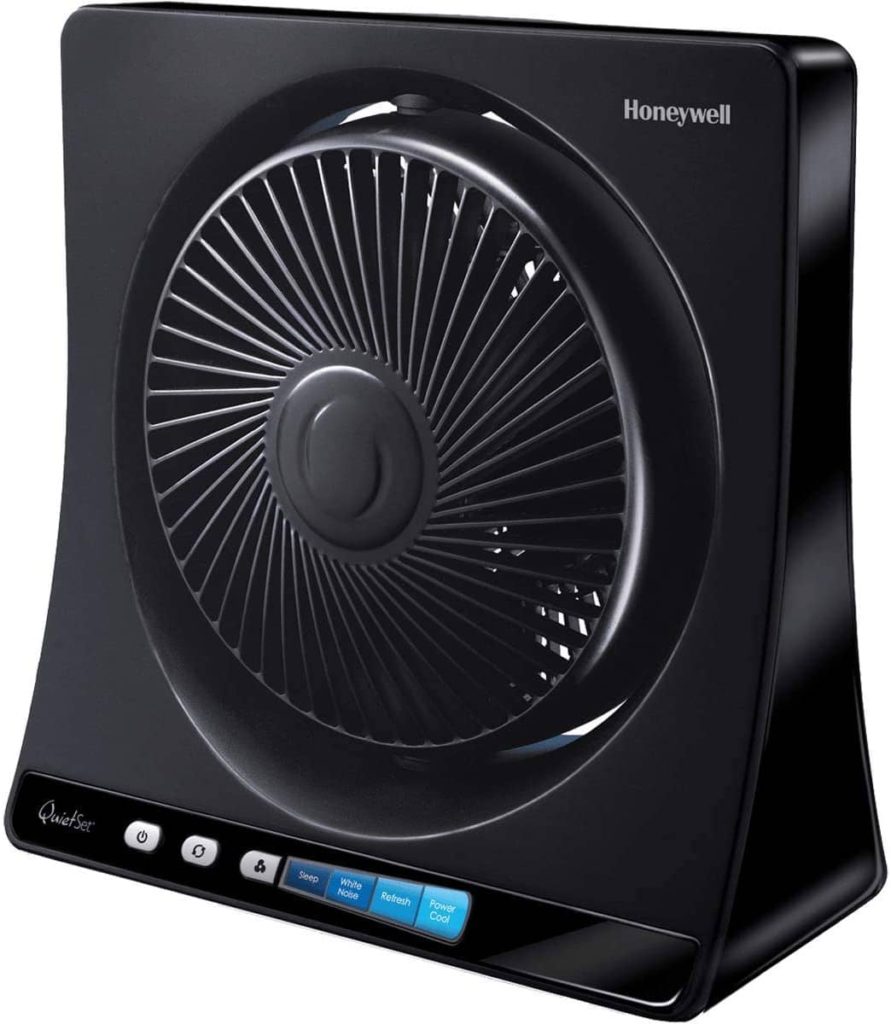 Honeywell HT350B deserves a special mention for its powerful performance and straightforward design. It generates a good amount of air which makes it suitable for small to medium size office rooms though it is only a 14 inches' table fan
Key Features:
Sleek and modern in appearance, this product won't look out of place in a contemporary home. Its base is stable and nicely designed to prevent it from tipping over.
Engineered to oscillate to move air around effectively. This allows it to cool any space.
It has four-speed settings with backlit buttons labeled according to use (Sleep, White Noise, Refresh, and Power Cool). Four different colors backlit LED lighted button indicates this speed setting options. These make operation fuss-free.
With comfortable touch controls, you won't need to fiddle with anything to select your settings.
Pros:
Lightweight
Moves air efficiently
Quiet operation
Durable
Cons:
Some find the higher speed settings to be a bit too loud for sleeping while others like the white noise it creates
Control buttons have a backlight that stays on
No remote control available with this model.
---
How To Clean A Desk Fan
Follow these simple steps to clean a desk/table fan perfectly!!
Step 1: Turn your desk fan off and unplug the fans plug from the power outlet.
Step 2: Remove the front grill of the fan. Most of the grill of the table fan models are usually tied with the plastic clippers. Un-clip it if your table fan has this kind of locks. But, it will be best for you to check the user manual of the specific desk fan model if you have faced any difficulties opening the front grill.
Step 3: when you have removed the front grill of the fan next thing you have to do is to remove the blades of the fan and eventually remove the back grill to clean it deeply.
Step 4: Next task you have to prepare a liquid solution that can clean the dust and dirt of the fan. Making a cleaner for desk fan cleaning is pretty simple. All you have to do is mixed warm water with dishwashing liquid.
Step 5: Dip a clean but useless cloth in the liquid mixer that has prepared for cleaning. And then wipe out every part that you have remove thoroughly until it has cleaned completely.
Step 6: After you have finished cleaning the parts perfectly, next you need to remove access water from the fan using a dry and clean cloth. And wait for at least an hour to dry the fan completely.
Step 7: Once every part of the desk fan has dried, you have to reassemble each and every part as before.
Power Consumption of Table/Desk Fan
On average, a table/desk fan normally uses 75 watts of power. Assume that, you use your table fan for 5 hours on average in a day and Electricity Cost is $0.10 per kWh, then the calculation running cost per hour, day, week and for a year will be:
Cost Per Hour 0.009$
Cost Per Day 0.045$
Cost Per Week 0.32$
Cost Per Month 1.37$
Cost Per Year 16.43$
Conclusion
So, now it's the decision time. In a nutshell, Holmes HAPF624R-UC Blizzard is the best desk fan recommended by our expert. However, it's not the most powerful. When airflow is the primary concern, you can go with Rowenta VU2531.
To give your office or workplace a contemporary look, then you must buy Vornado 133. It's cheap and compact.
But, whatever your choice you will not regard it.
Reference:
https://www.washingtonpost.com/lifestyle/home/finding-the-perfect-table-fan/2018/06/12/85315722-64e0-11e8-a69c-b944de66d9e7_story.html?utm_term=.c37097e294dd