Best Cooling Fans That Can Be Wall Mounted
The ultimate solution to save space on the floor or desk, yet keep cool, is wall mounted fans. These light-weight, easy to install devices are ideal for homes, offices, shops, gyms, or even outdoors.
Don't be fooled by its size, for it can circulate a cool, strong breeze around the largest rooms as well.
While the common ceiling fans, that are also space savers, circulate air within the room by pushing it down, the wall mounted ones push air through the space where they're installed.
This is a convenient, economical option to cool your surroundings that an AC. Seeing as cooling equipment is essential for homes or other facilities these days, a lot of floor space could be saved with wall mounted models.
Know the Benefits 
Being off the floor, it gives you the benefit of extra floor space, especially in smaller spaces. This also ensures safety of kids as the spinning blades are out of their reach.
Small and stuffy rooms in your home, like the bathroom, basement, or laundry room, requiring exhaust could do with compact wall mounted fans.
Easy to install and positioned high enough on the wall, there's no danger of bumping into them or damaging them while moving about.
An oscillating model covers a wider space, by pushing cool air in different directions. Additional features such as multi-speed control, remote control, and provision to reverse the fan's direction add on the benefits.
Let's not forget that cooling fans, wall mounted types especially, utilize less energy than an air conditioner.
The Best of the Lot
On your quest in search of the best, there are several details to consider apart from money. There are versatile models that can be wall-mounted or free-standing.
While you can't expect to come across fancy ones, a few might be available that could enhance the décor of the room in your home or a shop.
Based on your requirements, you'll need to look at the size (diameter) and weight of a wall mount fan. This determines the ease of installation.
Checking the sturdiness of the wall might be a good idea before you decide on a specific model.
Other features that influence the choice would be timer function and speed, in addition to ensuring it isn't loud.
Comfort Zone 16″ Quiet Wall Mount Fan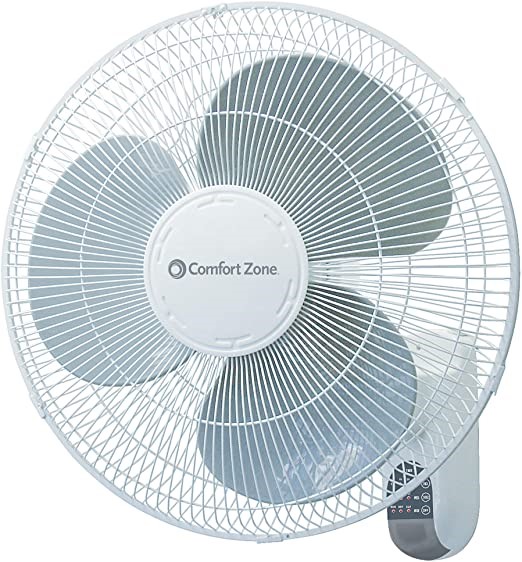 At a moderate price, this product comes with a remote control, timer, and an adjustable tilt.
The three-speed settings and natural and sleep mode options provide you with the comfort of custom cooling, by conveniently letting you control the airflow output.
If you tend to forget to turn off the fan before leaving the room, the variable timer option comes to the rescue; just set it to turn off automatically after a certain time.
You could adjust the tilt of this wall-mounted fan that couples with its 90-degree oscillation to provide a wide coverage of airflow.
The wall-mount bracket that comes along with this product makes it easy to install. The handy remote control allows easy speed and mode selection, timer setting, and power on/off if you're seated at a distance.
With its quiet operation, it is ideal for homes and offices.
Hurricane 20″ Wall Mount Fan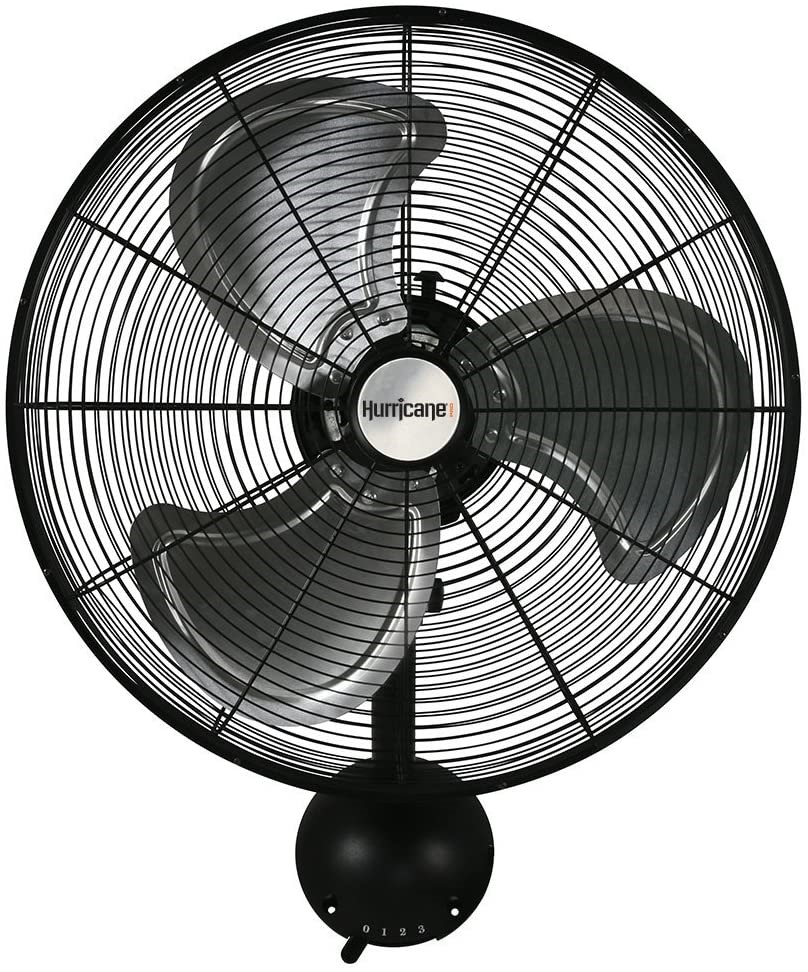 If you're looking for heavy ventilation at home, a garage, shop, greenhouse, workshop, or any indoor areas, this sturdy, heavy-duty product is the solution.
Although the price is on the higher side, the special feature of this fan is the thermally protected motor that shuts off automatically.
With aluminum fan blades and a steel guard, this makes quite the durable equipment.
The high-velocity of operation coupled with an adjustable tilt, oscillations, and three speed settings add to its appeal.
For easy mounting, a heavy duty wall bracket and hardware are included. Also, a 6 foot, 120 volt power cord makes it easy to mount at a convenient place on the wall.
Lasko Max Performance 20″ High Velocity Fan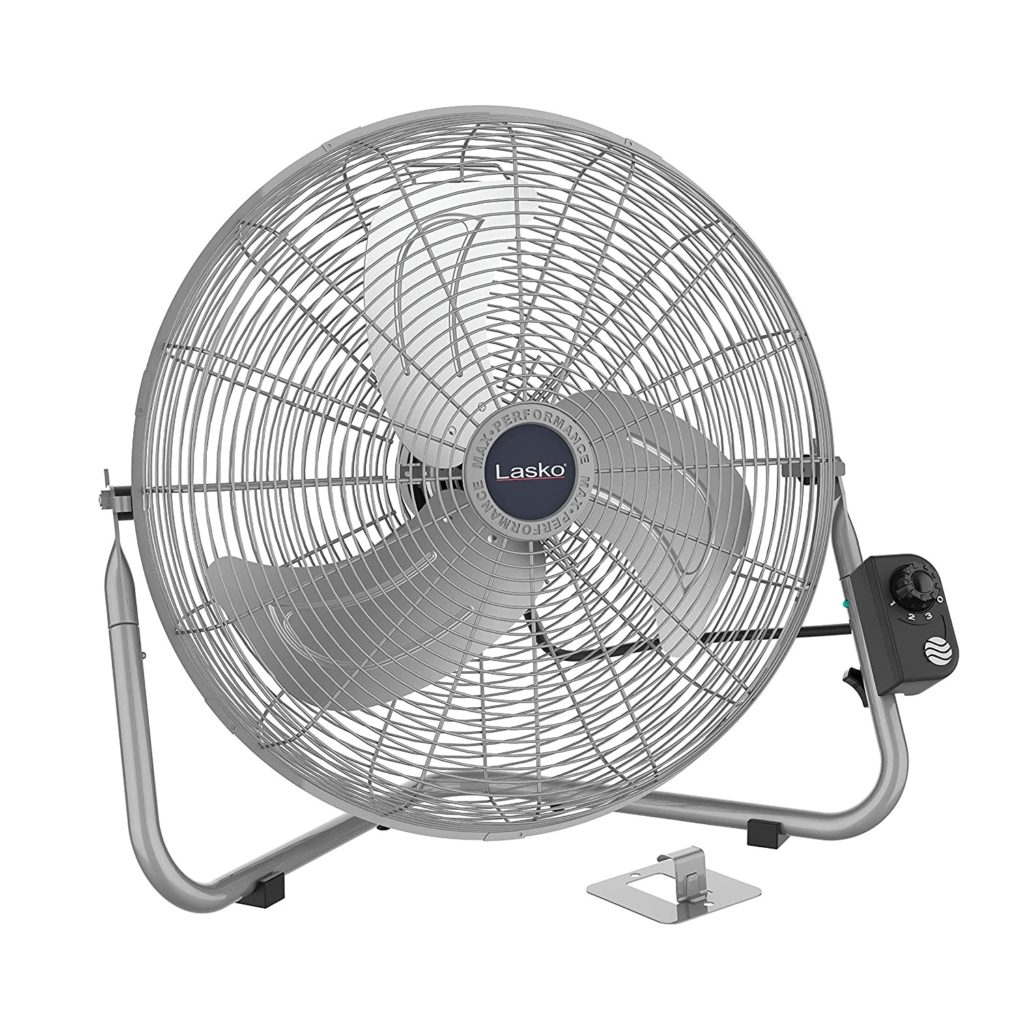 This fan does what its name suggests – high velocity; generates amazingly strong airflow. With the Quick Mount system, it can easily function as a wall or floor fan. The metal cage is made of durable, tubular steel and there are rubber pads on the floor stand to protect surfaces. A built-in handle makes it convenient to move it around as needed.
The Blue Plug safety measure is a trademark of this brand. The manufacturers claim this safety plug cuts off electricity to the device upon detection of an electrical hazard within the motor or power supply. With three powerful speeds and a pivoting fan head, you could customize the airflow. The sturdy build of this product keeps it from shaking or rattling when used on the floor.
Lorell Wall Mount Fan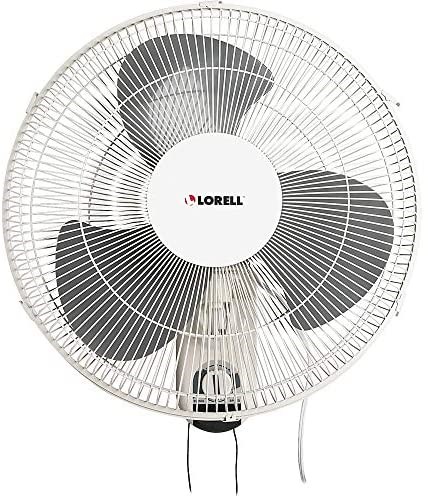 If you're looking for less intense cooling, like something for your bedroom, living room, or basement, this is an affordable option. For the smaller indoor areas, this product is effectively quiet, can deliver adequate cooling, and isn't difficult to mount. In case you need to attach this to a drywall, it'll need to be mounted to wood or metal support.
With a 16″ diameter and three speeds, this fan also has an oscillating head that can be tilted at the desired angle to create a more effective air flow. The pull-chain switch helps control the speed and oscillation. 
NewAir WindPro 18W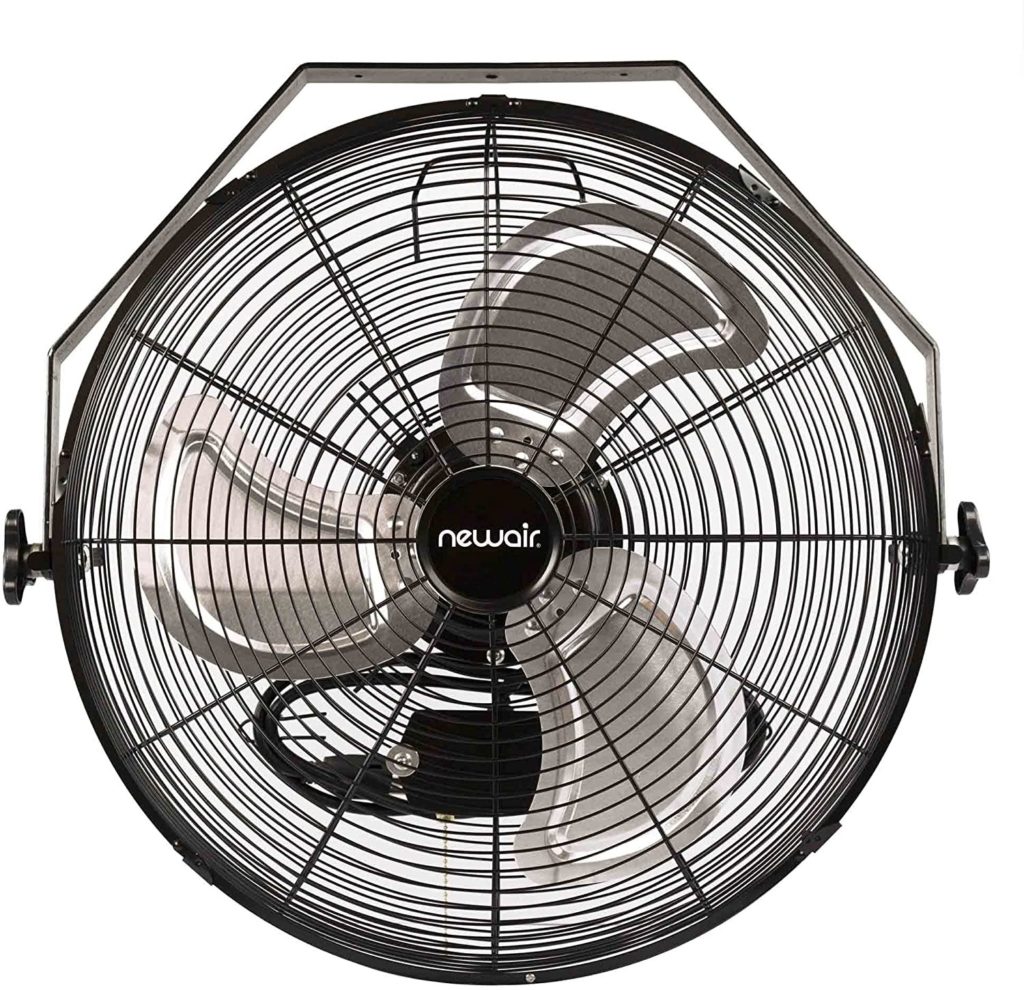 Yet another high velocity product, the energy of its cooling is evident on especially hot days, and is ideal for the garage, greenhouse, shop, or even industrial setting. The powerful, durable metal blades are enclosed in a sturdy metal frame. This model from the brand consists of a dual ball bearing motor that is energy efficient, and lasts longer than other fans in the market.
The low, medium, and high speed settings let you choose how much air circulation you want around you. Also suitable for residential use, this wall mounted fan can be used on the floor without taking up too much space. The frame has four rubber feet that prevent it from skids, slips, or vibrations. Add this to its adjustable tilt, this fan has it all, and at an affordable price.
Final Thoughts
The benefits of wall fans are in itself a motivation to purchase one. Depending on the place of use, the space, and your general requirements, there are numerous options to select from, including some of the best listed out here. This being a one-time investment for a long-term purpose, it wouldn't hurt to take your time and look around before you make up your mind.