A work of art and science, with ultra-modern design and innovative features – are a few of the words that best describe the physical characteristics of the best bladeless fan.
By the looks of it, you will find it hard to decipher where the air is coming from and how the bladeless fan produces it without any visible blades. 
Gone are the days when parents got frustrated when they had to prevent their toddlers from keeping their fingers off the fan.
The seniors will not have to stand up to change the airspeed, and there is no longer a need to shut it off as it doesn't produce white noise that can be quite annoying over time. You now have a bladeless fan to thank for the convenience.
What Is a Bladeless Fan?
Bladeless Fan, also known as an air multiplier, does not consist of any visible blades, unlike any traditional electric fan. These innovative fans produce air from within a hollow that looks like a ring.
It is quieter, more power-efficient, and safer to use than any other fan since it does not consist of blades to produce air.
Benefits of Using a Bladeless Fan 
As mentioned before, bladeless fans provide much better cooling because of the innovative technology used to create them.
Apart from that as well as its appealing, sleek, and elegant look, there is a wealth of benefits in using a bladeless fan, whether at home or at work.
Here are some of them:
Since a bladeless fan does not make use of blades to produce air, it is safer than any other type of fan. There is no more fear of accidentally cutting yourself. In addition to that, your toddler is safer around it. 
The hollow within the ring-like tube makes it easier to clean. A simple wipe with a soft, dry cloth or soft dusting brush should clean the intake holes and loop the amplifier of the bladeless fan. 
Most bladeless fans are controlled by a remote device. There is no need to adjust the fan speed manually every time. Moreover, toddlers will not be able to play with the fan's settings. 
History of Bladeless Fan
Back in 2009, a British inventor and industrial designer named James Dyson, founder of Dyson Ltd, introduced an innovative device called the Dyson Air Multiplier.
Today, the air multiplier is also known as the bladeless fan with an unusual appearance of having no blades. Another notable characteristic of the fan is that it appears to be a circular tube, ring-like, and mounted on a pedestal.
When you look at the bladeless fan, you would not expect it to produce a breeze. Yet, through innovation with a few scientific principles at play and an electronic element, there is no need for the air multiplier or bladeless fan to employ blades in order to produce air.
How Does a Bladeless Fan Work? 
The air multiplier is only called a bladeless fan because the blades are not visible to the eyes, but as a matter of fact, these fans do have blades hidden inside the pedestal stand. In particular, there are nine asymmetrically-aligned blades located within the body shaft.
There are four basic steps that occur in the air production process:
In the suction process, the brushless motor draws in up to 5.28 gallons of 20 liters of air per second, much like the vacuum cleaner. This generates a powerful stream of airflow in the acceleration stage.
Airflow acceleration occurs right after air is drawn in the chamber. Simply put, airflow is accelerated through an annular aperture or the circular tube wherein a 16-degree airfoil-shaped ramp channels its directions.
The third step of the process is the inducement wherein the air flows inside the circular tube or ring in a circular motion. At this stage, the air is also released through small 16mm slits located in the inner part of the hollow ring.
Afterward, the new surrounding air is drawn in through the entrainment stage. The final airflow then amplified up to 15 times the regular speed of conventional fans. 
In a nutshell
Air multiplying technology is applied in designing the bladeless fan. Basically, it is called a bladeless fan and an air multiplier because they are descriptions of how the innovative fan works and looks like.
Through the use of the brushless electric motor, the nine blades are rotated within a controlled speed, which allows the fan to operate relatively quieter.
Reference: https://electronics.howstuffworks.com/gadgets/home/dyson-bladeless-fan.htm
Top 7 Best Bladeless Fan Reviews 
From bladeless tower fans to ones that are for tabletops, explore the beauty of air multiplying technology that does not just cool air but also purifies, heats, and counteracts the effect of dry air. 
Number #1: Dyson Cool AM07 Tower Bladeless Fan

Key Features and Specifications:
Sleeper timer ranging from 15 min to 9 hours.
10 airflow setting options
Infrared remote control and it can be attached magnetically on the top of the fan to keep it safely there.
Available at three colors (White/Silver, Iron Blue, Black/Nickel)
CFM Rating: 1271 cfm in max speed setting
LED digital display, easy to see the reading at night
Dimensions: 9.1 x 9.1 x 39.6 inches
Weight: 9 pound
Looking for a bladeless fan that can be placed on the ground and provides a powerful stream of uninterrupted airflow? Go for Dyson's Cool AM07 with a maximum airflow setting of 500 liters per second!
Dyson Am07 is the most attractive and unique design bladeless fan among all. Anyone will be impressed seeing this air multiplier bladeless fan for the first time. This decorative masterpiece can be placed anywhere in your room without facing too much hassle since its footprint isn't huge. It is slim, sleek and stylish by nature.
Experience strong, cool, and breezy air without sacrificing the peacefulness of the room. Perfect for the living room, bedroom, and even the office space, the Dyson AM07 is jampacked with features that provide you with optimal convenience.
It has a sleep timer feature that allows you to program with preset intervals that range from 15 minutes up to 9 hours. Apart from that, it is remote controlled with 10 airflow settings and oscillation control that allows you to distribute the air in all directions across a room. 
Pros
Most attractive looking fan
Quiet enough
Easy to clean
Smooth air flow
Easy to operate
Lightweight
Durable
Pushes air quite far
Cons
Body is made of plastic
Expensive
Become noisy when speed setting is above 6
---
Number #2: Dyson AM06 Table Bladeless Fan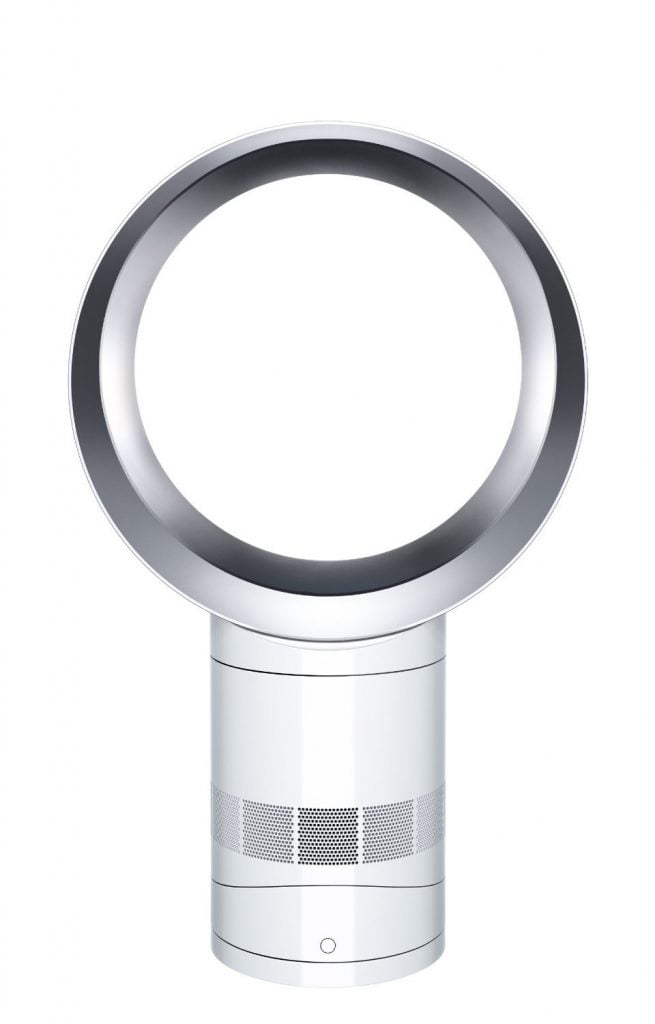 Key Features and Specifications:
Come up with Sleep timer (15 min to 9 hours), 10-speed setting options, and curve magnetize remote control like Dyson AM07.
Weight: 6.7 pounds
Dimensions: 5.8 x 12 x 19.7 inches
CFM rating: average CFM of 569.11
Available colors: 5 (Beige, Black/Iron, Black/Nickel, Blue, White/Silver)
For office and study desks, the 10-inch Dyson AM06 Table unit provides a suitable solution to your ventilation problems.
With a remote control that has 10 airflow settings, you can choose a speed that will allow you to work conveniently without the fear of having your hair sucked by blades or papers flying around.
The best part about the tabletop bladeless fan is it provides strong airflow capacity yet maintains a quiet and peaceful environment. With the oscillation control, which directs airflow throughout your surroundings, you can get the right room temperature for concentrating on your work at hand.
Pros
Barely takes space
Easy to clean
Easy to assemble
Aesthetically beautiful design
Sleek design
Safe for kids
Dustless

Cons
Not very powerful
Loud when speed setting is over 5
Dust easily accumulate around base vent
Made of plastic material

---
Number #3: PureFlow QT7 Table Bladeless Fan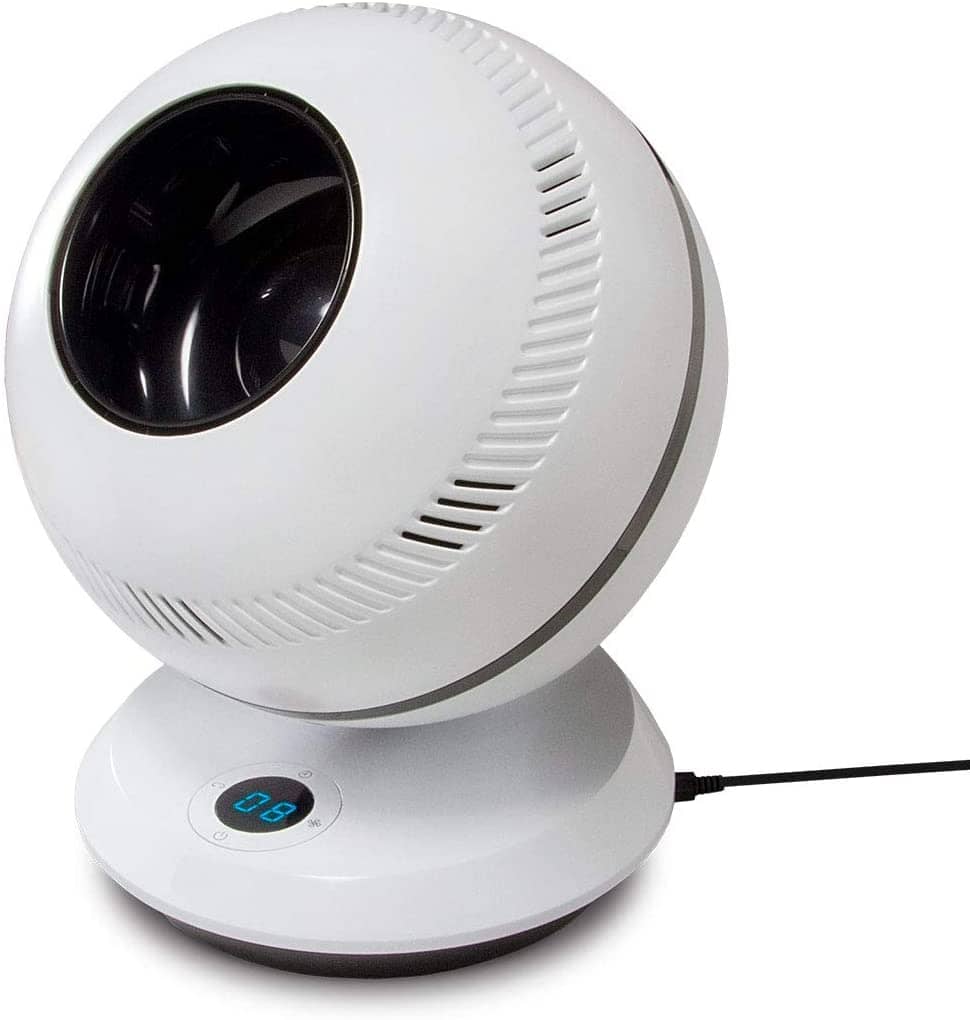 Key Features and Specifications:
Rotating base
Can be tilt 90 degree vertically
It can oscillate 90 degree horizontally
Auto shut off timer can be programmed up to 9 hours
Color: Only white
Weight: 6 pounds
Dimensions: 10.6 x 12.8 x 10.5 inches
CFM Rating: 198 (On average)
If you are looking for a table bladeless fan that can blow air in all directions, go for the PureFlow QT7. It is designed to circulate air throughout an entire room with its unique 90-degree vertical and 90-degree horizontal oscillation control.
Whether you need it for the kitchen or the living room, this fan is perfectly capable of performing at its maximum potential in any location. However, you'll be better off using this fan on tabletops.
From a gentle breeze to a full blow of wind, the airflow or fan speed of the PureFlow QT7 can be adjusted with 12 individual settings.
Regardless of whether you need a little air to blow the steam off your face when cooking or completely air a room to increase the temperature, select within the range airflow settings. 
Pros
Much quiet
Cheap in price but doesn't feel cheaply made
Doesn't take that much space
No assembly needed
Power cord is long enough
Safe for kids
Airflow is smooth and cool

Cons
Remote control beeping sound is annoying
Too much big placing it on desk/table
Light is too bright
Power cord is thin
Constructed with plastic material

---
Number #4: Dyson Hot+Cool HP01 Tower Bladeless Fan

Key Features and Specifications:
Purifies 99% pollutants and allergens from the room automatically
Can be controlled using the apps
Also, it can be controlled by Amazon Alexa
Multifunctional: Heater, Fan, and HEPA Air purifier
Weight: 13.65 pounds
Dimensions: 8.7 x 6.1 x 24.9 inches
It is the best Multi-functional bladeless fan without any compromise! It is a HP01 tower by Dyson with heating and cooling features. Indeed, the Dyson Hot+Cool is the perfect bladeless fan for all seasons. Whether it is summer or winter, you can choose from its 10 airspeed settings.
With automatic shutoff, sleep timer, and oscillation features working together to provide you with the amazing cooling plus heating experience, and the Tower Bladeless Fan is the ultimate home buddy for each member of the family.
For those who have asthmatic and allergic children, the HP01 comprises of a HEPA air purifier that produces clean air for everyone. It can filter 97% of allergens like dust, pollen, and mold spores as tiny as 0.3 microns. With the HP01, you inhale clean air while heating or cooling your room! 
Pros
Heats room quickly
Easy to use with remote and control panel both
Smooth airflow
Quiet in operation
Detailed LED display
Filter the air

Cons
Super expensive
Heat is not strong enough; only flow warm air around
Few control options available
Heavy

---
Number #5: LivePure LP1500 Fan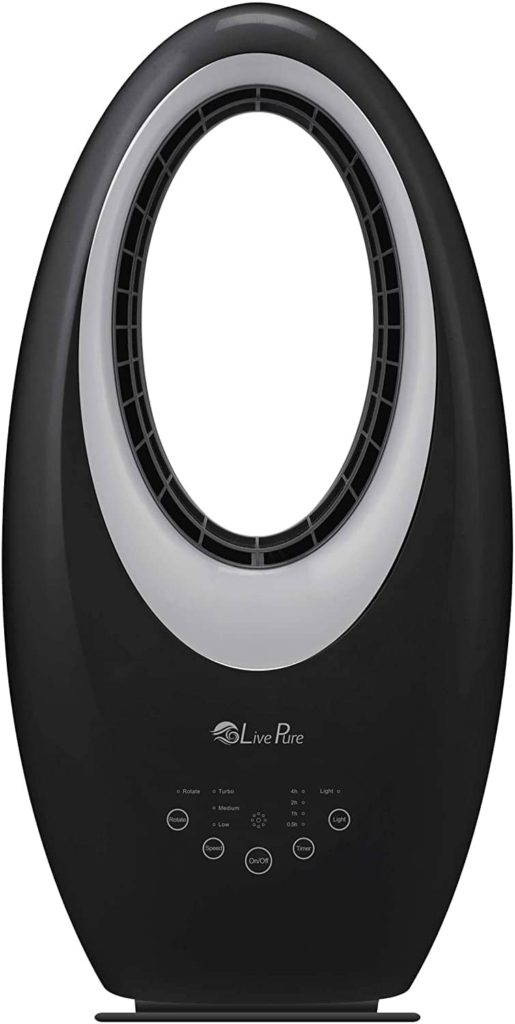 Key Feature and Specifications:
It can oscillate 45 degree
Sleep timer up to 8 hours
Only 3 speed setting option
Soft Touch Control Panel
Color: 2 available (Slate Black, Pearl White)
Weight: 9.05 pounds
Dimensions: 6.7 x 11.5 x 22.4 inches
Can't sleep with the light on but dislike having a table lamp spread illumination across your room? Worry no more!
Take a look at the LivePure LP1500 fan, a bladeless fan that consists of 4-color LED accent light for night light or decoration. You get an instant source of light and, at the same time, have your room reach the right kind of temperature that enables you to have a good night's sleep.
The sleek, modern-designed, and innovative LP1500 also comprises of notable features like the sleep timer with preset intervals of up to 8 hours as well as 3 straightforward and direct fan speeds. Apart from that, you can quickly increase the temperature of the room with its 45-degree oscillation control feature.
Quiet, strong, and aesthetic – that is the LivePure LP1500; perfect for minimal spaces like your bedroom, study nook, or kitchen!
Pros
Stylish and modern
Great night light
Quiet
powerful enough even at low speed setting
Dependable functionality
Price is reasonable

Cons
Generate weird rattle when oscillating
Clicking sound is too much loud
No tilt function available
LED indicator lights are too bright
Bulky
No LED display

---
Number #6: MeetSun Electric Bladeless Fan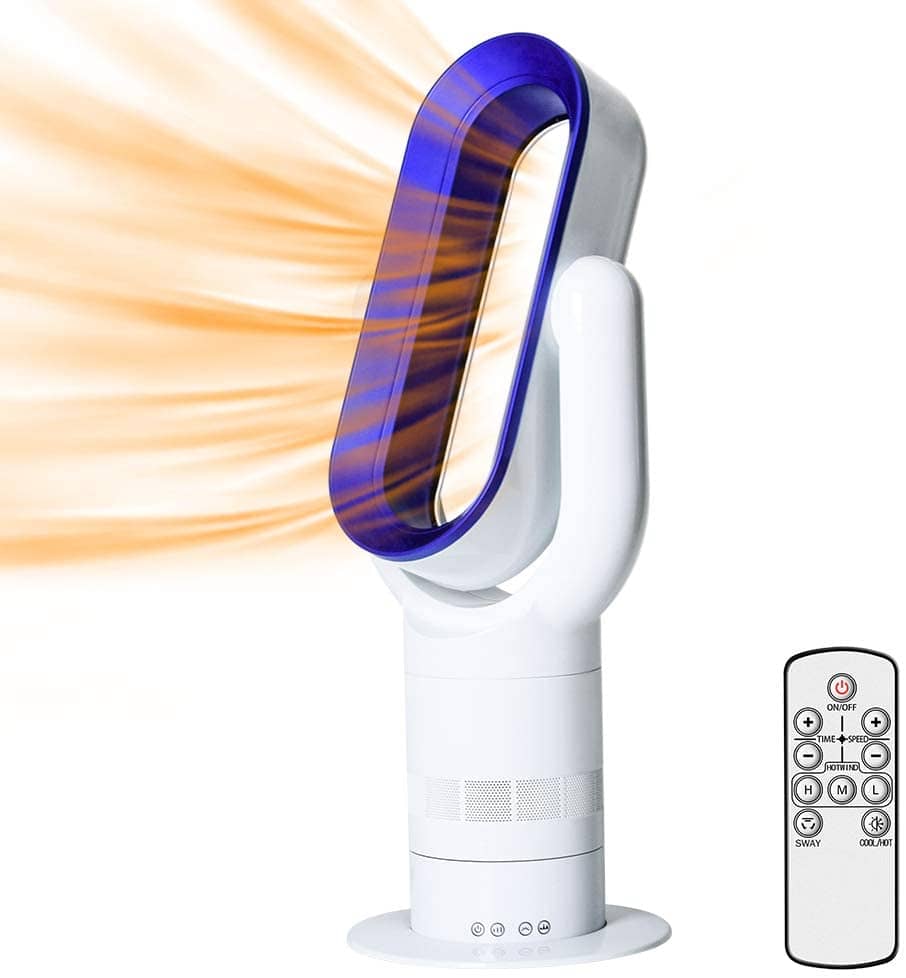 If bladeless fans were humans, MeetSun Electric is probably a jack-of-all-trades. The bladeless fan serves you during the rainy or sunny season! Quickly heat your room during the winter or cool it when summertime comes. 
The MeetSun electric acts as an air purifier in spring and a dehumidifier when the season gets wet. Control the temperature of the room with its automatic swing angle adjustment function from 180-degree horizontal to 90-degree vertical tilt.
To make the bladeless fan smarter and more innovative, it consists of an intelligent thermostat that monitors the room to reach and maintain the selected temperature in heat and cool mode to ensure there is no wasted energy.
Apart from that, the bladeless fan automatically shuts off when tipped over by your toddler or furry friend. Indeed, the MeetSun Electric is energy-saving, quiet, safe, and easy to use with its remote-controlled features. 
---
Number #7: Lasko AC615 Bladeless Tower Fan

The AC615 tower bladeless model is the only sleeping buddy you need. It circulates air, moves stuffy and moist moving around the space, and dims the controlled display.
Besides the fact that it is a bladeless fan and employs air multiplying technology, it is also outstanding how it can set the fan speed on the highest. This is to provide optimal cooling or heating experience, which gradually lowers down every hour in the night.
If your air conditioning system is doing a poor job in circulating cold air in your room, the Lasko AC615 can save the night! The remote-controlled bladeless fan enables you to preset the programmable 8-hour timer to ensure the saving of energy, control the 4-airspeed setting, and the optional oscillation feature. 
---
Things to Consider Before Buying 
The many reasons why innovative products sit on the store shelves for so long is because the consumer market is skeptical about conventional, hence, taking a leap of faith. We understand that shopping for a bladeless fan can be quite daunting.
With that in mind, read on to learn the factors to consider when picking the best bladeless fans as well as tips on how to use them as well. 
Noise-Level
Bladeless fans are said to be almost 75% quieter than regular conventional fans. The enclosure of motor and blades within the base or the body of the device tremendously reduces the noise produced by the circular motion of the air.
An efficiently quiet fan is marked by the Noise Abatement Society with a Quiet Mark award. Commercial brands, especially those manufacturers of devices and machines used as everyday commodities, are awarded if they reduce the noise pollution as produced by other similar products. 
Energy Efficiency
Bladeless fans work with a simple mechanism. They basically draw air in and push it out. In addition to that, the air multiplying technology allows the bladeless fan to operate efficiently without consuming plenty of electricity. 
Airflow Capacity
Brushless electric motor used by bladeless fans works like a jet engine that sucks in the air into a cyclone accelerator. The air is amplified to 15 to 18 percent more before blowing it out over an airfoil-shaped ramp and then finally through the inner slits.
Since these fans employ air multiplying technology, it can draw in the air at 20 liters per second should have the capacity to pump out as much as 300 liters of air per second. 
Other Features
Aside from the main factors for buying one of these fans, take a look at some of the features that should increase the convenience and usability of it. 
The height adjustment is a feature that allows users to control the positioning of airflow. Most of the bladeless fans available in the market can be adjusted up to 5 feet tall.
If you plan to put the bladeless fan on tabletops, there is no need for you to look for this feature in fans as it can be an added cost to the price tag. Whereas if you plan to locate it on either the ground or on top of tables, then it is best to find a bladeless fan whose height can be adjusted. 
Other bladeless fans come with voice control features. It basically allows you to navigate the settings of the fan through verbal commands. Fans like these are quite costly because of the lack of physical human intervention, and everything is basically for the convenience of the user.
Look for bladeless fans with a remote control that has 10 precise airflow settings, a sleep timer, and oscillation control. Some fans have remote controls that are curved in appearance and have magnetized features, which means you can easily store it in the body of the fan to prevent losing it. 
Oscillating is a common feature of conventional fans. They allow the entire head where blades are attached to swing from side to side. The same goes for the bladeless fan. If you need a bladeless fan that distributes air 180 degrees, then look for one that has an oscillation feature. 
Final Words 
There you go! You have learned of some of the best bladeless fans available in the market with their own unique product propositions and unparalleled features. This should enable you to select the one that ideally suits your interests as well as fits your requirements.
Lastly, take note of the factors to consider when buying as well as the features to watch out for.