Benefits of Remote-Controlled Ceiling Fans
When the weather is insanely hot, it would be nice to have something to cool you right off while not costing a fortune, right?
A remote-controlled ceiling fan is perfect for such hot summer days and sleepless nights. It not only cools down the room but also creates an excellent, fantastic feeling, saving up a ton of electricity.
These and many more are the benefits of having a remote-controlled ceiling fan. Keep reading to find out all the good sides and some of the bad ones too.
Benefits of Owning A Remote-Controlled Ceiling Fan
 Remote-controlled ceiling fans have a significant number of benefits. Here are some of them:
Comfortable, Effective, and Energy-Efficient
Comfortable and practical are 2 main adjectives that best describe the remote-controlled ceiling fans! 
They provide the comfort of switching the speed, blade direction, and lighting with a single click on the remote. You will never have to get up from the sofa! 
These fans are an excellent option for anyone, especially older adults. If a person is old and immobile, it can come in handy to have a remote to control the temperature and the room lighting.
Modern ceiling fans have multiple features like a powerful, reversible motor that offers a quick change in the direction of the blades, LED lighting fixtures, remote time control, sleep, and multiple-speed options.   
Another great benefit apart from the modern ceiling fans' styles is that almost all of them are marked with the "Energy Star." Energy star classification means that a ceiling fan was rated very efficient when saving electricity.  
Keeping in Touch With the Modern Technology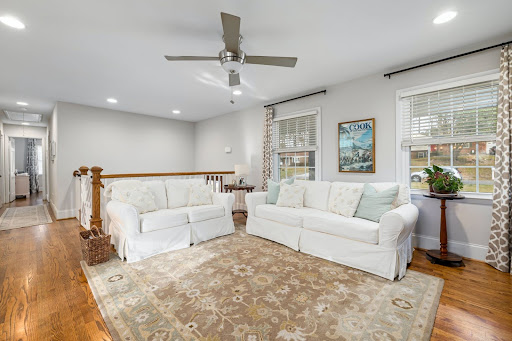 We all like to feel young by keeping in touch with the latest technology. Some of us do that by buying a new smartphone, while others prefer enhancing their home décor with a beautiful but valuable, modern ceiling fan.
Many ceiling fans on the market come with the ultimate modernistic design features. 
Aside from being so quiet that you wouldn't notice they are even there, they come with integrated LED lighting, easy remote-controlling, fresh colors, and a slick design with bronze and nickel finishes.
It will be easy to get used to it, right?   
Simplicity and Accessibility
Simplicity and accessibility are other great benefits of remote-controlled ceiling fans. They come with reasonably simple installing instructions.
This is the best solution if your apartment cannot get wired in the ceiling. Aside from the easy installation, many modern fans can be controlled via one standard wall switch.
This is especially helpful for prominent places that have many ceiling fans. A wall-mounted switch that controls all the fans is an ideal solution.
Cons of the Remote-Controlled Ceiling Fans
Hold on there! It is not all rainbows and rays of sunshine. Remote-controlled ceiling fans have some drawbacks as well. Here is the list:
Undependable Remotes – We know remotes get easily broken or forgotten under the couch. Therefore, they are not the most dependable solution.  
Pricey – Regardless of the number of blades, modern fans that can be remotely controlled are usually more expensive than traditional pull chains. So, the cost is a pretty big factor here. 

Additional Maintenance – Extra batteries, remote control maintenance, and extra bulbs are things we don't like to worry about. But, they are an essential part of remote-controlled ceiling fans. 
They Need A Little Getting Used To – Though modern is excellent, it is not always easy to get used to. There are buttons and switches that you need to get to learn before you can control your ceiling fan from afar. There is a high chance that older people will have a hard time learning how to use it. 
The Remote Gets Easily Lost – Well, there is no need to explain this! Remotes get lost; that is the way it works. We may not understand how it happens, but it happens to all of us, and it is very frustrating.  
The Best Remote-Controlled Ceiling Fans
If you decided to keep up with the technology and buy a cool remotely-controlled ceiling fan for your home, here are the top options:
No products found.
No products found.
No products found.
The Clarity 3 Standard Ceiling fan is one of the most modern and sleek remote-controlled ceiling fans. It comes with 3 different speeds and offers 4 different color options.
The ceiling fan is 52 inches and fits well in any medium-sized room. The remote control is a 2-in-1: wall-mount and handheld. The blades are reversible, and an LED lighting kit (certified as an energy star) is included.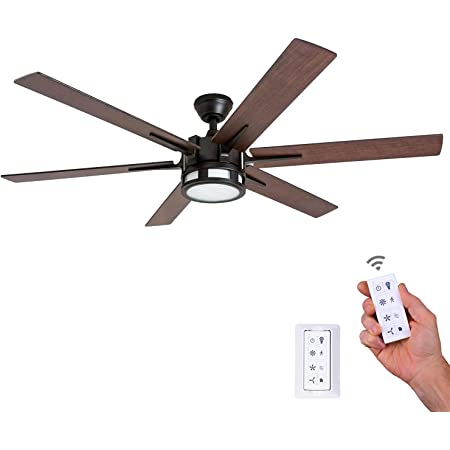 No products found.
The Honeywell electric ceiling fan is one of the most popular choices amongst buyers. 
It is both powerful and quiet and comes with integrated LED lights that are completely dimmable.
The remote control lets you choose between 3-speed options and connect the ceiling fan with Google or Alexa. The 56-inch ceiling fan fits large rooms perfectly, and it comes with 6 blades in gray oak and light oak color.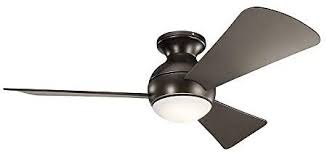 No products found.
This 56-inch ceiling fan comes in two finishes: one with brushed nickel and blades in silver color and another with old bronze and oak blades. The ceiling fan can be controlled via remote or by wall control.
It has integrated LED lighting and a powerful, reversible motor. This five-blade ceiling fan is suitable for sloped ceilings and damp locations. It is also certified as an energy star.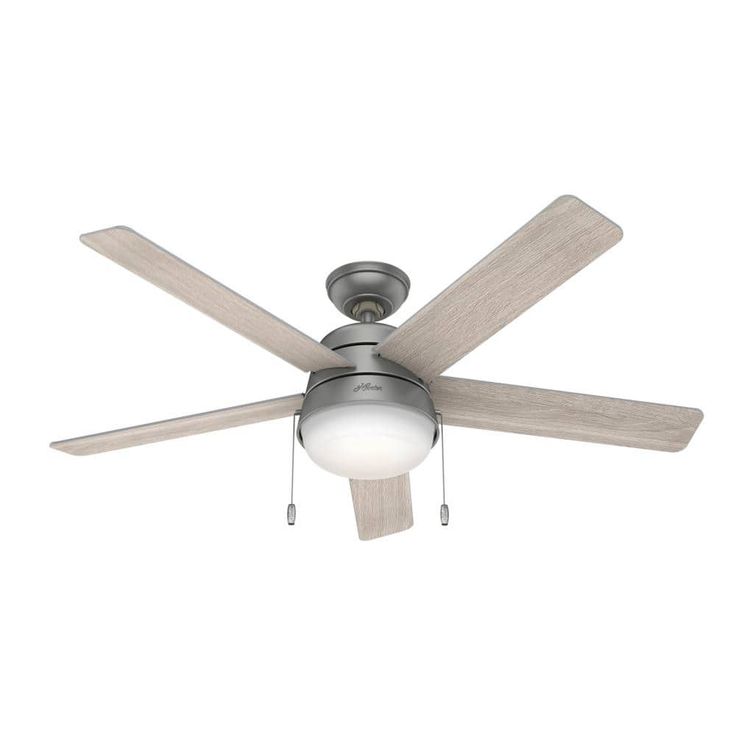 The Kempton ceiling fan comes from the Hunter fan family. It has a rustic design and 54-inch blades. It comes with 6 blades and 2 LED lamps.
It provides the ultimate airflow and is ideal for large rooms.
FAQs
How do remote-control ceiling fans work?
Remote-controlled ceiling fans work via receivers and transmitters – they transfer the information from the remote control to the power supply of the ceiling fan. The transmitter is located in the remote while the receiver is connected to a power supply inside the fan.
What are the pros of modern ceiling fans?
There are many benefits of having a modern ceiling fan. They help produce better airflow, lower electricity bills, offer extra lighting, operate quietly and efficiently, and have a sleek, urban design.
How to hard-wire a ceiling fan?
The procedure requires you to connect the fan's power supply to your ceiling. On the roof, a hard-wiring needs to be connected to the fan for you to control it via a wall switch.