Are Honeywell Ceiling Fans Good?
If you are in the market for new modern ceiling fans, one of the names you have most likely heard is Honeywell. After all, Honeywell ceiling fans are reputed for their quality, both indoors and outdoors.
This article will review a few of the most common Honeywell ceiling fan models so that you can make an informed decision regarding whether or not this brand is suitable for you.
Additionally, the Honeywell ceiling fan reviews will also give you an idea regarding what sort of features and characteristics to expect from this company.
What makes a Honeywell ceiling fan special?
Before delving into specific reviews, it is worth understanding what all the fuss is about, to begin with. Why even consider Honeywell specifically rather than any other company making contemporary ceiling fans?
The answer comes in the form of a few aspects that are common among all of Honeywell's offerings.
Honeywell fans have premium electrical components that confer a series of advantages.
This decreases lifetime operational costs making the fans more cost-efficient the longer you use them.
Another benefit of the higher quality alloys is that the fans are rated to last for longer. In fact, Honeywell is so confident about the lifespan of their ceiling fans that they offer a lifetime warranty on them.
This is a useful feature during the winters when it can help spread warm air from heaters across large rooms.
Honeywell ceiling fans come in a variety of different aesthetics anything from an industrial style to the classic wood style finish, the Honeywell store is chock full of beautiful ceiling fans.
With that said, it's now time to jump in and review a few of the options available to give you a taste of what you can expect from Honeywell ceiling fans.
No products found.
1) Honeywell Xerxes Indoor Ceiling Fan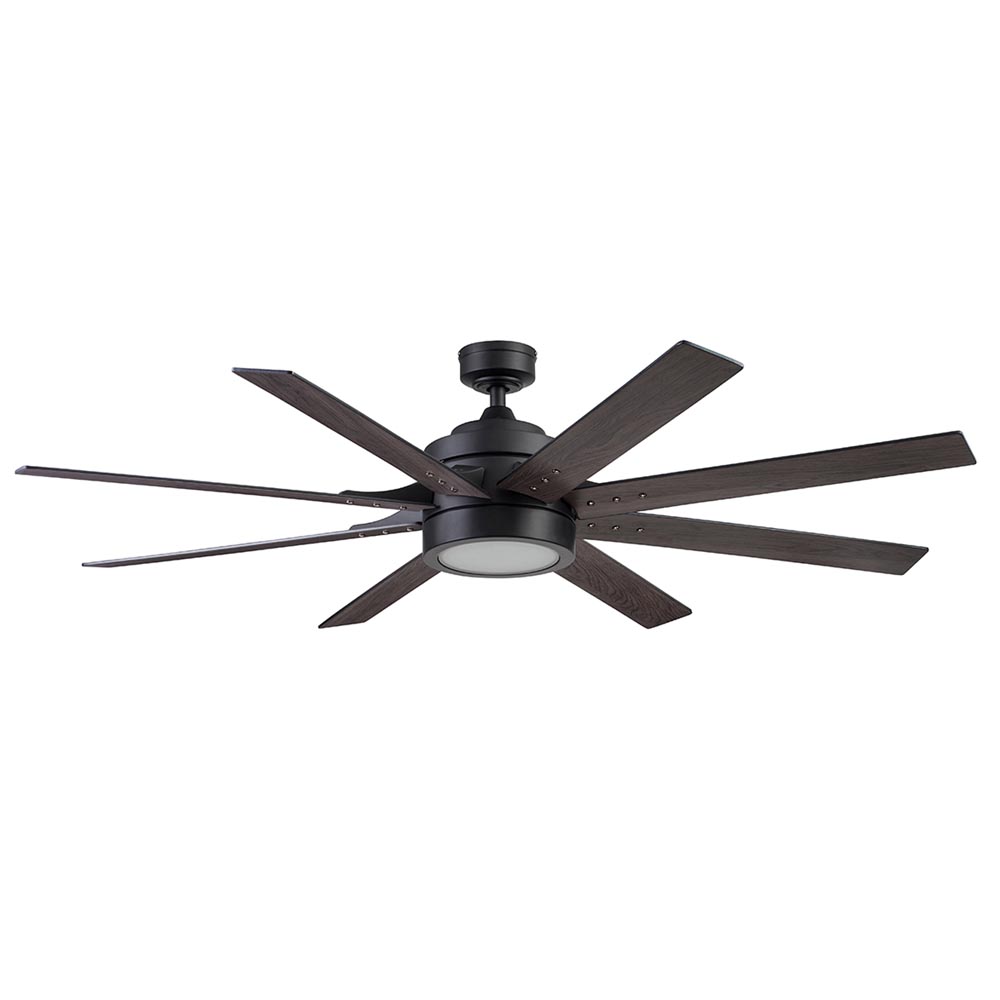 No products found.
The Xerxes is an indoor ceiling fan that is on the higher end of options available. This ceiling fan is relatively large with a diameter of 62 inches- This makes it particularly suitable for dining rooms or common spaces within buildings as it can ventilate a larger area.
Additionally, the Xerxes comes with eight reversible fan blades, a number much larger than the standard 3 or 5 found in most ceiling fans. This confers it a few distinct advantages. 
Firstly, the inclusion of additional blades means that the fan can generate the same amount of ventilation at a lower number of rotations per minute. This makes it significantly quieter than a ceiling fan that has fewer blades and has to spin really fast to compensate.
And the Xerxes comes with a fully integrated LED light fixture that generates 1400 lumens. The fixture itself is sturdy and industrial, fitting the rest of the style of the fan.
The solid metal matte black finish exudes quality and a premium feel. 
The reversible blades themselves feature different finishes on each side so that the aesthetic can match that of the room. This helps ensure the ceiling fan has a noticeable presence in any room.
Fitting with the premium nature of the product, the Xerxes also comes with a remote control allowing you to operate the various fan speed settings without having to get up and go to the switchboard. A feature that greatly increases convenience.
Overall, considering the price of this offering is about 420 USD and can be gotten for a significant discount during sales the value for money offered by one of the best ceiling fans out there is considerable.
Honeywell Xerxes Indoor Ceiling Fan Also Available At:
2) Honeywell Barcadero Indoor Ceiling Fan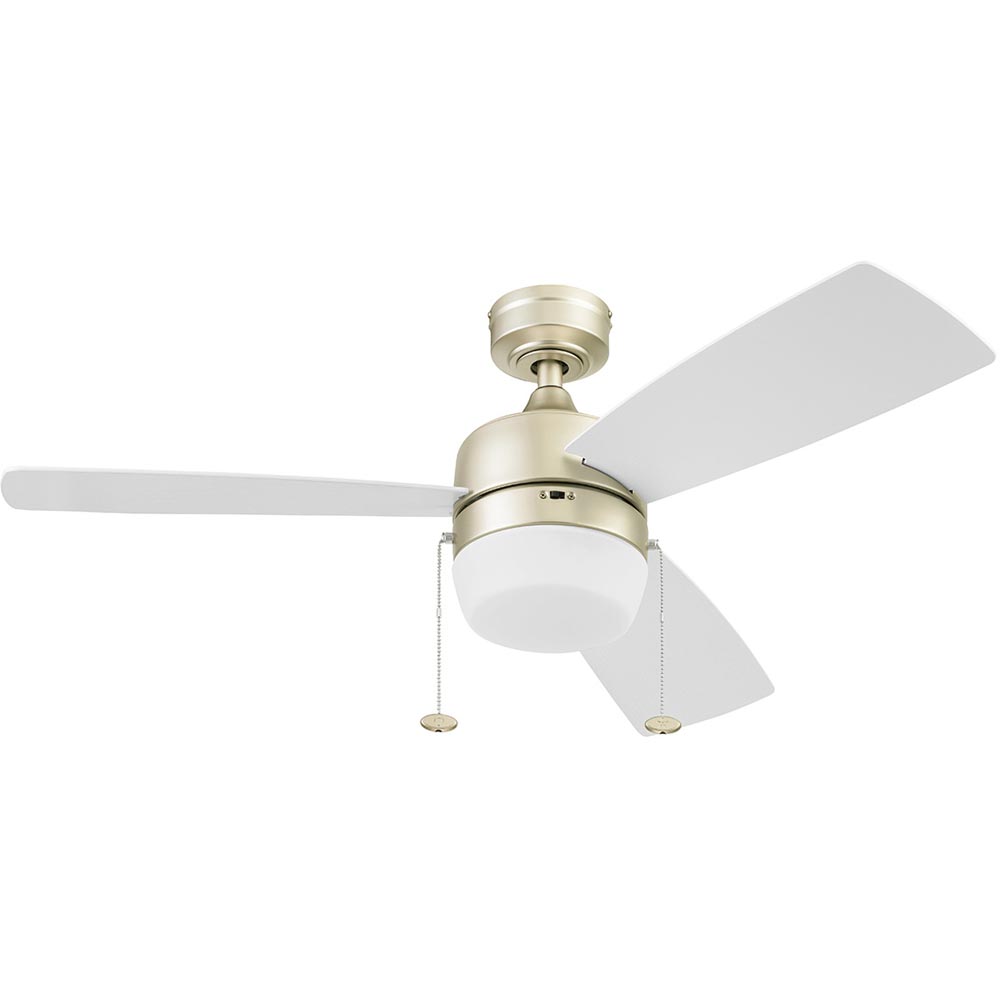 No products found.
The Barcadero is another ceiling fan that stands out as a great choice. This one is geared towards a more budget-conscious segment of the market which meant that it lacks a few of the features of the larger Xerxes.
The Barcadero is a bit of a smaller fan that is geared towards compact spaces where there is low ceiling room. However, the 44-inch diameter of this ceiling fan is still enough to provide ample cool air as long as it is installed in a space that is of appropriate size.
Like most Honeywell fans, the Barcadero also comes with a built-in LED light bulb. The light kit itself is encased in a frosted glass holder.
The fan also comes with a gold-tipped pull chain to allow for convenient access. If you prefer, however, there is also the option to use a universal fan remote control with this ceiling fan so that you can control it from the comfort of your seat.
Aesthetically, the Barcadero features a matte gold metal frame. This is paired with another set of reversible fan blades that are either honey oak or white depending upon which side is used.
The relatively light colors and the smaller size means this ceiling fan will be at home in an airy or bright room.
Honeywell Barcadero Indoor Ceiling Fan Also Available At:
3) Honeywell Glen Alden Indoor Ceiling Fan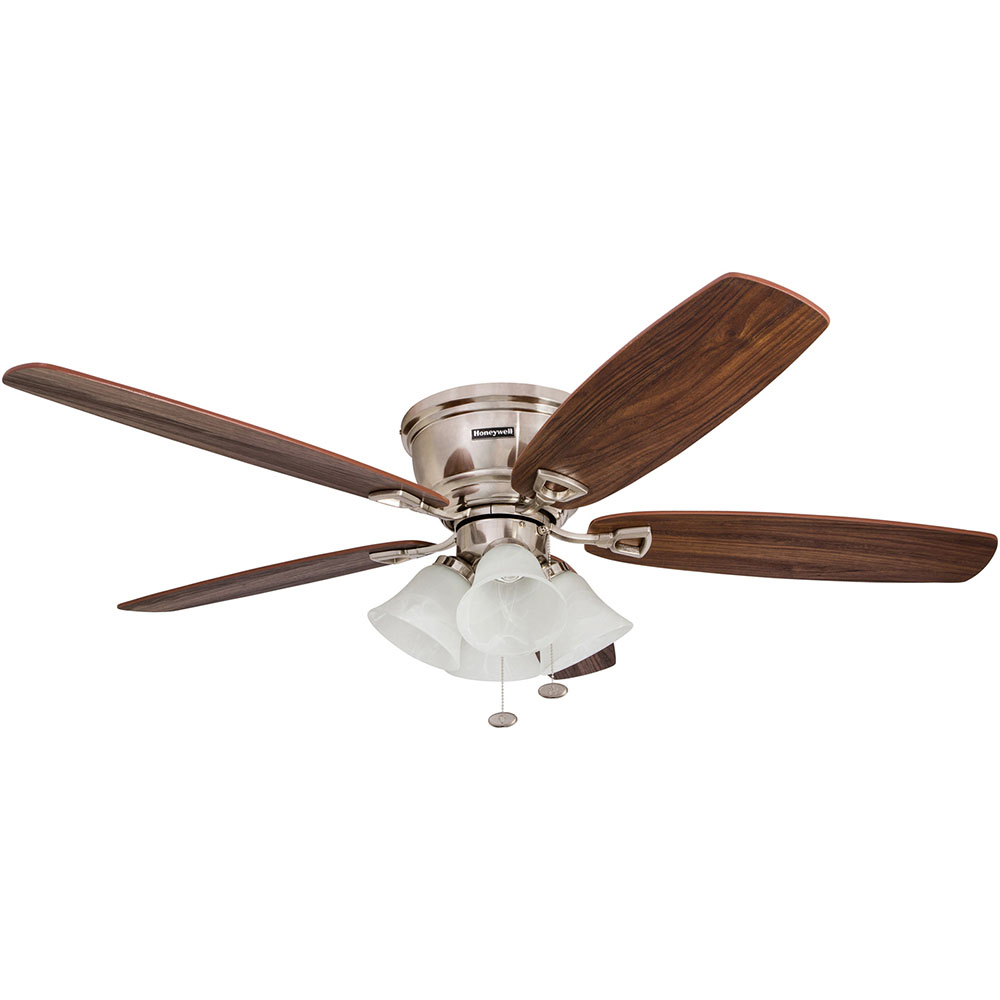 No products found.
The Glen Alden ceiling fan is another budget option that looks anything but. This fan features multiple light bulbs held in a downward-facing light fixture which make it very bright, almost replacing the need for dedicated room lights.
This model also has some unique qualities to it that differentiate it from other ceiling fans. For example, the ceiling mount on the Glen Alden ceiling fan is flush mounted.
This means that there is very little wasted space between the fan and the ceiling. Due to this, the Glen Alden is perfect for rooms with relatively low roofs where other ceiling fans would struggle.
Another stand-out feature of the Glen Alden is that it features easy-to-install blades. Instead of over a dozen screws that you would individually have to put in place.
This ceiling fan features quick attach blades that require no professional installation. This saves on, both, installation costs and time as you can simply do the job yourself without having to hire a professional.
Finally, aesthetically, the blades themselves have a wooden texture whereas the body and frame of the fan come in multiple options. This allows you to make many different customizable color schemes to match closely the look you are trying to go for in your home.
Considering the Glen Alden comes with all these quality of life features, the price is surprisingly low at only 140 USD, making it a suitable option for many users looking to find good value for money.
Honeywell Glen Alden Indoor Ceiling Fan Also Available At:
4) Honeywell Belmar Indoor & Outdoor Ceiling Fan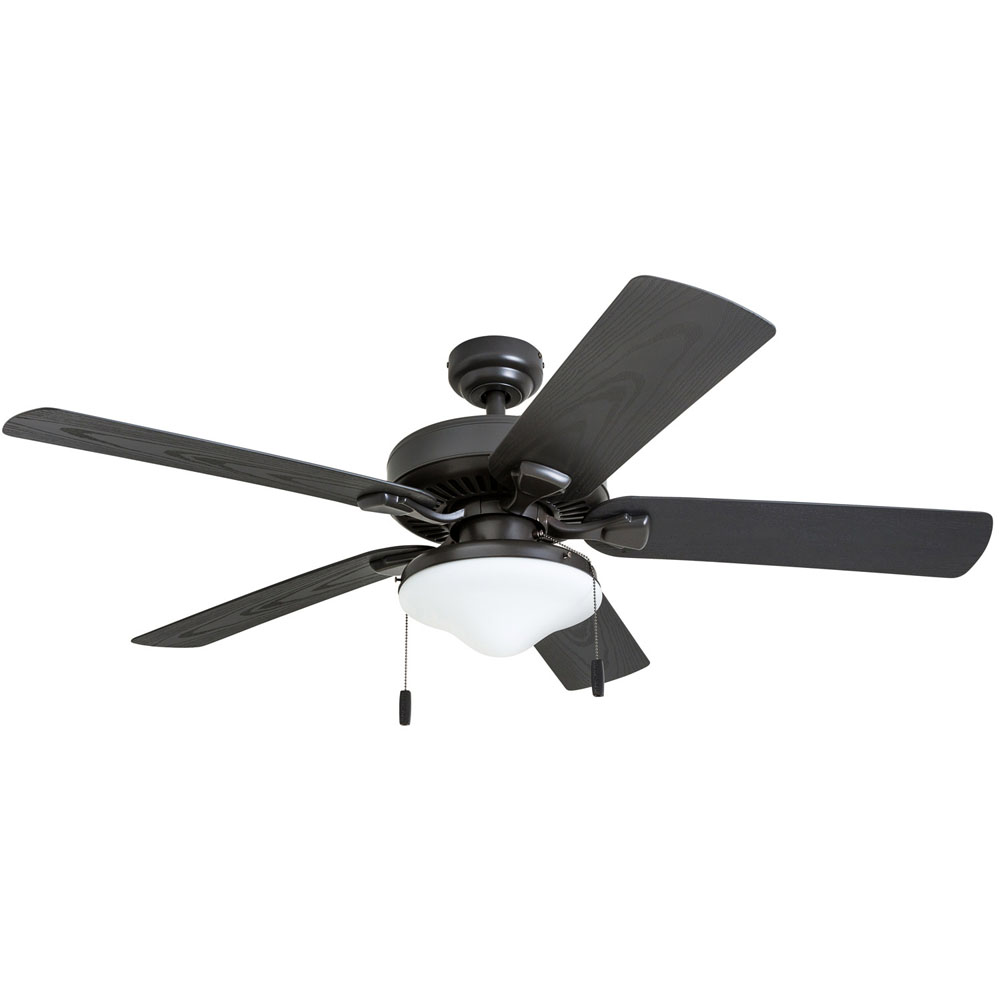 No products found.
The Honeywell Belmar ceiling fan is the first fan on this list that can be used both indoors and outdoors. This is achieved by innovation in the material choice of the fan blades. 
Ordinary blades have a tendency to bend when used outdoors as the elements and the weather take their toll. Hence for the Belmar outdoor ceiling fan, Honeywell chose to use premium plastic for the construction of the fan blades.
Moreover, the Belmar is also a damp-rated ceiling fan which makes it suitable even in conditions where there is moisture in the air such as fog or when it rains, as long as not too much water hits the fan directly.
Like most of Honeywell's ceiling fans, this one also comes with a series of ease-of-use features. The first is the inclusion of plastic pull chains that will resist the elements just as well as the blades. 
There is also the option to use a universal ceiling fan remote control with this fan, allowing you to operate it from further away. This feature is particularly convenient during outdoor use where the distances may be larger.
The Belmar also features an integrated light like most of the fans on this list. The light itself is LED with a frosted covering. However, what differentiates this ceiling fan from the rest is that you can replace the central bulb holder with a cap that does not feature light bulbs. 
This is useful because when using lights outdoors there is a tendency for insects and other unwanted wildlife to be attracted to the light source. Hence removing the lights altogether can prevent that problem.
The Belmar itself features a dark matte black finish which makes it perfect for stealthy operation when you do not want your new ceiling fan to be too noticeable or interfere with the rest of the outdoors aesthetic in your gazebo or patio.
Honeywell Belmar Indoor & Outdoor Ceiling Fan Also Available At:
5) Honeywell Carnegie Indoor Ceiling Fan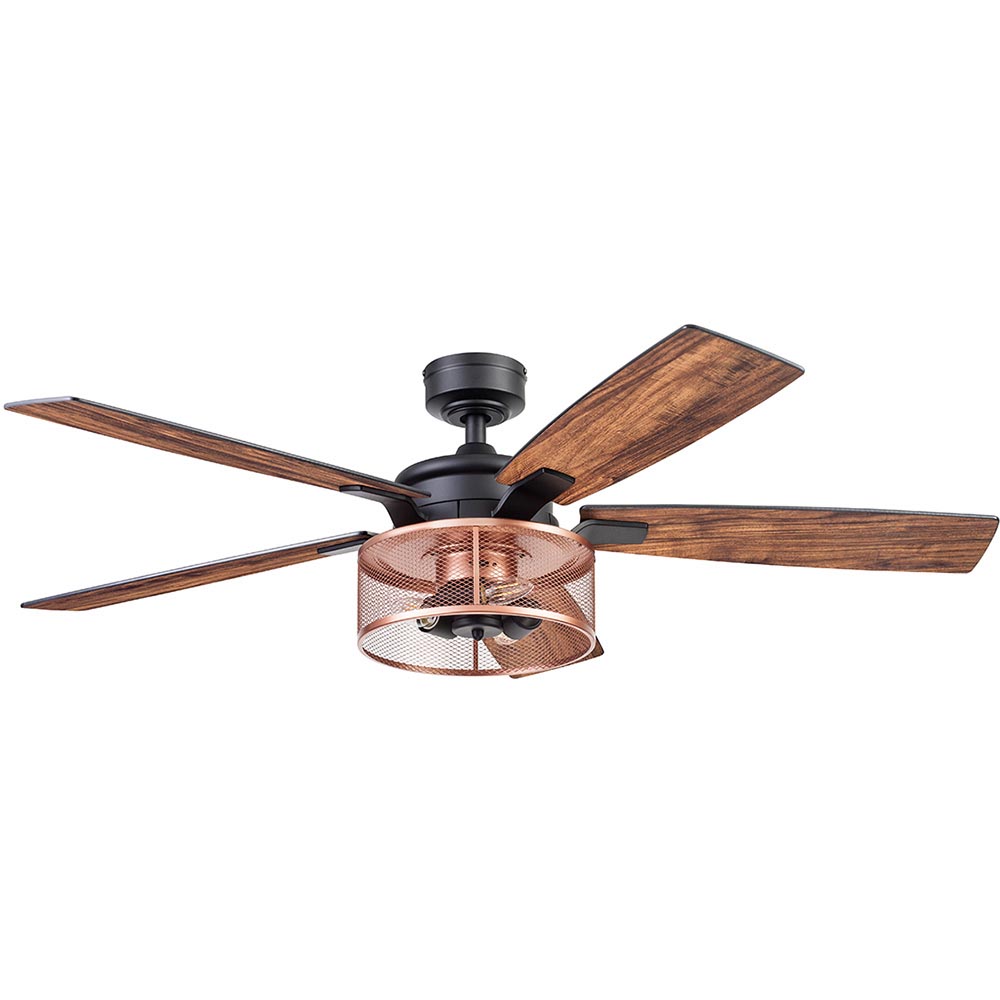 No products found.
A mid-range option, the Honeywell Carnegie ceiling fan is perhaps aesthetically the best ceiling fan on this list. The metal ceiling fan features a rustic design that is available in different color schemes such as rusted copper, matte black, or pewter.
The unique charm offered by these color schemes is one thing, however, this ceiling fan also includes an older style candelabra light with Edison bulbs that give this ceiling fan a unique and charming look.
Much like most of the other best ceiling fans, the Carnegie features a reversible motor as well as reversible blades. You can pick between burnt wood and mopane dark wood blades depending on the side that you choose to have to face downwards. 
These give the fan an incredible ability to fit well in any room aesthetic owing to the numerous color combinations that are possible with such a modular design.
The Carnegie ceiling fan also comes with remote control included. This increases creature comforts when using this stylish fan. The addition of a remote control helps as this fan does not have a pull chain.
Due to this, the remote control does the crucial job of replacing the pull chain as the primary means of operation.
Considering the premium and unique aesthetic of this ceiling fan the fact that it has a decent diameter size of 52 inches means that it can work well above a dining room table or in the drawing room above a fireplace.
Thanks to the unique aesthetic offered by this ceiling fan it is likely that guests will appreciate it.
It is worth noting, however, that with a sticker price of 280 USD, stylish fans do not come cheap. However, if you are patient and spot it on sale, you can grab a Carnegie ceiling fan for yourself for prices as low as 220 USD.
Honeywell Carnegie Indoor Ceiling Fan Also Available At:
Honeywell Ceiling Fan Reviews – Conclusion
The ceiling fans discussed in this review offer a diverse set of features, aesthetics, and price ranges. This is a common theme when looking at the collection of fans offered by Honeywell. The sheer number of options available is in itself incredible. 
Additionally, it is important to consider the fact that fans reviewed in this article are only the tip of the iceberg as far as the full collection of options is concerned.
However, when it comes to buying your own ceiling fan we recommend some due diligence. There are a few things to consider before going ahead and making the purchase.
Firstly, it is important to know what the requirements of your space are. How large is it? that will inform what diameter the fan blades should be. Very long rotor blades in a small area would simply look awkward.
Secondly, you must consider whether you need a ceiling fan with indoor or outdoor ratings. Generally speaking, a fan designed for the outdoors will be slightly more expensive, however, it will also be more durable simply because it is designed for rougher conditions.
If you expect your fan to be indoors and not encounter any moisture then an indoor fan will work just fine.
Similarly, there are a whole host of personal preferences such as the inclusion of remote control or the number of speed settings that will help inform your decision regarding what ceiling fan works the best for your own needs and budget.
We, however, hope that this article provided you with some clarity regarding what ceiling fan to select and purchase for your home and business. We wish you the best of luck for this endeavor!