8 Cooling Fans That Work Like Air Conditioners
Heat is something you just cannot reckon with. If it's really cold, you can wear many layers and bundle up in bed if bad comes to worse. But with heat, there is no way to get around it. Even if you take off all your clothes, you will still be uncomfortable.
Most people resort to using an air conditioner or cooler in such situations, but these are not solutions everyone can accommodate. This is because buying an air conditioner is a fairly expensive business, and coolers just don't do the job very well.
Why You Shouldn't Use an Air Conditioner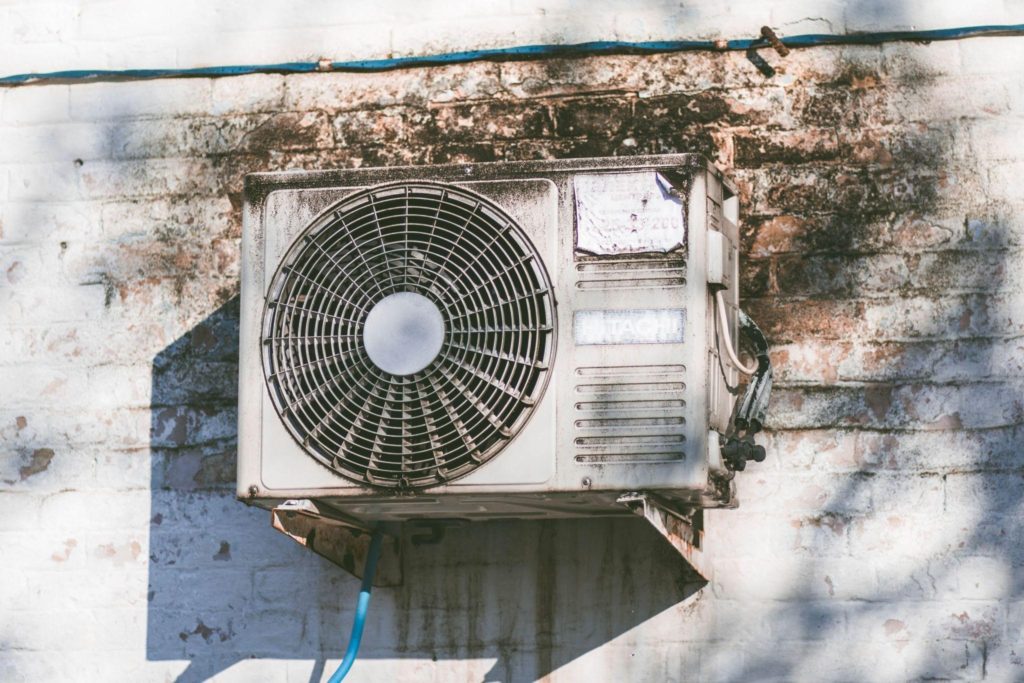 Although very popular, there are many reasons why people shouldn't use an air conditioner. We shall mention a few of them here.
They are bad for the environment producing greenhouse gases.
If not maintained well, it can harm your health.
It dries out your skin.
Worsens asthma and allergies.
What Can You Use Instead of an Air Conditioner
Here are some great alternatives to air conditioners that are easy on the pockets.
Ceiling Fans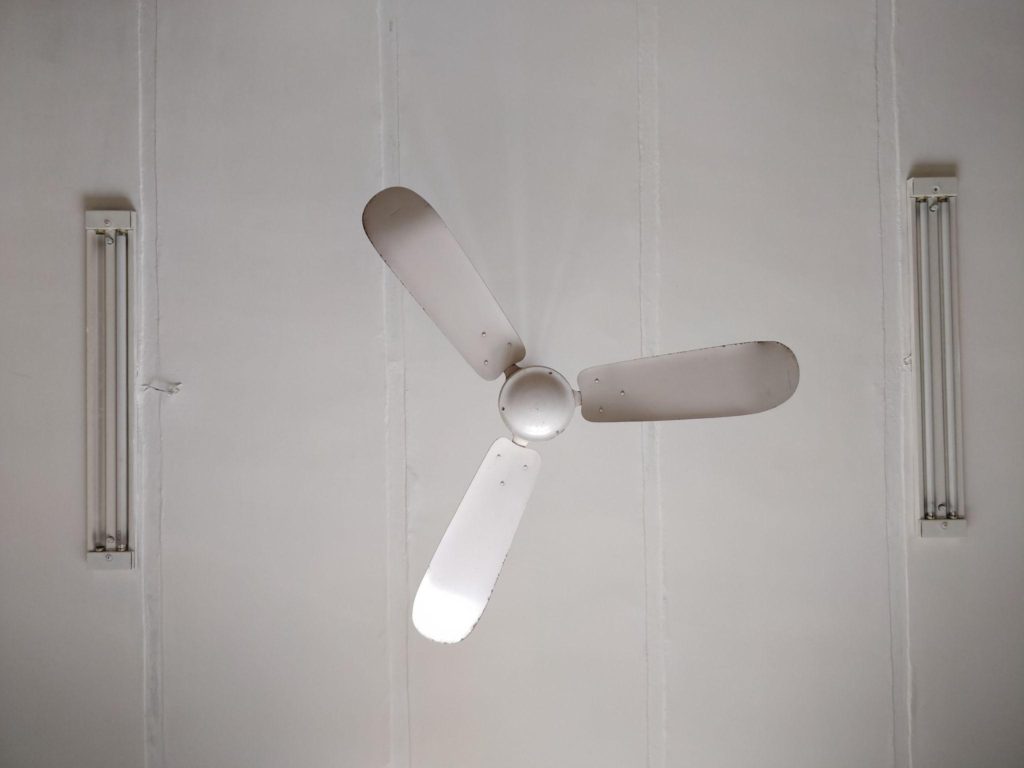 Inexpensive and an all-time classic, ceiling fans are great to beat the heat. You can read up all you need to know about ceiling fans on our site. They are great if you want the air to spread evenly throughout the room.
Wall Mounted Fans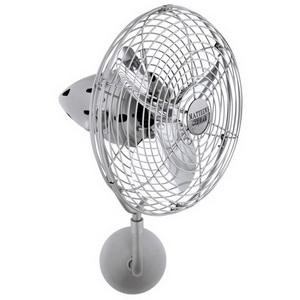 These are great if you do not already have fan hooks on your ceiling or have a high ceiling. Wall Mounted Fans, however, have limited coverage and work well only if more than one fan is used to keep the room cool.
Room Coolers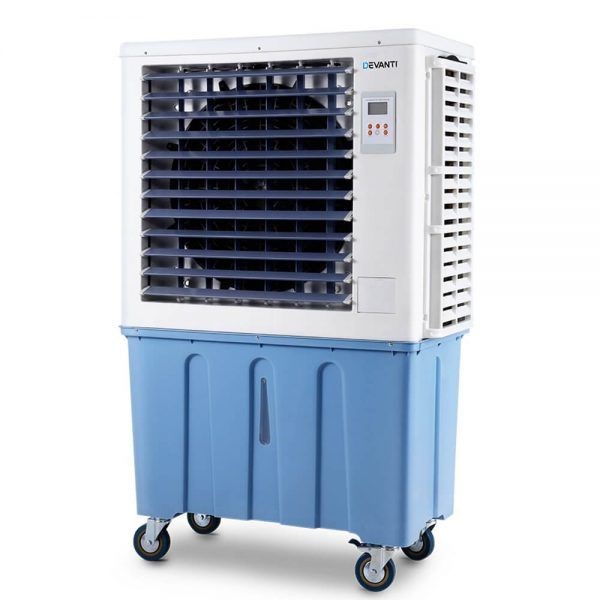 A cooler is something that takes getting used to. While most coolers require the user to pour in water manually, some industrial coolers work automatically. Since coolers work on the principle of evaporation, they make the room stay cool but add a bit of humidity to the air.
Pedestal Fans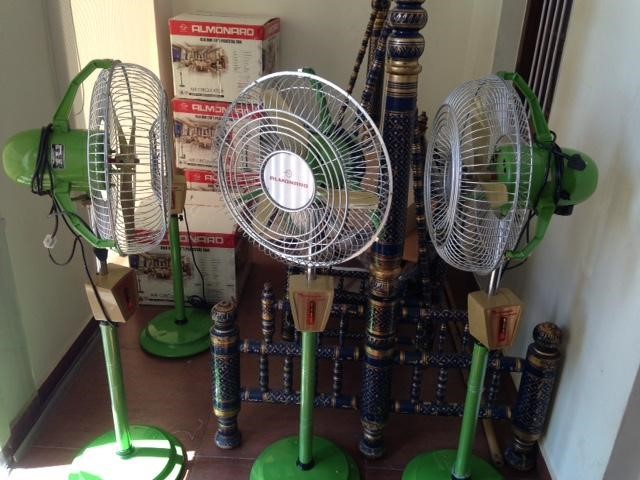 A pedestal fan is great if you need only one room to be chilled at a given time. The pro here is that you can quickly shift a pedestal fan from one room to the other to help control high temperatures without any installation charges.
Can Cooling Fans work Like Air Conditioners
This may seem a little far-fetched, but we promise you, it is possible. We have come a long way from hand swung fans that kept one person cool for a moment. Technology has been making great strides, and it is now possible for a fan to work as an AC.
When we think of air conditioning, we immediately believe that it is a one-of-a-kind design and that the processes at work inside the bulky system can never be replicated onto a cooling fan. We may not yet have the flying cars that posterity promised us a long time ago, but we have equally path-breaking developments in various other fields.
A cooling fan that works like an AC is one such innovation that will change the way we look at air cooling.
Things to Consider When Buying a Cooling Fan
Before investing in a cooling fan, instead of buying an air conditioner, you must learn what features to look out for.
Understand your Needs
This is the first step in any purchase. Unless you have clarity about what you require, you will make mistakes. Cooling fans may not be as expensive as an air conditioner, but you still don't want to make an error when looking for instant relief from the excruciating heat.
Temperature Control
The whole idea behind getting a cooling fan is to lower the temperature of your space. So wouldn't it be ideal to have a product with a temperature control panel?
This may be rare to find in a regular cooling fan, but you can adjust this by getting a fan with more speed settings or one that comes with an inbuilt thermometer.
Oscillation
This is an essential feature if you have a larger room. It is pointless getting a fan that only directs the airflow in one direction.
Thus, it is imperative that you check how much oscillation a cooling fan offers. Some may even have an additional tilting function. It is best to get a fan with a larger circulation coverage area.
Portability
Unless you plan on buying a cooling fan for each room in your house or office, it is advisable to buy a portable fan.
This means that you can shift the fan from one space to another easily as and when you need it. You should select a product that is sleek in design and relatively weightless if you plan on practically lunging it from one room to the next.
Price
This is a big factor in any purchase. Logically, individuals always choose products that have great features at the lowest possible price. But looking only at the price may mean that you end up with a low performing product.
To avoid this, check for top deals and purchase when a sale is on. This way, you not only maximize your profits but also end up with a better option.
Energy Consumption
This is the second most important factor here since most of us decide on replacing our air conditioner with a cooling fan to reduce our huge energy bill. Even if you can afford to pay the most exorbitant power bill, you should choose a low energy model for the sake of sustainability.
Remote Control
No one likes to get up from the bed or couch for the sole purpose of switching something on or off. It beats the purpose of a portable air cooler if it does not allow you this essential convenience. So, always buy a cooling fan that comes equipped with a remote controller.
8 Cooling Fans That Can Replace Air Conditioners
Buckle up and take your notes for this is an investment that requires thorough research and speculation. We have compiled a list of fans that emanate cold air and bring down the room temperature significantly.
Dyson AM06 Desk Fan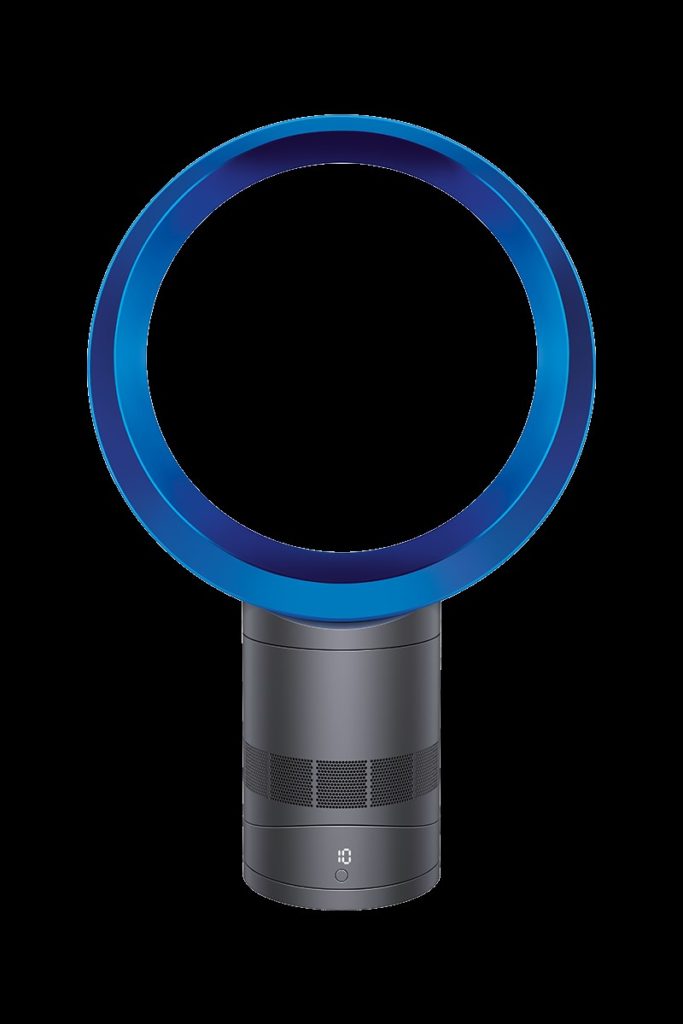 This is a fan that uses air multiplier technology. This cooling fan does not have visible blades and yet it ensures an uninterrupted supply of cool air. The noise level is almost zero with this product. These bladeless fans are very safe to be used in the vicinity of children and pets.
The Dyson AM06 comes with a sleep timer and also has the option to be programmed to be turned off in preset intervals. This is also a remote-controlled device that itself is designed to fit perfectly in the palm of one's hand. The curved design and magnetized exterior make it easier to store the remote on the body of the fan itself.
It has great customer reviews and is top-rated in the category of being easy to use and clean. It is also fairly energy efficient which means you won't have to spend a bomb on electricity bills.
This fan also has a one-touch smooth oscillation control which ensures airflow around the room. It also tilts on its own centre of gravity. Additionally, it is not very bulky and takes up very little space. The product comes with 2 years warranty for its parts.
Dyson Pure Cool Link TP02 Wi-Fi Enabled Air Purifier

This sleek beauty not only cools like an air conditioner but also has an air purification feature that is the need of the hour. It has a powerful fan with a HEPA filter that removes pollen and other allergens from your room.
The company claims a 99.97 per cent purification rate and most customers have also given testimonials about this particular feature of the fan. Another great feature is that this product is compatible with Amazon Alexa.
The noise level is comparatively low and it also has added night mode and sleep timer options. Additionally, its bladeless design makes it among the best options available. The Dyson Pure Cool Link also has 10 air speed settings which allow for a better user experience.
The best part of this product is that you can switch between the cooler fan and air purifier features. This means that you can use this for purification even during winter when you do not require strong airflow.
Using this fan with the Dyson Link App allows a great degree of automation where the indoor air quality is automatically monitored. It also works with voice controls when linked with smart home devices.
Lasco 42″ Oscillating Curve Tower Fan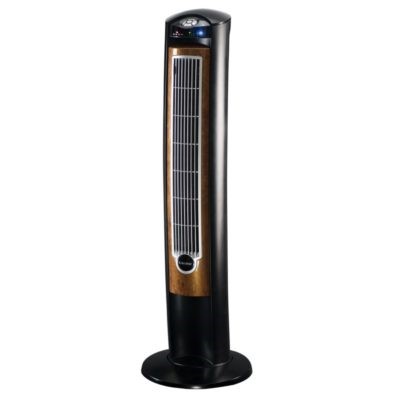 This is a floor fan that performs really well due to its large area covering oscillating features. It is quite compact due to its sleek design and yet gives a full room size coverage. It is also easily portable despite its 41-inch height.
It has 3 quiet speed settings along with a night mode that automatically reduces the fan speed while also dimming the control lights. Alternately, you can also adjust the fan's timer settings in such a way that it may turn off after a stipulated period of time.
It is also good to look at and will not stick out like a sore thumb amidst your home décor. Its powerful air cooling system makes it akin to an air conditioner.
The Lasco Oscillating fan can be used in bedrooms, living rooms, the kitchen or even in commercial spaces like office buildings and shops to cool down the whole room. The curved design adds to its cooling power.
It is extremely easy to install and has been voted for its durability. It also creates white noise that encourages a peaceful sleeping environment. The fan comes with a remote control which allows you to access the control panel without having to get up.
The Cons? It is not compatible with smart devices and comes with a one-year limited warranty.
Zicooler 32" Tower Fan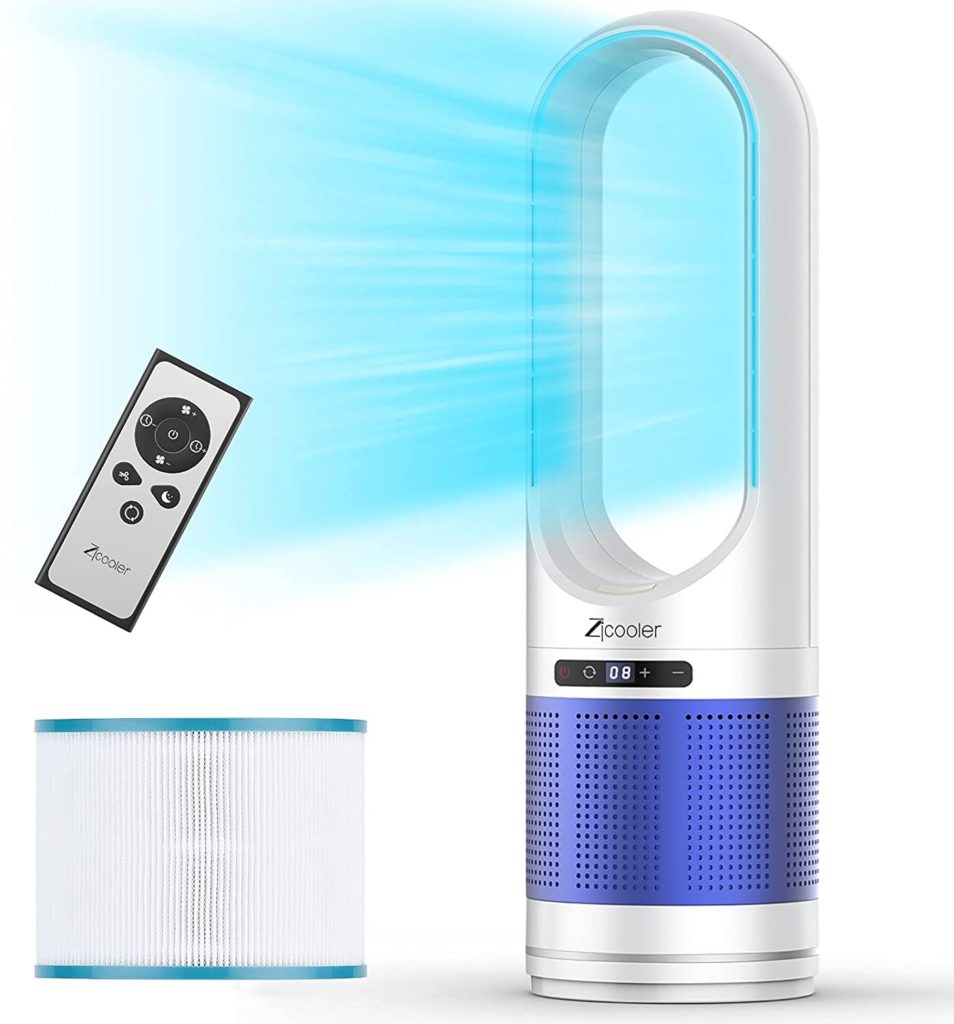 Most of the reviews on this item claim that this fan works as well as an air conditioning system. A bladeless tower fan with an in-built air purifying system, it also has an oscillating system.
It is portable with a product weight of 6.61 pounds. This air cooler has a 3 stage filtration process that filters out 99.95 per cent of allergens, harmful bacteria and dust. The 32" size ensures a powerful airflow that covers the whole room.
It has an 80-degree swing function and has a low noise level. The sleep mode is set to an 8 hour period wherein the fan speed is regulated and the led display lights are turned off. The fan also comes with a remote control that can function from a long-range too.
Zicooler promises an airflow of 500 cubic meters per hour. This tower fan has eight speed settings and can also be used as an accompaniment to air conditioners. This alternate use will significantly reduce your energy bill.
TRUSTECH Oscillating Tower Fan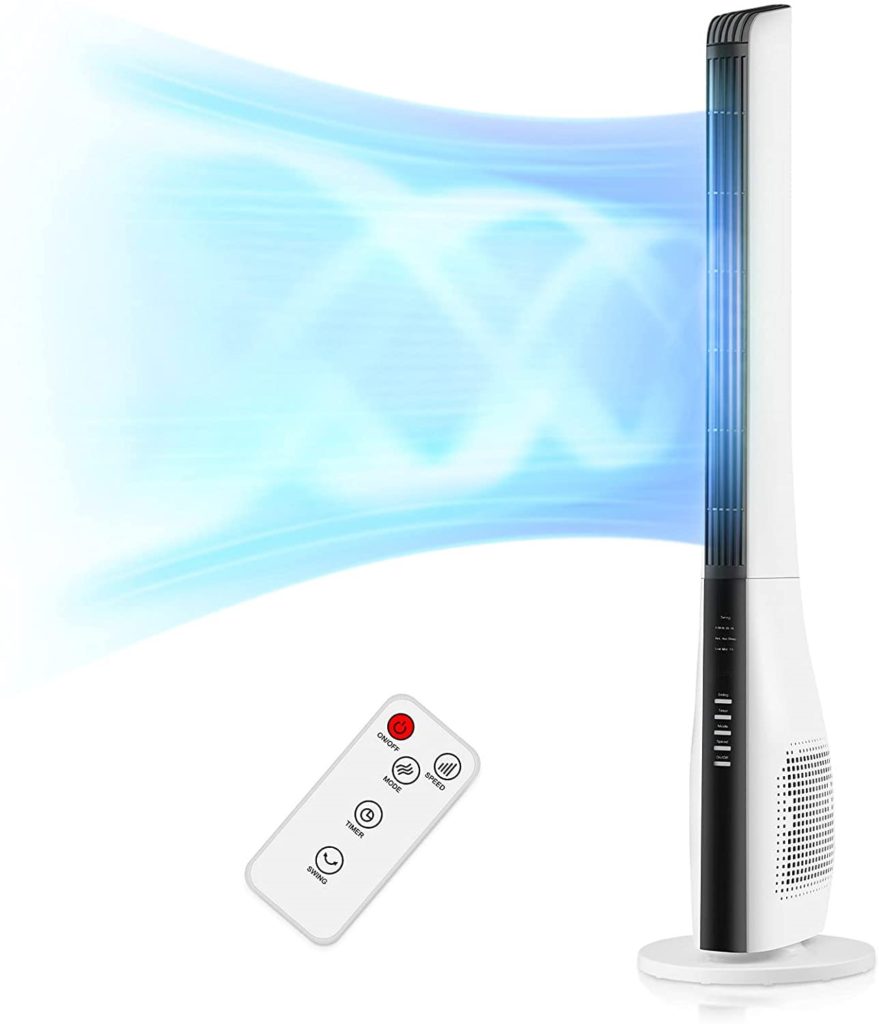 This bladeless tower fan promises high-velocity airflow with negligible noise levels. It is so quiet, the only sound in the sleep mode can be called white noise.
It has a 70-degree oscillation allowing air dispersal to all corners of the room. The fan has 3 varying modes and three different speeds which can be customized based on needs and room sizes.
The sleep mode has a 7.5-hour timer set with 3-minute auto-dim out LED display lights. Its modern design and white colour give the fan a modern look that goes well with both minimal and traditional home decors.
The customer reviews state that it is a great buy and ensures hassle-free assembling. A safe choice for individuals with young kids and pets. Its natural cooling mode makes it an especially great option to use around babies.
Its remote control is so user friendly that even kids can use it easily. The sleek design takes up very less space and will not get in the way. It needs to be cleaned by hand.
While not a very popular name, customer testimonials prove that this is one product that you can truly trust. It has enough power to replace an air conditioner, that too at the fraction of the price.
Genesis Powerful 360 Degree Oscillating Tower Fan

To stay cool this summer, buying a Genesis fan may be a good idea. With a remote that works from anywhere in the room and 3 wind modes, this fan is the perfect option for those looking for cooling fans in a good range.
It has three different speeds and an awesome 360-degree oscillation range that can further be customized into 60, 90, 120 0r 360 degrees. Further on, this fan comes with a built-in thermometer that displays the indoor temperature of the room.
It has a sturdy base and is compact. It can go with any living space from living rooms to dorm rooms and can even be used to adjust the temperature of office spaces.
The fan also has an 8-hour programable timer which can be set to regular intervals of cooling. It is a safe product and a rare find since most cooling fans have a limited oscillation range.
Vornado 630 Air Circulation Fan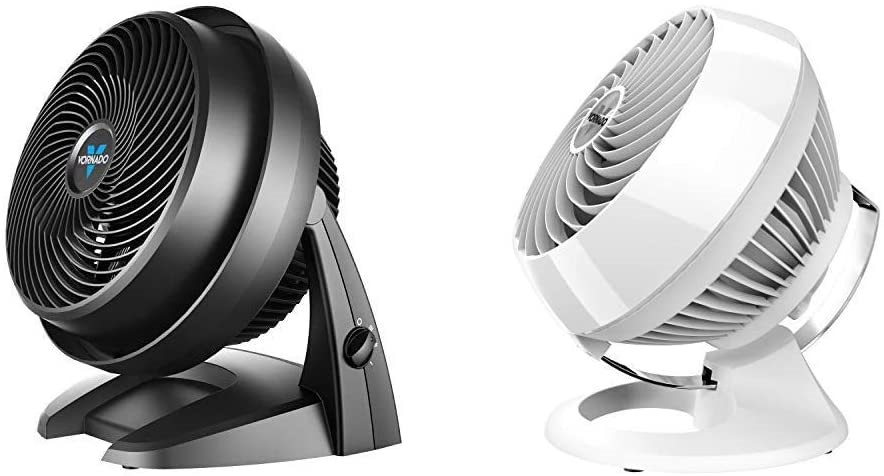 Much like its name implies this little contraption can cool like a tornado (without the resultant destruction of course). This is a table fan that can also be placed on the floor.
Its vortex blades allow a multi-dimensional range of air circulation that cools down the whole room. It has three different speeds that need to be controlled manually.
Since it comes with blades, it is best to keep this fan away from spaces that are accessible to children and pets. It is great for energy saving and is easily portable. The pivot-able head allows the user to direct the airflow in a particular direction.
The outer grill can be removed for cleaning purposes. It comes with an enclosed air duct, deep pitched blades and an inlet air accelerator. The best thing about this product is that it offers a 5-year service guarantee.
Honeywell Quiet Set Tower Fan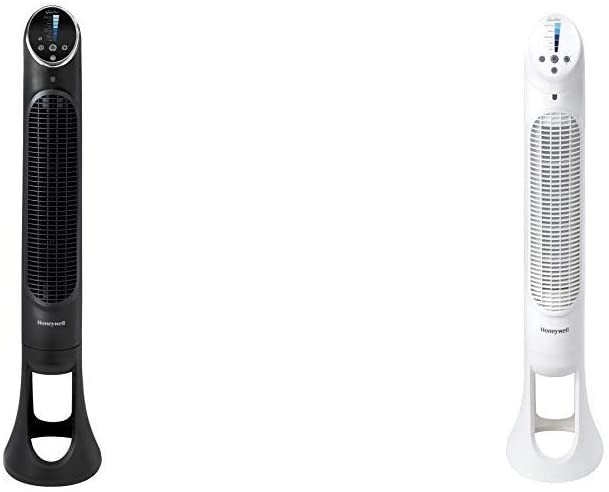 This fan offers a whole room cooling system and is affordable. It has five sound levels: Sleep, Calm, White Noise, Refresh and Power Cool. This range of noise levels is not found in other fans that come under this category.
The lighting setting also has five levels of dimming that ensure a very calming cool air presence without display lights blaring in your face. This fan can help you like an air conditioner with considerably less energy consumption costs.
The Honeywell has eight speed settings that allow you to use it to your preference. It is also lightweight and comes equipped with a remote controller.
It also has a sturdy base and a remote storage space. Customers claim that they did not even need a screwdriver to assemble it and that it has a low noise level even at the highest speed.

To Summarize
| | | | | | | | | |
| --- | --- | --- | --- | --- | --- | --- | --- | --- |
| Product | Air Flow | Dimension | Purifying Function | Sleep Timer | Auto Mode | Oscillation | Allergy-Friendly | Compatability with Devices |
| Dyson AM06 Desk Fan | Powerful | 5.8 x 12 x 19.7 inches | No | Yes | Yes | 20 degree tilt | No | No |
| Dyson Pure Cool Link | Powerful  | 7.7 x 4.3 x 40.1 | Yes. | Yes | Yes | 350 degrees | Yes | Link App on Phone, Amazon Alexa and Echo Dot |
| Lasco Oscillating Curve Tower Fan | Powerful | 13 x 13 x 42.5  | No | No | No | Widespread | No | No |
| Zicooler 32" Tower Fan | Medium Powerful | 31.49 x 7.87 x 7.87 | Yes | Yes- Sleep Mode | Yes | 80 degrees | Yes | No |
| TRUSTECH Oscillating Tower Fan | Powerful | 7 x 7 x 43  | No | Yes | Yes | 70 degrees | No | No |
| Genesis Powerful 360 Degree Oscillating Tower Fan | Powerful | 40.9 x 9.5 x 8.35 | No | Yes | No | 360 degrees | No | No |
| Vornado 630 Air Circulation Fan | Powerful Circulation | 8.25 x 12 x 13.6 | No | No | No | Pivoted Head | No | No |
| Honeywell Quiet Set Tower Fan | Powerful | 10 x 10 x 40 | No | Yes | Yes | 90 degrees | No | No |

Frequently Asked Questions
We know! It's difficult to convince yourself that a fan can work as an AC. So we are going to break down a few doubts and wrong assumptions that you may have about making this change.

Can Fans Emit Cool Air?

Yes. They can. Even regular ceiling fans are capable of giving you enough wind to dry the sweat off your brow. But, they cannot produce the kind of cool air circulation that the products we mentioned above can.
These cooling fans work on technology that allows them to significantly lower the temperature of the air in the room. Most use a thermostat to do this.

Should You Put a Wet Towel on your Cooling Fan?
Never put anything on your cooling fans. Everything that is needed to make your room colder is already built into the body of the fan. Putting anything like a wet towel or a bowl of iced water near your cooler can only increase the chances of damaging your fan or dirtying your room with unnecessary spills.

Why is a Cooling Fan Better than a Ceiling Fan?
A cooling fan can give a more effective cooling and the airflow is much more powerful than a ceiling fan. Also, portability is only possible if you invest in a stand, desk or tower fan.
Additionally, installing a ceiling fan requires re-wiring if you don't have a slot for the same and you need a professional electrician's help. On the other hand, portable cooling fans like the ones mentioned above require no or limited assembling.

Can you Use a Cooling Fan in the Kitchen?
Cooking in the summer is a task that requires a strong will. The high temperature along with the heat from the stove or oven often becomes unbearable. So, if you don't want to take to bed after cooking a great meal, use a cooling fan in your kitchen.

Investing in a portable one will allow you to shift the same to your kitchen or even your laundry rooms. They help make doing chores easier during the summer.

Do Cooling Fans Work With Smart Home Devices?
Not all cooling fans have this feature. And those that do are always on the more expensive end. However, if you want an air cooler that can be controlled with voice or managed on your mobile phones, you can specifically look for compatible products.

Always check the product description to learn if the fan works with your particular device.