If only all outdoor ceiling fans were made exactly the same, buying one would be so simple. You could just walk into the store and pick the one that looked the nicest or was the most inexpensive. But unfortunately, that isn't how it works.
A ceiling fan can be installed nearly anywhere: inside your house, on your porch, in the garage, or out on the veranda or patio. They are designed differently for placing them indoors or outdoors. 
So, how can you know which fan is best suited for the location you've chosen?
If you are looking for a ceiling fan with lights and a remote for outdoor use, keep the following 7 key points in mind as you are shopping. You will find the best match for your needs if you know what the most important elements of your ceiling fan are.
Let's get started!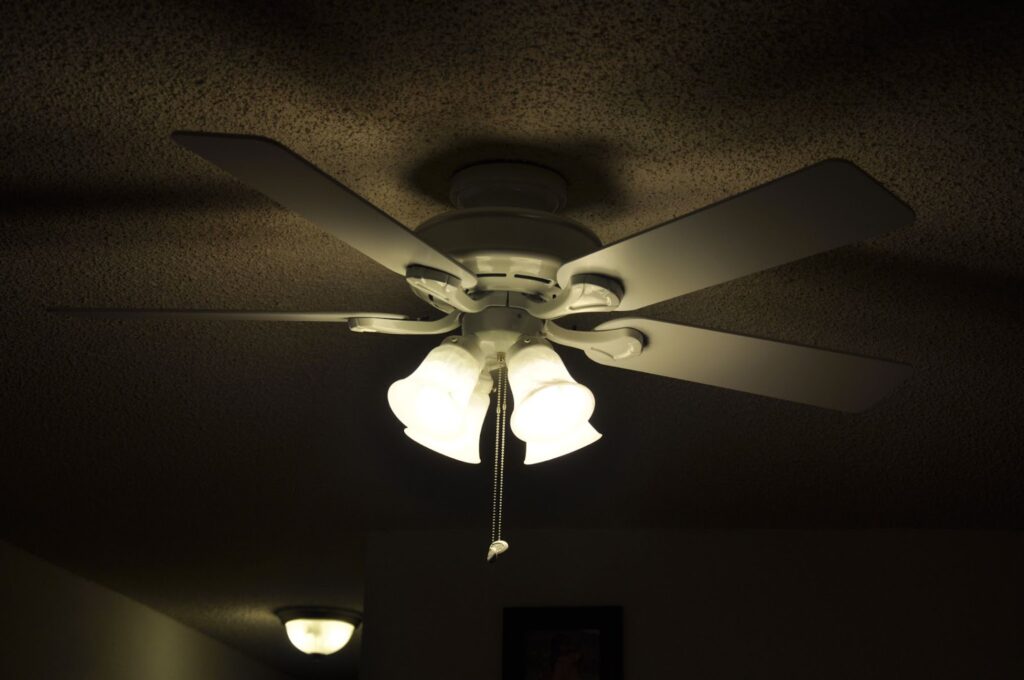 Moisture Rating
When you install a ceiling fan inside your house, there's a pretty good chance it isn't going to get wet. 
But if you intend to install a ceiling fan outdoors, the odds are that it will get wet. That's why ceiling fans carry different moisture ratings, which help you determine the appropriate placement for your fan.
Check the wet rating to learn how much water your fan can take and not break or corrode. Here's how to decipher these ratings.
Dry-Rated Fans
Some ceiling fans aren't designed to withstand moisture. Since there's no reason to add unnecessary components to products, a dry-rated fan is a very straightforward piece of electronic equipment.
You won't use this type for your outdoor needs. Dry-rated fans are only suitable for a room in your house. These can have many features, like lights, and are most commonly connected to the wall control.
Damp-Rated Fans
Damp-rated fans are not suitable for direct exposure to water. 
They are designed for areas with high humidity. So, they do receive some contact with water, but the heavy moisture in the air is the limit of what these fans can handle.
This type of ceiling fan is ideal for a covered space, for example, a garage or screened-in porch. You should not locate a damp-rated fan directly outdoors because the elements would likely destroy it quickly.
Wet-Rated Fans
Wet-rated fans are the ultimate option for outdoor ceiling fans. They are completely water-resistant. Their electronic elements are protected from exposure to water, ensuring that they can keep functioning all year long, even during the wet seasons.
Wet-rated fans differ from the other 2 types of ceiling fans because their sensitive electronic parts are covered in waterproof material. You remain safe, too, knowing your fan won't short if you connect it while wet.
It can be directly exposed to rain or snow with little to no consequence. Even if rain or snow falls all around the fan, it won't be damaged. 
It's durable in most bad weather. You can install wet-rated ceiling fans on your porch or veranda to help you keep cool when it's warm out.
Blade Size and Configuration
The shape and size of your fan's blades are tremendously important for a good performance. That probably seems obvious, but did you know how many blades your fan has is just as important?
Large blades are typically more appropriate for outdoor spaces than smaller ones. 
The larger the blade size, the more efficiently it can move air around. You can also save a little bit of energy by turning the fan to a lower speed setting and still benefitting from excellent airflow.
The shape of your outdoor ceiling fan's blades is closely connected to their size. Wide blades can be excellent in moving the air around effectively, but if they are too wide, they become ineffective. 
They are better suited for looks than performance when they get to the point where each blade is nearly touching the next one.
Most outdoor ceiling fans have 4 to 6 blades, even though 3 is the ideal number for maximum effect. The reason they usually add more is that the extra blades help to keep the noise level low. If the noise isn't a problem, you can opt for a fan with 3 blades. It will also cut down on the price of your energy bill.
Style to Suit Your Space
Where do you get your design inspiration for outdoor decorating? Are you excited by a modern and contemporary aesthetic with clean angles and minimal embellishment? Or is antique vintage composed of dark wood more your speed?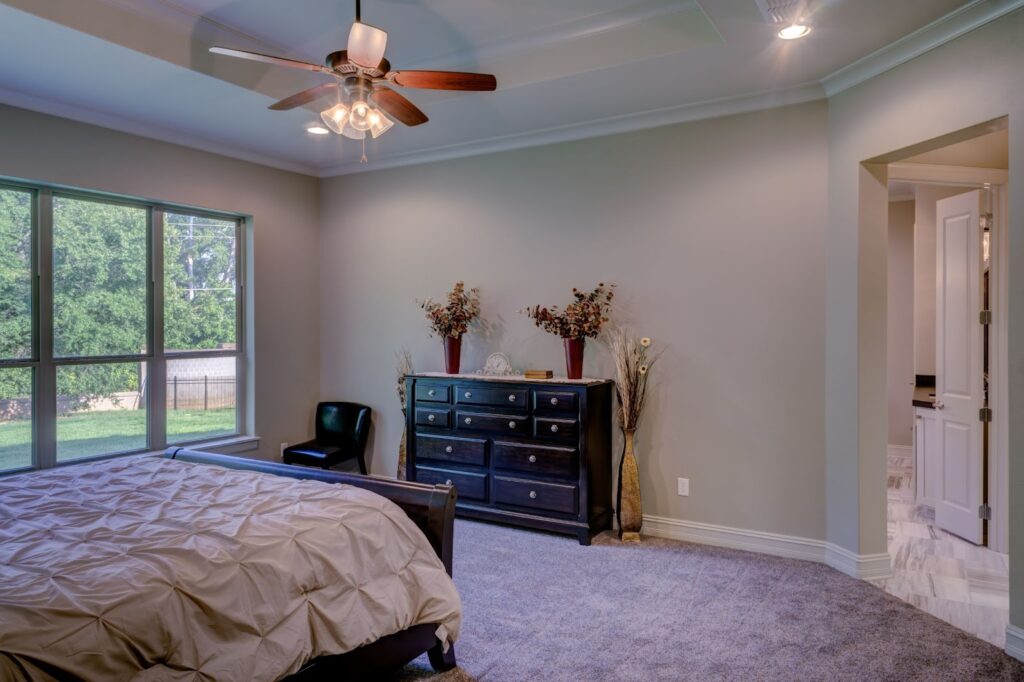 Consider your setting and make sure your ceiling fan matches its surroundings. If you don't have a cohesive design, this is the perfect opportunity to shape what you would like that to be. A beautiful ceiling fan can be the centerpiece of your decorating.
You can create a seamless look – your ceiling fan can be more than functional as it can be part of the aesthetic, too.
Outdoor ceiling fans give your space character; they come in many styles and finishes. Choose brushed nickel for a sleek look or a bronze finish for a vintage effect. You could also establish a rustic feeling with natural wood.
Environmental Factors
What is the outdoor setting where you live? If you live near a beach, you must be cautious if your home is in range of a salty breeze. Certain metals can corrode quickly on account of salt exposure. In a case like this, you would need a marine-grade ceiling fan.
Or, is your home frequently in danger from high winds? You don't need to avoid outdoor ceiling fans if strong winds are common in your area; you only need to get a durable fan with a high breeze rating. 
The proper durable fan is called for in special environments.
Lighting Abilities
Sitting outside at night on a warm evening is lovely, but not everybody enjoys sitting in the dark. 
A fan with lights can save you from the hassle and cost of more electrical work of adding extra lights.
Many ceiling fan lights are compatible with LED bulbs which are good because they provide better energy efficiency. Like the fan blades, the number of bulbs also vary. 
While you're out shopping, it's not the end of the world if you fall in love with a fan design that has no light. You can always purchase a light kit to add your own, though it will increase the price.
However, there are so many good fan styles with lights that you shouldn't need to resort to a separate light kit. Better yet, find one with a remote control, so you don't need to get up from your comfortable chair to bother with the lights!
Fan Accessories
Speaking of remote controls, you may not need one if you have low ceilings. In that instance, a pull chain is all you would need; still, a remote is handy to have. 
You can also mount your remote in a convenient location to act as a wall control, always ensuring you know where your remote is.
Most electronics are technologically advanced these days and ceiling fans are no exception!
Connect yours to a voice assistant for better management, even when you aren't at home. If you want to start cooling down your patio before you get home from your errands, just ask your smart assistant to take care of that for you!
Fan Size
The outdoors is a very large place. Can you possibly measure the size of a fan that will give you enough airflow? 
There is no definitive way to measure out what size outdoor ceiling fan would work best, but you can check each fan's breeze rating in comparison with your patio size. That would be a great start to determine how well it will circulate the air.
It's challenging for outdoor fans because the airflow is not restricted by walls; the air spreads out and away, of course. However, there are online ceiling fan calculators that can help you narrow down an appropriate size.
You also need to consider mount type because that will affect your fan's performance. You can adjust how low your fan hangs through the mount you choose. 
For example, if you have a low ceiling, a flush mount is best, keeping it higher above the floor. But if your fan is located in a space with a high ceiling, you can have a long downrod, so you'll feel the breeze better since the blades are closer to you.
Conclusion
The main concern for an outdoor ceiling fan is how effectively it cools off your space. 
If you've chosen a gorgeous outdoor ceiling fan with lights and a remote, it doesn't matter how amazing it is if you can't feel its cooling breeze. But now that you know what to look for, you can get your fan installed and enjoy those warm summer nights outdoors.