7 Cool Ceiling Fans That Come With Lights!
Ceiling fans with lights cool your rooms and light them up simultaneously. Many modern fan options come with an integrated light kit with dimmable LED lights. In fact, an integrated lighting kit has become a sought out fan feature in recent times.
However, with so many options available in the market, choosing the best fan with a light kit can be a daunting task. Moreover, light kits are not the only feature you're looking for in the best ceiling fan; you also need performance and efficiency. That's where we come in!
Read on as we reveal our top 7 picks for the best ceiling fans with lights.
No products found.
What are the Best Ceiling Fans With Lights? Here Are Our Top 7 Picks
Not only do ceiling fans with light fixtures help cut down power consumption, but they also help brighten the place up. 
However, an integrated LED light kit (halogen or fluorescent options are also available) is not the only factor to consider when picking a fan out.
These days, the best ceiling fans have various other features like remote control, reversible blades, and different fan speeds. Many excellent fans that achieve high marks performance-wise still use the traditional pull chains and wall switch. So, it is a matter of preference on what you like in a good ceiling fan.
With our top 7 choices, we have tried to bring you a good mix of traditional and modern fan features that will work in various rooms of different sizes, ceiling height, and décor, with multiple mounting options.
1. Hunter Fan 52″ Dempsey Low Profile Fan With Light Bulbs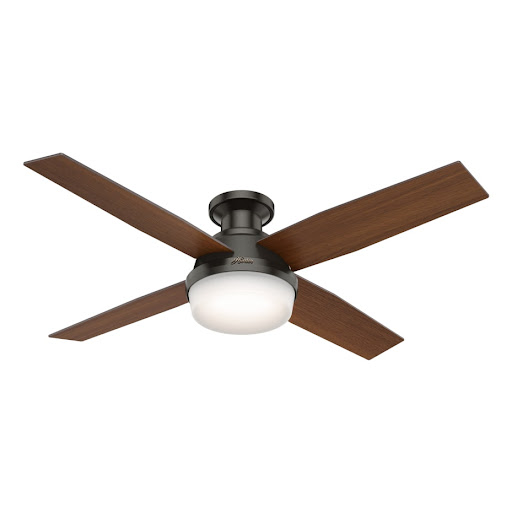 What We Like
Easy to control both the fan and the light through the universal remote control
A 52-inch span of the fan blades, suitable for large rooms
Two fully-dimmable, high efficient LED bulbs
Three speeds, quiet performance reversible motor
Limited Lifetime Motor Warranty
What We Don't Like
Tricky installation usually requires professional help.
There is no better choice for first-time ceiling fan buyers than a Hunter fan. And the 52-inch blade span Dempsey low-profile fan is the perfect amount of modern appeal to go with its practical features. 
This brushed nickel finish ceiling fan with contrasting fan blades can also be purchased in all-white and noble bronze. This fan has two high-efficient, built-in LED light bulbs, which, along with the fan speed, can be controlled using its hand-held remote control.
Since this is a flush mount indoor fan, it is better suited for rooms with low ceilings. You can place it in living rooms and bedrooms. When installing this particular model, make sure you acquire the help of a tech-savvy friend, or better yet, opt for a professional installation.
No products found.
2. Minka-Aire F844-DK, LightWave 52″ Ceiling Fan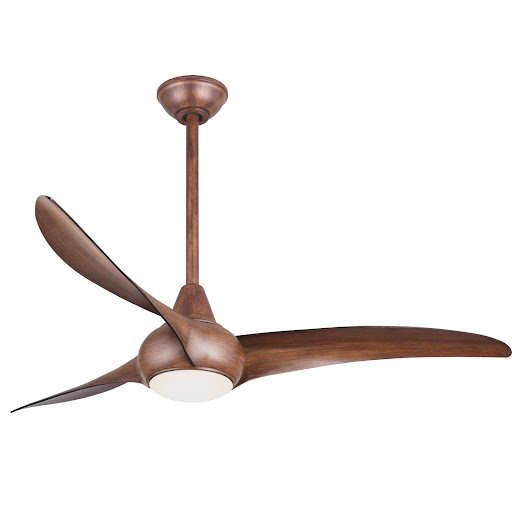 What We Like
Works with both remote and wall control (included remote control)
Energy efficiency
Easy to install
High performance integrated light
What We Don't Like
Slightly expensive
Not suitable for low ceilings
The Minka-Aire F844-DK has a unique design, five beautiful colors, and finishes to amp up any modern decor. 
With 52-inch blade spans, fans like this are perfect for large rooms. This three-blade ceiling fan comes with an integrated LED lighting kit, housing a 16W dimmable LED bulb. 
The light bulb is bright and focused, working like an overhead lamp. The ceiling fan is ENERGY Star rated. Although it can work with wall controls, you will have to buy it separately. In case of slight humming noise, run the fan for a day, and you will notice an immediate difference.
However, this ceiling fan comes with a 6-inch downrod, so ensure you have the proper ceiling height before making a purchase. In the case of high ceilings, you can order a longer downrod separately.
No products found.
3. Prominence Home Espy 3-Blade LED Flush Mount Ceiling Fan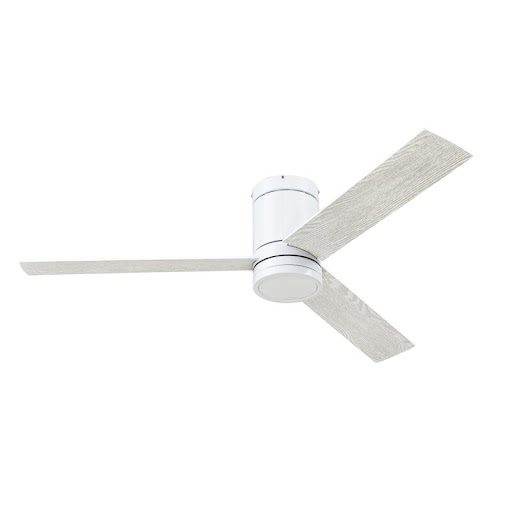 What We Like
Reversible motor
No pull chains; remote and wall control compatible
Energy-efficient integrated 19W dimmable LED light
Limited lifetime warranty
What We Don't Like
Contemporary style might not work with a more traditional house design.
Flush mount not suitable for tall ceilings
The Prominence Home Espy Ceiling Fan is one of the best indoor fans for a more contemporary style house. This fan has three-speed settings, a reverse function, and an integrated 19W dimmable LED light source with a light frosted glass shade. 
Unlike the old pull chain control, there is no need to hop out of bed to change air movement settings or the light source brightness. You can also use the remote as a light dimmer and reverse airflow, in addition to changing the speed settings. 
However, this appliance is also wall control compatible. The ceiling fan has a limited lifetime warranty.
No products found.
4. Hunter Fan Phenomenon with LED Light 60 Inch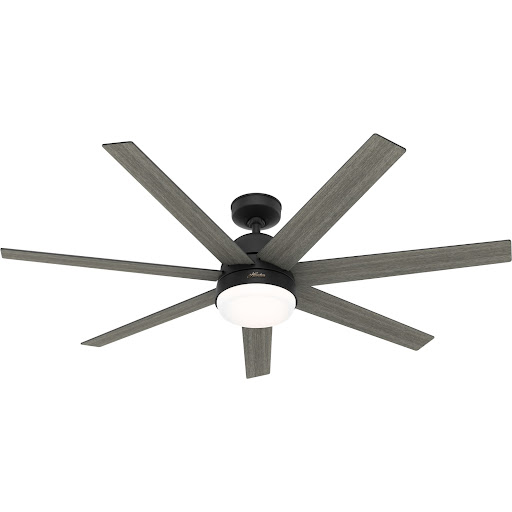 What We Like
Compatible with intelligent home systems
Limited lifetime warranty for the fan motor
Two energy-efficient LED bulbs that can be easily replaced
Excellent for large rooms
What We Don't Like
Not suitable for small rooms
If you are looking for a ceiling fan for large rooms, then this offering from Hunter Fans is the best fit for you. The 60-inch Phenomenon is the smart fan of your dreams that includes two LED bulbs and wall control. 
You can use the wall control to adjust speed, light brightness, and fan direction. However, you can control the fan from any popular smart home system, thanks to its SIMPLEconnect® Wi-Fi® technology.
It has a six-speed reverse function motor, with 3-inch and 6-inch downrods included. You need to purchase the suitable downrods kit separately for an angled mount.
No products found.
5. Honeywell Carmel 48-Inch Ceiling Fan with Integrated Light Kit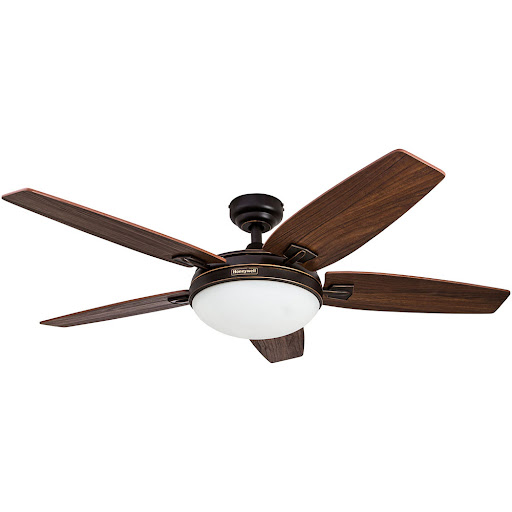 What We Like
Three mount options
Easy installation
Remote control
Three-speed reversible motor
Limited lifetime warranty
What We Don't Like
Incandescent bulbs included
The Honeywell Carmel 48-inch fan works well for a 12 x 18 square feet room. The 48-inch blade spans make it ideal for medium-sized rooms and some on the larger side as well. 
This ceiling fan comes with three incandescent 40W bulbs included, to be fixed inside the integrated globe. With three fan speeds, five blades, and a reversible function, you can use this chic fan throughout the year. Another excellent feature of this fan is its three mounting options, from standard, angled to close mount, making it ideal for rooms with various ceiling heights.
Available in brushed nickel and oil-rubbed bronze finish, this is a great fan to match various interiors. Since incandescent bulbs are not very energy efficient, you do get the choice to replace them with compact fluorescent bulbs. Keep in mind that the light dimmer function (accessible from the battery section of the remote) does not work with the CFL bulbs. 
However, for the price, this ceiling fan's performance is unmatched, and it lights up very well too.
No products found.
6. Westinghouse Lighting 7205300 Alloy LED 52 Inch Ceiling Fan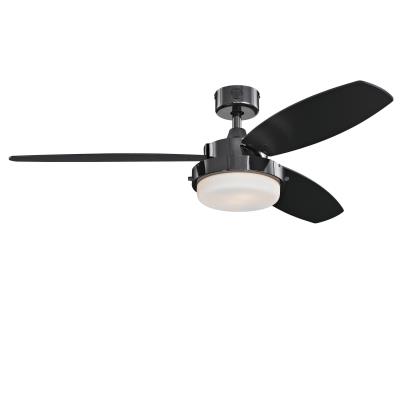 What We Like
2 LED bulbs
Energy efficient
Remote control
Reverse airflow
What We Don't Like
Downrod mount, not suitable for low ceilings
The 52-inch Westinghouse Alloy LED fan has reversible blades in black and Applewood finishes to complement several design schemes. 
The frosted opal glass houses two 8W LED bulbs, which provide enough brightness to complete with two 60W incandescent bulbs. This energy-efficient appliance has a sleek design, and it also allows for reverse airflow (3576 CFM at high speed) to be usable all year round.
It has a lifetime warranty for the motor and a two-year warranty on other fan parts. According to the manufacturer's website, this fan is good enough to cool down a room over 400 square feet. The fan has a remote, so there is no need to change settings manually like you would with a pull chain control.
No products found.
7. Harbor Breeze Mazon 44-in Flush Mount Indoor Ceiling Fan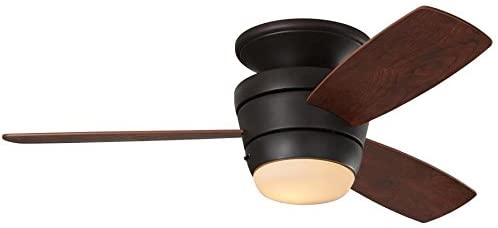 What We Like
Quiet performance
Easy to control via remote
Wall cradle included
Quick install
What We Don't Like
Some users complain of a slight buzzing noise.
The Harbor Breeze Mazon 44-inch fan is the ultimate fan for a small room with a low ceiling. Forget the pull chain with this futuristic design and grab on to the remote to not only control the three-speed settings but the light brightness as well. The remote comes with a wall cradle to securely place it without the fear of losing the device.
The matte opal glass lens covers an 18W integrated LED light source. This particular ceiling fan is straightforward to install, and someone with limited tech knowledge could also assemble it in no time.
No products found.
Bottom Line: Are Modern Ceiling Fans With Light Worth it?
With the seven ceiling fan options in our list, you not only get excellent air circulation, but you can also enjoy adequate lighting, which usually is considered a perk if the fan is replacing a light fixture. So, ceiling fans with lights are worth it if you need extra lighting within one appliance.
In case you prefer your fans only for air circulation, you can always go for models that have the option of installing a light kit later, if needed. 
Overall, fans with lights are definitely worth the money as they improve not only how your space looks but also provide a two-in-one feature with energy efficiency. And that, for us, is a win-win!