5 Cordless Cooling Fans That Are Worth Checking Out
With summer right around the corner, it will soon be time to trade your heaters for cooling fans. Unfortunately, many can't have air conditioners in every room, so investing in a portable fan will be quite beneficial.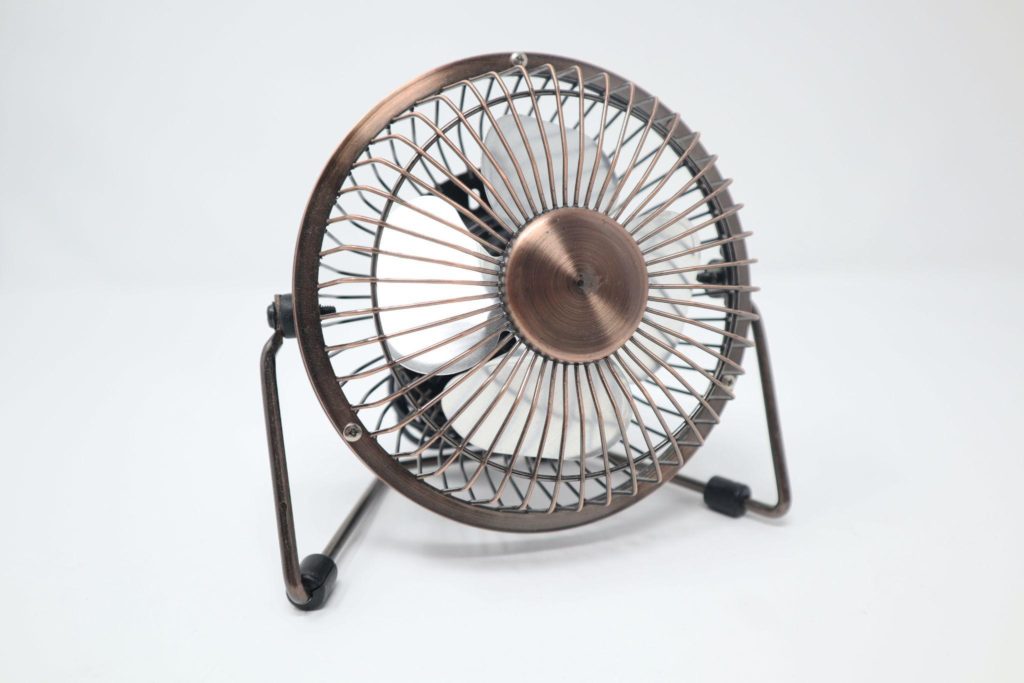 Cordless cooling fans are a summer must-have. They are portable to carry with you on outings and picnics. And they are a lot more environment-friendly than air conditioners while doing the same job. 
Safe to say, they are worth every penny and have multiple uses. But before you rush out to get one, you have to figure out your needs. There are a lot of different features to cooling fans that you should look for when buying.
No products found.
Factors To Consider:
These are some of the features to look for in the fan you choose. Once you know what you want, choosing the perfect fan becomes that much easier. 
Filters
Filters do the job of air purification. They filter out dust particles, pollen, and allergens from the air. As a result, they improve the overall quality of the air you intake. 
Automatic Oscillation
The airflow is concentrated in the direction the fan is facing. And you have to move its head manually to change its direction. However, with automatic oscillation, the fan rotates automatically without you having to do anything. 
Size 
Fans are categorized into two parts: household and commercial. Their size depends on the area they are to be used. For example, a table fan will be small and have low airflow compared to other heavy-duty fans for larger areas. 
Smart Controls
In this digital age, everything is getting smart, even fans. You can get fans with voice commands and remote control for a hands-free experience. You can even check the air quality report on your smartphone. 
Fan Speed
Many cooling fans come with 3-4 fan speeds. The battery life of the fan also depends on the speed level. If you are using the fan at high speed, it is likely to last less than at low speed. 
Cordless Cooling Fans That Are Worth Checking Out! Our Top 5 Picks
We have curated a list of the five best cordless cooling fans. These are some of the most popular products, with rave reviews from buyers. So let us take a look at these:
CONBOLA 11.8 Inch Desk Fan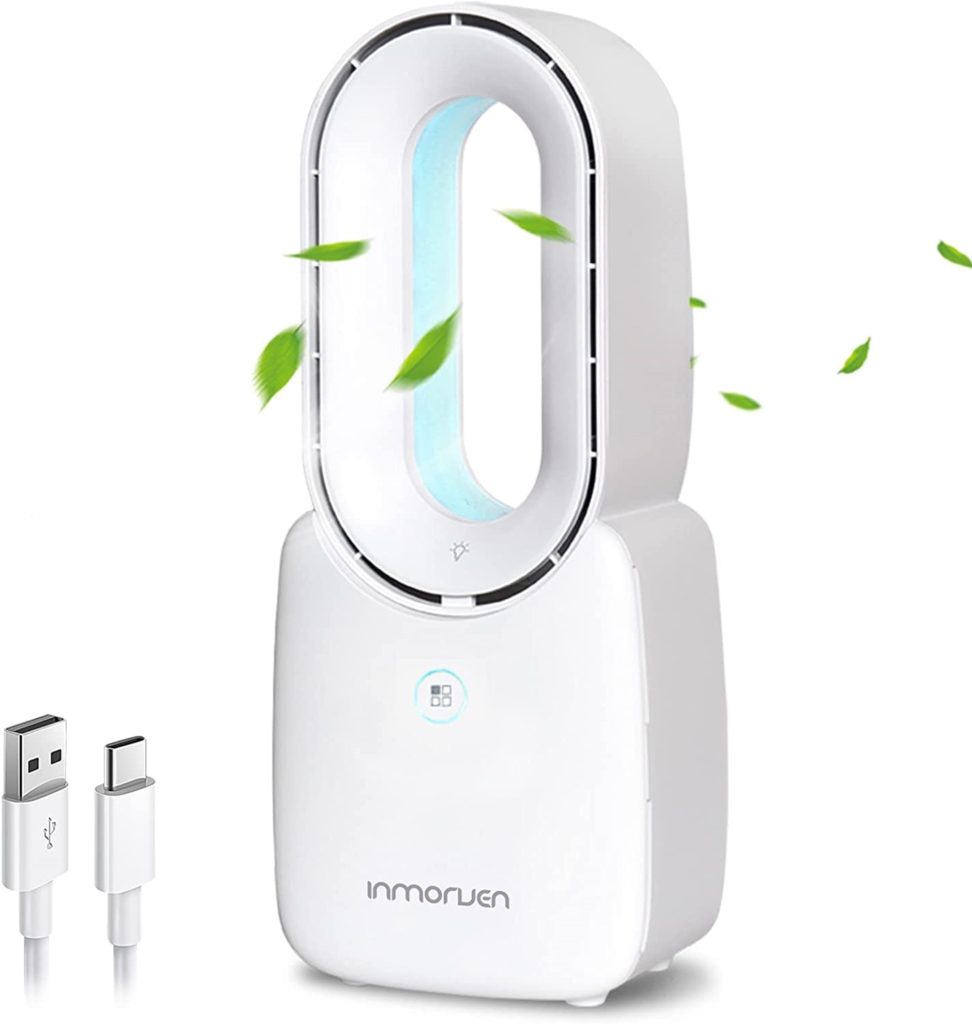 This portable fan is as useful as it is stylish. It comes with an in-built LED light that has 4 colors. It works as a fan and a night light. It has a rechargeable battery and comes with a USB charger.
What We Like:
It is a bladeless fan, which makes it safe for children or pets to be around. 
It is durable and has a non-slip silicone base for more stability. 
It is not at all noisy. It makes a sound of a standard 30-40 decibels, which is very low. You can keep it on your bedside table and still sleep soundly.
What We Don't Like:
It has only 3-4 hours of battery life at full charge at low speed. 
It has a weak airflow. You have to sit close to it to feel the cool air. 
No products found.
---
Primevolve 8.7 Inch Portable USB Fan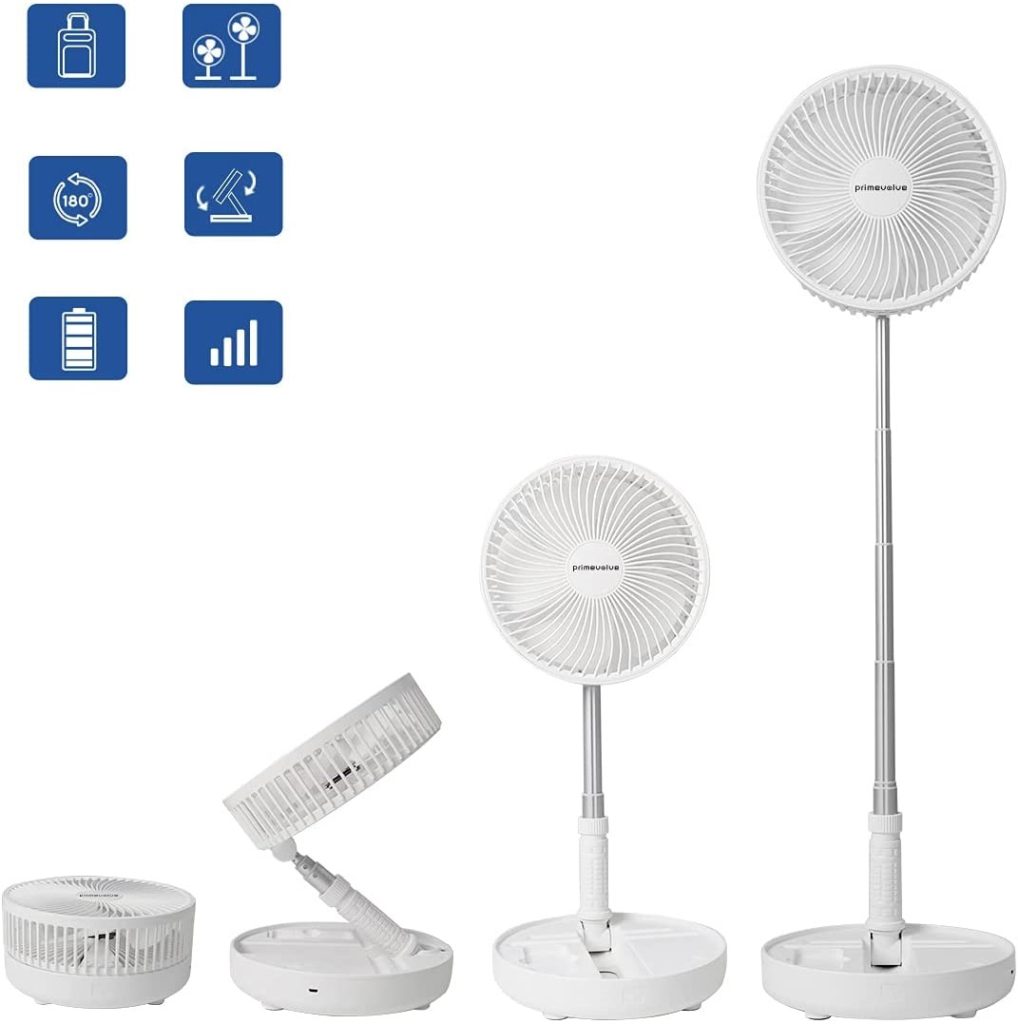 This is a floor fan with four-speed settings. Its head can be tilted 180 degrees for optimal position. It has a decent sound suitable to an average box fan. 
What We Like:
It is a compact and foldable fan, perfect for travel. It can be used as a table fan or a pedestal fan too. 
It has a detachable fan hood, making it very easy to clean the blades. 
It has long-lasting battery life. 
What We Don't Like:
 It is not sturdy and can fall at its maximum height, especially at high speed. 
It takes a long time to charge fully. 
No products found.
---
Treva 5-Inch Portable Desk Battery-powered Fan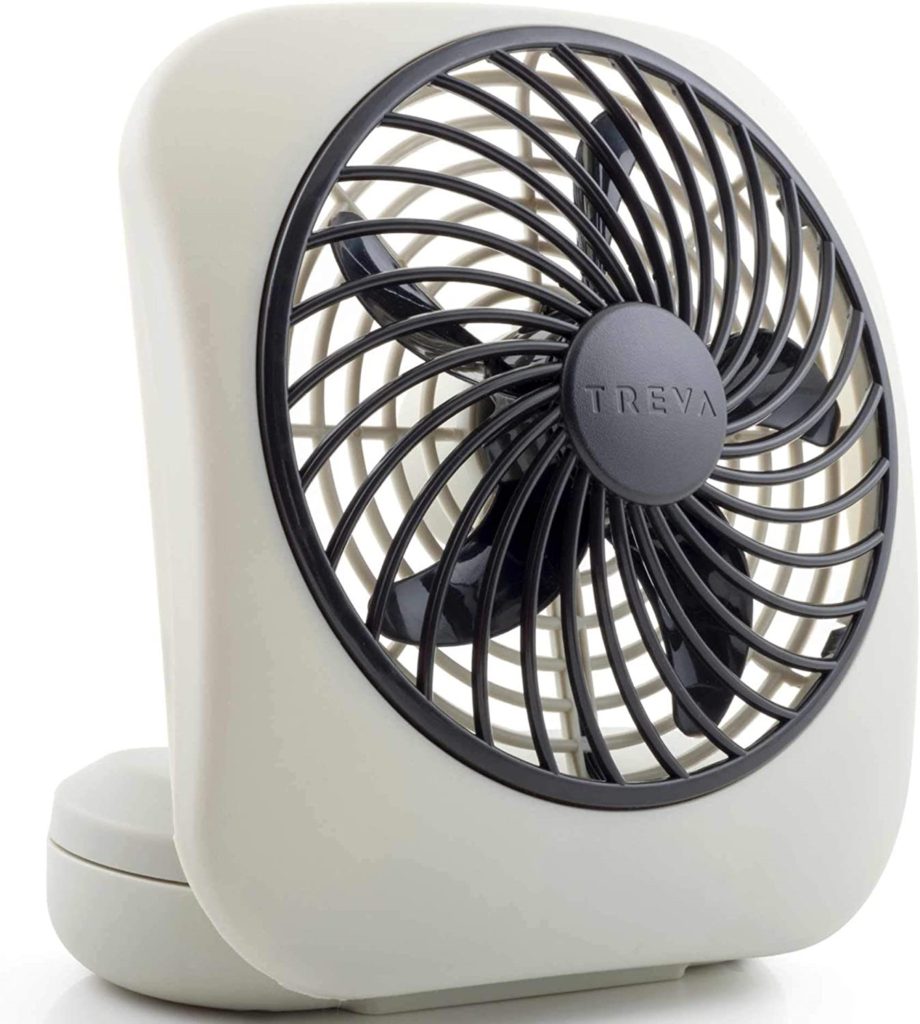 This is a very small desk fan with two cooling speeds. It is lightweight and comes with a handle for easy transportation. This is meant to be used in small spaces like tents.  
What We Like:
It has a tilting design, which allows you to position it at your level.
It is sturdy and is crafted using durable plastic.
It has a long battery life with very little decrease in airflow as the battery drains. 
What We Don't Like:
Since it is small, it is difficult to unscrew the back to install new batteries.
It makes a soft noise, similar to a white noise machine, which can disturb your sleep. 
No products found.
---
Worx Nitro WX095L 20V Cordless Fan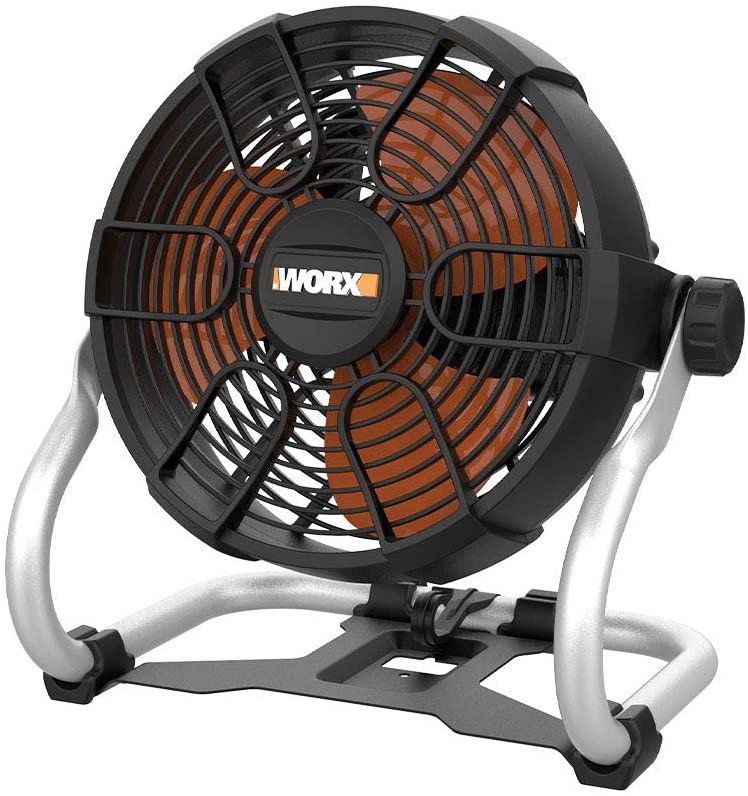 This is a 13-inch cordless fan, which has 2-speed levels. It moves at 1500 rpm at low and 2500 rpm at high speed. It can be used while charging. 
What we like:
It comes with a versatile hook and can be mounted on a wall.
Its head can rotate a full 360 degrees for better positioning. You can flip it to use it as an extractor for smoke.
It is very powerful and circulates air efficiently with a wide range. 
What We Don't Like:
 It has a low battery life and can only run for 2 hours at high speed.
According to many reviews, this fan is noisy, so don't keep it near you when working. 
No products found.
---
High Velocity 12-Inch Rechargeable Cordless Floor Fan
No products found.
This rechargeable cordless fan is the perfect solution for hot summer days. It's lightweight, portable, and can be used anywhere. The fan is equipped with a powerful brush-less DC motor that provides maximum 1500 rotating per minute, wind speed at 6.5M/S.
The 360° freely adjustable design guides the movement more precisely. The 360° freely adjustable design guides the movement more precisely. Best of all is its good size battery which should last most of the day at mid or low speed and a few solid hours at top speed.
What We Like:
This fan has a massive 12000mah high-quality lithium-ion battery for all-day airflow.
360° freely adjustable design
It is made from a strong metal frame and abs material so you can feel the quality.
Powerful motor that hits RPMs of 1500
What We Don't Like:
Cheap switches that might not last.
Can have issues tilting down due to tabs on the sides.
No products found.
---
Frequently Asked Questions
If you still have any doubts, these answers will definitely give you more clarity.
How Long Do Battery Operated Fans Last?
The battery life of every fan is different. It depends on the build and the speed level. If you have your fan at low speed, it will last a long time. This time will decrease when you increase the speed. 
Can I Use Rechargeable Fans While Charging?
 Some fans do allow you to use the fan while it is charging. It is a very convenient feature because you don't have to wait for the fan to charge for enjoying the cool air fully. 
Conclusion
Cooling fans circulate the hot, dry heat in the room and blow cool air in return. They are perfect for camping outdoors or a relaxing day in. So hurry up and snatch one for yourself!