5 Best Tower Fans For Cooling
As the summer progresses into what feels like some of the hottest days of the year, our saviors are the devices with the greatest cooling power. While an air conditioner may seem like an ideal choice, it's not the most energy efficient. A combination of slim and slender, power-saving, and cool air is what you get with tower fans.
Large rooms require devices that can power cool the entire room, often not feasible with an air conditioner alone. Here's where tower fans come to the rescue by circulating the air to make it feel comfortable and not stuffy.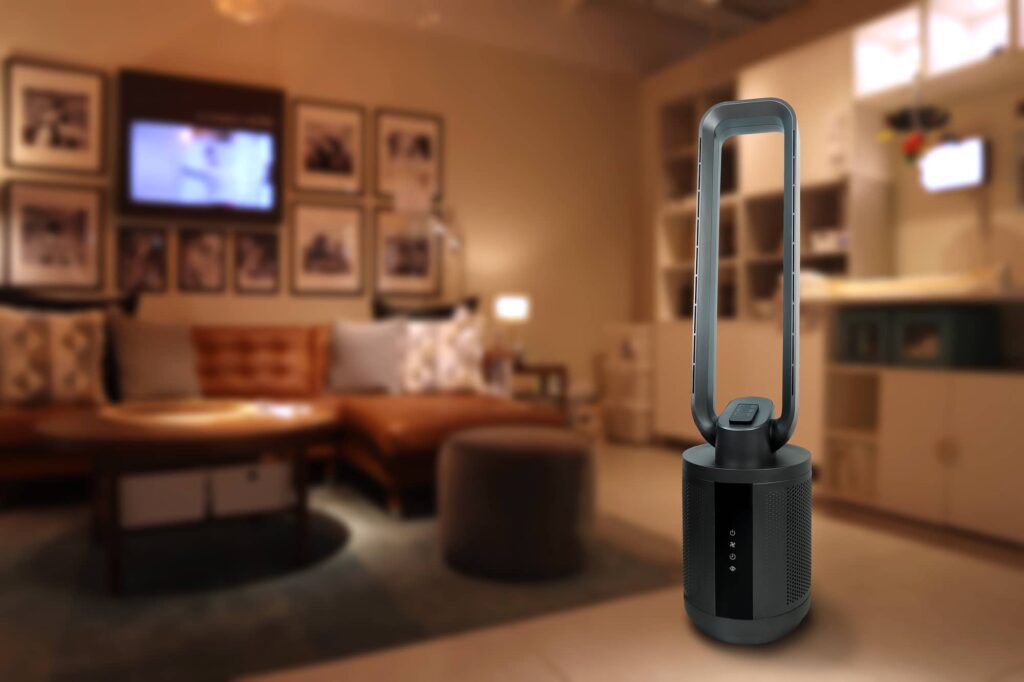 Pair it with an air conditioner operating for a short time, and you'll have cool air circulating around you and a reduced electricity bill to boot.
Purchasing one or even two is going to be light on the pocket, and positioning it in any room of your home is more convenient than pedestal or box fans. Any corner of the home or on top of any sturdy furniture will do for placing a tower fan.
The next dilemma is deciding which is the best tower fan. Let us walk you through some of the best ones in the market for different requirements to help you make up your mind.
Tower Fan Features To Look Out For
Before you look into the different models available, let's look at the features that make its use convenient and effective. With some basic features and good-to-have additional ones, tower fans will convince you of performance as good as air conditioners for your home or office use. These are things to look out for, to suit your budget.
Speed Settings
Most tower fans have three speed settings to help you customize the amount of cooling required; some have up to five.
Oscillation
Combining the variable speed with an oscillation feature makes the device more effective, as the cool air is spread over a larger space.
Fan Noise
These days, devices that have a quiet operation are preferred, especially for calm locations like offices or bedrooms. For this, the specifications usually mention the decibel level to help the customer make a choice of a quiet tower fan.
Fan Remote Controller
With most electronic controls placed on top of the unit, for speed settings, turning the device on/off, and oscillation control, what would make your life easier is a convenient remote control. Instead of having to get up from a comfortable place, all you need to do is lift your finger (more or less) on the remote control.
Air Fresheners
These days, a lot of models release air fresheners or scents along with the circulating air. A dial on the control panel permits control of the strength of scent released, or turning it off altogether.
Air Purifiers
For a few extra dollars, you could choose from higher end models that function as air purifiers, heaters, or humidifiers. These types of products with multiple features help you save money, without having to buy an additional device to fulfill the separate requirements.
Other Features
Some brands have special attractions like LCD displays, filters that are washable, or some unique cooling technology that is specific to a manufacturer. An important feature to look out for is durability.
Things like how regularly the blades need cleaning and other suggestions for maintenance of the product are important. While factors such as how often you use the tower fan, along with its location of use, impact longevity, a warranty covering a longer time would be beneficial.
The 5 Best Picks
Google searches for the best tower fans for cooling may get you confused about which is truly worth spending your money on; the ones listed here will ease up the process.
No products found.
Ranging from an inexpensive tower fan, to the best quiet model, oscillating type, and models with multiple functions in addition to cooling, such as heating, purification, or ionizer, the varied list is bound to help you make up your mind sooner.
My aim with this article was to find the best tower fan for cooling any room and any situation.
Pelonis Oscillating Tower Fan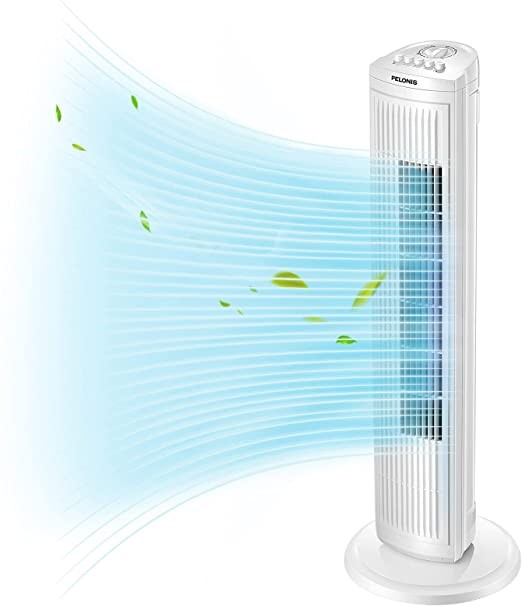 One of the top rated tower fans, this 40″ sleek black product is well suited for just about any room of your home, even the office. The three speeds along with the three operating modes include the strong, natural, or sleep settings for different airflow to suit your cooling needs.
The control panel at the top features bright LED lights to indicate the speed settings, modes, oscillation, and an automatic shut off timer (that can be programmed for a good 15 hours) that helps save energy while you sleep sound.
An extremely convenient remote control lets you adjust the settings or turn on/off the device from about 20 feet away. In addition to the noise level being as low as 48dB, it creates just the right amount of white noise for a good night's sleep.
Being an oscillating fan, the 50 cm air outlet coupled with a 90-degree silent oscillation gives the best air circulation as the air flow is distributed wide across the room, as much as 26 feet away.
Additionally, the slumberous option or the nighttime mode gets the wind speed to gradually weaken, eventually reaching an optimal speed while you sleep. Not neglecting the safety feature, the manufacturer has included a fused plug that prevents any damage caused by a power surge or over-voltage.
Lasko Wind Curve Portable 42″ Oscillating Tower Fan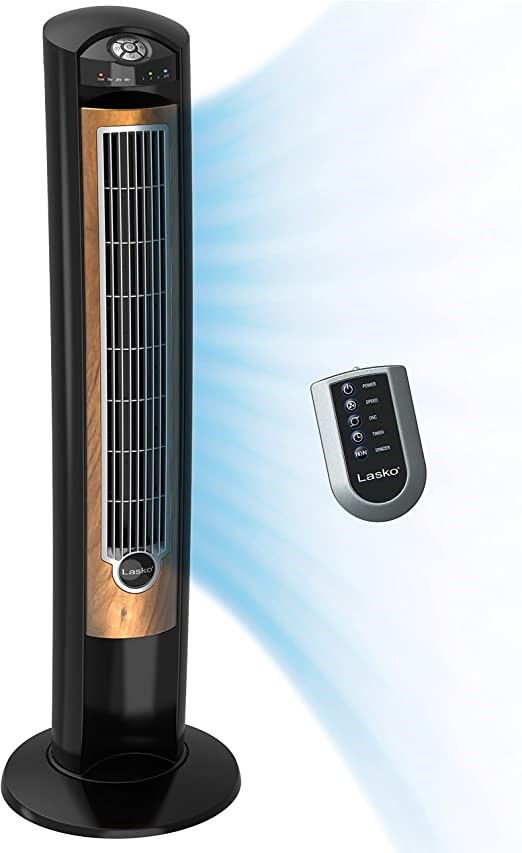 This Lasko fan not only takes care of air circulation, but also creates a fresh air feeling indoors just like the natural wind outside.
With wood-grain accents, this product has a very sophisticated design and at a height of 42.5″, with a base of merely 13″ x 13″, this stylish Lasko tower fan can be placed conveniently anywhere indoors.
The built-in handle makes it easy to move it around, while the optional oscillation feature, along with three fan speeds, provides a wider cooling coverage. The multi-function remote control makes it easy to control the fan from where you're seated.
An energy efficient programmable timer can be set from 0.5 to 7.5 hours. Like most other residential pedestal fans of this brand, the blue plug safety feature cuts off the current on detection of an electrical fault.
The most impressive feature of the Lasko Wind Curve is the built-in ionizer that improves the air quality by dispersing millions of negative ions that bond with the positive-charged ions of dust, smoke, bacteria, and other allergens. Air purification occurs when these particles get heavier and fall to the ground.
Honeywell Quiet Set Whole Room Tower Fan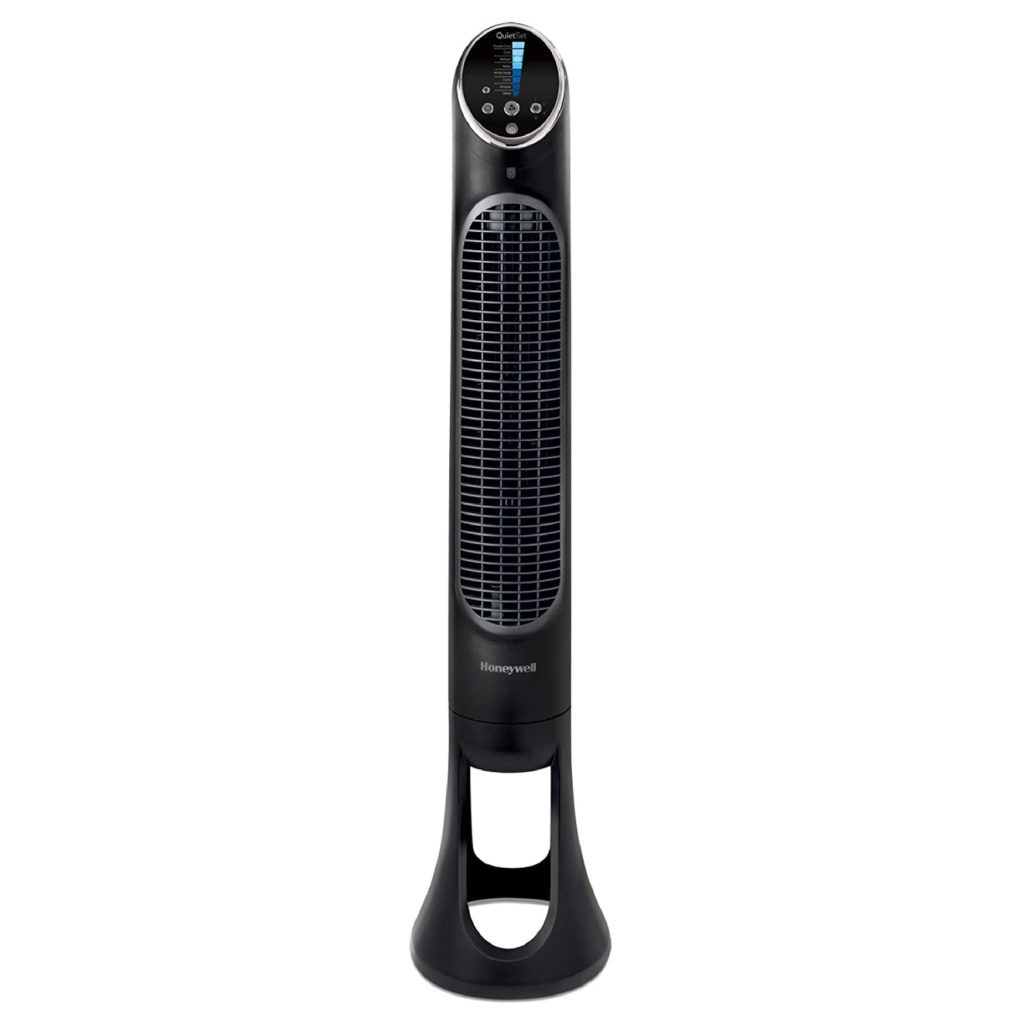 Rated the number 1 best seller in household tower fans, the Honeywell Quiet Set allows you to choose from eight levels of control including white noise and whisper quiet. You're bound to stay cool with eight settings to choose from, with the highest speed being power cool.
Like most other tower fans, the settings could be changed with the control panel at the top or a remote control. At times, searching for remote controls lying around the house is a pain; but not with this model, since there's a slot at the back to place the remote.
A sturdy base and a carrying handle makes this product easy to move around and place in any room of your home or the office. The programmable timer will automatically shut off the device and there are options to dim the display lights as well as for oscillation.
With the least negative reviews when compared to other fans, one reviewer has suggested that while this is not a replacement for an air conditioner, using this with an AC unit makes a significant difference, while the white noise helps with sleeping.
Dyson Pure Cool Tower Air Purifier and Fan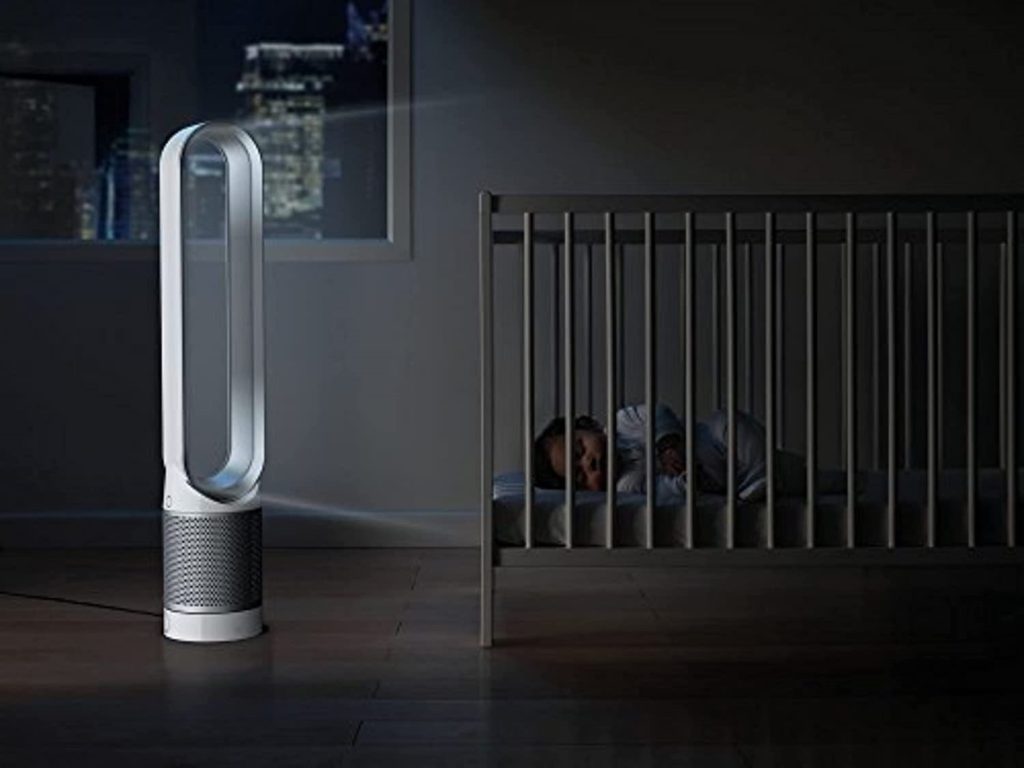 When you want purified air that's 99.97% free of pollutants and allergens as small as 0.3 microns, and to feel cool as well, the 40″ Dyson Pure Cool is the product for you. The brand's trademarked Air Multiplier purifying fan technology ejects a pure stream of air.
This is coupled with the second generation HEPA filter that helps purify the air by removing extremely fine particles such as pollen, bacteria, etc. The 360 degree glass HEPA filter can be replaced when needed.
With the functions of a fan and an air purifier embedded in a single product, you'll have to pay more to purchase one. The availability in three colors gives you the choice of selecting what goes well with your decor.
An impressive 350-degree oscillation of this model can assure you that the entire room will be cooled. For extra comfort, a magnetized remote lets you change any settings of the fan from where you're seated.
Lasko Oscillating Hybrid Fan and Space Heater
No products found.
Rather than spending money for fans and space heaters separately, what you get here is 2-in-1 for an extremely affordable price.
With four speed settings for the fan and the heater, this 1500 Watt mini tower fan/heater is suitable to use in a medium sized room. A widespread oscillation distributes the cool or the hot air evenly across the room, and is ideal for your comfort in all seasons.
An adjustable thermostat makes it easier to suit your comfort, and an eight hour timer with 30 minute increments gives you full control of the room. Keeping in mind the safety of the customer, this tower heater has an inbuilt sensor that detects overheating and prevents the device from getting too hot.
Additionally, if you happen to knock it over accidentally, there is a safety tip-over switch that cuts off the power. A molded handle and a stay-cool body make it convenient to use.
Placement of Tower Fans
Once you've made up your mind on which tower fan is suitable for your requirements and budget, it would be helpful to know these tips for the ideal placement to get the most out of your purchase.
Keeping it away from busy walkways and ensuring sufficient space for the air to move around would be a good start.
Corners
Placing fans with an oscillation feature in a corner wouldn't do justice to its function as the fan will push air against the wall for most of the time. If it's just a 90-degree oscillation, a corner would be fine. With an oscillatory arc of 180-degrees, it would be more efficient to place it in a central area, probably along a wall.
Obstacles
It would be best to avoid obstacles around your fan's airflow since it reduces the effectiveness of the fan's cooling. Furniture such as bookshelves, sofa, couches must be at a distance from tower fans.
Alternatively, you could place it on a firm base above the other obstacles, like on a table. Even then, it would be safer to not have many items placed around the cooling equipment on the table as well.
More Fans Equals More Cooling
For places that get extremely hot, with the mercury touching unthinkable levels, a single fan would not suffice. In such a situation, purchasing multiple fans would be a sensible option.
With two fans in one room, at maximum fan speed settings, the cooling power will be significant, and will still consume less electricity than an air conditioner.
These days, there are many tower fan models that are manufactured to be eco-friendly and highly efficient. A plus point for the multi-function models that also function as a humidifier, space heater, or air purifier, is being able to save space and energy, and reduce your environmental footprint.
If you tend to forget to turn off your electrical devices before leaving the room or house, a model with an auto shut-off function will come to the rescue, by helping you save energy.
Final Thoughts
Save space, money, and energy by getting yourself a tower fan that can be placed conveniently even in any corner of your home or office. With additional features like purification, heating, fragrant air among others, you're going to be pleased shopping for one and satisfied having the ideal model to suit your needs.