5 Best Portable Cooling Fans
Something that's not fixed, and can be carried or moved with ease, is considered portable. This holds for fans too, when they're not fixed to the ceiling or a wall. The broad range from the handheld, battery-powered ones to the large box fans that cool the entire room provide us with many options.
Each summer feels hotter than the previous year, thanks to global warming (or it could be us being over-dramatic). Often, the indoor temperature feels much hotter than outside; leading to the need of air-conditioners or alternative cooling gadgets. Keeping cool and keeping the utility bill from shooting up are two main concerns on the heated up days. The solution to both these woes is portable cooling devices. Read on to know about the best portable fans available in the market.
Types of Portable Fans
When you think portable, what occurs at the top of your mind is probably a personal fan, one that's carried around on the move. However, portability in the true sense includes all those that aren't fixed and can be easily moved around too. Apart from ceiling fans and wall-mounted fans that are fixed, the other types mentioned here aren't.
Tower Fan or Floor Fan
The slim and slender tower fans or floor fans can be placed conveniently in any corner of the house or any tight spaces as well, and mostly take up less floor space. A whole range of features such as oscillation that helps circulate the air flow throughout the room, quiet operation, air purifier, sleep timer, and a handy remote control can be found in most models sold these days. There are also some that have dual functions; functioning as a cooling fan for the summer and normal days, and a space heater for winter time.
Tabletop Fan or Desk Fan
With work-from-home (WFH) becoming common these days, most of us are bound to be seated at the desk, working for most of the day. What can keep us cool, especially on the hotter days, are personal fans that can be placed on the table or desk. By directing the fan to blow cool air your way, you'll be able to comfortably work away. The versatility of these fans make them appropriate to use even when you're lying in bed or sitting on the couch as well.
Pedestal Fan
Yet another easy-to-place type of fan around the house, the stand-up or pedestal fans are just like tabletop fans, but a larger version, and circulates more cold air, without taking up too much space. When paired with air conditioning intermittently, you'll be able to experience extra cooling and save big-time on the electricity bill, as the energy consumption of such a device is quite minimal. Most pedestal models have an adjustable height and oscillation settings that create a more powerful airflow.
Window Fan
Technically, a window fan counts as portable since it can be moved around the house, although only to be fixed on windows. What holds back the wide-spread use of these devices is that they can be inserted only into certain window frames, such as the slider windows or ones that open outside. The outside air is utilized to cool a room and it offers a localized airflow. By utilizing this in the shady side of the house and with appropriate cross ventilation settings, this could work satisfactorily. Even so, these window mounted devices need to be taken down when it gets cold outside or when it rains, to avoid leaks.
Handheld Fan
At a mostly affordable price, these small gadgets are easy to carry around in your hand, pocket, or purse. While they may not be as effective in cooling as the compact tabletop fan, the cordless, battery-operated and rechargeable ones make for convenient cooling on your outings. Whether you're just out on a walk, shopping, camping, or at any event, these fans will help you stay cool. Additional features such as LED lights, water mist cooling, and USB charging to power other devices are available with some models.
What to Consider When Selecting a Fan?
Fundamentally, the need of a fan is to cool your home efficiently, and not have to use the air conditioning too much. Apart from your budget, the size and place where you intend to use the device determine the choice of the best one. When you're looking for something compact that can be moved around the house with ease, a floor fan or circulator fan would be great. For a smaller footprint and strong cooling power, a tower fan has your back.
The traditional pedestal fan, with the adjustable height and oscillation features, circulates air in a larger space and is great to have in patios, basements, or just about any other room of the house. The truly compact and portable option if you're regularly on-the-go is a handheld, battery-operated fan. Regardless of the choice, you wouldn't want more noise being added to your surroundings from these devices, making it suitable to look out for quiet-cooling models.
Additional Features For Added Convenience
While you'll benefit from better air circulation with the choice of a good fan, there are specific features that you might want to keep in mind before you purchase one. Oscillation is a good-to-have option, and side-to-side or up and down (or both) causes the airflow to cover a wider area of the room by simply setting the device in one spot. A remote control is an important requirement with most models these days for convenient operation, so much so that the best cooling fans are bound to include it.
Air purification along with cool air circulation is an attractive option; fans that purify the air by removing allergens and pollutants have seen an increased demand these days. For the ultimate convenience, you could go for a smart-model that can function with voice commands, by connecting to smart devices for a hands-free experience.
Best Portable Fans For Cooling
Looking at cooling fans for your whole room or a cool breeze just directed at you? Here's a list of the best picks to suit your needs.
Rowenta Fan VU5670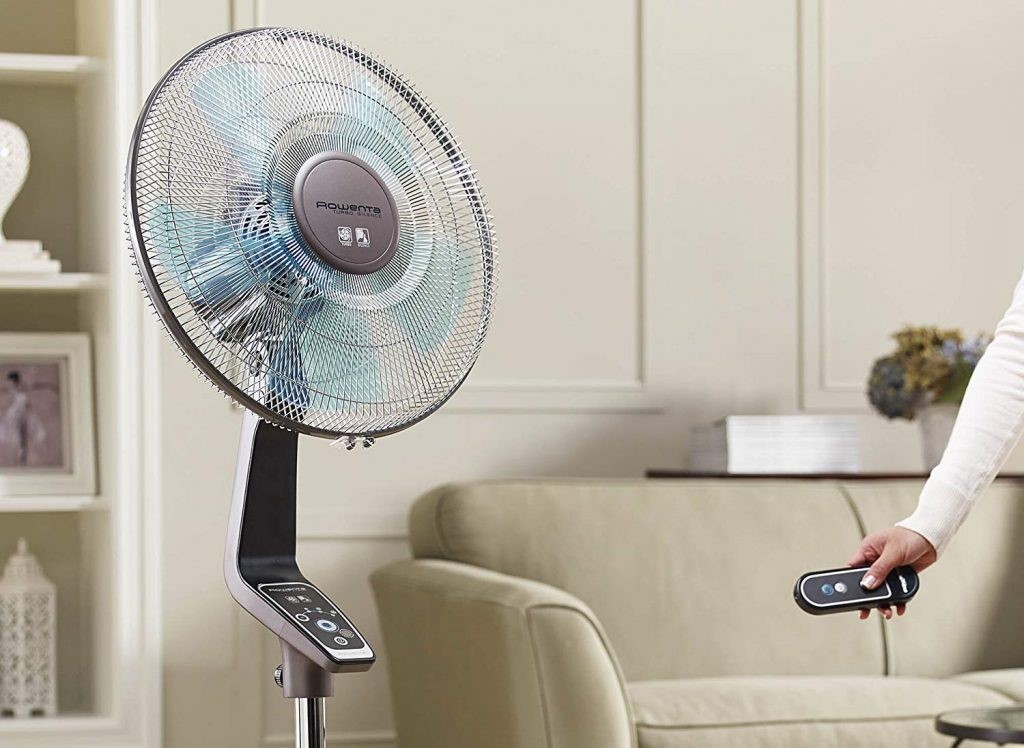 This 16″ pedestal fan is Rowenta's most powerful and quietest fan, out-performing other fans, with stronger airflow and lower noise levels.
With a high five star rating percentage, this pedestal fan has efficient ultra-quiet performance at 35 dBA noise level. Suited for homes and office-use, there are three speed settings as seen in most fans, and an additional two settings – turbo boost for extra power and silent night mode for the ultimate silence. The five effective blades coupled with a broad coverage oscillation and an adjustable height from 42″ to 54″ makes it one of the best cooling fans around.
The control panel features options for setting an 8-hour timer and to select the energy-saving mode that automatically reduces airflow for the fan to reach the most energy-efficient setting. The fan's remote control makes it convenient to change the settings from where you're seated or resting. There is also an on-board storage for the remote control.
Honeywell HT-900 TurboForce Air Circulator Fan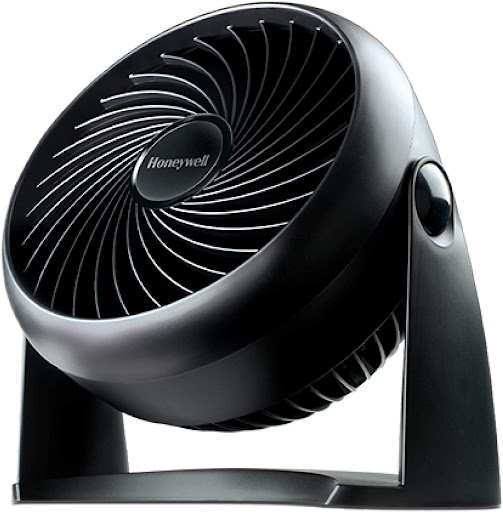 This small fan that can be placed on the table or floor is ideal for circulating air in a bedroom or office. The compact size of this product makes it suitable to even mount on the wall or place it on a window sill. With three fan speeds and a 90-degree pivoting head, the powerful air circulation comfortably cools small rooms and even medium sized rooms.
Although small in size, this air circulator fan provides intense cooling that can be felt from about 27 feet away. The blades are uniquely designed to reduce the fan noise, resulting in a quiet and powerful cooling. The aerodynamic turbo design maximizes the air distribution and can also be used for directional cooling anywhere at home, office, or a dorm room as well.
Lasko 42″ Oscillating Tower Fan T42950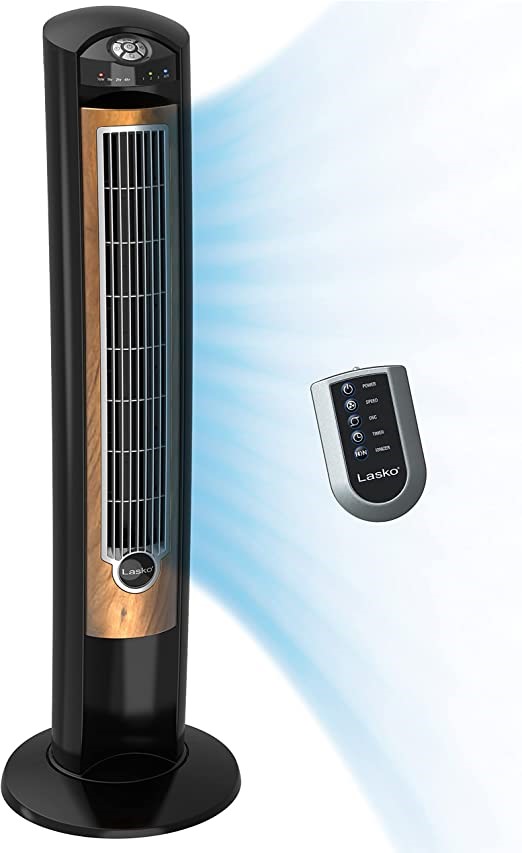 While a ceiling fan will circulate air in the room and create a cooling effect by evaporating the sweat off your skin, a tower fan directs cool air at you while also cooling the rest of the room. Considered as the best fan among the tower fans of Lasko, based on most reviews, the three speed settings creates a powerful breeze to cool even a large room as quietly as possible. The built-in handle makes it easy to move it around and a handy remote control allows for convenient operation.
The highest speed of this tower cooling fan will still not drain the sound of your TV, and an additional feature of this product is the generation of white noise to help you fall asleep. A timer that can be set from 0.5 to 7.5 hours adds to the energy efficient operation. Despite standing 41.8″ tall, only a small footprint of 13″ x 13″ is occupied. If this doesn't suffice, the best part is that there is a built-in ionizer that purifies the air by eliminating bacteria, pollen, smoke, and other allergens.
EasyAcc Handheld Mini Fan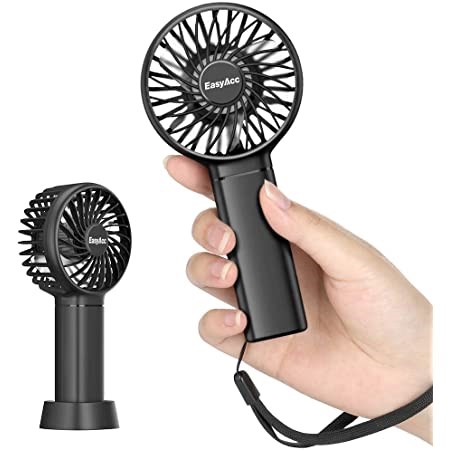 Probably not as effective as electric fans, the purpose of this mini, portable gadget is to keep you cool both indoors and outdoors. With a detachable handle, you could carry it out on your outings or use it as a tabletop fan. A lanyard that's included makes it easy to hang around your wrist or bag. Literally the size of the palm of a hand, it can easily fit into your pocket, purse, or backpack.
With three speeds, you could experience an almost natural breeze, tender or strong to suit your cooling needs. With a charging time of 5.5 hours, the battery life lasts for 5.5 to 17 hours depending on the speed of operation. You can conveniently charge it using a power bank, the USB port of your computer or laptop, or any USB port device.
The ergonomic handle makes it easy to hold and the narrow frame of the fan protects tiny fingers from touching the blades. An anti-slip pad ensures that the fan stays put, even when it's placed on a desk, chair, or the floor; this could even keep your napping pets cool. With four color options of pink, green, black, and white, this product is quite affordable and extremely portable. 
Dyson TP04 Pure Cool Advanced Technology Purifying Tower Fan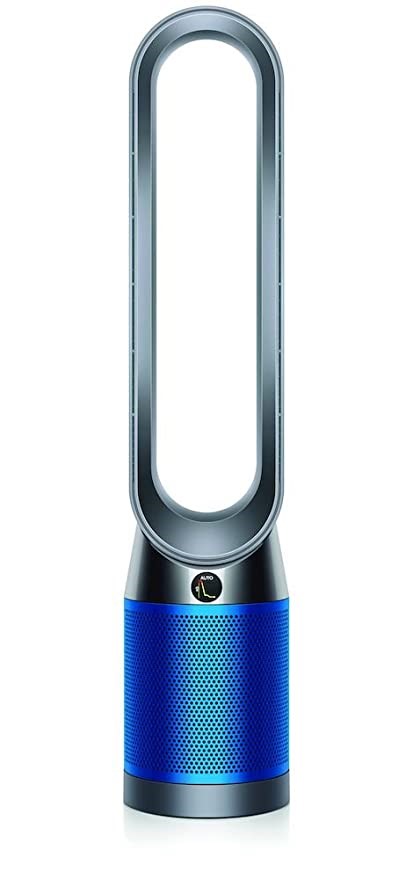 Among the bladeless fans available, this is one smart model that improves the air quality as well as it cools. This tower fan has a 360-degree glass HEPA filter and an activated carbon filter that removes 99.95% allergens and pollutants from the air. These are low-maintenance filters and with built-in notifications, you'll know when it's time to change them. Being able to automatically sense, capture, and project air quality levels in real time, it circulates purified air through the room.
With ten speed settings and an adjustable oscillation from 45 to 350 degrees, the performance of this fan is top notch when compared to any other fan. Additionally, an Air Multiplier technology gets it to deliver 290L of fresh, powerful airflow per second. The included remote control is curved and magnetized for easy storage on top of the fan.
For night mode, it continues monitoring and purifying the air using quiet settings and a dim display, in addition to having a programmable timer. As with a lot of other Dyson products, you can link this device to the Dyson Link app and there will be real-time reporting of impure air around you (where the device is placed), to your phone. Also, the machine can be controlled by voice commands.
Final Thoughts
For comfort during the hot and stuffy days spent at home or outdoors, when a ceiling fan may not suffice, the search for the best fans that are portable will introduce you to a range of options. Whether you want to get the whole room cooled or just yourself, you could select the appropriate one based on your requirements. After all, who doesn't like the feeling of a nice breeze upon themselves?