10 Things to Look for Before Buying A Ceiling Fan – Buying Guide
Ceiling fans are an excellent way to add comfort and style to your living and workspaces. It is easy to get overwhelmed by the number of styles, sizes, control options, and finishes available in the market. 
That's why I have made this definitive ceiling fan buying guide to help you choose a ceiling fan that looks great and provides optimal performance, regardless of where you install it.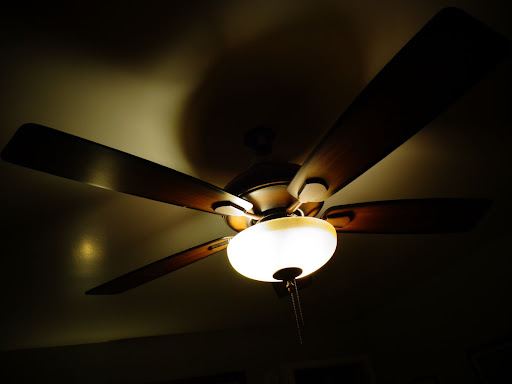 Read on to find out everything you need to consider to buy the right ceiling fan for you.
What to Look for in Ceiling Fans: 10 Pointers to Keep in Mind
When bought after careful consideration, ceiling fans can last you a long time. It doesn't hurt that they cost much less than air conditioners.
Thus, before you set out to find the perfect ceiling fan for you, take some time to research the style you want, where you want to install the fan, and if you prefer faster air movement.
Whether you want to buy a new ceiling fan or gearing up to replace a new one, this ceiling fan buying guide is for you! Here are ten considerations that make buying ceiling fans a breeze.
1. Keep Your Budget in Mind
Like most home appliances, ceiling fans come in various budget categories. The good news is that no matter what your budget, there is a ceiling fan for everyone! 
However, the amount of money you are willing to spend on a ceiling fan will affect the quality of the equipment, its style options, as well as the added accessories that accompany it. Depending on your need (and pocket), you can expect to spend anywhere from under $100 to well over $1000.
With a pull chain control, most ceiling fans around the $100 mark will be pretty simple to operate. Such inexpensive fans are suitable for first-time homeowners looking to stay under budget.
If you are willing to splurge, ceiling fans over $300 will not only have better functionality, performance, and fan controls, but they will also come with better style options. Such fans also offer reversible blades that can change the flow of warm air and cool air, according to the seasons.
2. Ceiling Fan Location: Indoor Vs. Outdoor
Where you place the ceiling fan also dictates the type you should buy. 
When compared to indoor ones, outdoor ceiling fans have to endure very different weather conditions, standing against humidity, rain, and snow. These factors affect the performance of the appliance. 
Thus, indoor and outdoor locations require differently-rated fans for practical use.
Indoor Ceiling Fan Installation
If you want to install a ceiling fan indoors, you should opt for one with a UL Dry rating, which usually has wood blades, perfect for the required use. Ceiling fans with a dry rating work great in bedrooms and offices.
If you live in a particularly humid area, you can also go for UL Damp-rated fans. A ceiling fan with a damp rating will work in humid regions, where there is no contact with water directly. 
Therefore, while such fans will mostly work for indoor settings like laundry rooms, they can also be installed in covered outdoor places like covered porches.
Outdoor Ceiling Fan Installation
For outdoor fan installation, opt for UL Wet-rated fans. 
Such fans work well in outdoor spaces because their motor housing is water-resistant, and the ceiling fan blades perform optimally even in arid conditions. Such all-weather fan blades are suitable for any exposed area, like a patio.
3. Select the Right-Sized Fan Blades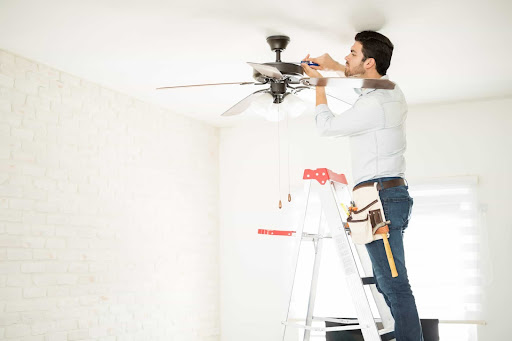 Speaking of fan blades, let's discuss the role they play when you choose a ceiling fan. The fan blades' span or sweep determines how well or poorly they will perform in any space. Ensure that you are not buying a ceiling fan that is too big or too small in diameter.
Although you can choose a ceiling fan blade span according to your preferred fan speed and air circulation, there are general guidelines to follow for various space sizes. You measure room size in square footage and select a fan with the appropriate span to circulate air efficiently without overworking the motor.
For spaces under 144 sq. ft., go for fans with an approximate blade span of fewer than 42 inches.
For medium-sized areas between 144 to 225 sq. ft., choose ceiling fans with an approximate span of 44 to 50 inches.
For larger rooms between 225-400 sq. ft., go for ceiling fan blades with an approximate span of over 50 inches.
For very large rooms over 400 sq. ft., consider installing more than one fan of over 62-inch sweep.
4. Why Ceiling Height Matters
You can choose flush mount or downrod ceiling fans depending on your ceiling height. Remember that you need to have at least 7 feet between the floor and the ceiling fan to meet building safety guidelines. Thus, for lower ceilings (less than 8 feet) in small rooms, flush-mount model fans are more suitable to maintain the required distance.
If you have a ceiling at or over 9 feet, you should choose fans with a downrod. The downrod height will be determined by how high your roof is and where you want the ceiling fan to hang. As a rule of thumb, the higher the ceiling, the longer the downrod.
In case you have a sloped ceiling, the angle matters as well. If the ceiling angle is up to 30 degrees, you can mount most fans on a regular fan box. However, you may need a longer downrod to clear the fan blade sweep off the ceiling slope for high ceiling fans.
If the slope is much steeper than 30 degrees, the ceiling fan needs to be mounted on a special adaptor, called the angled mount.
5. What Kind of Fan Motor to Choose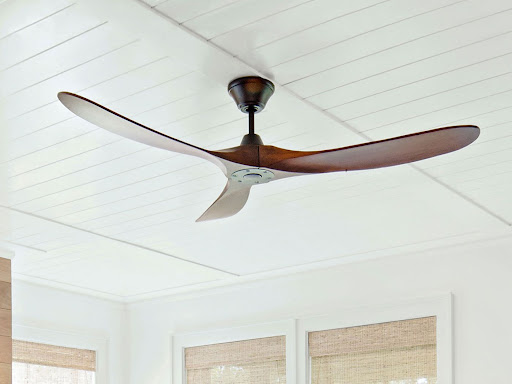 Any fan to provide improved functionality needs to have a powerful and efficient motor. Remember that if a ceiling fan has a broader span, it will require a more powerful motor to counteract the blades' resistance.
In general, you need a motor with sealed bearings and a rubber flywheel for torque control and noise prevention. DC motors are lighter and more energy-efficient than AC motors (up to 70 percent). A ceiling fan with a DC motor will consume less energy, be less noisy, and produce more torque.
Moreover, fans with high airflow (more air moved by cubic feet per minute) consume less energy while providing better air circulation. This quality makes such fans perfect for outdoor spaces and garages.
6. Consider Fan Style and Finish
Fans can effortlessly add style to your space by complementing your living area's décor and aesthetic. Luckily, there are so many fan blade materials, fan styles, and finishes available that you will be spoiled for choice.
You can choose the fan that compliments your design scheme, from antique ones with scrollwork to contemporary styles with sleek metal blades and clean lines. They also come in rustic styles with a dark wood finish, or you can choose tropical style fans with natural palm leaves or bamboo blades.
If you opt for painted finishes, brass-plated fans with multiple paint coats are the best pick.
7. Fan Control Preference
In most fans, you will find the standard pull chain control, which allows you to typically change fan speed settings or lighting if there is any. However, there are other kinds of fan controls.
Probably the most fancy (and efficient) of the control options for ceiling fans is the remote control. The remote control works great for fans mounted on high ceilings, with a 30-50 feet signal range.
You can also opt for fans with a wall control option to change the direction and control speed through a wall switch. The wall-mounted control has a good range of up to 40 feet, making it great for a dining room or a living room.
8. Selecting A Fan Light
While choosing a fan with a light kit is more a matter of personal preference than necessity, it does add vibrancy to dim-lit spaces. Not to mention, it makes the entire fan look much fancier.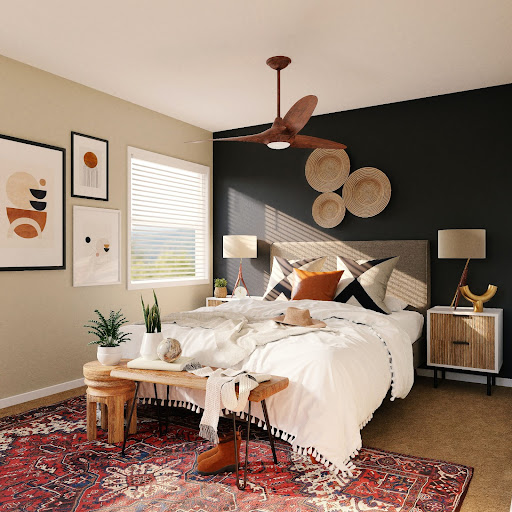 Light kits typically come in three different types: LED, halogen, and fluorescents. LED and fluorescent lights are much more efficient than their halogen counterparts, emitting both warm and cool light. Halogens have a comparatively shorter life span and can only give out a warm light. 
Usually, halogen lights are not ideal for fans fixed on tall ceilings.
9. What to Know About Ceiling Fan Warranty
It's all in the fine print. You may think you have a lifetime warranty for your ceiling fan, only to be disappointed later. Warranties sometimes include components, but many times they only cover the motor. The warranty durations also differ based on price and quality.
10. Installation and Maintenance Considerations
When looking for the right fan, consider how you will install and maintain it. A ceiling fan installation is usually not a very daunting task. However, if you are unsure, you can go to a licensed electrician.
If you plan to install it yourself, make sure you mount it on a fan box or brace rather than an electrical box. Installing it on an electrical box can be dangerous as it cannot take its weight and sway.
Moreover, follow simple ceiling fan maintenance steps for optimal performance and increased appliance life. For example, make sure you regularly clean the fan and the motor when needed to avoid dust build-up. You also need to see that your fan blades are balanced and at the same height for safe use.
And, there you have it! Everything you need to think of before buying the best ceiling fan to cater to your needs. If you want to save time and effort then check out our top ceiling fan options where we have done the work for you.