10 Best Exhaust Fan for Kitchen in 2022
One of the most important pieces of equipment for any kitchen is an exhaust fan. Without a window exhaust, the cooking experience is bound to be incomplete.
This article will provide you with a detailed overview of the 10 best window exhaust fans on the market in 2022 so that you can pick the right one for your needs at home.
A kitchen exhaust fan fulfills a few important functions. Not only does it remove unwanted smells and odors from souring your cooking experience, but excess ventilation is also important. This is especially true when you have an open flame in the kitchen. The excess airflow helps circulate air and improves air quality as fewer pollutants are left in the kitchen.
Due to these reasons, having an exhaust fan is essentially a necessity in your home kitchen. Fortunately, you have come to the right place to find advice on what the best kitchen window exhaust fan is.
1) Broan-NuTone 413004

The Broan comes in the form of a ductless hood design that can be attached directly on top of the stove in your kitchen.
One of the advantages of this fan is that it is made out of stainless steel. This makes it more resistant to rust and corrosion than a similar fan made with different material. Moreover, since the Broan is a stovetop design, it comes with built-in lights to illuminate what you are doing.
In case your home is styled or themed in a certain way, you can also find the Broan in a variety of different colors and patterns so that it can fit with your existing décor at home. Additionally, the fact that it is a hood design means that it will make minimal noise and keep your time in the kitchen comfortable and relaxing.
Everything is not perfect with the Broan, however, one of the main complaints has been the difficulty in installing it due to the nature of the design which is not very user-friendly when it comes to installation. However, if you are relying on an external contractor to install the window exhaust fan instead of doing it yourself then there should not be many issues.
2) Hon&Guan 6" Home Exhaust Fan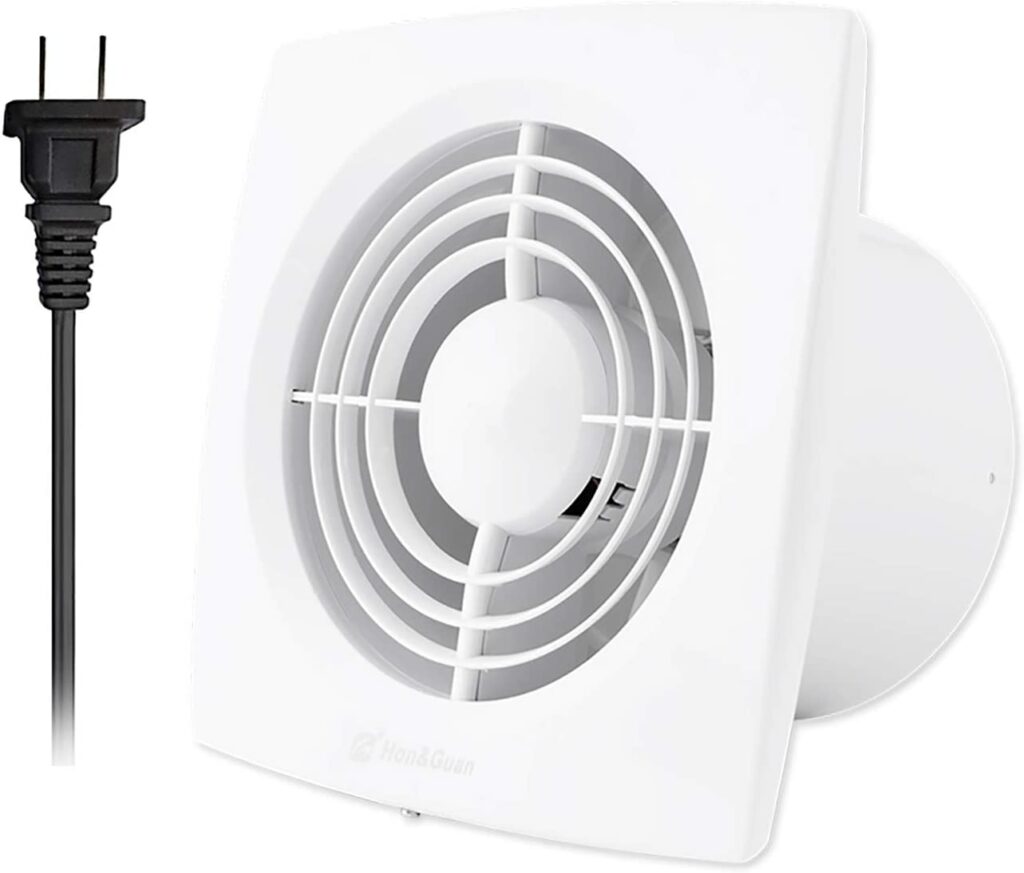 All fans are not created equal, some are lighter and compacter than others. The Hon&Guan is one such example. The defining feature of this exhaust fan is that it is much smaller than most others on the market. Rather than being a design that goes over the stove top, the Hon&Guan can be put in a window.
Moreover, the fan is made from plastic which makes it significantly lighter than other metal competitors on the market. The plastic construction also makes the design much more weather resistant which protects it from the elements and increases the reliability of the exhaust fan.
This exhaust fan includes a backflow shutter which is a crucial addition as it prevents insects from flying into the kitchen through the hole.
A relatively obvious issue with having a smaller fan is the fact that it cannot create strong airflow. In comparison to bigger fans which have a better airflow, the Hon&Guan is not able to create the same strength of air currents. This makes it slightly unsuitable for larger kitchens, especially when there are a lot of running stovetops.
3) SAILFLO 10 Inch Exhaust Fan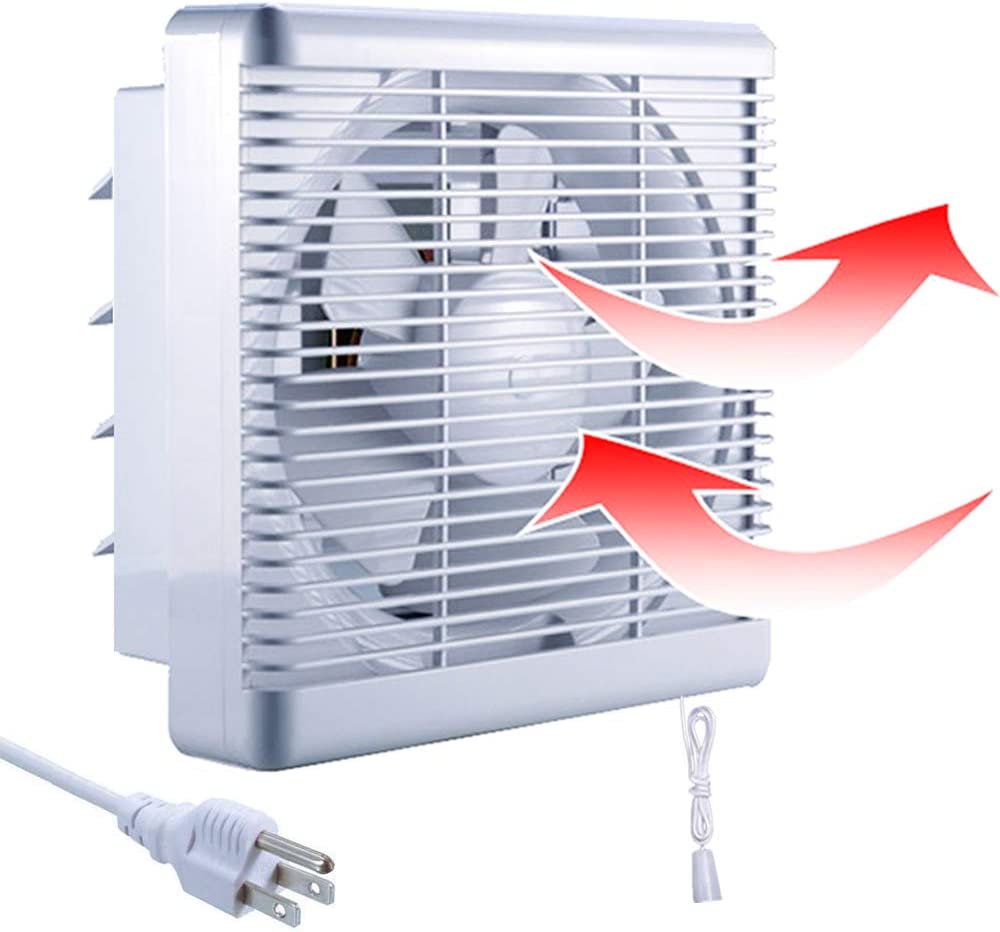 The Sailflo is the first exhaust fan on this list to have twin reversible airflow. By tugging on the attached string twice the flow can be reversed so make indoor air go outside. Alternatively, by tugging on it once, the flow can be reversed so that fresh air from the outside enters the kitchen and replaces the dirty air that is present.
Additionally, the Saiflo is also famed for the fact that its high-quality parts make it a reliable exhaust fan to have on hand as it is rated to operate for 9,000 hours. This means that lifetime costs are significantly lower as you will need to replace it less often than many of its competitors.
Finally, the inclusion of the reverse shutter makes it impossible for harmful insects such as mosquitoes as well as dust and the like to enter the home through the exhaust fan. This is a feature that most fans in this price segment lack, making it a standout feature.
Despite all these pros, the Saiflo exhaust fans do have a few shortcomings to be vary of. For one, the comparatively compact design means that the fan lacks the air-pushing power of a larger window fan or exhaust fan. Secondly, a common complaint by users of this model is the fact that it is relatively noisy. Thus, if background noise is something not in your comfort zone, the Saiflo might not be the most suitable of options.
4) Panasonic FV-30VQ3 WhisperCeiling Ventilation Fan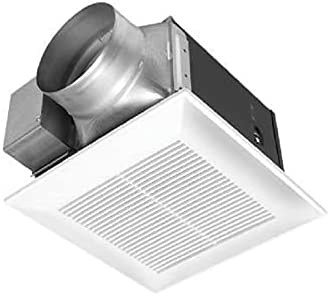 When deciding what equipment to put in your house a crucial decision to consider are the associated lifetime costs. The Panasonic WhisperCeiling was designed with exactly this fact in mind. Thanks to its EnergyStar certification this fan removes hot air from the kitchen without breaking the bank in terms of electricity costs.
As the name suggests, another strength of WhisperCeiling is that the fan blades are designed with noise suppression in mind. This ensures that background noise is minimized while you are working in the kitchen.
A common issue with some of the offerings on this list is the fact that they can be a bit complicated when it comes time for installation. Moreover, sometimes the product can require professional installation altogether. WhisperCeiling avoids this problem through a simplified installation process. Making it one of the best exhaust fans to install yourself.
However, one of the biggest issues with this fan is the fact that it does not include a built-in light source. Unlike a standard range hood, for this one, you will have to come up with a lighting solution yourself. This can be an especially annoying problem if your kitchen lacks large windows or multiple light sources.
5) FIREGAS Range Hood 30 inch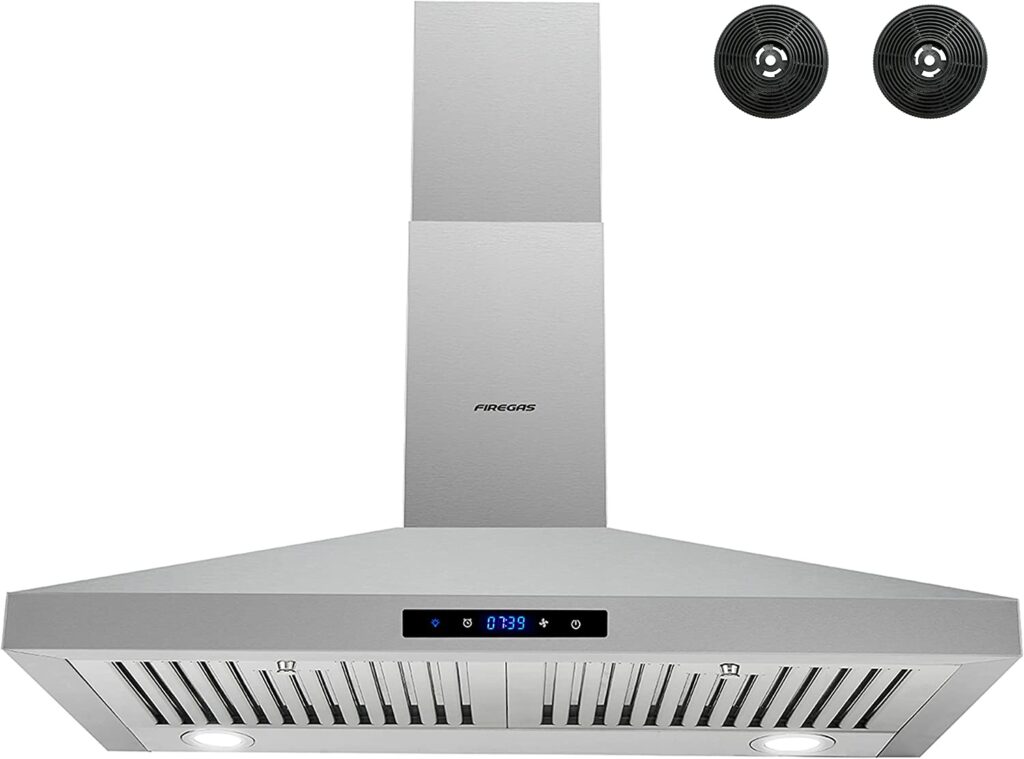 The Firegas Range Hood is designed for comfort and easy operation. This ethos is echoed all throughout the exhaust fan. This includes unique features such as the fact that the exhaust hood is height-adjustable. This allows you to lower it at will, a handy feature in case there are a lot of fumes coming off the stove.
An additional creature comfort this product provides is the fact that it has rounded edges all throughout the design. This makes it one of the safer exhaust fans to operate as there is less risk of injury by hitting your head into it.
Other than these unique features, the Firegas also has standard premium-end exhaust fan features built into it. Consider the fact that the stainless steel design makes it extremely resistant to rust and erosion. Or even the high-quality electrical components within the device that make it more power-efficient than many of its peer competitors.
Even with premium exhaust fans, however, there are still things that can be improved. The Firegas is no exception to this rule. Despite the relatively large size of the fume-hood the suction power of the exhaust fan could be improved to bring it on par with some of the other options on the market. However, despite this, it is still a solid choice as a kitchen exhaust fan that can meet most needs.
6) COSTWAY Under-Cabinet Range Hood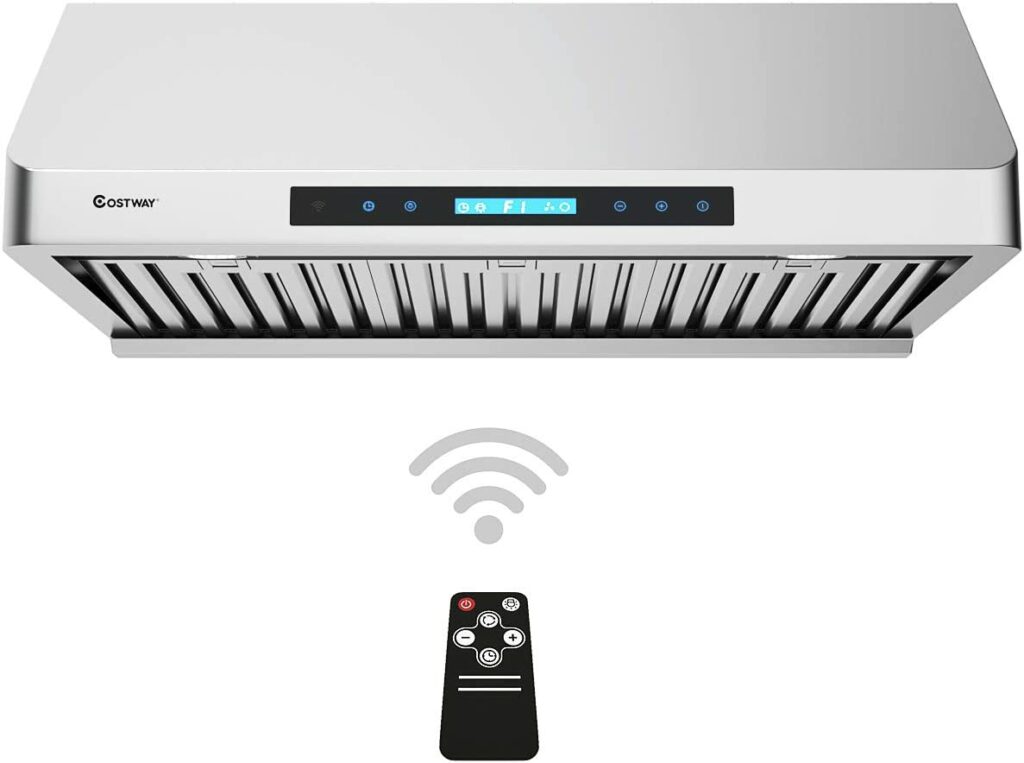 The Costway exhaust fan demonstrates that there is much more to an extractor fan than manual controls and fresh air. Instead, this product seems space-age by comparison. 
Consider the fact that it has four different speed settings that can be changed depending upon the need at the time. A higher speed while cooking and a lower one when not in active use so as to save on energy.
Moreover, these different speed settings can be accessed in a multitude of ways. Not only does the hood itself come with a built-in display screen but you also have the option of changing settings through remote control. This helpful addition can come in handy especially if you have a kitchenette that is attached to the main living room, you can turn on the exhaust without having to leave the comfort of your couch.
The inclusion of these features turns an otherwise unremarkable piece of equipment into a conversation starter. The Costway, however, suffers from the same affliction affecting most exhaust fans. 
That is the fact that when being run at high-speed settings it tends to be relatively noisy with a noticeable hum. The simple solution is to simply run it at a lower speed, however, this shortcoming is still inconvenient.
7) Hauslane | Chef Series Range Hood C100 30″ Under Cabinet Kitchen Extractor Fan

The Hauslane is one of the most premium-end offerings on this list owing to its thoughtful features and elegant design. The twin fan set-up means that the exhaust fan can run slower than its competitors while still having a higher suction strength. 
This has the advantage of making it much less noisy than other offerings. Moreover, it has three-speed settings allowing for even finer control.
Apart from the dual fans, another unique feature of this exhaust is that it comes with oil trays that collect residue from smoke over time. Due to this, cleaning the exhaust is extremely quick and easy. There is no need to wipe the insides and clear blockages. 
Simply wash out the built-in grease catchers. Finally, it is also worth noting that the Hauslane comes with built-in LED lights which are very power efficient and save up on electricity costs over time.
This strength, however, can also be interpreted as one of the few weaknesses of this model. That is the fact that the LED lights are not as bright as some users would prefer. Due to this, it can sometimes be a struggle to cook if there is no additional lighting in the kitchen. This is an unfortunate issue considering the fact that this is an otherwise high-quality option with a price to match.
8) Liftbridge Kitchen & Bath Decorative Window Fan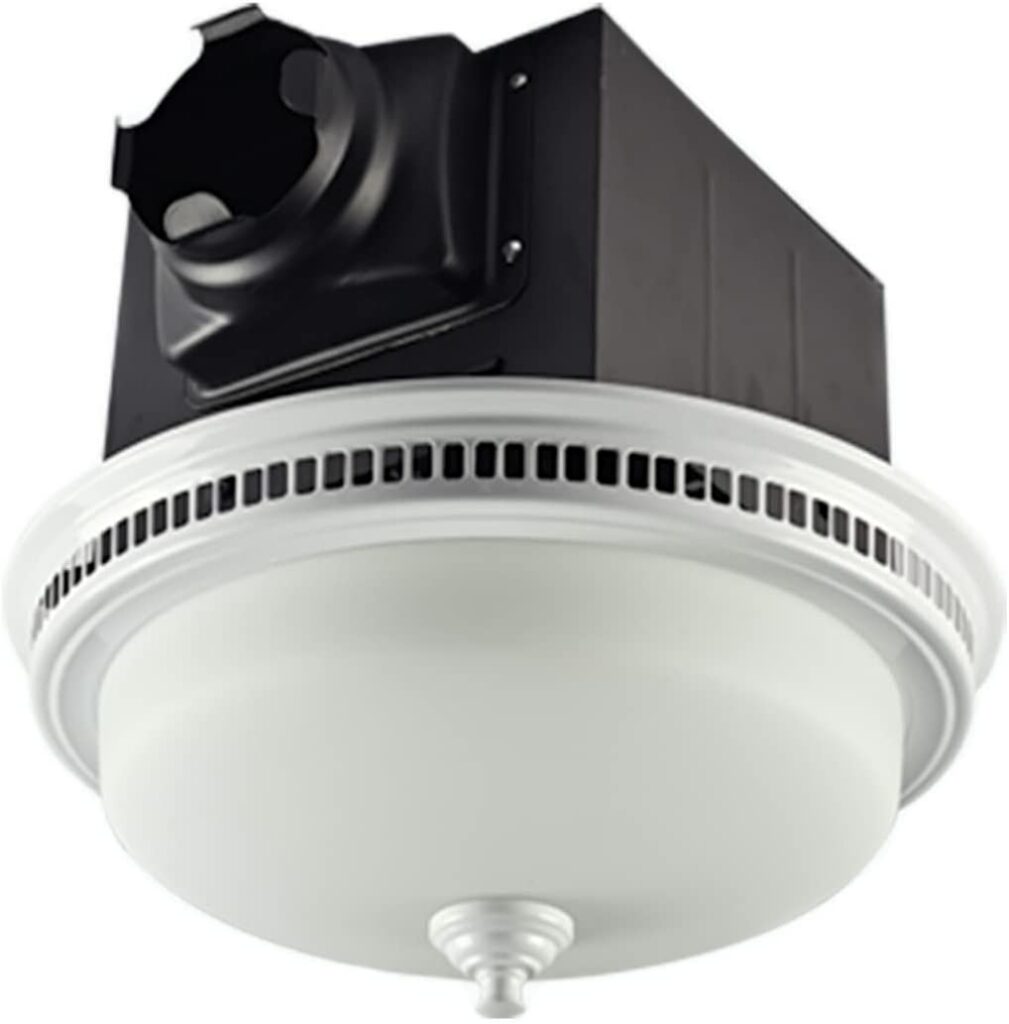 Usually exhaust fans have the primary goal of removing dirty air from the room and replacing it with fresh air from the outside. The Liftbridge exhaust fan, however, does this and more. Its unique design means that the window fan is also able to reduce humidity in the room which makes it dual function. 
Not only does it work for kitchens but it is also equally suited to being used in a washroom or greenhouse where reducing humidity might be desired.
Additionally, this exhaust fan's unique design compared to other competitors on the market confers it a few unique advantages. Firstly, in terms of reliability, this offering may be one of the best ones out there. This judgment is supported by the fact that the company offers a three-year warranty on the product.
Secondly, the Liftbridge also has the unique distinction of being a near-soundless exhaust fan thanks to its innovative design. This makes it suitable for kitchenettes where you will be using the device near your living space. By having a much quieter exhaust fan, there will be fewer disturbances for those nearby.
This sound insulation, however, comes at a cost. Firstly, the design itself is not particularly graceful or aesthetically pleasing. This may be an issue if you are trying to go for a specific look in the kitchen. 
Additionally, the material choice for the construction of the window fan leaves a lot to be desired. This is particularly relevant given the fact that some users have found the exhaust to be vulnerable to rust and corrosion.
Fortunately, the three-year warranty has the potential of coming in handy in this regard.
9) Broan-NuTone 505 Exhaust Fan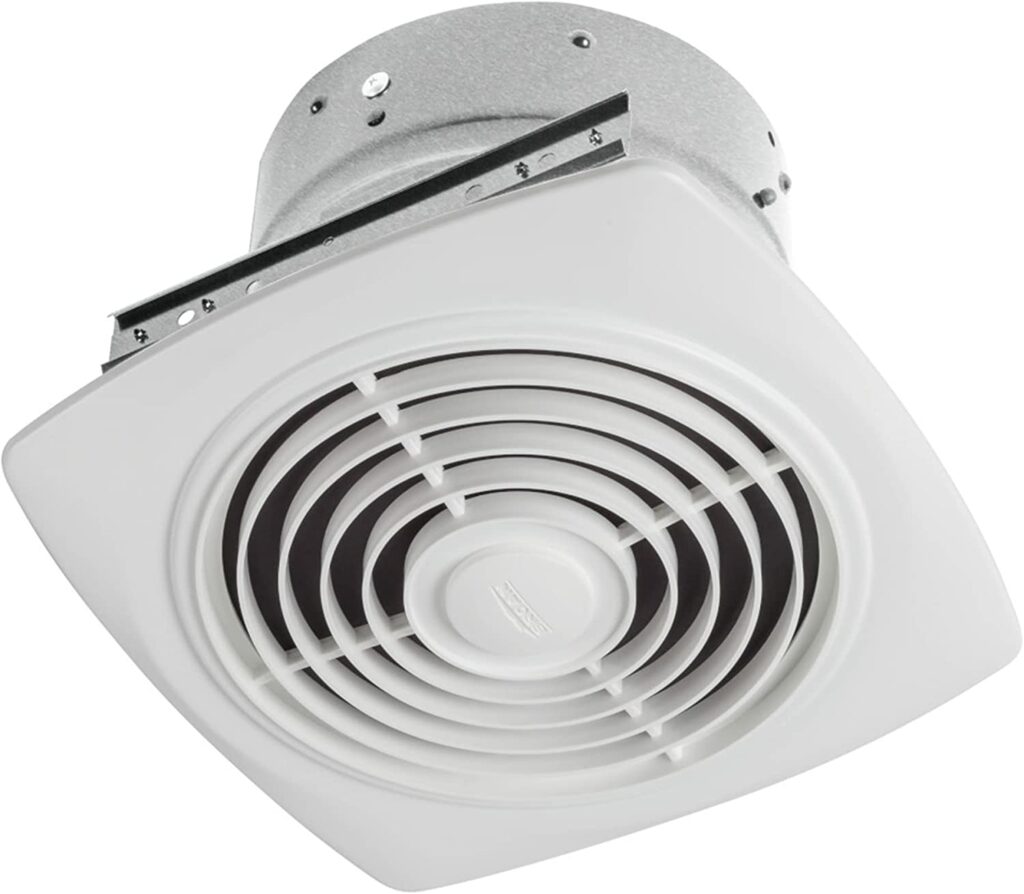 The NuTone is a rather industrial looking exhaust fan that is particularly suited to be hung from the ceiling, unlike most window exhaust fans. While most kitchen exhaust fans will require some sort of mounting into the wall which will leave an ugly mark if ever removed, the NuTone can be attached directly to the ceiling so that, if ever removed, the drill holes are out of sight.
Moreover, the NuTone also comes with a plethora of certifications such as Energy Star and IV. This makes it one of the most power-efficient exhaust fans on the market. This has the obvious benefit of significantly reducing the impact this piece of equipment makes on your utility bill at the end of each month.
Another positive about this kitchen fan is that it is designed for heavy-duty use and, as such, has the ability to get rid of odors that other exhaust fans might struggle with owing to its relatively strong suction.
The con with this one, however, is the appearance. Although some individuals may find the industrial look appealing, especially if it matches the aesthetic of the home, most might still find it a bit bland or even ugly. Due to this, the NuTone might be a better fit in professional environments such as restaurant kitchens.
10) COSMO COS-5MU36 Under Cabinet Range Hood

The Cosmo is a window fan perhaps most aptly described as the polar opposite of the NuTone. Rather than an industrial look, this window fan comes in an elegant design that will fit well, aesthetically, in any modern or recently-renovated kitchen.
The slim shape of the hood itself makes the window fan seem comparatively small and inoffensive. Moreover, the speed setting option means that if you want to reduce the air current or the power consumption you have the choice of putting it on low or medium speed. If the cooking odors are especially strong, just use the high setting.
The Cosmo isn't just a window fan, it can also act as an air filtration system thanks to the option to include a carbon kit inside the device.
Despite the fact that the Cosmo is one of the best window fans on this list, it has a few annoying problems to contend with. Firstly, there is no handy remote control to change settings with. 
Instead, it is manually operated through various buttons on the device itself. Secondly, this window fan does not have a standard-sized exhaust vent. This may make it incompatible in certain situations and require an adapter or something of the sort for proper operation.
Buying the best kitchen window exhaust fan
When all is said and done, buying the best exhaust fan is a complicated decision requiring many factors to be taken into account.
As this list has demonstrated, although some window fans are better than others, none come without their own cons. Thus the best course of action might be to understand the needs of your kitchen as well as your personal preferences.
A window fan is no good, even if it operates well unless you are happy with it. Even if this means additional power consumption or, in some cases, sub-par performance. Other subjective characteristics like aesthetic design and material choice can play a big part in the final decision.
We hope this article helped you reach a conclusion regarding what the best window exhaust fan is for you. Happy shopping!